Salon One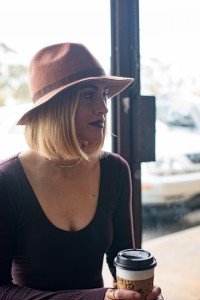 We've had the pleasure to get to know Courtney Laser through Katie, as they became sisters-in-law last year. It came as no surprise that we were fast friends; not to mention she is now my(Natalie) go-to hair stylist. I can not say enough about how amazing she is at her craft! Seriously though.. If you're in the market for a new stylist, she comes highly recommended. And, as you've probably already guessed, this babe always looks so effortlessly cool. I am lucky to call Courtney one of my friends and excited to share her as our Local Style Influencer for the month!
Born in the Valley and raised in South Orange County, I am a true Californian girl.  My eclectic style is inspired heavily by nature and the trends in fashion and hair that I've experienced through my travels. Traveling has always been a goal in my life since my childhood and the reason I have become the person I am today.  The world is an amazingly eclectic place with rich history and culture. I love that my adventures can inspire me in everyday life from the design of my home to my life behind the chair.
My career as a hair stylist began in 2004, and since then I have constantly strengthened my craft with education, traveling and above all experience. Salon One has been my home for 12 years, and where my art lives and breathes. When working with my clients my objective is to create looks that are exclusive to their personality and style. Trends are always helpful with inspiration, but uniqueness is always my ambition.
One of the best parts of my job is constantly reinventing myself. Experimenting with new fashion and hair trends brings me such joy, and to be able to share that with the client in my chair is thrilling. I would never consider myself a trend setter but a believer in creating your own unique look, not to be afraid to stand out. Since I was a little girl I've always changed my hair and fashion. Constantly trying new things. My favorite job in high school was a salon receptionist. It called to me like a moth to a flame. The energy, freedom of expression, and the potential of creativity. I knew from that moment this was the path I was meant to take, and there was no looking back.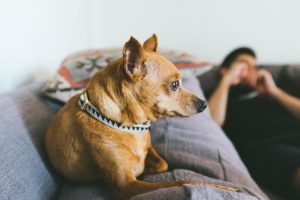 The past 12 years have helped me find myself in ways I can't explain. I am genuinely passionate about what I do, and love working with people of all walks of life. It has opened my eyes to so much. I have learned to embraced change, education, and confidence. To me this is the best job in the world and I am beyond lucky to have a husband and an amazing group of family and friends who have supported me every step of the way. They are my daily inspiration.
In the Know Places to go with Courtney
We all need that morning fuel, Where's your go-to coffee spot?
My normal routine is brewing stumptown coffee at home in our French press, but Our new favorite local coffee spot is Hidden House Coffee!
What's your favorite meal.. Breakfast, Lunch, Dinner? And where do you go to get it?
On Sundays the hubby and I will grab brunch at Seabirds. It's a great place to bring the puppies and enjoy some sunshine, not to mention some delicious vegan cuisine.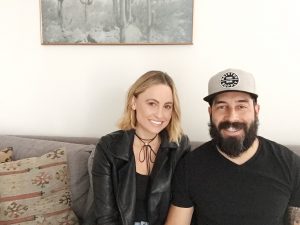 On your day off, where is your favorite place to go/thing to do?
Sadly these are few and far between, but when We do Mike and I head up to LA for brunch at Farm Shop and do a little shopping. Or you might just find us at Disneyland with our close friends.
Do you have a secret/favorite spot in orange county you always take out of town friends?
You can usually find us at The Camp in Costa Mesa! Great food, drinks, coffee, and shopping! Not to mention a great way to enjoy the California sunshine! It's one of my favorite spots. Perfect combination of city and nature.
What's your cocktail of choice and where's your favorite spot to have one?
I'm a wine girl 100% but if I'm really treating myself a Moscow mule is my go to. Quite often you can find my crew at Pie Society for some cocktails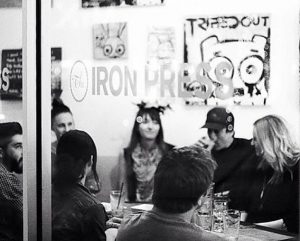 What do you and your girl gang do for fun?
I am unbelievably lucky to be surrounded by talented creative women. We are always planning adventures in LA or Palm Springs. We love trying different restaurants, like Iron Press and Cafe Gratitude. More often then not though we pow wow at one of our houses for pizza and wine!
When its time for date night what's your favorite place to go/thing to do?
The work week is busy for us, but when we can squeeze in a date night we head down to San Clemente and treat ourselves at Cafe Mimosa. It's one of our favorite spots. Quaint , delicious food, and to die for mimosas.
All Photos Provided by Courtney Laser & Photographed by Benjamin Squirrell