Poncho Love
with 16th Colony

OCSR happened upon 16th Colony after reading about and seeing pictures of a trunk show at Sourced in Laguna Beach. Doing a little more research we found that Renee, designer and creator of 16th Colony, not only has an awesome line of ponchos, she also has a blog called Hanger Shortage. After falling in love with her amazing line of ponchos and then the idea behind her blog, we knew we had to meet Renee Rogers, learn more, and share with all of you.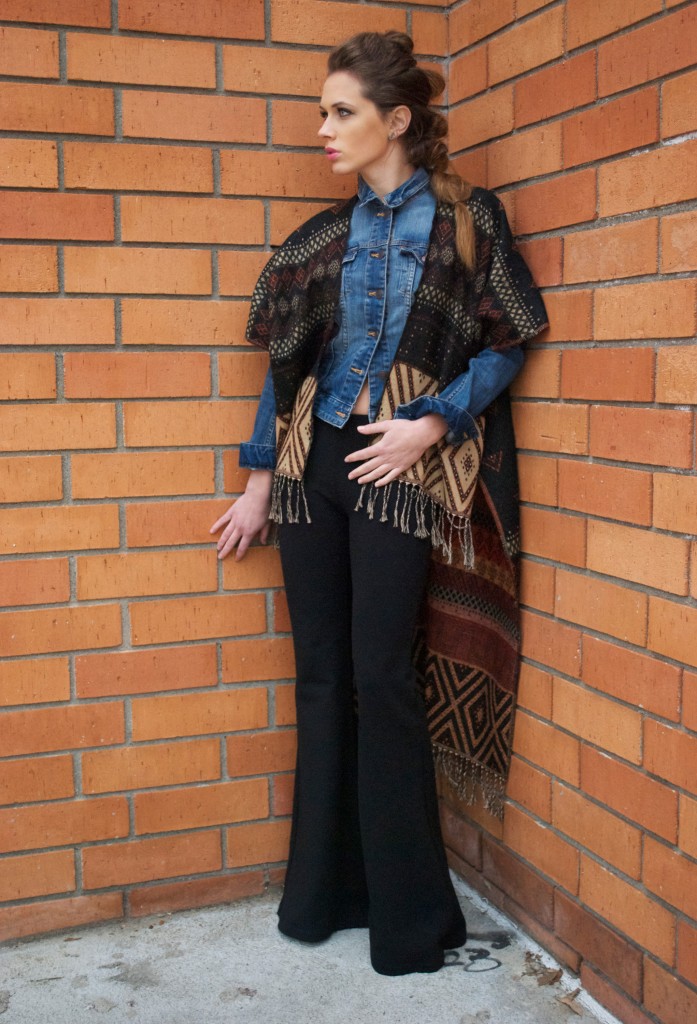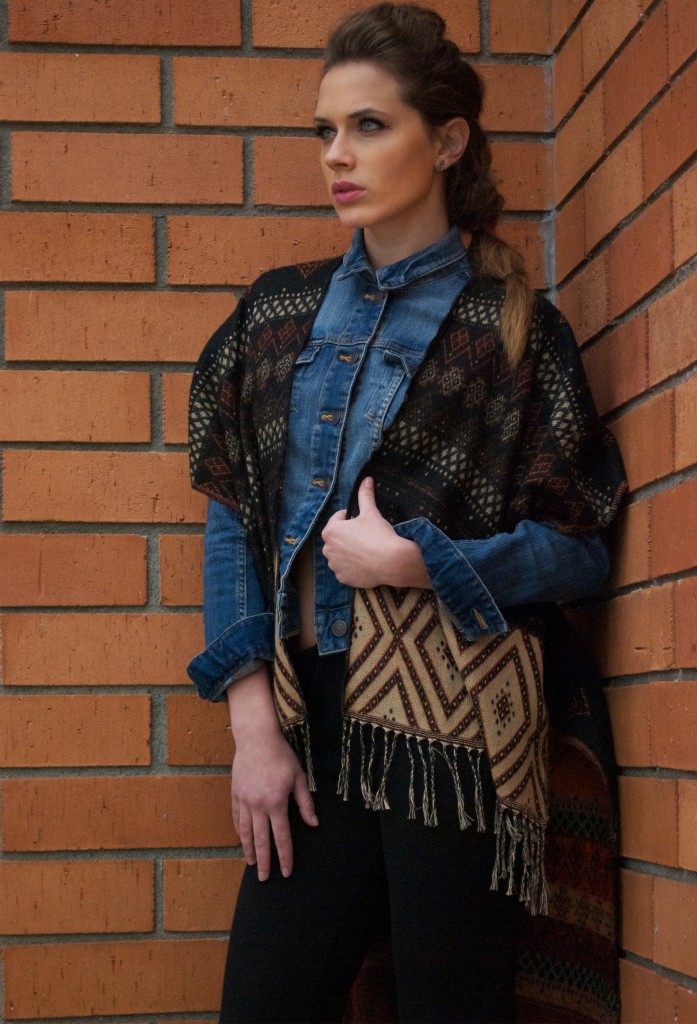 Renee grew up in Arizona and moved to Southern California to attend FIDM were she received a degree in Fashion Design. Needless to say she fell in love with SoCal and stayed here to start her career in the fashion industry. In 2011 Renee felt it was time to start her own business and she launched her blog Hanger Storage. Her blog is not like any other, and it is a MUST follow! Renee wanted to share with all of us the stories of unique designers, artists and brands that inspire her everyday.
As many female entrepreneurs, Renee wears many hats. Not only does she design AND hand make her own line of ponchos, as well as manages her blog, she also manages her Production company Blythe Films, where she focuses on making short films and video lookbooks for other fashion brands.
Meeting with Renee, we instantly clicked. She encompasses everything that is 16th Colony, creative and cool with a little edge. We are inspired by what Renee does and we hope you are too.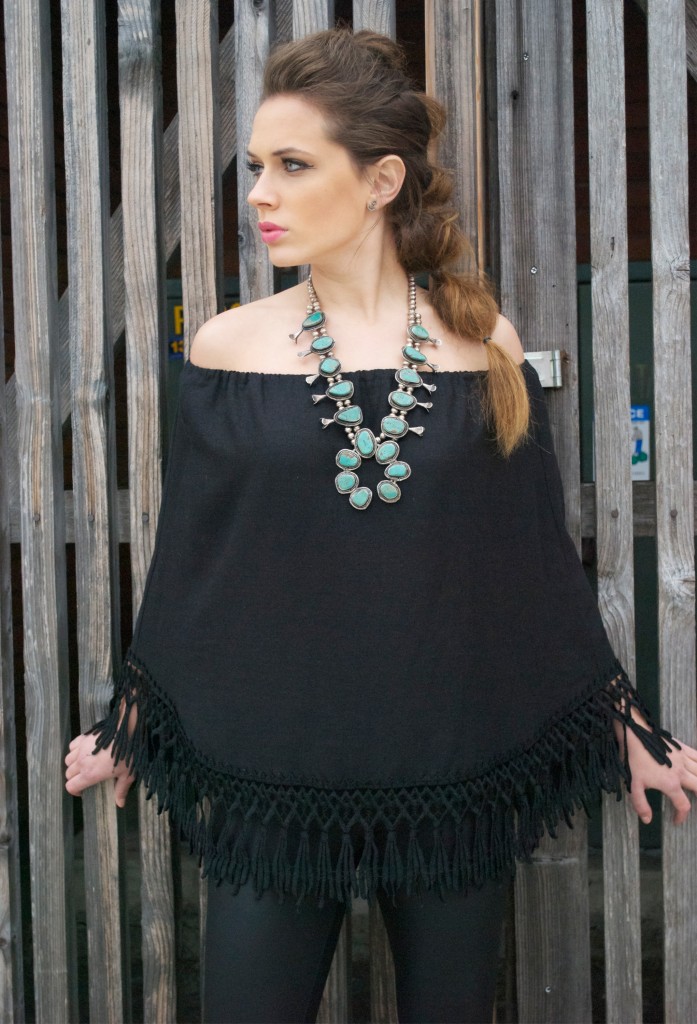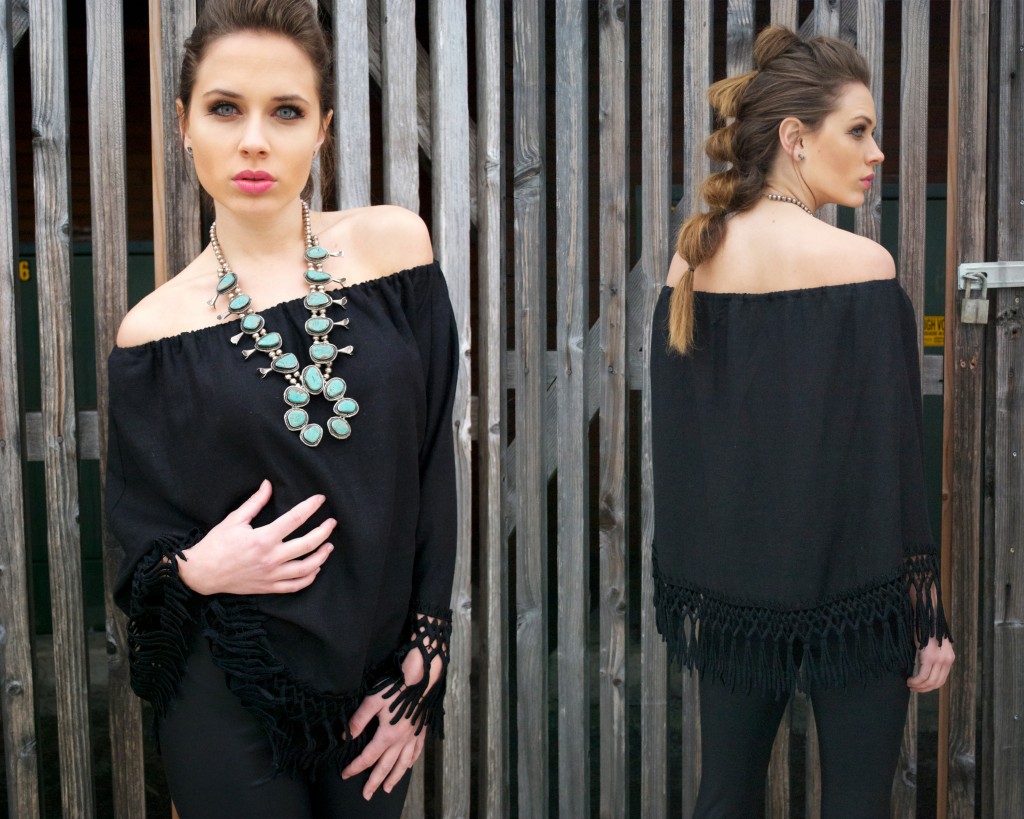 Here is my Q & A with Renee:
Q: At what point in your life did you know that you wanted fashion to be your career?
A: I always knew I wanted my career to be fun and possibly something involving art, and when I was young, I was maybe 13, I designed my own princess Halloween costume. My mom let me pick out all this fabric and she knew a seamstress so we gave her my sketches and the fabric and told her what I wanted, and when it was finished I thought it was the coolest thing ever, and I thought, "this is what I want to do."
Q: What was your first Major Job in the Fashion Industry?
A: My first major job was designing for Anchor Blue. I started out as an assistant and eventually moved up to designing the Juniors denim and outerwear.
Q: After working in the industry, at what point did you decide you wanted to break away and start your own business?
A: I always knew I wanted to have my own line but I figured it would be later in life. After working at Anchor Blue and then designing for another denim company after that, I was getting laid off because the economy was hurting and design teams were diminishing. It was getting tough to find design jobs and so it was then that I started Hanger Shortage, and it became an avenue for me to meet people, including other designers, and get the opportunity to learn from them and then I was like ok, I've got to do my own thing now.
Q: How long did it take you to go from the idea of Hanger Shortage to the finished product? And what was that journey like?
A: Hanger Shortage started in November of 2011 and then it was only a year later with the success of the blog and everything that I decided to start 16th Colony. The journey was inspiring the whole time. I was constantly learning, just even with the blog that translated into the brand. There are no rules, if you have an idea you can just do it. That is what I thought was kind of cool, just going against the grain and doing what I wanted to do and not living by traditional ways.
Q: How would you describe your personal style?
A: I'd say my personal style is edgy bohemian. I definitely have a little rocker in me.
Q: What inspired 16th Colony?
A: I had an old poncho that I was wearing all the time with my cut off shorts and booties and because I was just doing my own thing with the blog and freelance design, I could wear whatever I wanted and I found myself gravitating toward a poncho. In southern California its easy to throw on, sometimes the weather gets chilly and I just felt artsy in it and I wanted to make more; And then I thought, Ok that is how I'll start my line.
Q: How did you come up with the name 16th Colony?
A: The name is kind of a long story.. I started to notice that there were some really cool brands doing their own thing, and there were a group of people who really understood and appreciated it. I just felt like these people were carefree and explorers and they just got it, and they wanted something different. I totally saw a shift in what people wanted and thought was cool and I just saw it as a colony of people. The word colony just came into my mind when thinking about that and then 16 is my birthday in November.
Q: What do you feel has been your biggest success so far?
A: Looking back I get really excited about my whole journey, but I would have to say that the biggest success and one of the most exciting things for me is that I have been able to get into a handful of boutiques fairly quickly. I feel like that is a pretty good accomplishment starting out.
Q: What's next for 16th Colony?
A: Currently I am working on the Fall/Winter collection but what I always look forward to is getting creative and inspired by the collection itself after its done, when I do the photo and video shoot. I will probably do at least one more season of just ponchos and then I'll launch into other areas.
Q: What is your personal favorite 16th Colony piece, if any?
A: It's so hard because they are all my babies. I feel like it is so mood dependent too. If I had to choose it would be the Black Onyx because its really warm, I like the drape, its just black and white and I don't wear a lot of crazy color, I wear mostly neutrals and I just feel like it is the perfect go to piece.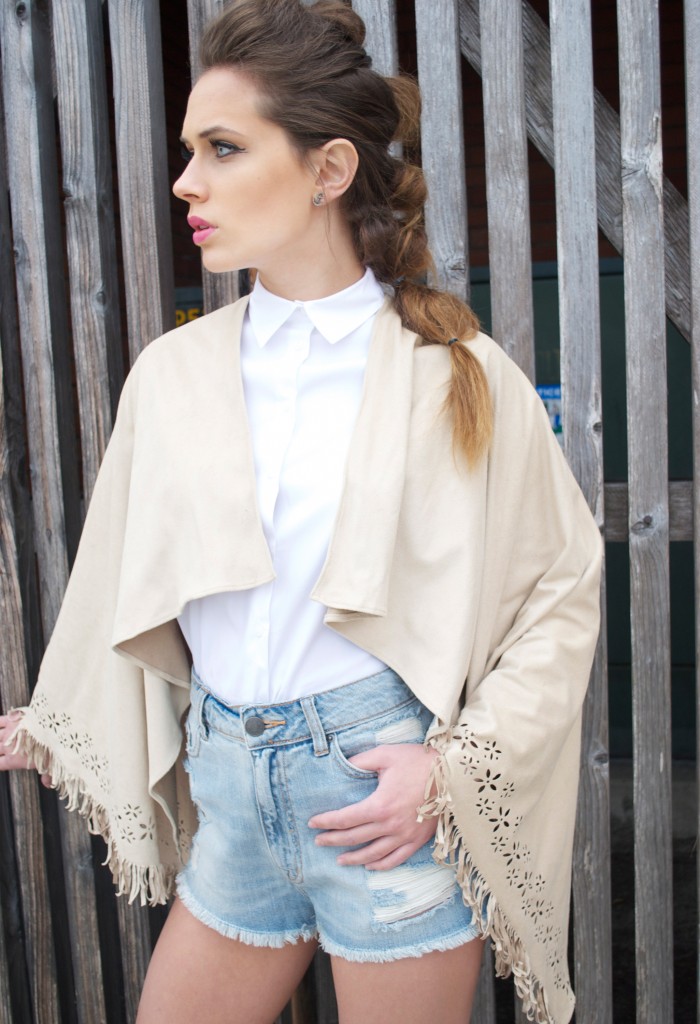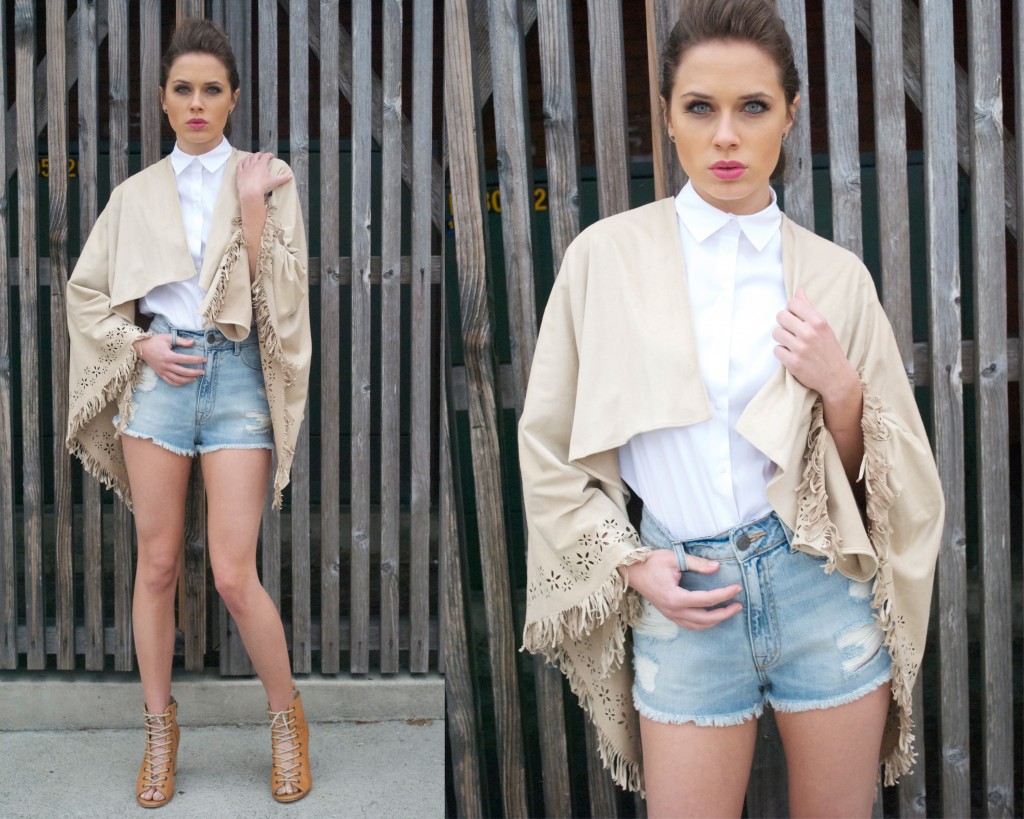 A little note from Rachael…
I has so much fun styling this shoot. I instantly feel in love with 16th Colony and once Natalie and I had the pleasure of meeting Renee I couldn't wait to work with her and her amazing line. I styled the whole shot out of my own closet with staples that most of us have. My personal style is changes with my mood so I wanted to show that ponchos don't always have to scream bohemian, and that there is place for ponchos in everyone's style. We are so happy to now call Renee our friend and wish her all the best.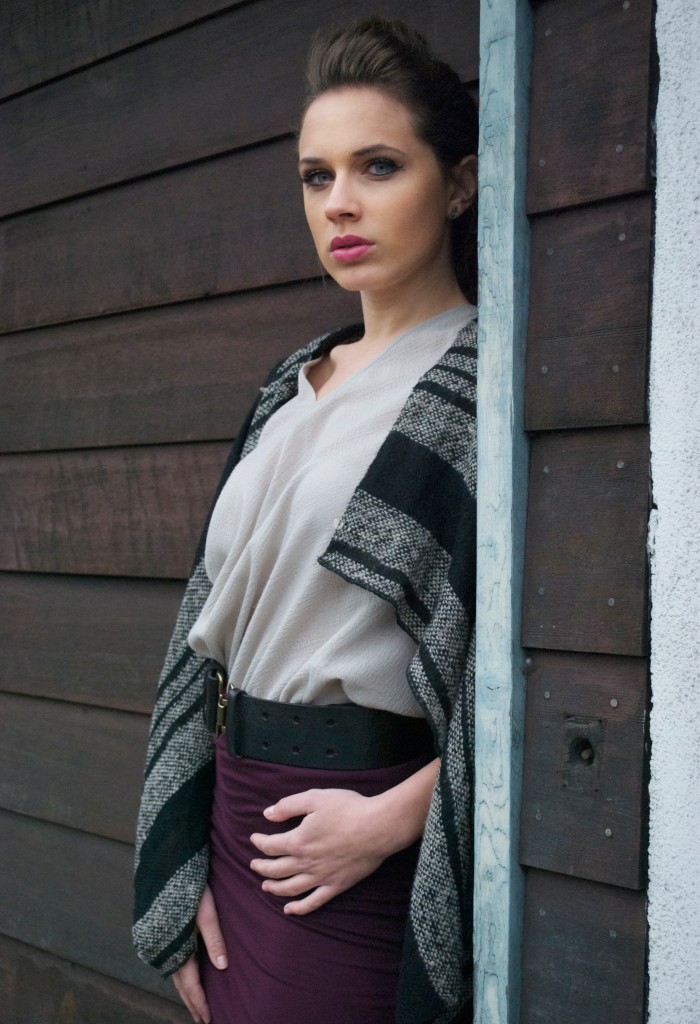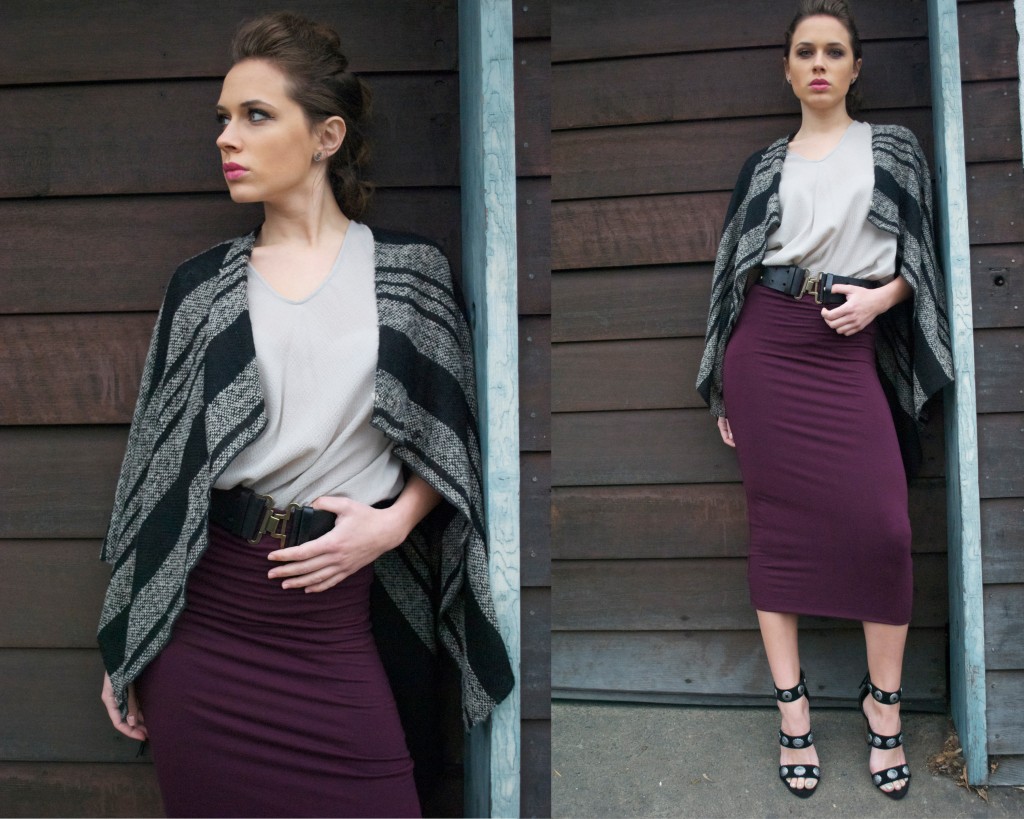 Model: Caroline Basehart// Hair, Make-up, Styling & Photography: Rachael Dickens// Set Manager: Natalie Dickens