Why We ♥ EASTNWEST LABEL
Great basics, fun lingerie, and sisters in business… If this isn't right up OCSR's alley I don't know what is. When we were introduced to EASTNWEST LABEL we were immediately swooning, and of course had to share with all of you! I am a firm believer that you can never have enough basics. Who doesn't love a piece with endless styling options? EASTNWEST LABEL perfectly pairs that effortless basic with just the right amount of detail and edge. And I ADORE their lingerie! It is so fun and sassy, at a great price point. I think I might just need to buy some for myself. Check out our Q&A with the masterminds behind EASTNWEST, Brittany and Madison, and then head over to
eastnwestlabel.com
 to do some shopping!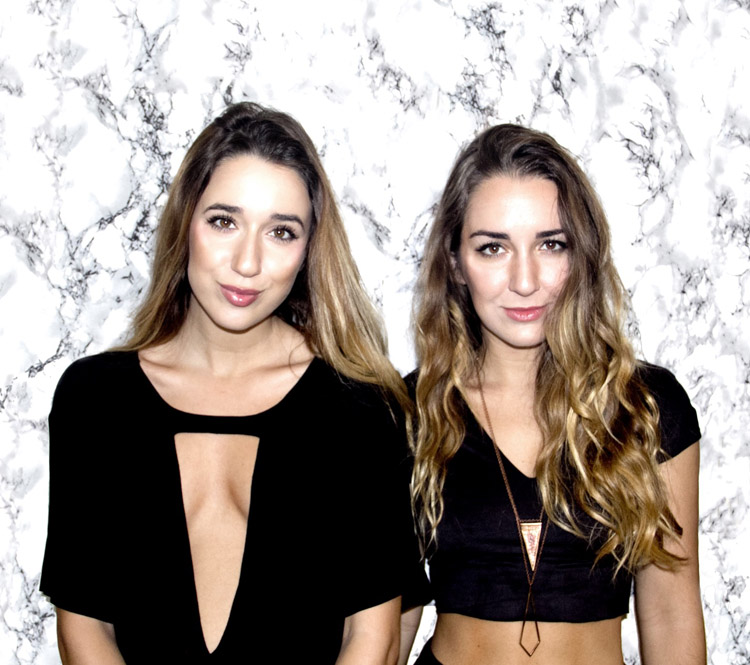 HOW LONG HAVE YOU BEEN DESIGNING AND AT WHAT POINT DID YOU DECIDE TO MAKE IT YOUR CAREER? 
MADISON- This is going to sound super cliche but honestly, for as long as I remember. Growing up, our parents and oldest sister had a pretty successful jewelry line and were in over 500 stores. We basically grew up in the industry helping them with little tasks. We were constantly be in their studio, it was our lives. We would string beads, gold leaf leather, sew outfits- I remember always stealing huge amounts of printer paper and just drawing outfit after outfit. My parents would pull us out of school to go to trade shows (shhhh). It was the best. Ever since my fist tradeshow trip to NY, I knew I'd want to go every year forever. I was 7 years old and 100% sure I wanted to be a designer.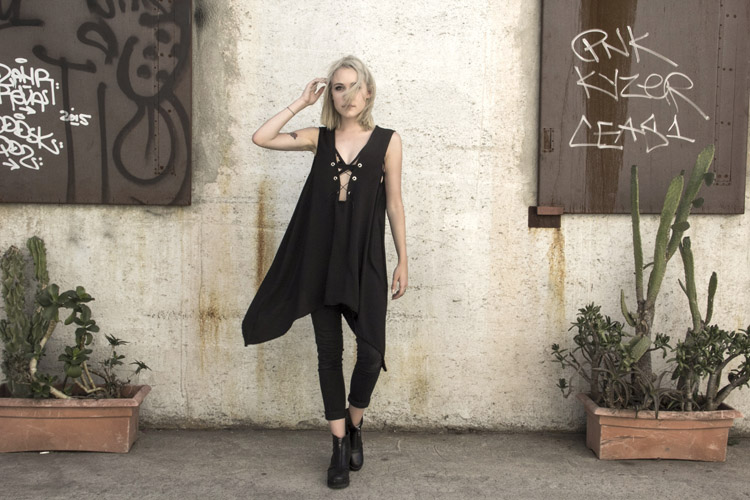 WHAT IS THE INSPIRATION BEHIND YOUR DESIGNS?/WHAT INSPIRED YOUR MOST RECENT COLLECTION?
MADISON- My inspiration is what I'm missing in my closet. If I'm like "oh I don't have a dark gray tank top with a super low neckline and grommets all over it, and can't find one anywhere"… I make it. And if it looks cool, britt and I agree like "Oh yah that's cool let's make those!" It basically goes on from there. If we're out in the fabric district and we find an awesome lace, we take that and immediately make a new bra out of it. Same for jewelry. The other day I was wearing our long triangle pendant and was like hmm I think a little circle necklace could be cool to stack with this, and my dad (who makes all of our jewelry prototypes) went into his studio and made it in 20 minutes- we all loved it, so we're adding that to the line, haha. Our main inspiration is things we want but can't find. I can't tell you how long I searched for a cool baggy Tshirt that didn't make me look like a total hobo (ladies- try ours on!).
BRITTANY- Madison and I have fairly different personal style. She's a bit more rock and sometimes super androgynous, where as I'm much more girly. I'm all about pretty dresses and skirts, the amount of high waisted floral grandma skirts I own… getting close to triple digits. But we get inspiration from the same places/feelings. Mostly in the morning when we "have absolutely NOTHING to wear!" we just say oh I wish I had this. Sometimes it's even as simple as loving another designers dress but wishing it was in black, then you add all the other details you normally look for, an open back, slightly longer length, etc. We are more interested in creating the perfect staple you can wear all the time rather than one piece you wear to a party and then keep in a bin under your bed forever. Also, never underestimate the inspiration that comes with a long walk, adding 2 hours of time to the parking meter in DTLA is the best idea. Use up every minute looking at and touching fabrics and trims and you'll find inspiration. You'll also have an awesome day.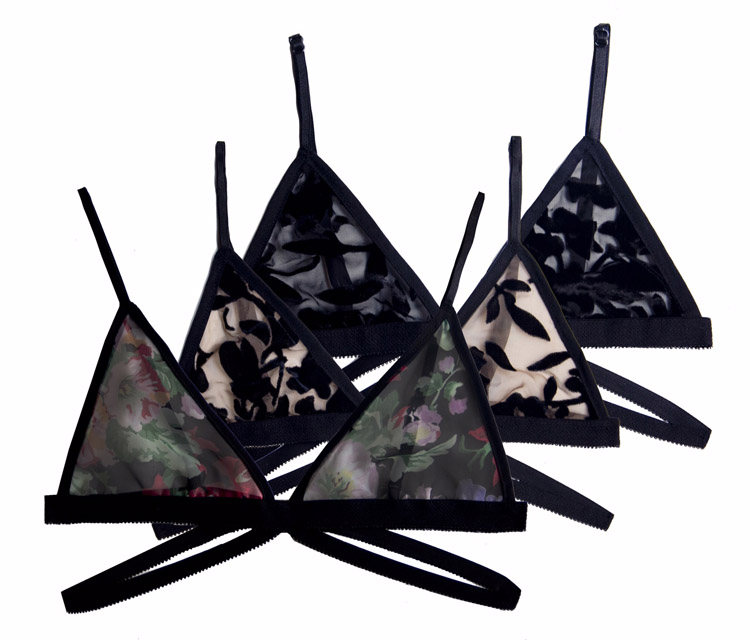 WHERE DOES THE NAME EASTNWEST LABEL COME FROM?
MADISON- The name basically just came to us when we decided the whole vibe of our line. We knew we wanted our line to be considered bicoastal, for when we were traveling from New York to California, basically monthly, while we were at college in NY. Traveling often from the East coast to the West coast and back again, we wanted to design cool, comfortable clothes you can layer and wear day to night without thinking twice (it also simplifies packing!). Our clothing/style is a good mashup of both coast's vibes.
BRITTANY- I'm pretty sure we were two bottles of wine in when we thought up the name Eastnwest label… luckily we wrote it down.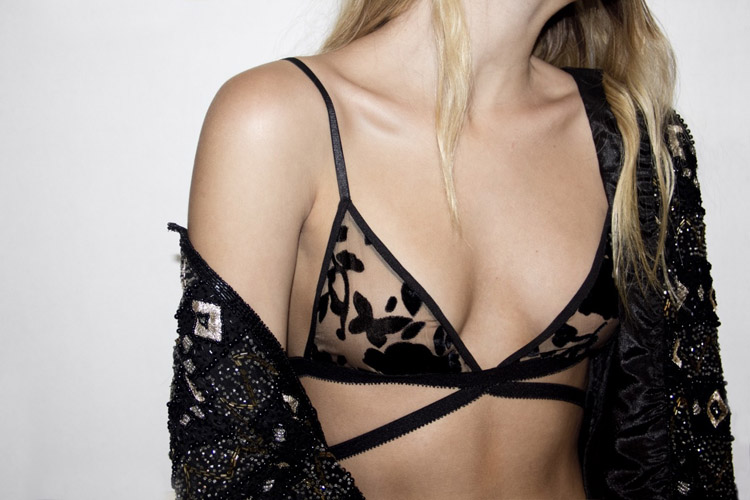 HOW WOULD YOU DESCRIBE YOUR PERSONAL STYLE?
MADISON- My personal style definitely depends on my mood, but always our bralettes- usually with a super soft baggy Tshirt and leather pants (our Side Slit T is actually the best, we fight over who gets to wear it almost daily) and heeled boots. I top that off with a fringe jacket that makes me look like a boho gorilla, and some of our jewelry. I usually keep it super simple but love to have a statement piece in every outfit. We never know who we will see throughout our day-random meetings always happen, so I like to wear something thats comfy but cool AKA our line 😉
BRITTANY- I normally wear a pair of high wasted black skinny jeans cuffed at the ankle, black ankle boots, one of our silk or cotton side slit tshirts, my favorite Helmut Lang knit sweater, and ALWAYS ALWAYS a piece of our jewelry, because you never know who you're going to run into and you really shouldn't be caught not wearing something from your own line. I do dress like a grandma some days- so you're definitely going to see some of those influences in our next collection! haha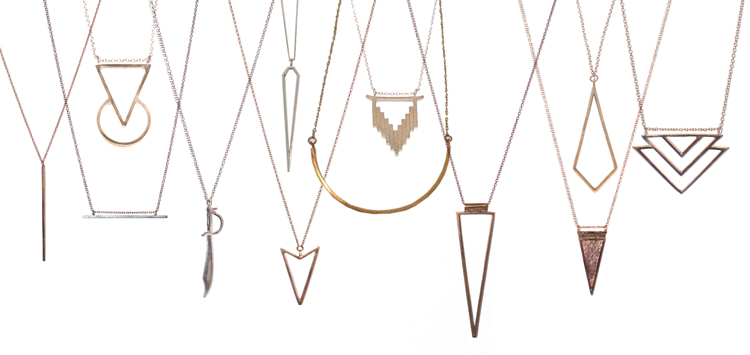 WHATS NEXT FOR EASTNWEST LABEL?
MADISON- We're building it one step at a time, you have to take it slow and that's a huge challenge because there's so much we want to do so fast. We had to have our parents sit us down and tell us to take a chill pill because we will never get anywhere if we try to do it all at once. Good things take time and hard work. Right now we are just trying to get in as many stores as we can as we continue to create more and more pieces. From there we want to get a bigger studio and build our team. I would love to have our factory inside our studio so we can be involved with and watch over all production right there.
BRITTANY- We don't have a perfect business model, at least not one that works in a straight line towards one ultimate goal. We are constantly moving and making things, and keeping ourselves busy and inspired is number 1. So sometimes it's hard to decide on what one thing is going to be next. We are currently working on our next collection which I'm beyond excited about.
Much like reformation- we aren't making/ordering massive amounts of clothing. We make what we need- and when we sell a piece that money goes directly back into making two more to replace it. I think that's why we are doing so well thus far. We aren't overdoing it. The ultimate goal I think is to have our own stores where we can design both the clothing and a lifestyle for Eastnwest Label. That would be so fun.
Make Sure to follow EASTNWEST LABEL on Instagram & start shopping NOW!