SoCal Summertime Essentials-The Swim Suit
Featuring Jade & Ellie of Heart Majestic Jewelry
Natalie and I were introduced to these lovely ladies last spring by one of our favorite boutique owners, Lisa of Swirl. Lisa and OCSR are like minded when it comes to supporting local talent, and the sisters of Heart Majestic embody all that is wonderful in talented women. We not only partnered with Heart Majestic for your "Simply Swim" layout we also received swim suits from two other OC based swim designers, KORE SWIM & SALT Swimwear. The talented women behind both these lines sent us some of this seasons hottest swim trends. And last but not least we partnered with a few of our favorite boutiques to round off the swim looks including; Swirl, the Shop. Laguna & Isla Boutique.
Swimwear is so personal and shopping for these barely there summer must haves causes most women anxity followed by self loathing, yours truly included. I find that having an amazing suit you absolutely love lessons the inevitable feeling of inadequacy that most us have. One piece of advise-tell yourself nice things about yourself, don't beat yourself up because you're not Gisele. I always find something about myself I like and try to focus on that, even if that is a pretty new bathing suit.
The Modern One Piece
I love both these suits for very different reasons. The KORE SWIM suit (the black one) is great for so many women. It's perfect for hiding any lower tummy issues one might have plus it's modern & classy while having an edge. The MIKOH Swim is too sexy for words! Now this suit isn't for everyone but if you got ROCK IT!

Mikoh Swim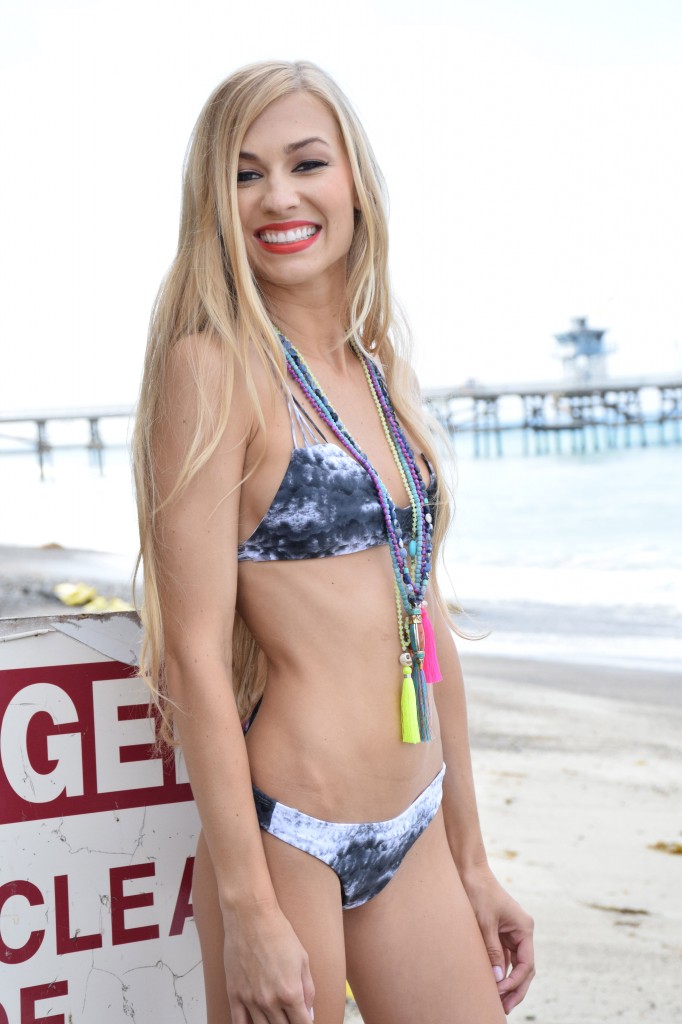 Sting One Piece: MIKOH from the Shop. Laguna// Jewelry: Heart Majestic
KORE SWIM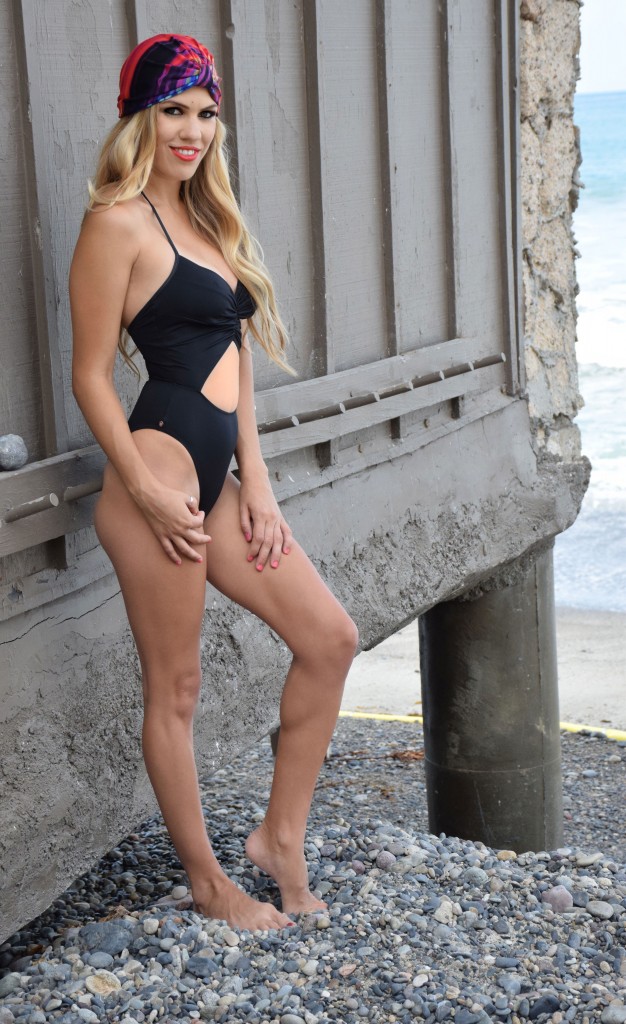 Black One Piece: KORE SWIM// Turban: Swirl Boutique
 Matchy Match || Mix & Match
When it comes to picking a new suit, Salt Swim has so many cute options. From cheeky to modern this OC based swim brand has what you're looking for. Whether you find your suit on Salt's website or at your favorite swim boutique there is sweet suit with your name on it.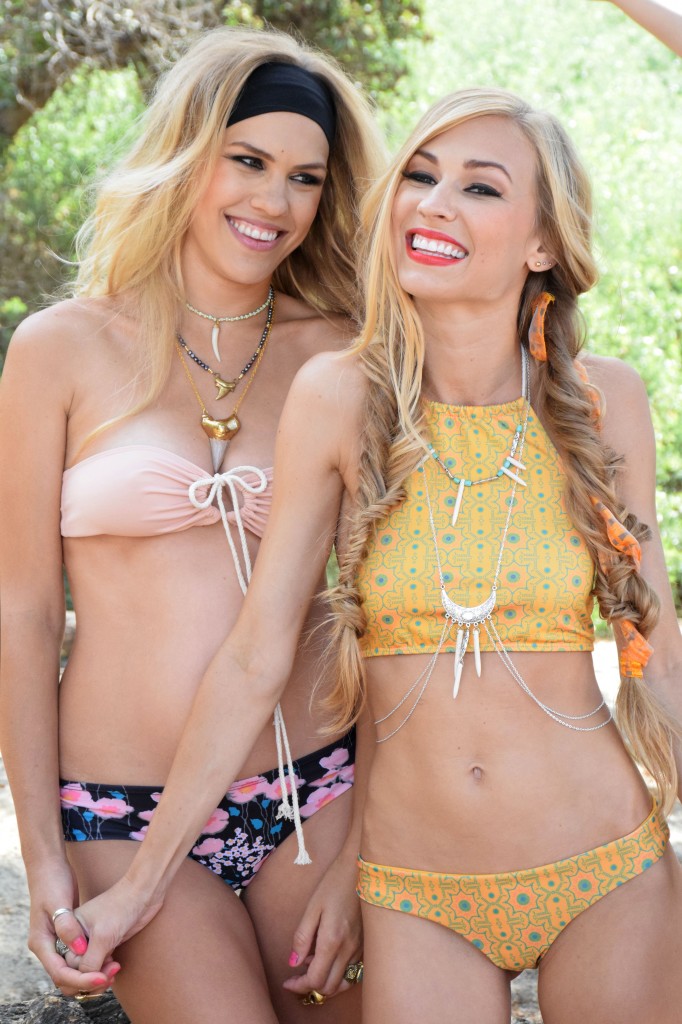 Salt Swim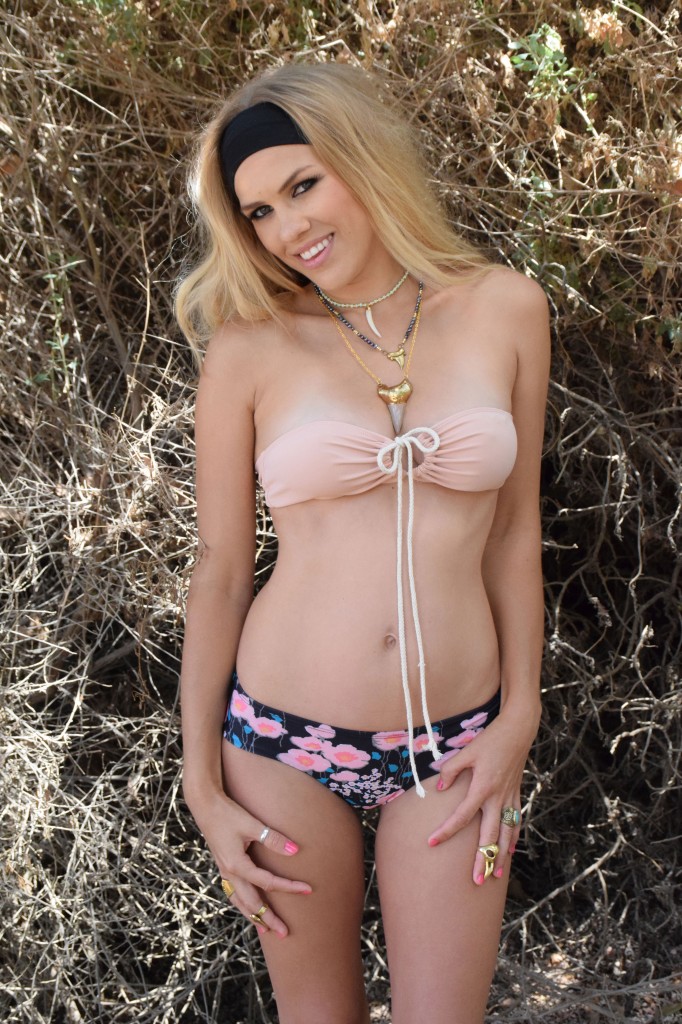 Swim Suit: Salt Swim// Jewelry: Heart Majestic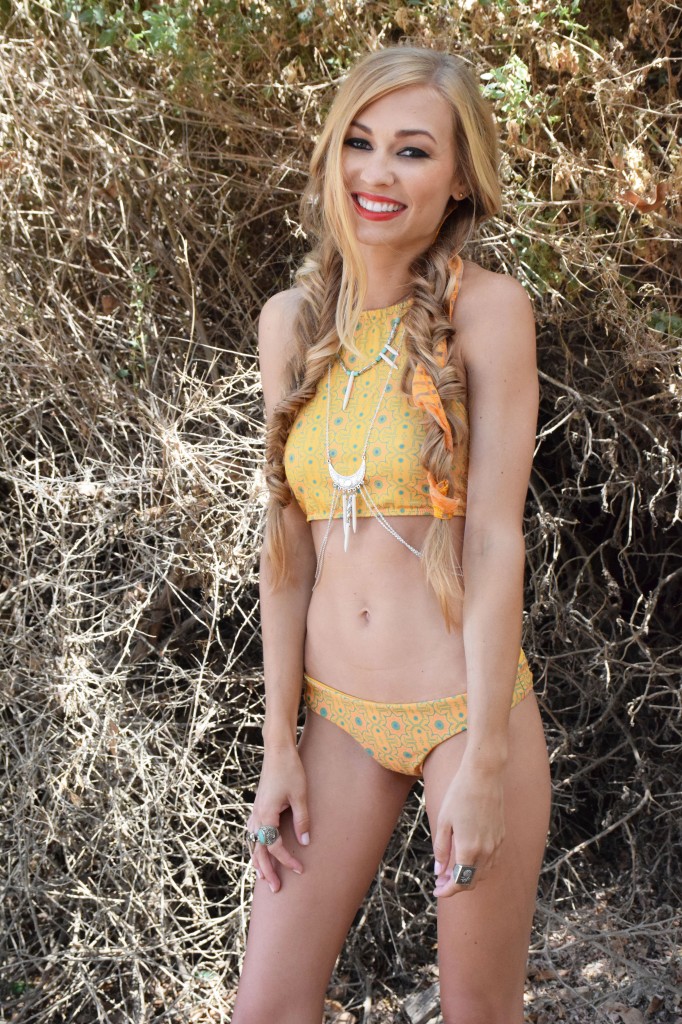 Swim Suit: Salt Swim// Jewelry: Heart Majestic
Prints & Solids
These two suits are from two of my favorite boho chic Laguna boutiques; the Shop. Laguna & Isla Boutique. While the Shop. Laguna has an incredible section of all the top swim brands, Isla has a few hard to find smaller lines perfectly selected for a   indie vibe. The jungle print top and purple bottoms are a perfect mix and match option-both are from different OC based designers-Beach Riot & ANI Swim. The neon leopard suit comes together as a set for those of you who get overwhelmed with too many choices.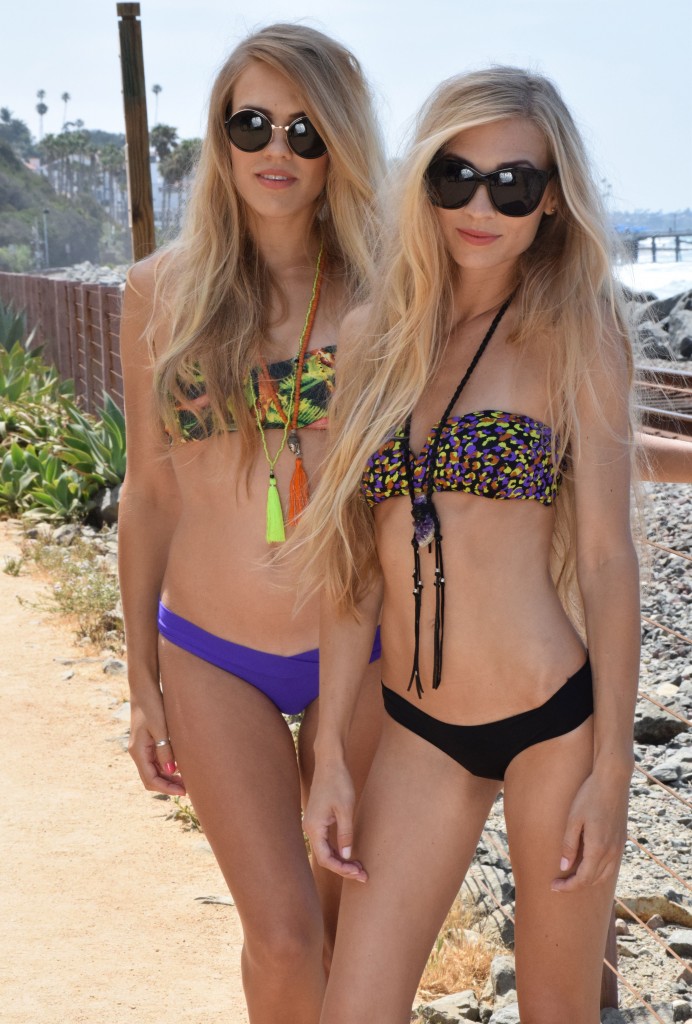 Insight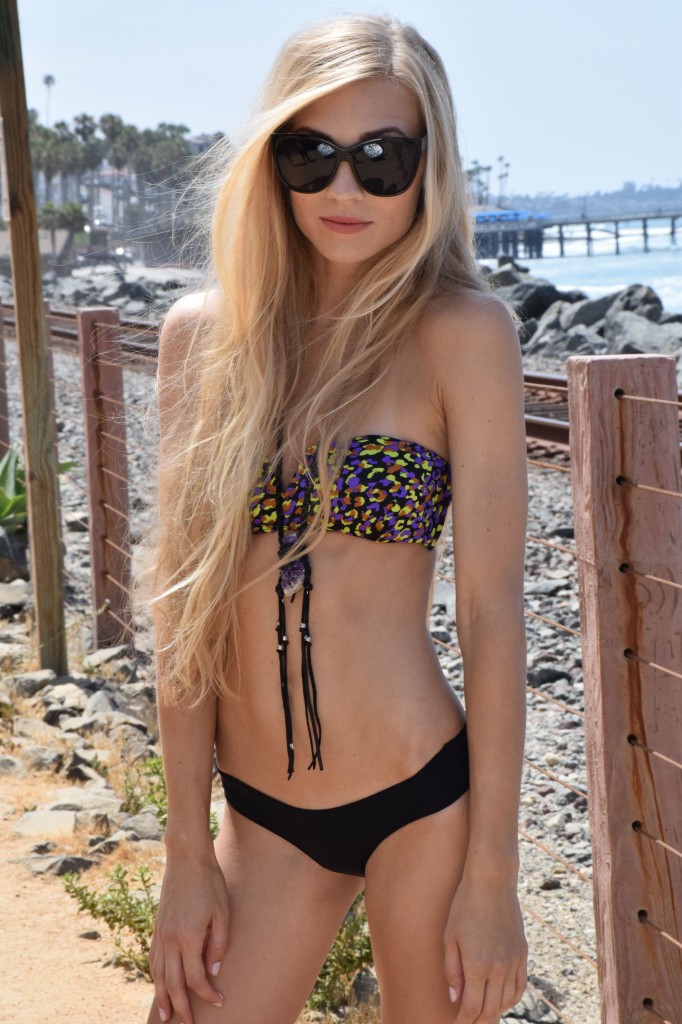 Swim Suit: Insight from Isla Boutique// Necklace: Heart Majestic
Beach Riot & ANI Swim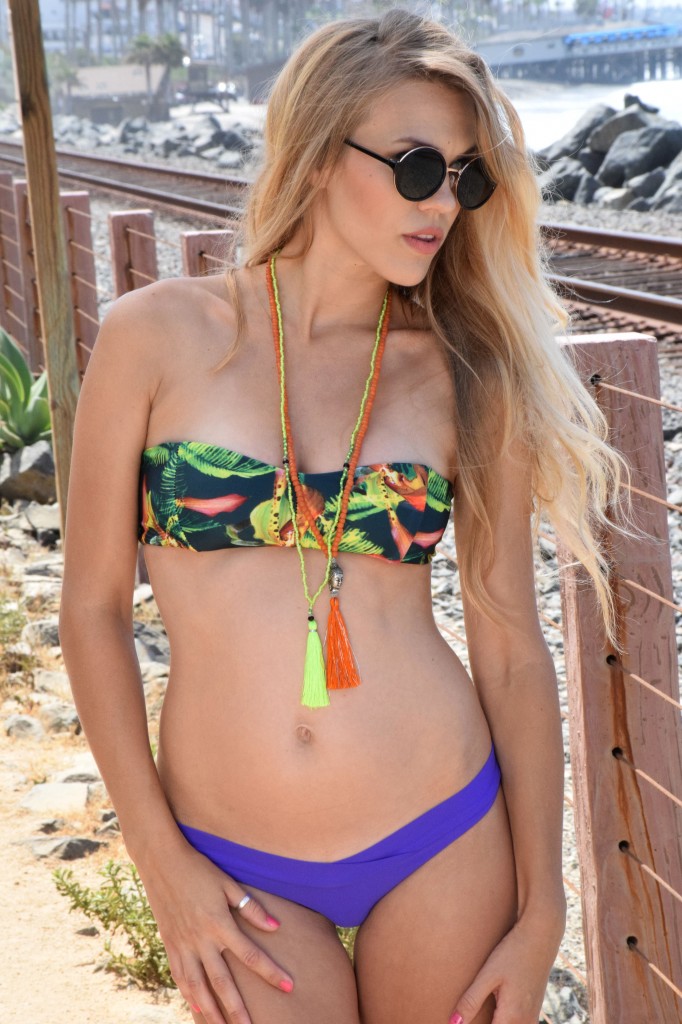 Swim Suit Top: Beach Riot // Bottoms: ANI Bikinis both from the Shop. Laguna// Tassel Necklaces: Heart Majestic
Color Blocking
HOT HOT HOT what more can I say about these two suits. When KORE SWIM sent me the suit on the left I had an instant vision of the 80's pop artist Patrick Nagel. I wanted to recreate my own modern version of this iconic 80's artist.

KORE SWIM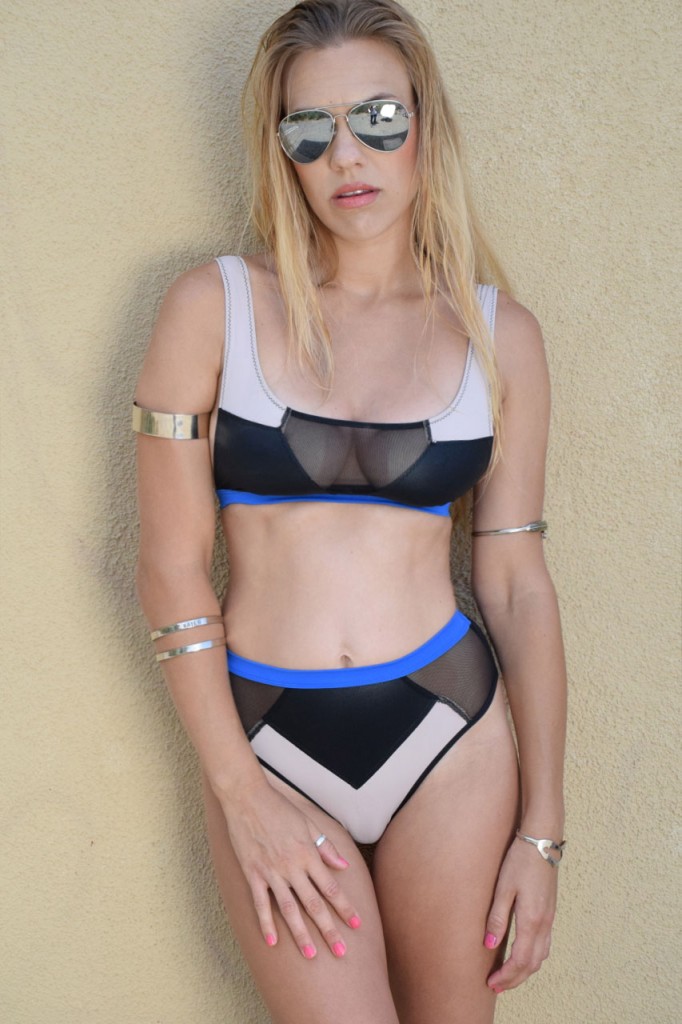 Swim Suit: Kore Swim// Jewelry: Heart Majestic
INDAH Swim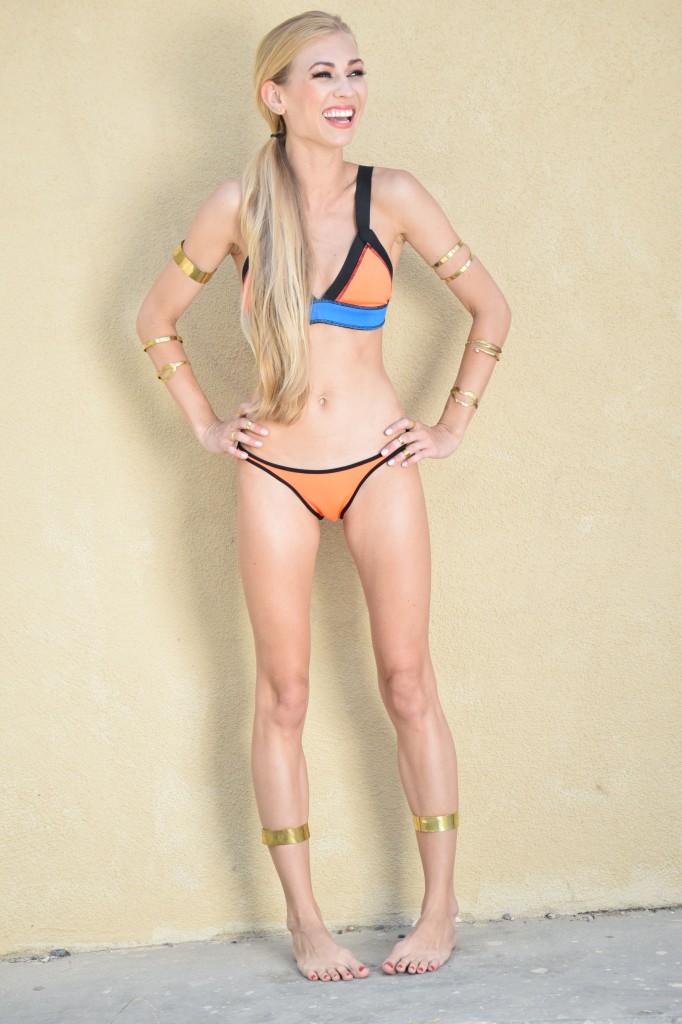 Swim Suit: Indah from Swirl Boutique// Jewelry: Heart Majestic
On a personal note… Katie and I had so much fun channeling some of our favorite sex symbols for this shoot including Vargas Girls, Bridget Bardot, Cindy Crawford (90's style) and Glam 80's. Dee beautifully executed the make-up and directed me on the hair as Jade and Ellie did the real work by making our vision come to life. I want to personally THANK all these amazing ladies who worked hard to make this shoot so beautiful.
Models: Jade & Ellie Brown AKA Heart Majestic// Make-up: Dee of Swell Beauty// Hair: Rachael Dickens// Stylist: Katie O'Sullivan of Styled by Katie// Assistant Stylist: Kirby Morris of Fashion by Day// Photographer: Rachael Dickens// Shoot Manager: Natalie Dickens