Who doesn't love a great leather piece.. I know I do. My most recent leather obsession is Leslie Crow Leather… I'm hooked! Each piece has this boho yet edgy vibe to it, which is right up my ally. I'm a sucker for anything fringe, as long as it's done the right way, and Leslie Crow Leather nails it! Each one of a kind piece is handcrafted to perfection. Lets talk about that fringe jacket…TO DIE FOR! If you're looking for the next perfectly unique leather piece to add to your closet, make it a Leslie Crow Leather piece.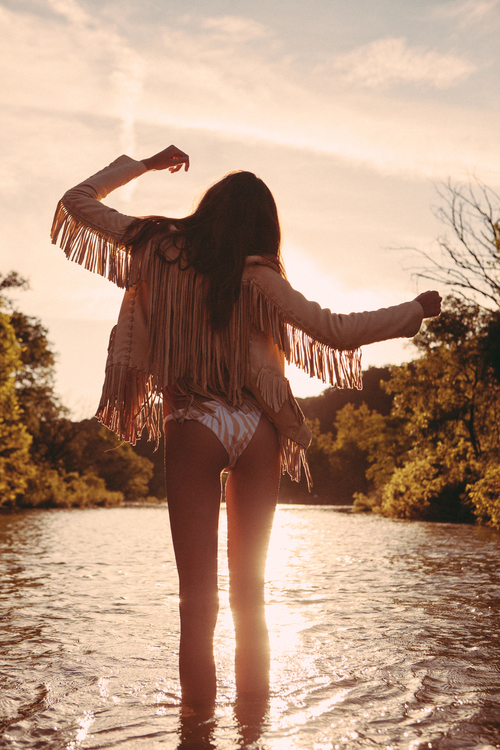 How long have you been designing and at what point did you decide to make it your career?
I always knew I wanted to be an artist. I was very imaginative…drawing clothing and fashion designs constantly from an early age. While working as a fit model in Los Angeles I had the opportunity to model for some amazing and talented designers including: Cynthia Vincent, Lubov Azria of BCBG and Henry Duarte, all of whom inspired me greatly to further explore my passion for design. When I started working with leather, I knew that was exactly what I wanted to do and really threw myself into designing handcrafted, custom leather goods and making a career out of it
What is the inspiration behind your designs?/What inspired your most recent collection?
I am inspired by the high quality and gracefullness of antique heirloom pieces made with all natural materials and primitive tools, most likely by oil lamp or firelight. I feel I bring a modern element to my work by combining my respect for that ancient aesthetic and high standard with my own trailblazing vision; a vision inspired by solitude, nature, travel, wilderness, and sacred experiences. My inspiration comes from my current surroundings and adventures combined with my passion for heritage and tradition. I design strong handcrafted pieces for strong independant individuals, and there are no seasons or trends for me to follow. My latest collection was inspired by and made while living in a small rustic cabin on a peaceful farm in the Texas countryside.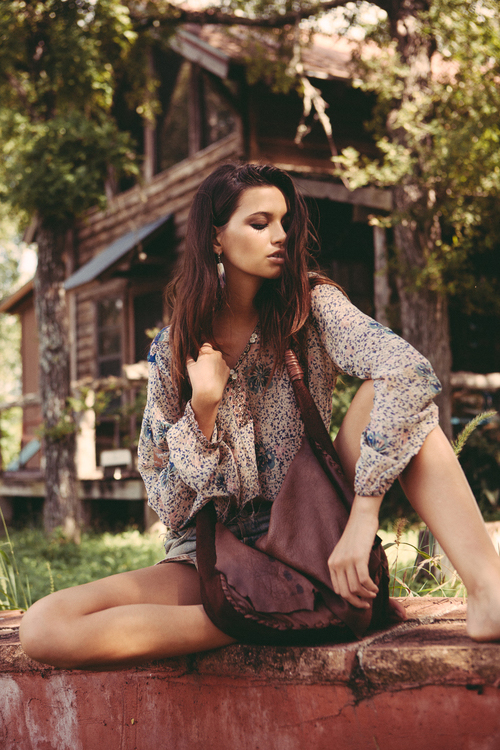 How did you decide on Leslie Crow Leather as the name of the brand?
I started Heyoka Leather 9 years ago with my two best friends Rachel Avraham and Angela Bruyere. Growing, supporting and empowering one another through the bootstrap business learning experience, sky rocketing from young dreamers into proud owners of a destination boutique in Topanga Canyon and a successful brand that both have a strong and unique identity in the fashion world was more than we had ever hoped for… very rewarding and very humbling. We decided it was time to divide and conquer this year expanding beyond Heyoka Leather for 2016 and that was the beginning of Leslie Crow Leather.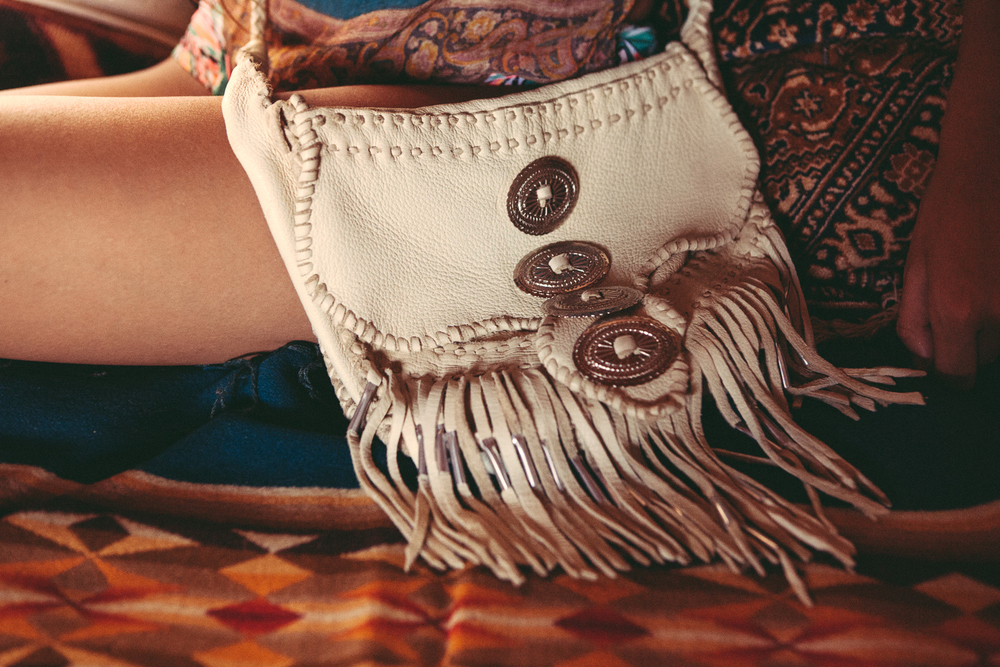 How would you describe your personal style?
My personal style is very casual and vintage based. Featuring lots of old levis cutoffs and jeans…vintage biker tshirts, india cotton dresses, turquoise and silver jewelry, beaded earrings, wool sweaters, leather fringe jackets and motorcycle boots. I love natural fibers… earth tones with bold patterns and one of a kind pieces with a story.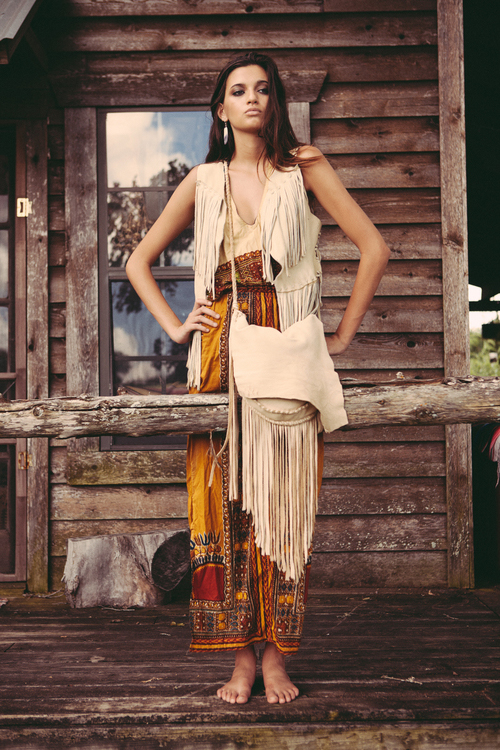 What Leslie Crow Leather Piece do you find yourself wearing the most?
Jacket No.1 and the Saddletramp Bag are my all time favorite everyday pieces. I also couldn't live without the new handpainted travel pouches. They are the perfect thing for keeping organized while on the go.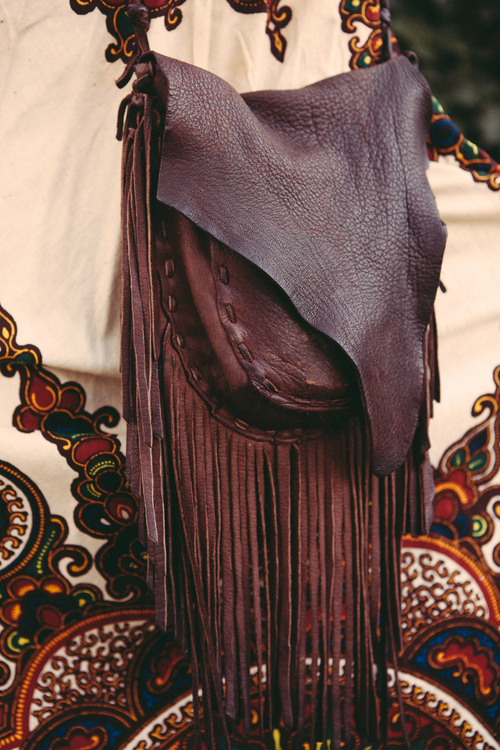 What's next for Leslie Crow Leather?
This is the beginning of a very exciting landmark in my career. Starting out with officially rebranding as Leslie Crow and slowly introducing luxurious, never before seen custom leather pieces to the website, including one of a kind painted travel pouches, new jacket styles and a brand new line of handcrafted gemstone jewelry that ive been designing over the past year. Also looking forward to traveling abroad to Ireland and Iceland this winter to seek inspiration beneath the Northern Lights and explore the history and heritage of traditional crafts there.
SHOP your favorite Leslie Crow Leather piece by clicking the Pic & Stay Connected on
All Photos Provided by Leslie Crow Leather