5 Fun Twists on Common Spring Trends
Twists on common spring trends happens each and every year. With every new spring season comes the new "it" jeans, a trending accessory and beauty musts. In actuality most everything has been done already. Designers, stylists and "it" girls are always finding ways to make the former styles and trends new again. They do this by recombining trends and styles form past decades for a modern twist.
"IT" Jeans
Well, let's be honest, when it comes to denim anything goes, but one of the biggest trends for the spring is "mom" jeans-high waisted that are not too tight. We paired mom jeans from the 80's with one of the 90's biggest trends the body suit (thank you Donna Karen) with a 60's skinny tie (huge accessory trend) to make  a effortless modern fresh look.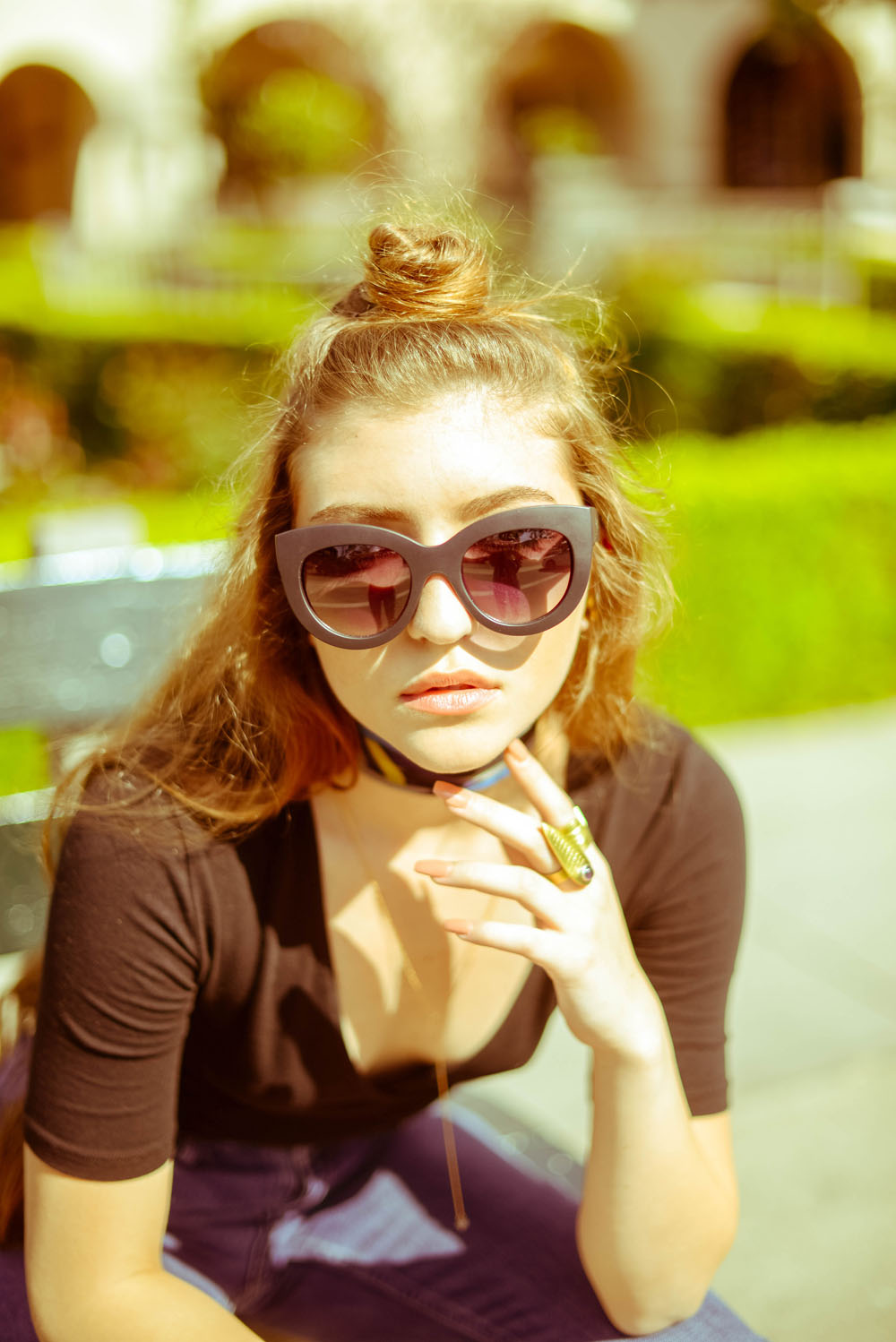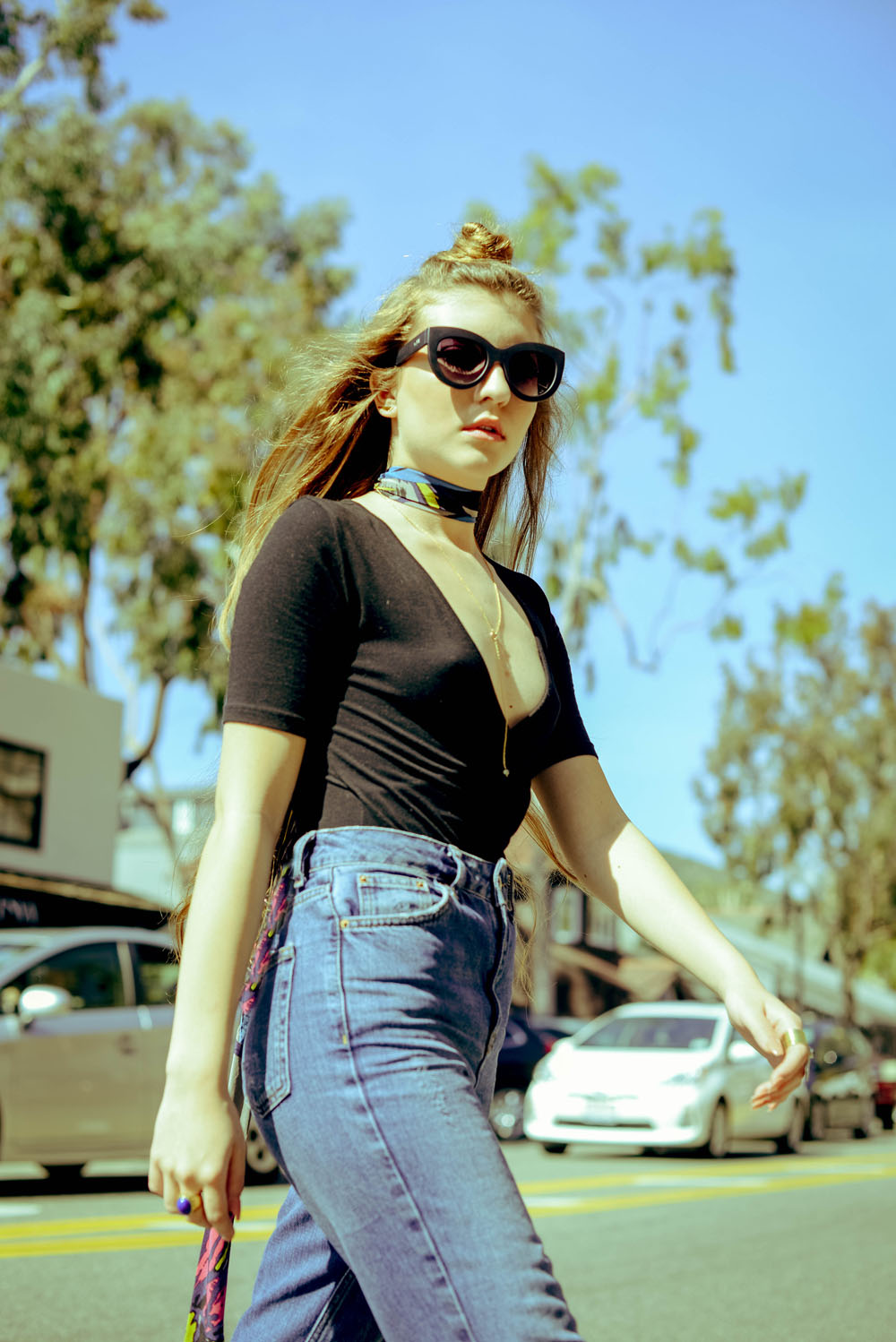 Neck Tie: Zara// Body Suit: similar// Jeans: similar// Necklace: La Weez// Sunnies: Quay Australia from Blue Eyed Girl-Laguna Beach
The Neck Tie
For those of you who follow us regularly (which should be all of you) you've probably noticed Katie and my obsession with the neck tie. As stylist we're always looking for pieces that are both cool (for lack of a better word) and have versatility, and the neck tie has that winning combo. This is a very inexpensive accessory with so many possibilities. Here are two great examples of what you can do with a neck tie (above) we've simply tied the neck tie in the back to the appearance of a choker in front while giving the back of the look some movement, (below) we paired a neck tie to a flirty LBD and pair of white booties for a 60's vibe.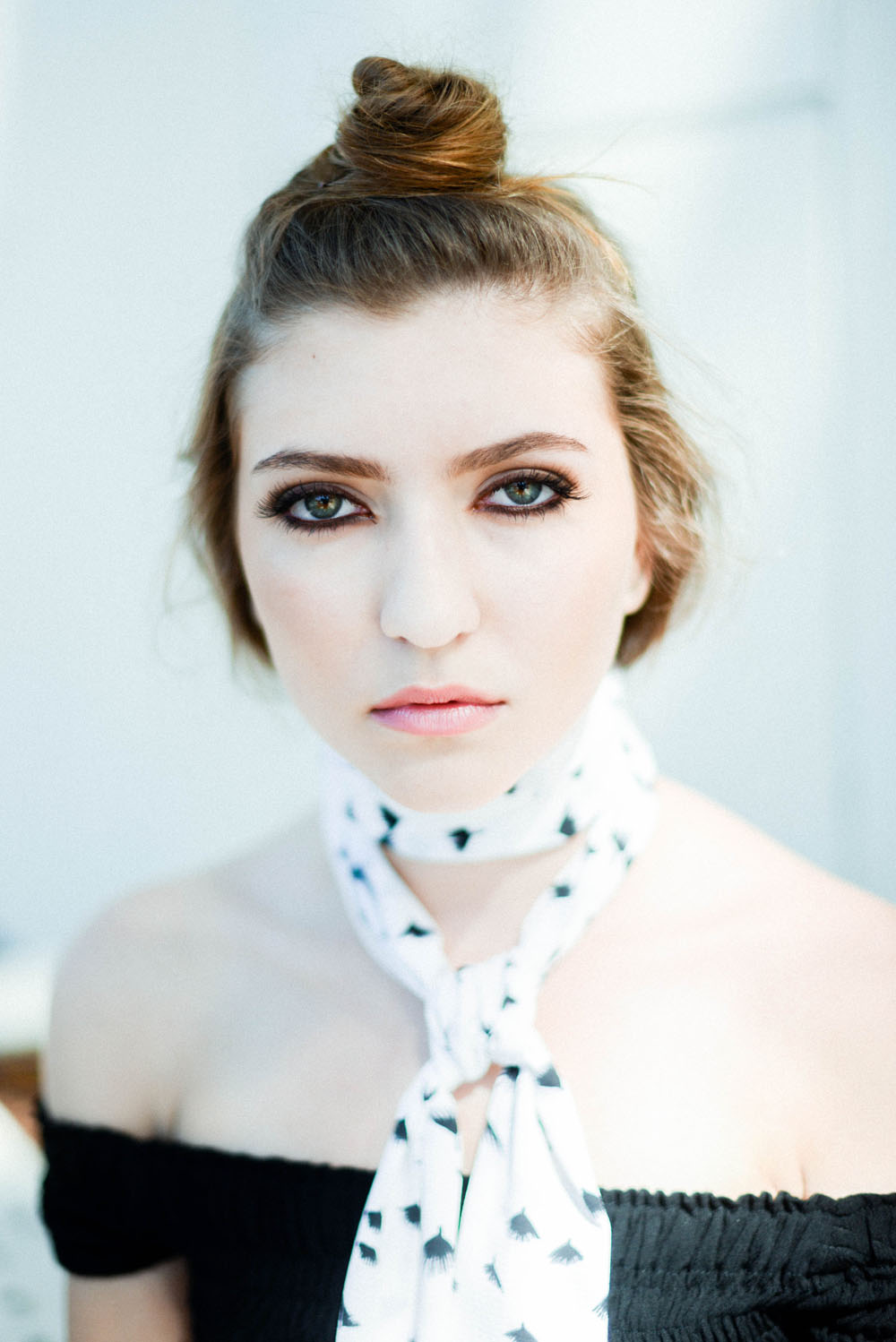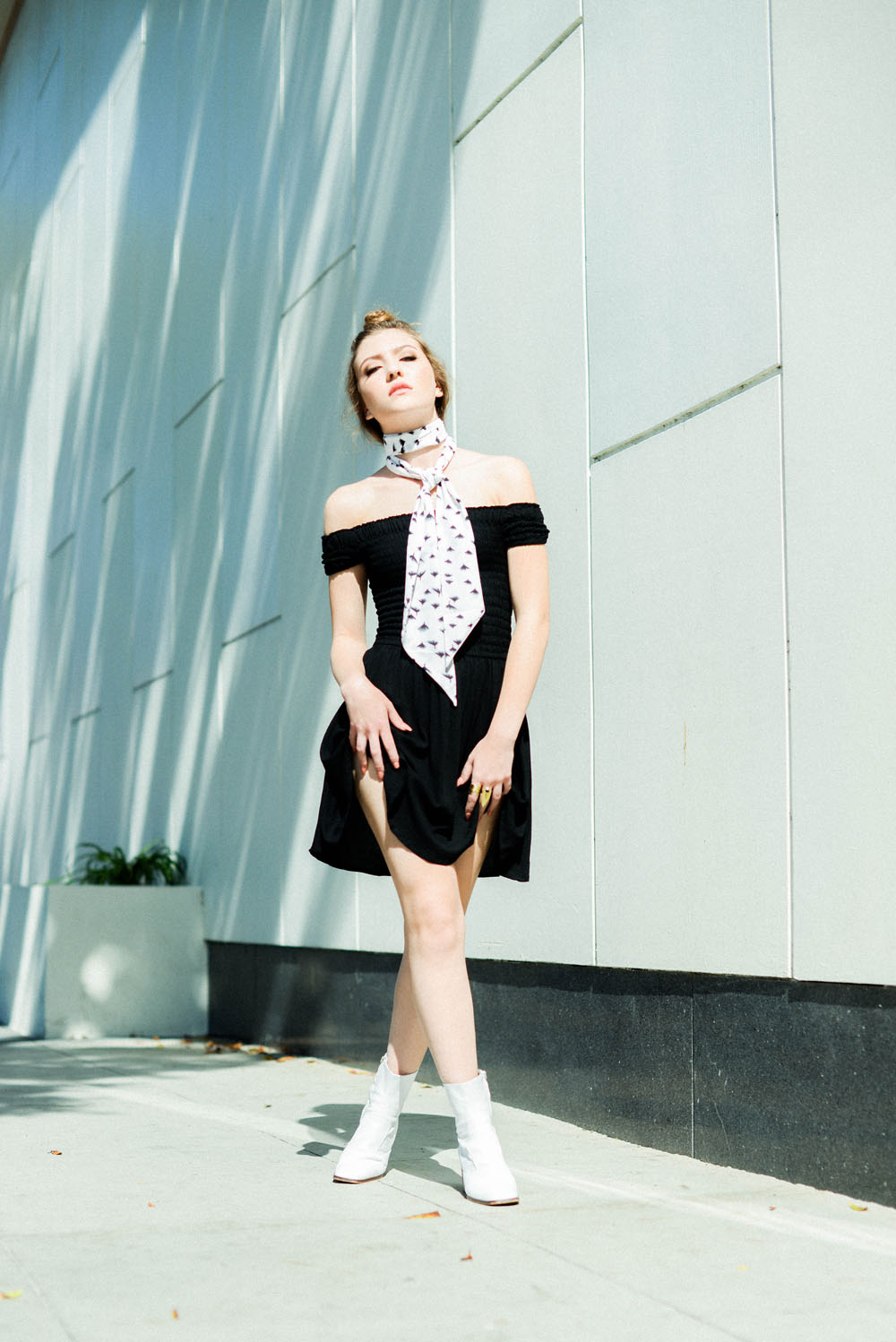 Dress: Cleobella from Red Fox// Neck Tie: Nordstrom// White Booties: Zara// Rings: La Weez
Overalls
These 90's favorites are back in a big way this season. What I love about these overalls is the material- the raw silk gives these Lacausa overalls a fresh vibe. Simply changing one thing about a trend, like material, can give your look a current twist.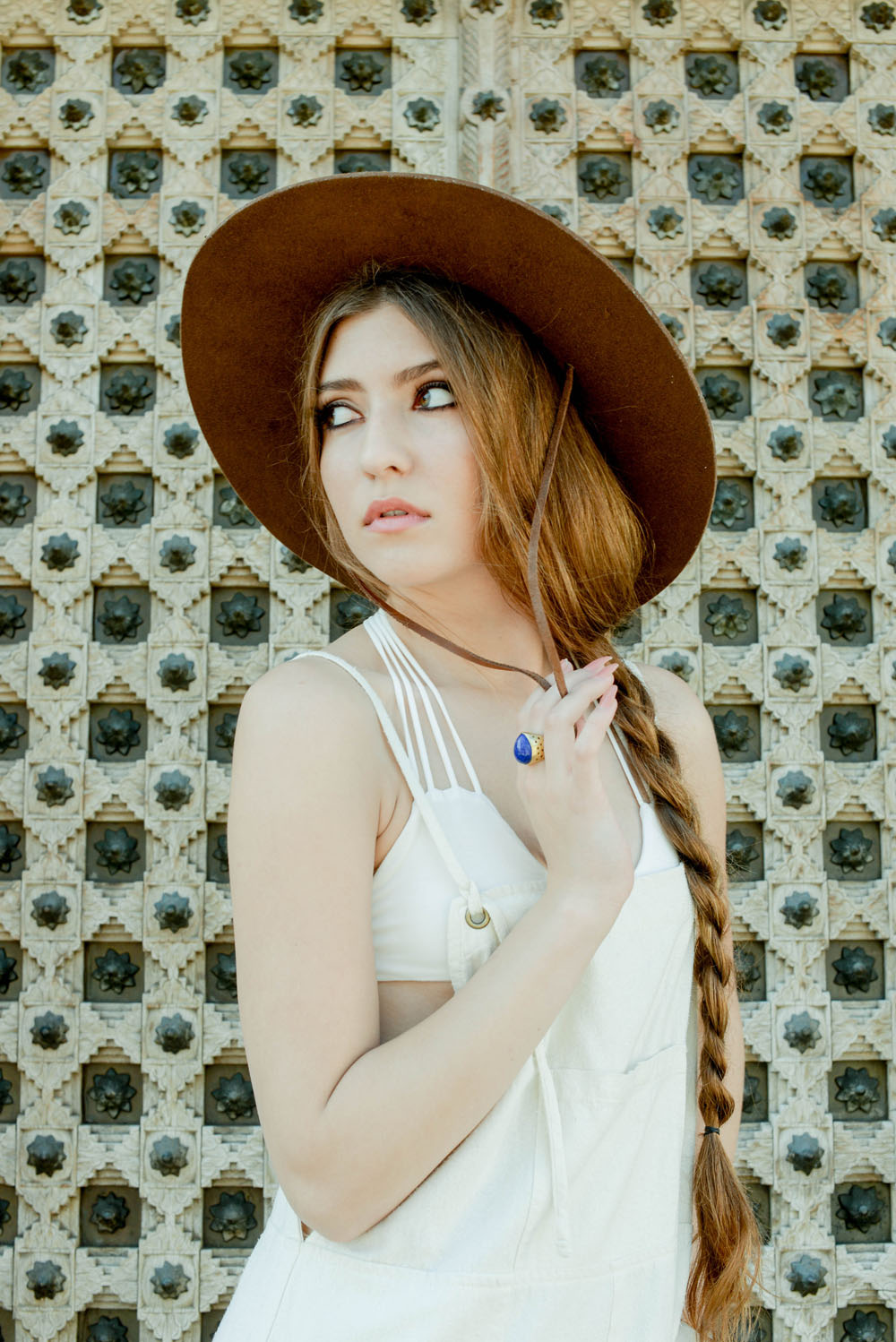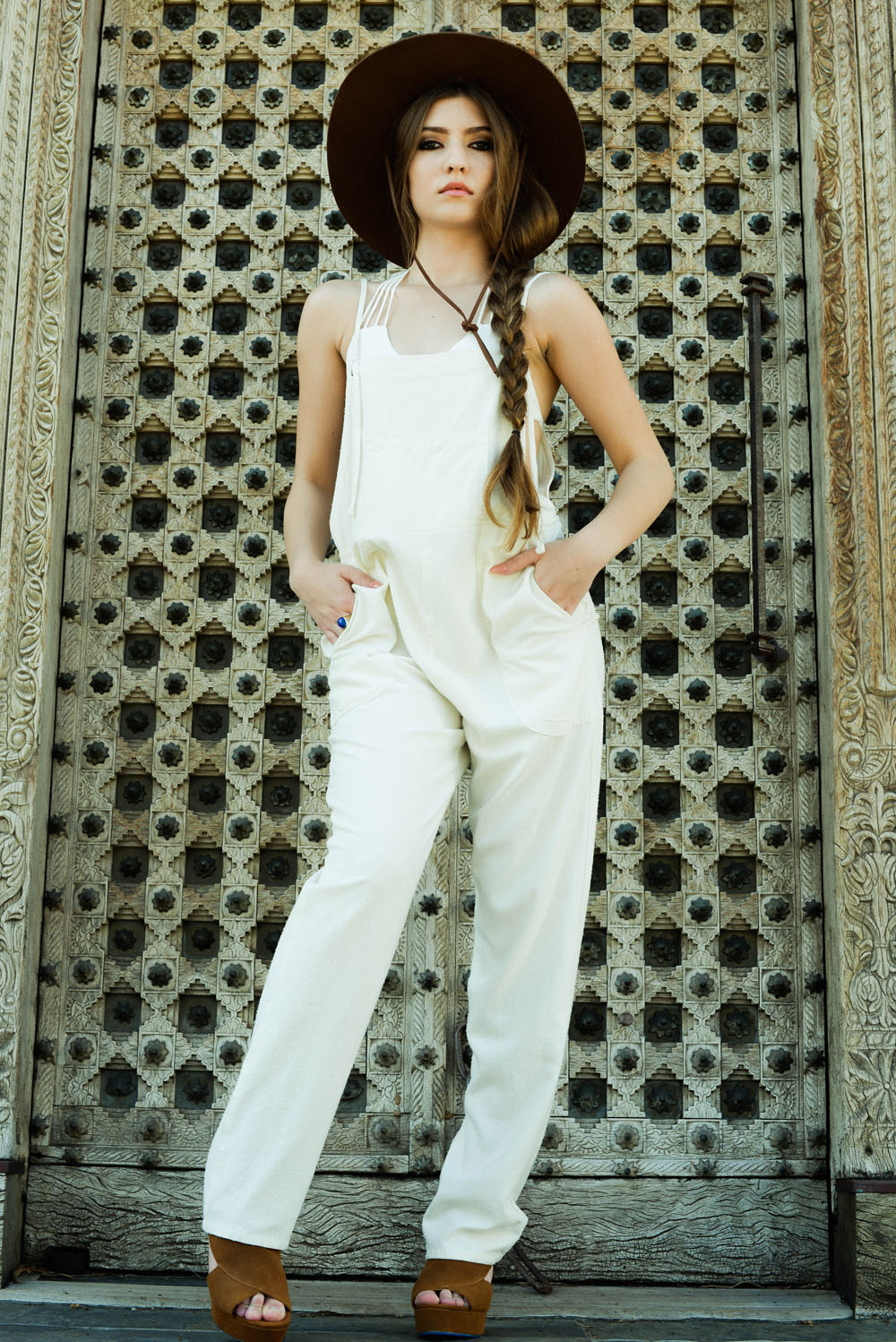 Overalls: LACAUSA// Hat: Brixton// Wedges: Report all from Blue Eyed Girl-Laguna Beach// Ring: La Weez
Fringe
Leave it to McGuire Denim to come up with a new way to wear fringe. This trend from last season is still holding strong. I love these denim leggings with fringe on the hips-so rad. We paired these pants back to a simple peasant blouse for a chic boho vibe.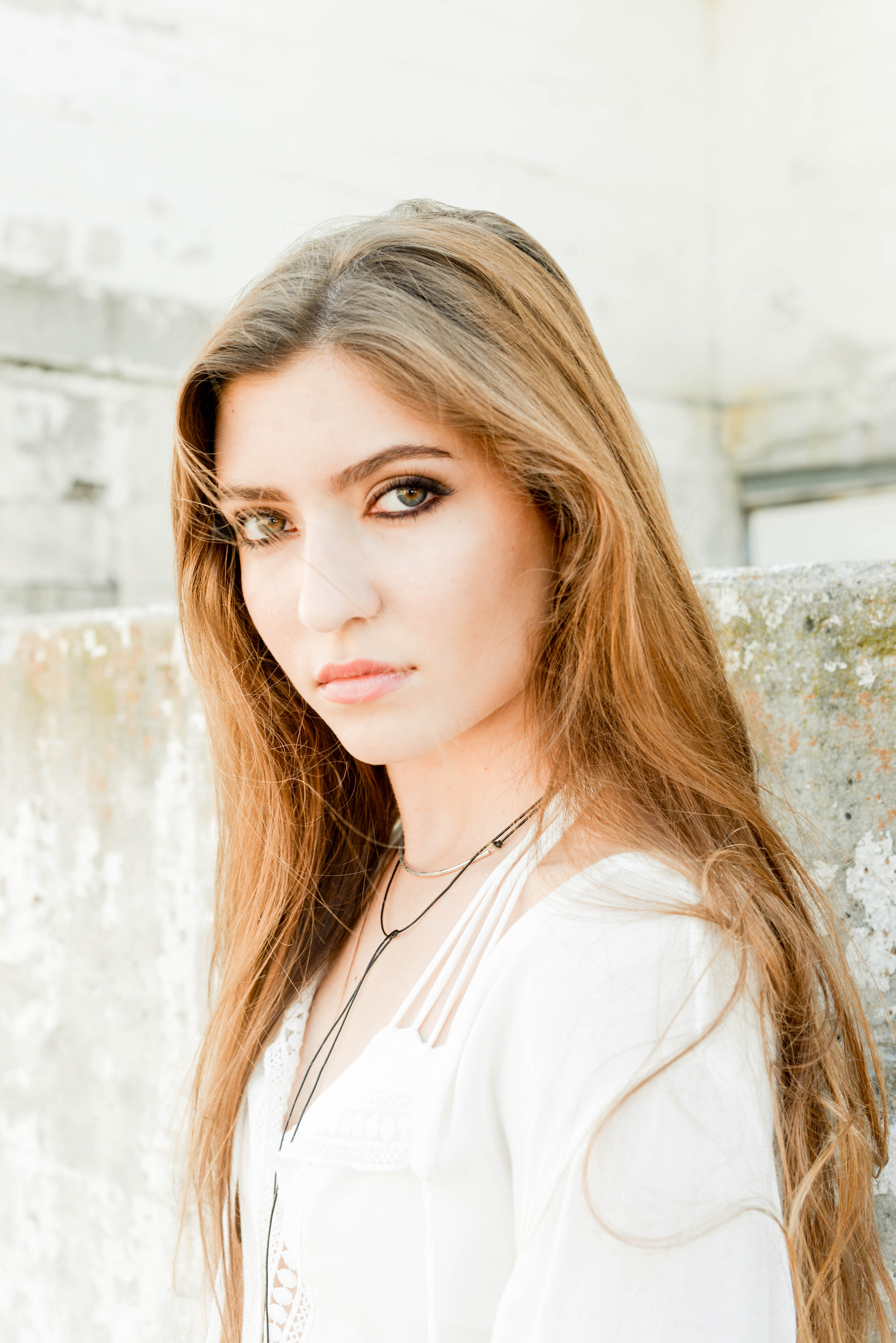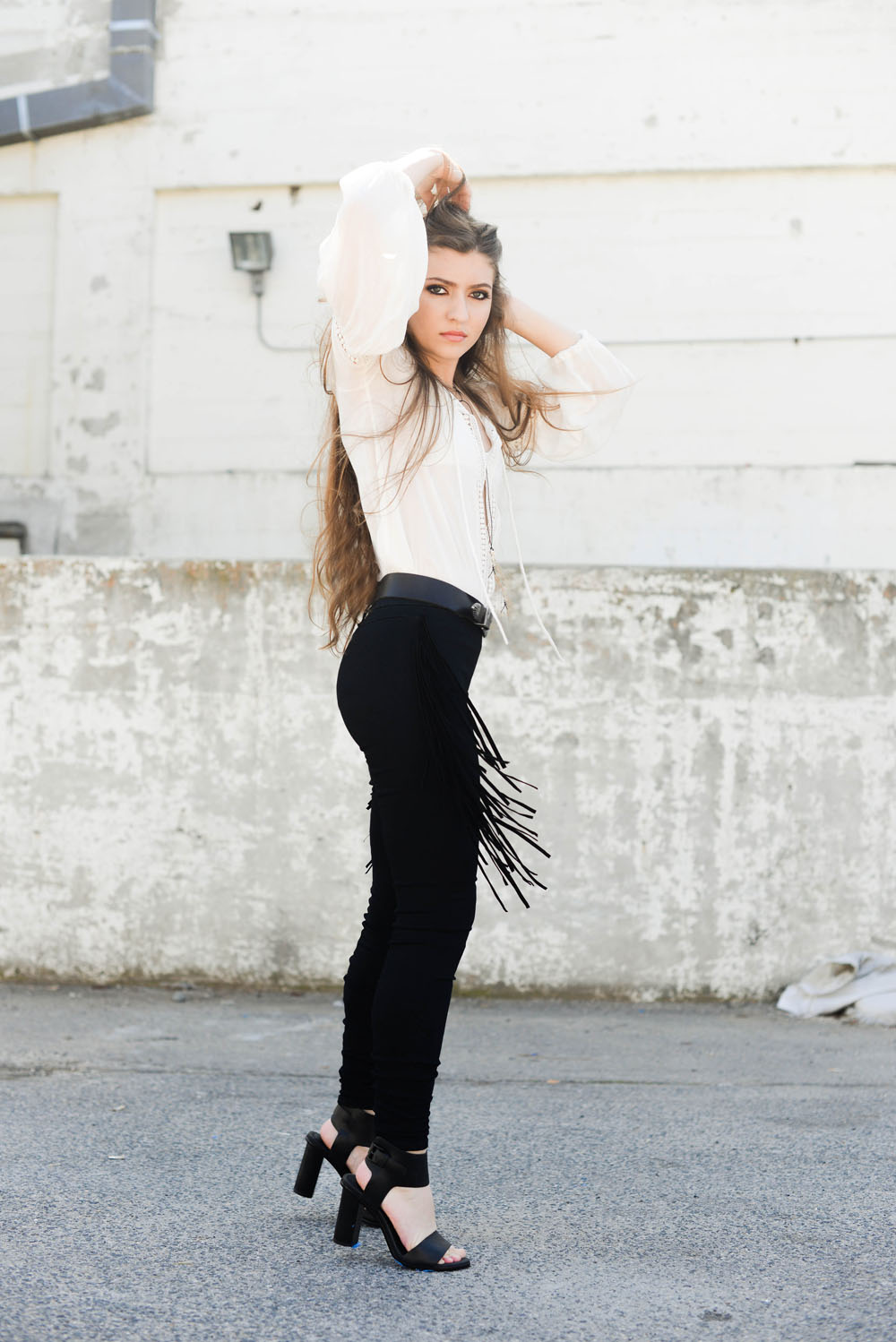 Blouse: Cleobella// Fringe Jeans: McGuire Denim both from Red Fox// Heels: Joie from Seaside Soles// Necklace: La Weez
The Romper
I love rompers! Flynn Skye nailed this cute romper with a tie waist, it looks like a matching set but it's one piece. Again, it's little details that make a look fresh.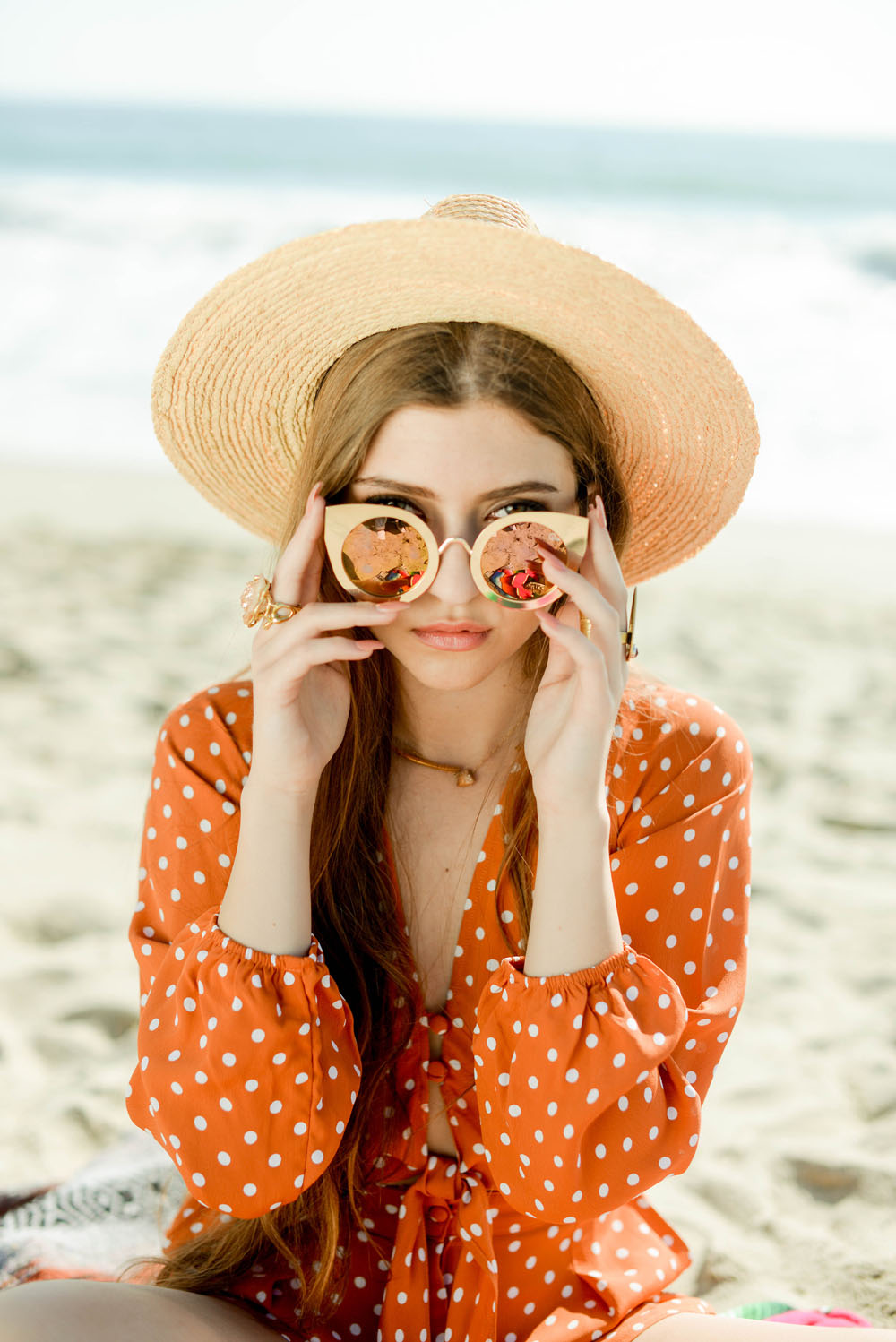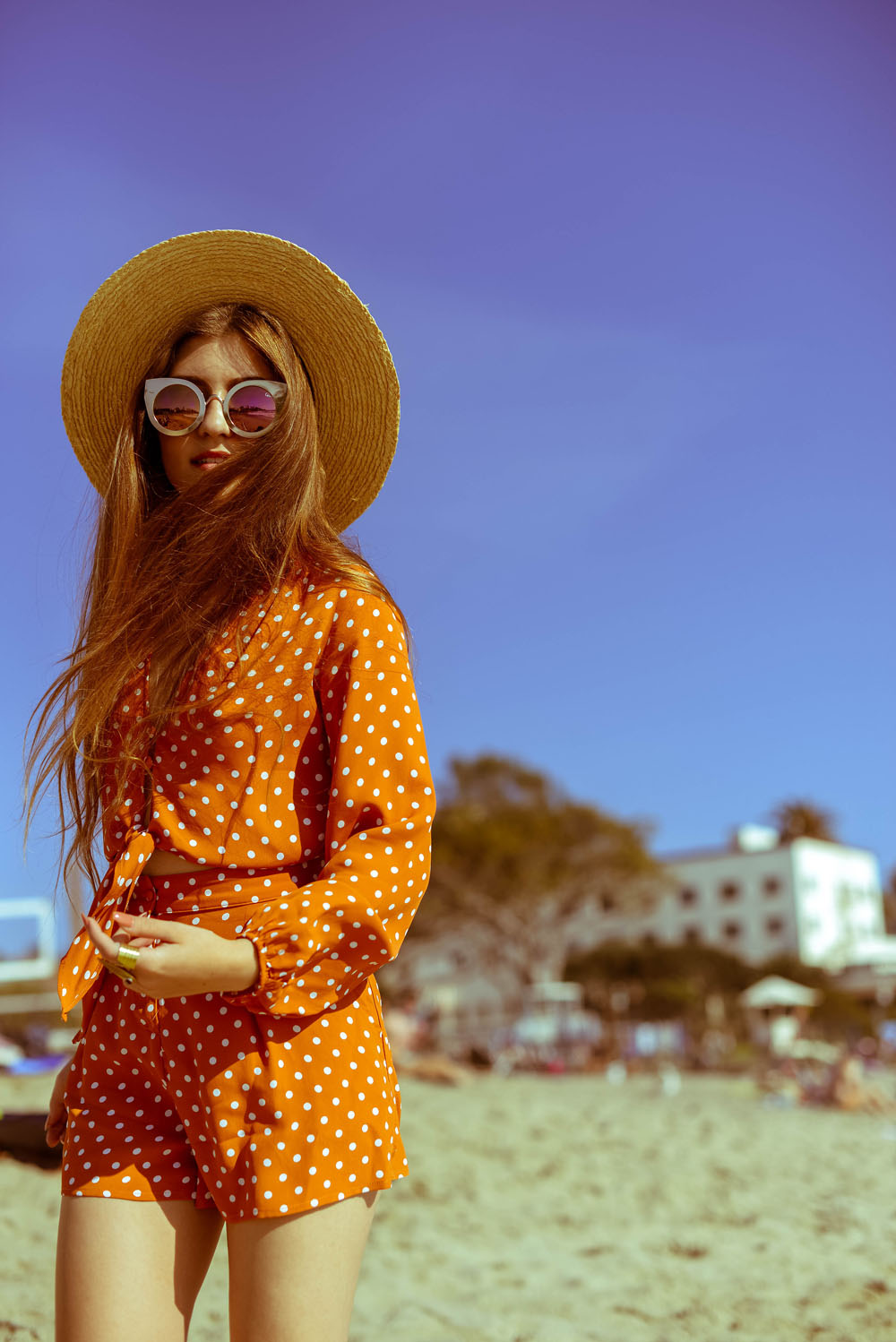 Romper: Flynn Skye// Hat: Brixton// Sunnies: Quay Australia all from Blue Eyed Girl// Jewelry: La Weez
Model: Jaci Romney// HMU: Nicci Gaona// Photography: Courtney Garkani// Stylist: Katie Keyes// Creative Direction: Rachael Dickens