Chrissy Teigen Hosts Launch of Coach's Pre Fall 2016 Collection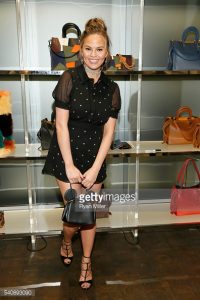 Coach Pre Fall 2016, gorgeous leather goods, our favorite local blogger babes & style influencers, and MEGA Babe Chrissy Teigen… Now that's how you kick off summer!
Last month we were asked to attend the event of the season at Coach South Coast Plaza to celebrate the Launch of Stuart Vevers' Pre Fall 2016 Collection, hosted by Model, TV personality & Author Chrissy Teigen. Having attended Huntington Beach High School and worked at both the Lab & The Closet at Fashion Island, Chrissy is no stranger to The OC. She was excited to be back to Host the Pre Fall Launch of one of her favorite handbag lines.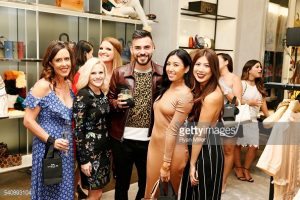 "There's nothing quite like a Coach bag for me" Chrissy said as she told me about her handbag obsession, and how she loves to display them in her own closet.
The launch party, bustling with The OC's top style influencers, a DJ and catering by 24 Carrots, benefited Step Up Women's Network. Step Up is an organization that supports girls from under-resourced communities to fulfill their potential by empowering them to become confident, professional women. This really hit home for us as we are huge supporters of Women in Business.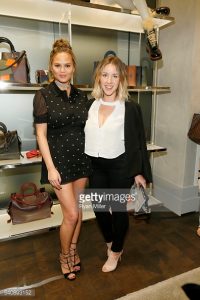 Like minded, Chrissy, just having had a baby girl, wants her daughter and all young women out there to know that, "Nothing is Unattainable. Women do it better, and anything is possible."
It was a pleasure chatting with Chrissy Teigen, and I knew I couldn't end our conversation without throwing in a personal style question. We are all fans of Chrissy's effortless, street chic style and wanted to know if her style had changed at all since being a new mom..
"The only change has been underneath my clothes. I used to think Spanks were silly; Now, they're a God send" Chrissy told me.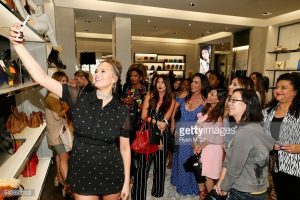 Chrissy spent the rest of her night helping guests shop for Father's day, and mingling with local Inlfuencers. There were even a few selfie moments. We enjoyed the night catching up with some of our favorite babes while admiring the beautiful new collection.


A Peek at COACH's Pre Fall Collection & More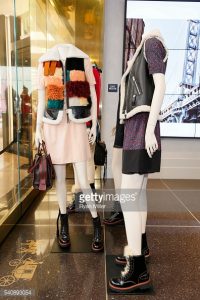 Along with their Pre Fall Collection (available in stores and online) there are many exciting things happening with Coach this year. Coach has been celebrating it's 75th Anniversary all year long, starting with some amazing launches. Earlier in the year Coach launched it's Icons Series, where the brand redesigned four of its most iconic styles. This Fall, with Chloe Grace Moretz as the face, Coach will launch its newest fragrance, as well as it's Rizzoli Published Table Book.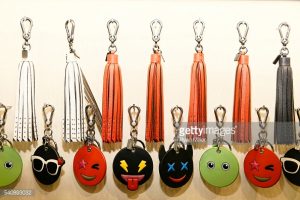 Other exciting happenings include the roll out of the Craftsmanship Bar in stores across the country. The bar will offer a full range of customization and leather services. And to top it off, Coach's headquarters in NY will move to the highly anticipated Hudson Yards. 75 years is a great accomplishment and Coach is pulling out all the stops!