EARTHY LUXE
Peace & Love
Why we ♥ Earthy Luxe
We love Earthy Luxe almost as much as we love the designer/creator April Martin. April was one of the very first jewelry designers to reach out to us before OCSR was even a year old, and Rachael and I immediately fell in love with her collection. Handmade with everything from pearls to Alaskan deer suede to a combination of the two, Earthy Luxe has the perfect piece for everyone. If you're looking for a one of a kind statement piece that can be worn with anything from your favorite pair of jeans to a LBD, this is the line for you! We were fortunate enough to spend some time with April and get to know the woman behind the brand. April embodies everything that is Earthy Luxe, cool, laid back, and one of a kind. Get to know more about April and Earthy Luxe..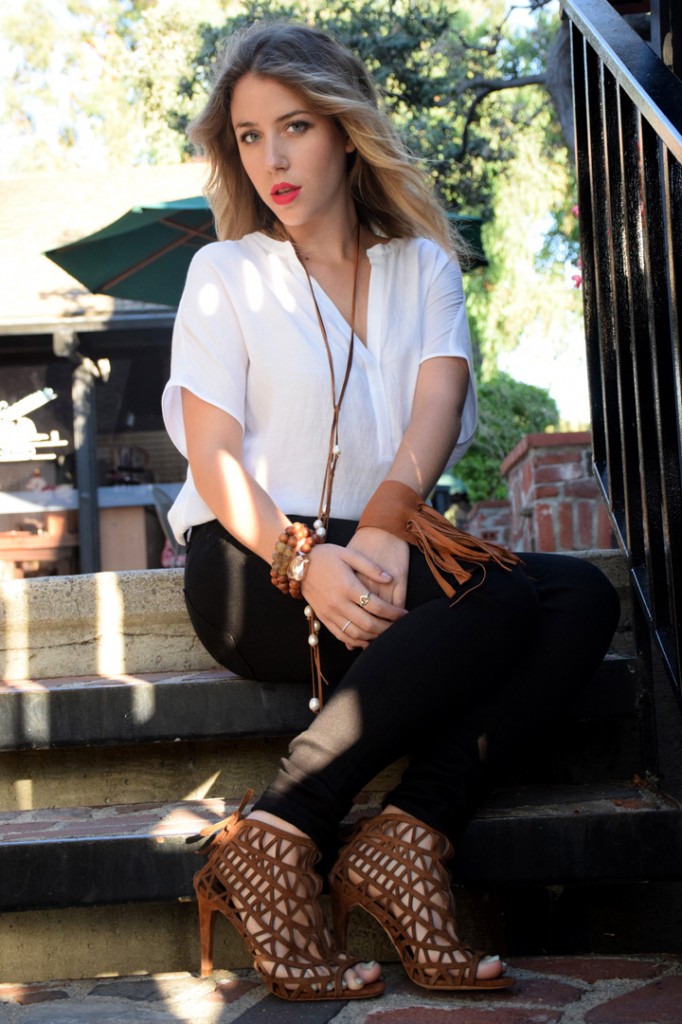 How long have you been designing/making jewelry and at what point did you decide to make it your career?
Going on about 10 years…I kind of fell into this…I worked in the tech industry for 15 years….started dabbling on the side creating things, lost my job and just continued. I taught myself about basic construction and the rest just fell into place. A happy accident….  =)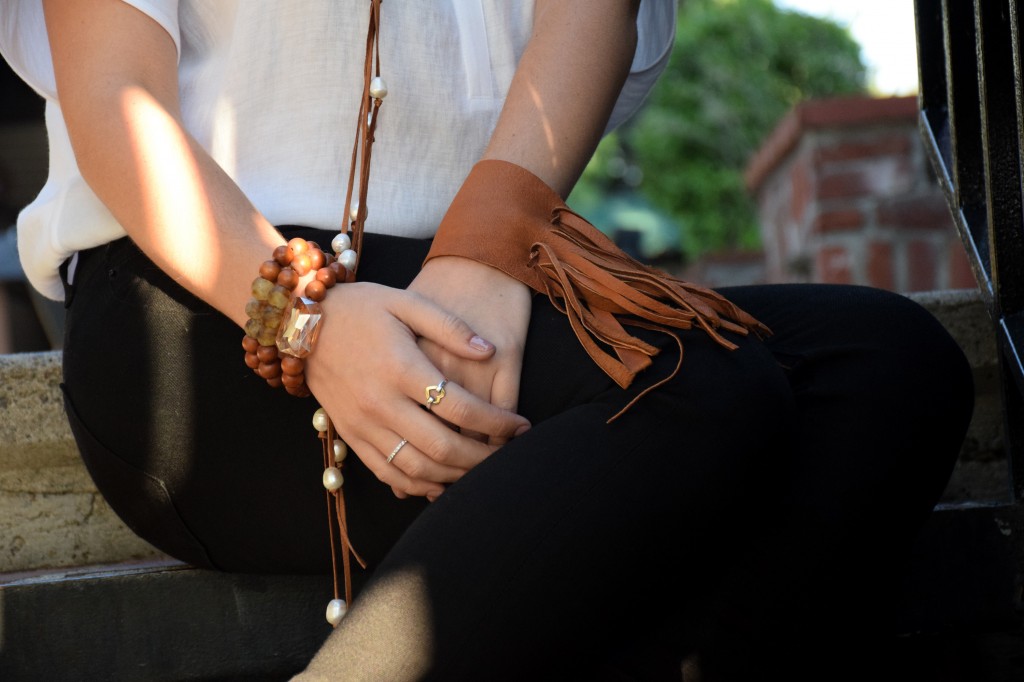 Top: BCBG from Sasha Boutique// Jeans: Hudson//Jewelry: Earthy Luxe by April Martin Deer suede fringe Hendrix Cuff// Recycled wood cuffs// Pearl and deer suede lariat (freshwater pearls, pyrite, deer suede)
What is the inspirations behind your designs?/What inspired your most recent collection?
Nature is a HUGE inspiration for me…clean lines, something sparkly or a pretty color stone….I can shop at a gem show, see shapes and colors and know just what I'm going to create….Ideas just pop into my head!  The key is making sure they stay there until the creation is complete.  My inspiration for my most recent collection is the forest and the ocean of the town (Aptos) I live in.  I also had a "Summer Camp" inspiration this year on a trip to Lake Tahoe….I started creating luxe versions of simple jewelry created by children at summer camp.  Almost every one of my designs has a name and a story.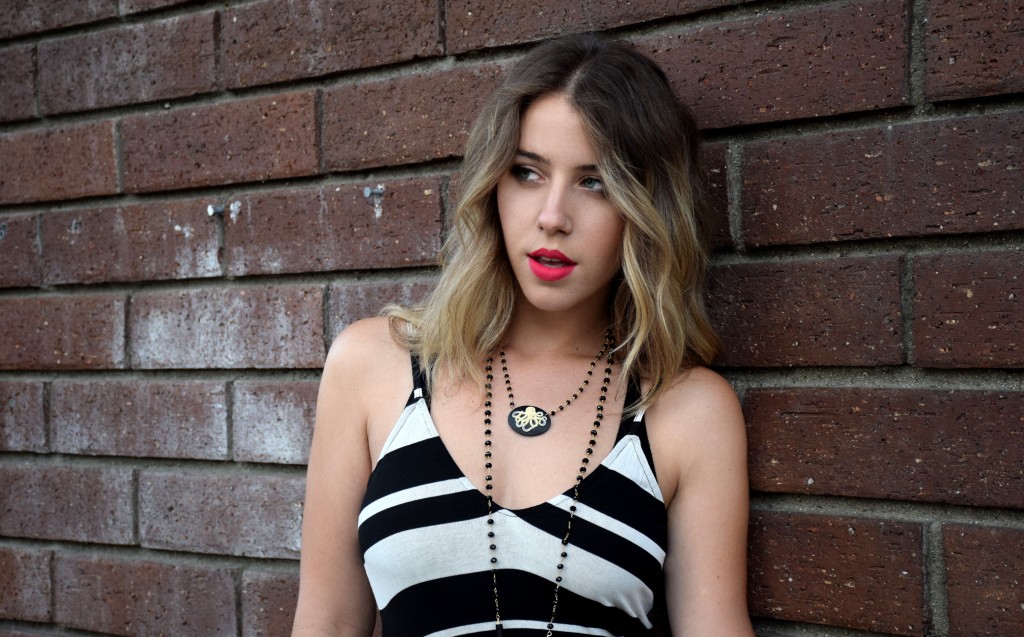 Where does the name Earthy Luxe come from?
I'm a BIG fan of Mother Nature (wild) as well as the Luxe style of say Ralph Lauren (clean) or Christan Lacroix (opulent)….and I like to mix the two…I like a nice cross between the wild and the elegant.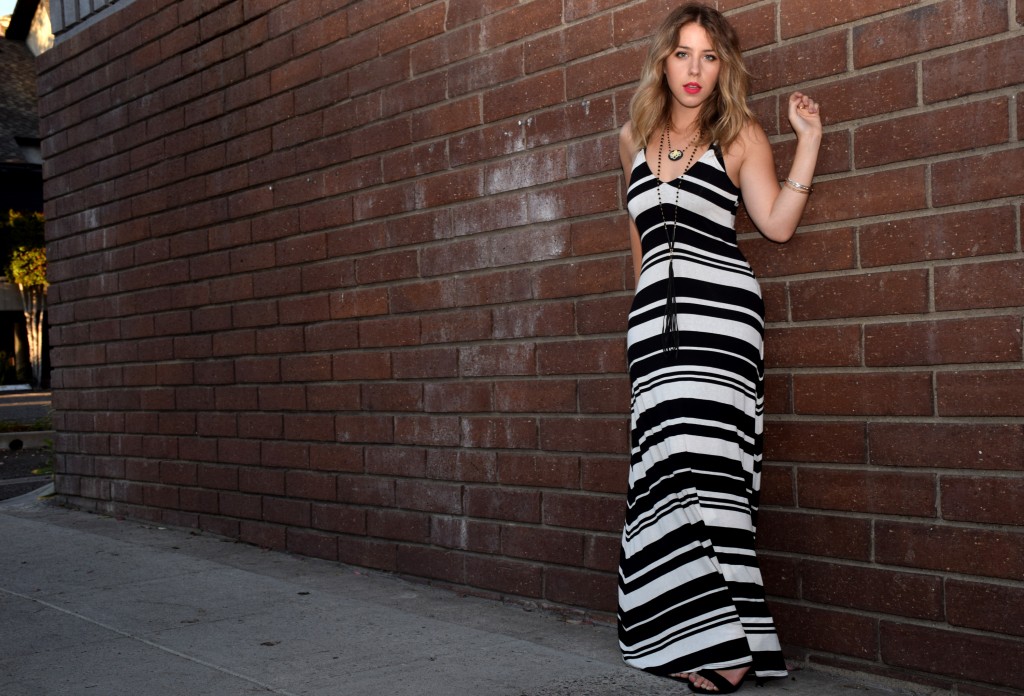 Dress: from Sasha Boutique//Jewelry: Earthy Luxe by April Martin Glammed up Sea Monster (black spinel beaded chain and resin octopus)//Black Betty (Black spinel, bone hair pipes and deer suede tassel)// Wire bangles (14K gold fill and Sterling silver)
How would you describe your personal style?
I LOVE casual elegance….a leather sandal with a nice silk pant and a cotton tank….with pretty accessories….I like a long, clean silhouette, a wide-leg pant and dresses must be to the floor. I like to look pretty but not like I'm trying to hard. LOVE cowboy boots with everything. I NEVER wear jeans.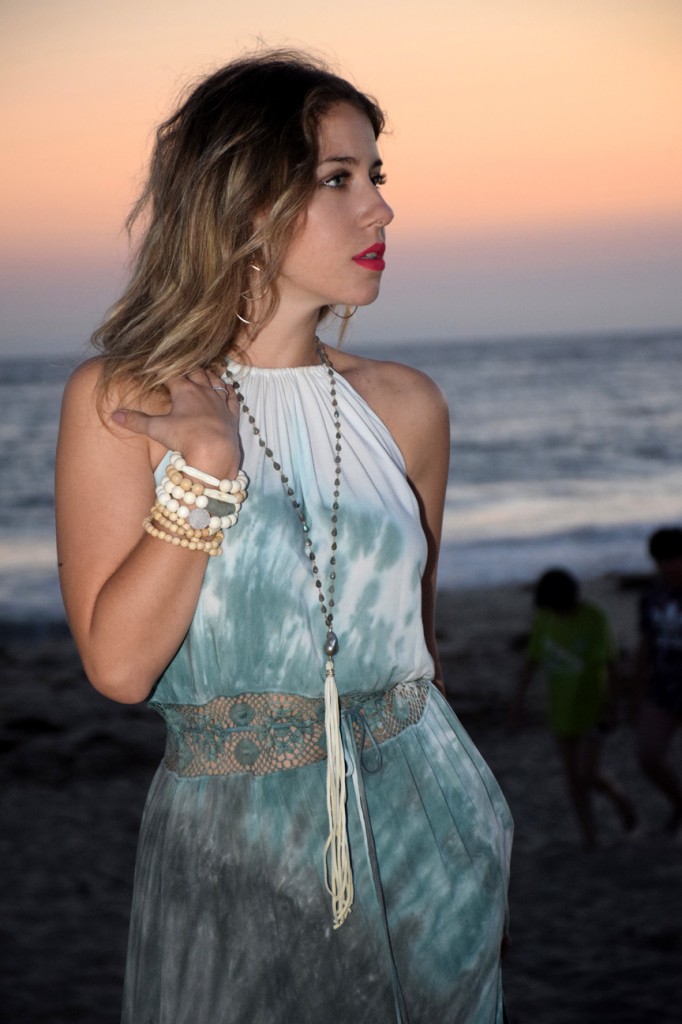 What Earthy Luxe piece do you find yourself wearing the most?
I wear the recycled wood cuffs almost every day and my long pearl and deersuede lariat.  But I also like a simple gold necklace and gold, wire bangles….Depends on my mood, but I always have something on! =)
Dress: from Sasha Boutique// Jewelry: Earthy Luxe by April Martin //Beaded labradorite necklace with baroque South Sea pearl and deer suede tassel// Recycled wood cuffs (both single and triple wrap)//Double loop earrings (14K gold fill)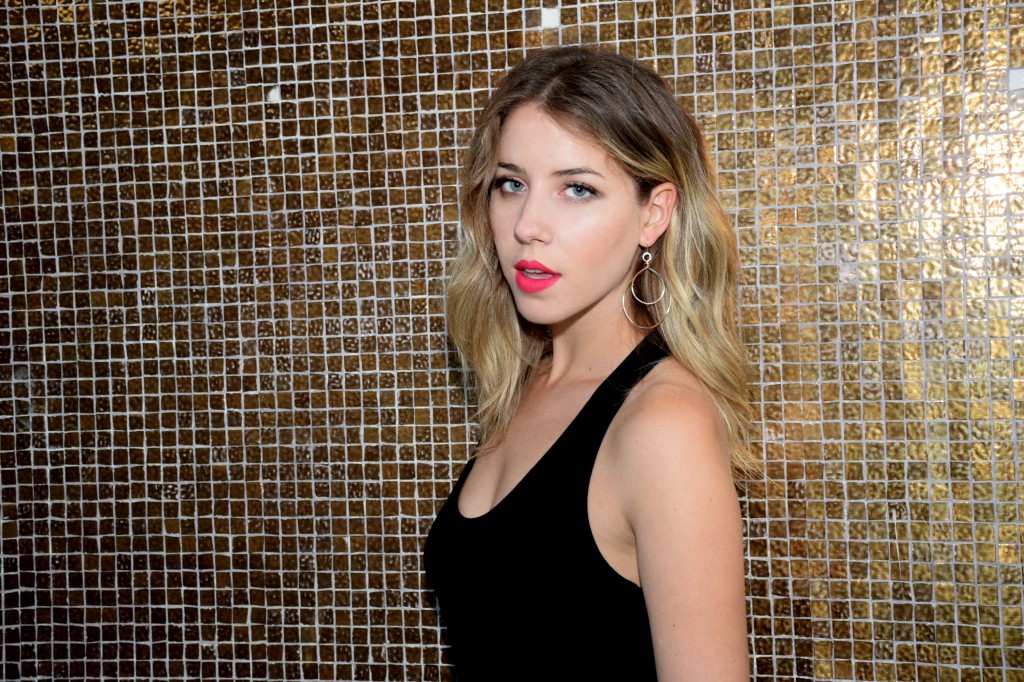 What's next for Earthy Luxe?
Currently working on a collaboration with a close friend who is a fellow artist….Excited about it!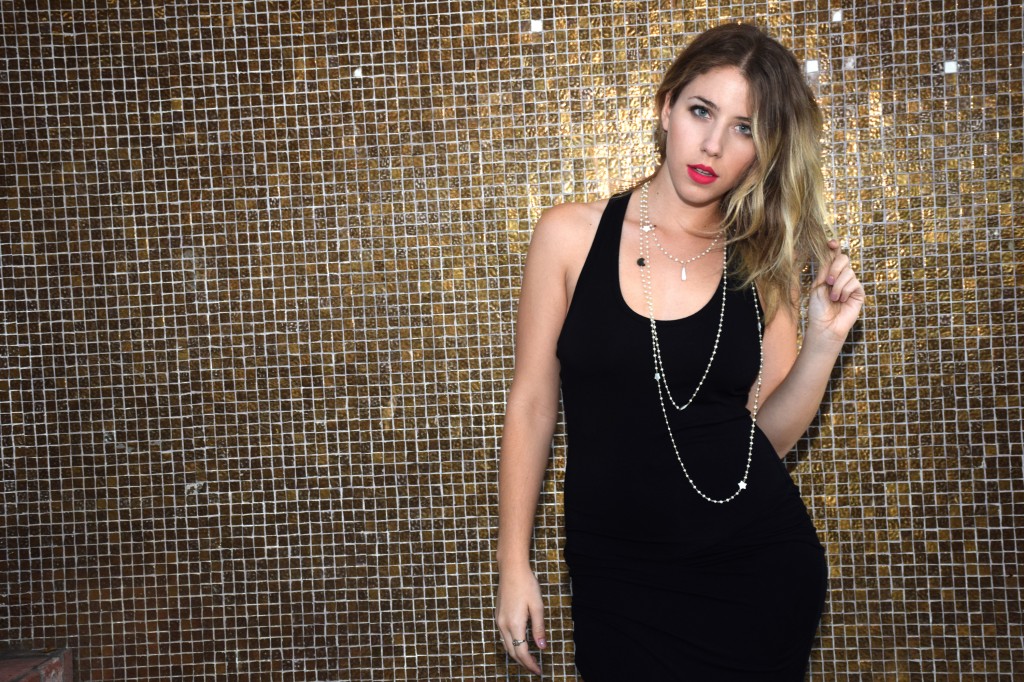 Dress: Young Fabulous & Broke from Sasha Boutique// Jewelry: Earthy Luxe by April Martin Celestial wrap necklace (freshwater pearl chain, mother of pearl stars and one moon)// 18 inch Onassis pearl beaded necklace with mother of pearl drop// Double loop earrings (14K gold fill)
Model: Natalie Dickens// Hair & Make-up | Styling | Photography: Rachael Dickens
[gravityform id="2″ name="Newletter"]