Why we ♥ Kirby
I can't begin to tell you all the reasons we love Kirby! Most of you know Kirby as OC STYLE REPORT'S wonderful Assistant Stylist, but what you might not have known is that along with being an important part of the OCSR team, Kirby is a Stylist at Blue Eyed Girl and she has her very own blog, Fashion by Day. Kirby doesn't let anything get in the way of doing the things that she loves. While most bloggers have a family member or a close friend who is a photographer, Kirby takes all of her own pictures… That's pretty impressive if you ask me! Not only is this girl hard working and determined in the things that she loves, she does it all with a big smile on her face 100% of the time.
With the diversity of Kirby's personal style, Fashion by Day has a little style inspiration for everyone. From polished one day to boho the next, Kirby's ever changing style is what makes her blog so fun to follow! You can't wait to see what she wears next! If you don't follow Fashion by Day, NOW is the time to start!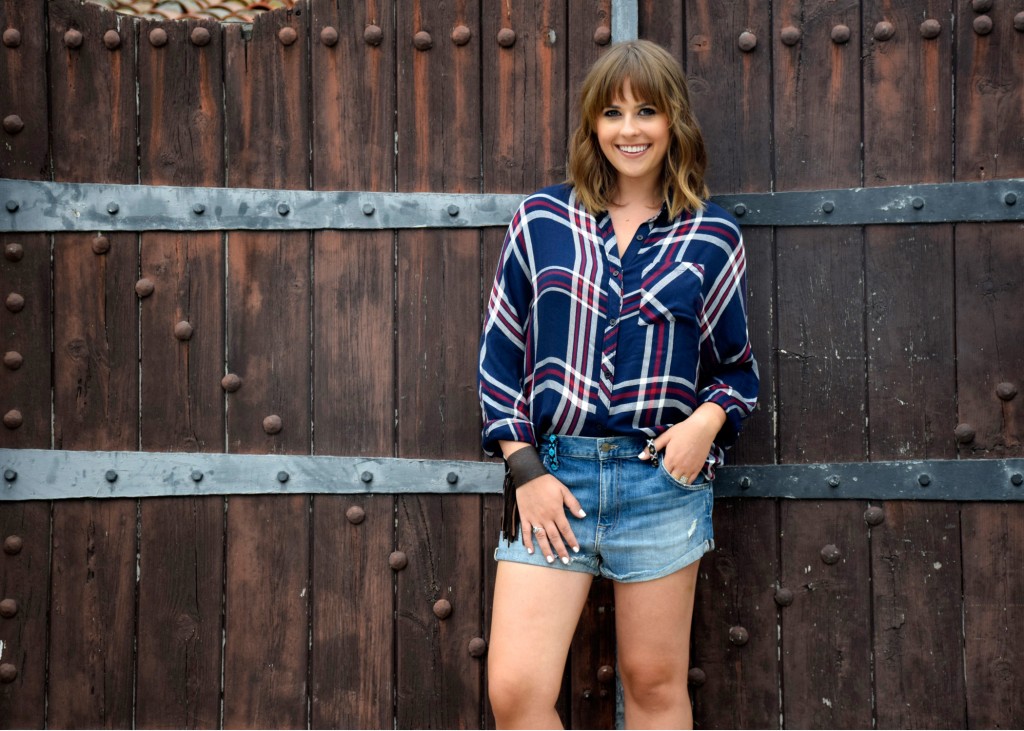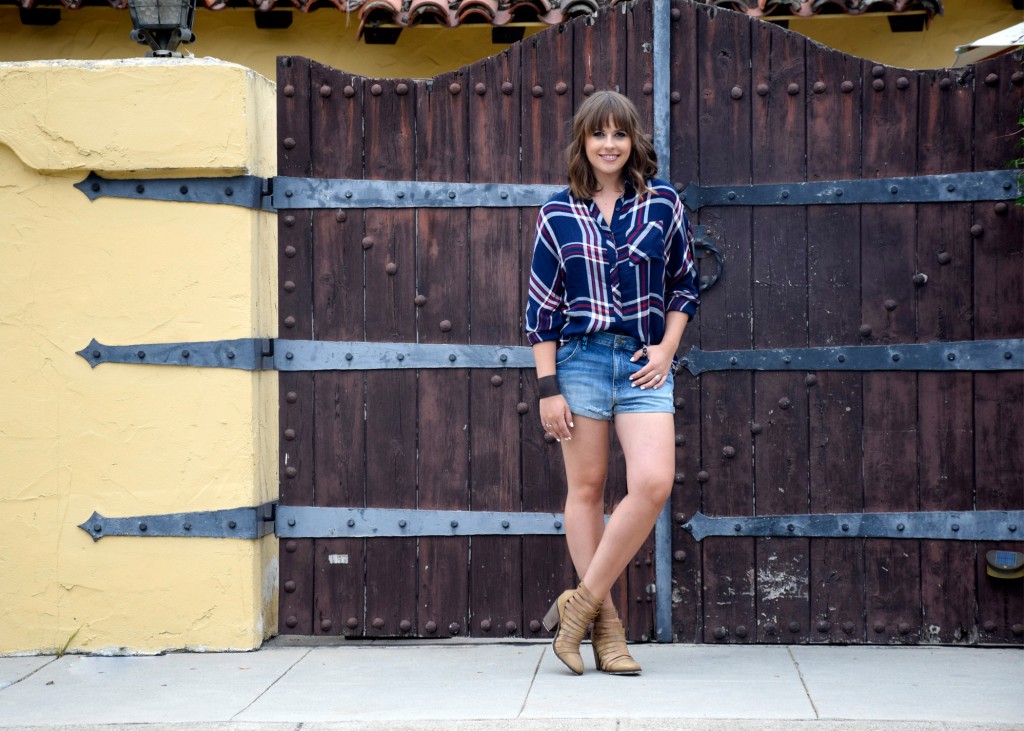 Shirt: Rails Flannel// Shorts: WILDFOX// Booties: Free People all from Blue Eyed Girl// Leather Fringe Bracelet: Earthy Luxe
Q&A
When did you start blogging and what inspired you to start?
I started blogging in February of 2011 if you can believe it..I can't. It was right around when Instagram first came out and I thought it would be cool to document my outfit everyday for 1 year as a sort of photo diary. My sister told me I should start a blog so more people could see it, I hadn't even realized that just anyone could start a blog! So I did, just as sort of a hobby to see if I could make a whole year, and that's when 365 Days of Fashion was born. Which after 1 year evolved into the now, Fashion by Day.
Describe your personal style and what influences it.
My personal style.. well I'm not sure there really is a good way to describe it, it's very eclectic and I'm inspired by a million different things. I'd say it definitely has a bohemian vibe, but it's subtle, because even when in a printed maxi layered with a billowing kimono my look stays sort of tailored, almost masculine; I think that aspect comes from my Midwestern upbringing. But, my style changes daily and my mood and surroundings have a lot of influence on that; some days I want to be completely edgy with stiletto booties and a leather jacket and other days I want to twirl around in a floral skirt and blazer..I'm all over the place!

Where do you find inspiration for your blog posts?
Anywhere and everywhere magazines, shopping, people on the streets, my imagination!
Are there other bloggers that you admire?
To be honest I haven't been as good as I used to at keeping up with other bloggers, but one mega blogger I've always admired is Leandra Medine of the Man Repeller. Some may find some of the things she says offensive or un-ladylike, but she 100% always speaks her mind, and even if sometimes the look she is going for is ridiculous, she somehow always pulls it off. I'll just say when perusing blogs, her posts are the ones I actually READ.
What is the one item in your closet you can't live without?
Boyfriend jeans, on any given day when I don't know what to wear or don't feel like deciding what to wear I throw on some boyfriend jeans, booties and a tee and feel 100% comfortable and confident. They're both my go-to and my fall back!
What fall trend are you most excited about?
Are we getting ready for fall already?! I haven't really thought too much about planning my fall wardrobe but I'm excited that bold prints and colors are sticking around, I love a good mixed print look!
What is your next "must-have" purchase?
An amazing pair of clogs, or a clog-bootie hybrid. We're lucky in Southern California to be able to wear shoes with cut-outs even in the winter, and I'm ready to take advantage of that!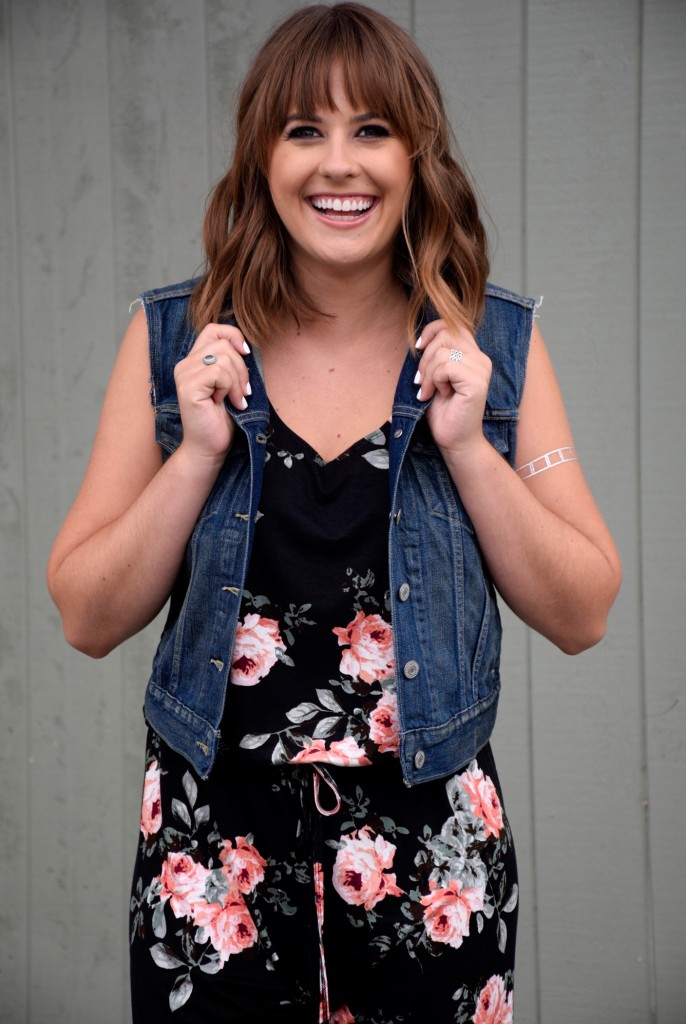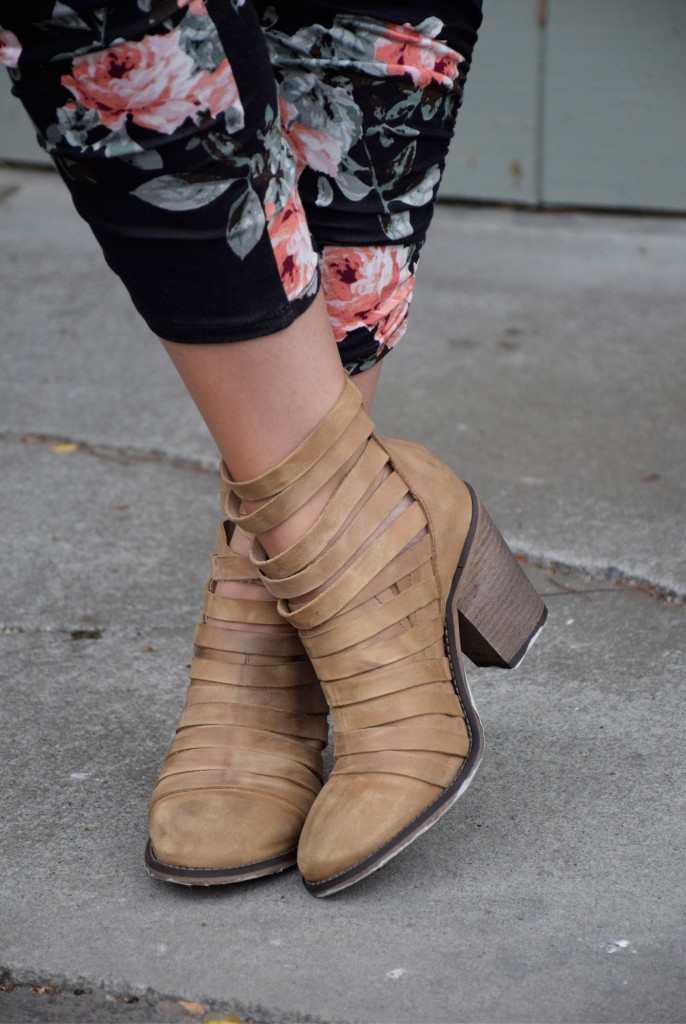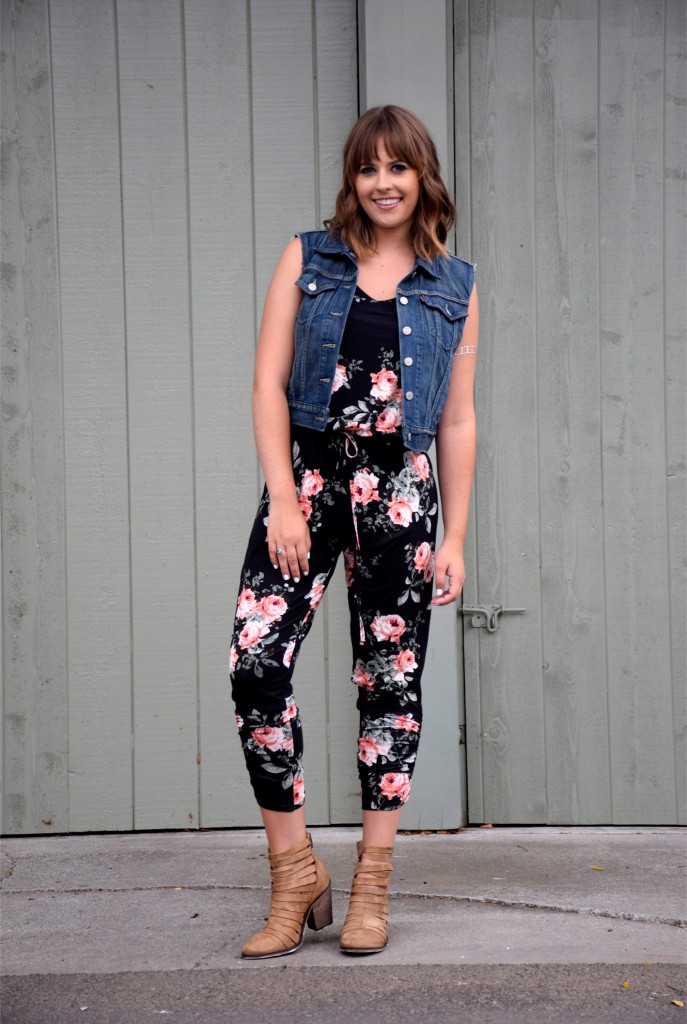 Jumper: Michael Lauren// Booties: Free People both from Blue Eyed Girl// Vest: Levi
The Jewelry | Earthy Luxe
We love Earthy Luxe almost as much as the designer/creator, April Martin! What you get with an Earthy Luxe piece is a one of a kind statement that can be worn with anything from your favorite pair of jeans to a LBD. This cool, laid back line is the perfect addition to our OC Lifestyle. With everything from pearls to Alaskan deer suede to a combination of the two, Earthy Luxe has the perfect piece for everyone. Stay tuned for a more in depth Q & A with April coming soon!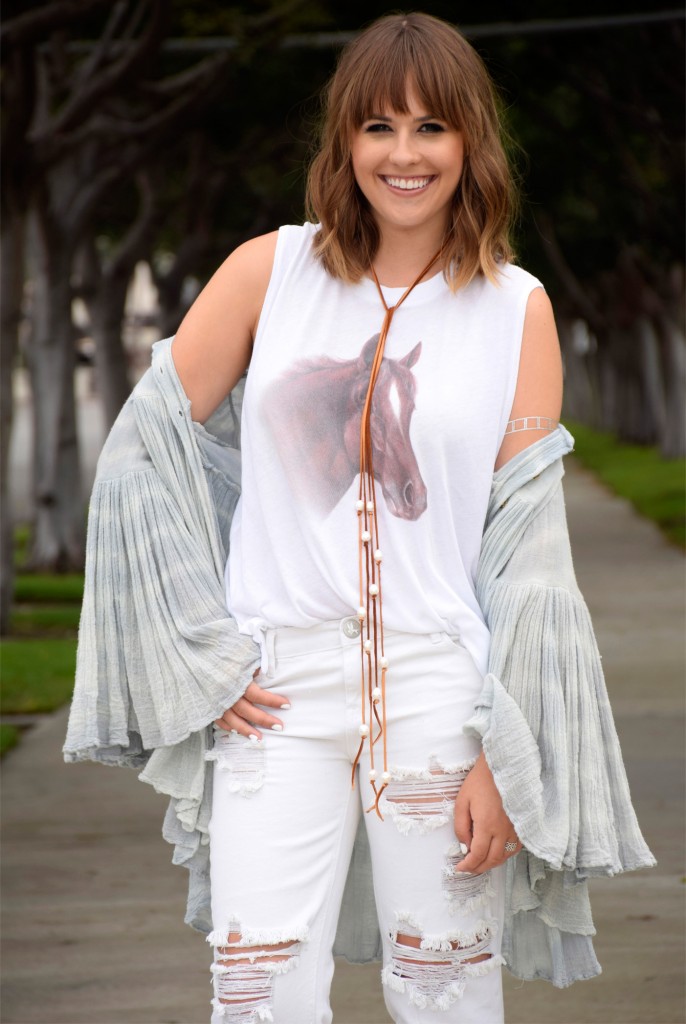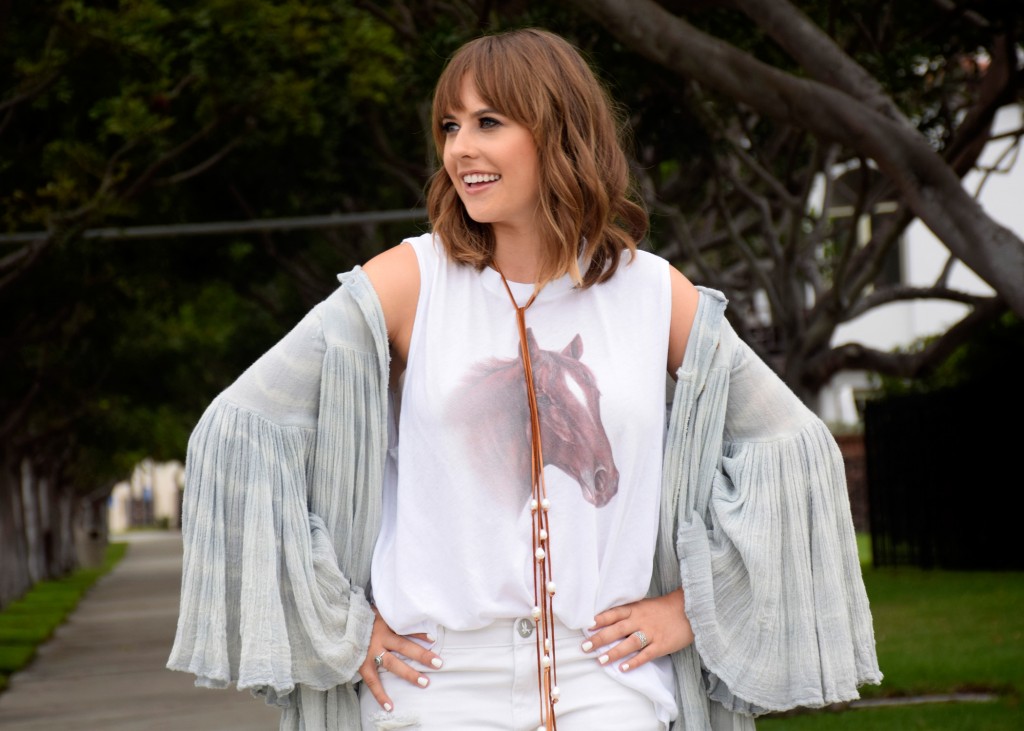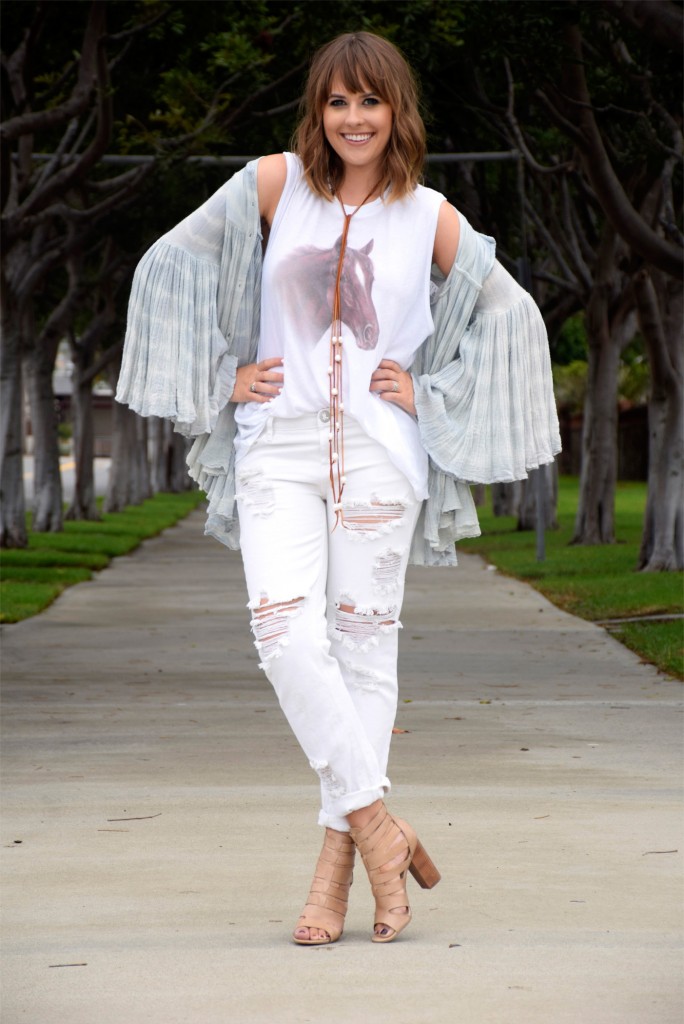 Tee: WILDFOX// Outer Wear/Kimono (Top): Jen's Pirate Booty// Jeans: One Teaspoon Baggies// Sandals: Sam Edelman// Leather & Pearl Necklace: Earthy Luxe
Blue Eyed Girl is a must shop boutique! Their three stores in Orange County are filled with unique finds, quality clothing from some of your favorite labels, and shoes! No matter what your style, Blue Eyed Girl has something for everyone. Not only does Blue Eyed Girl have fabulous finds, their stylist will give exceptional service while assisting you with all of your fashion needs. Next time you are in the mood for a little boutique shopping (which is always for us) head over to Blue Eyed Girl.. And don't forget to say hi to Kirby!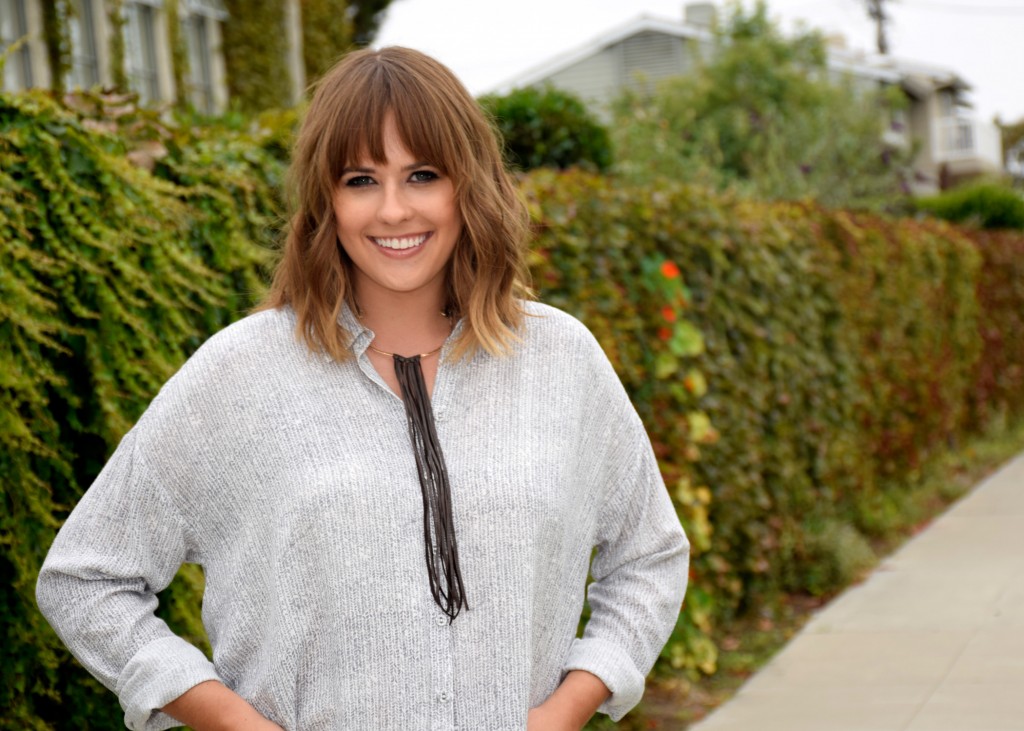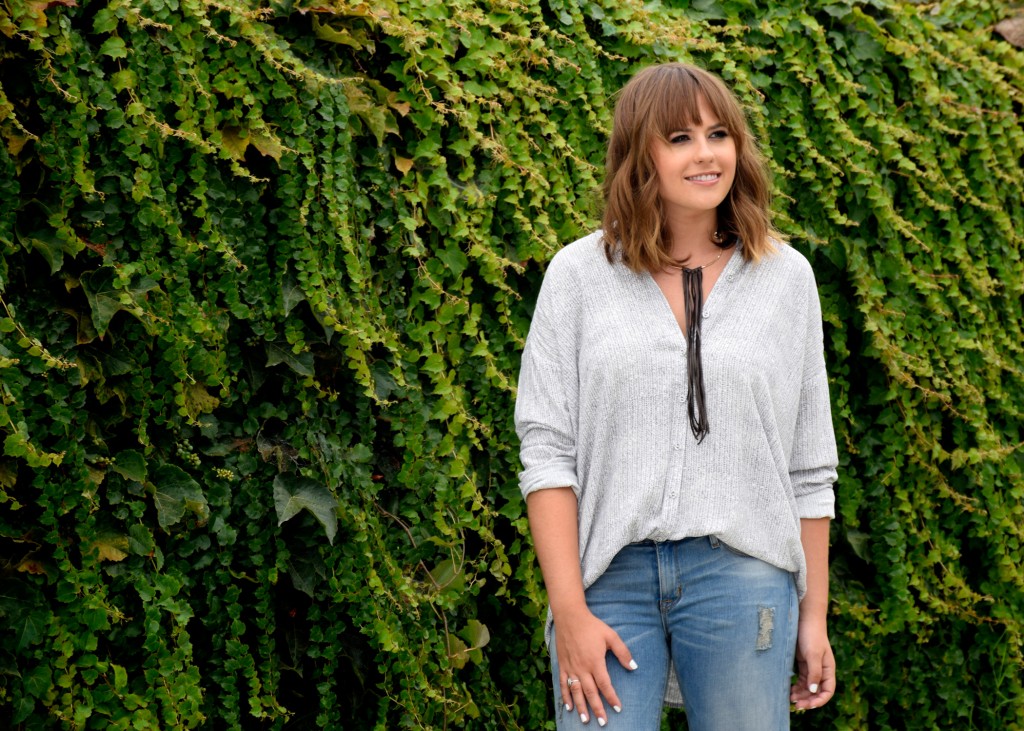 Top: Bella Luxe// Jeans: Hudson Flare// Sandals: Bed Stü all from Blue Eyed Girl// Necklace: Earthy Luxe
Muse | Blogger: Kirby Morris aka Fashion by Day// Hair & Make-up: Swell Beauty// Photography: Rachael Dickens