Why we ♥ Sara
Sara Libby
I'm always  searching for cool real-girl-style for both myself and to share with the girls and gals of the OC. In that search I came across Sara Libby and was instantly taken with her style . I began following Sara on all social media and I found myself making daily trips to her blog. Sara's bohemian spirt was what first caught my eye. For me personally it's not always just about the clothes, a picture  or series of pictures can say quite a lot about someone and it's the "whole" that really catches my eye and makes me a true fan.
When I started writing down the bloggers I wanted to work with, Sara was at the top of my list. I had the opportunity to chat with Sara and found that she herself is as sweet in person as she looks in photos. We had an amazing time working with Sara. Make sure to check out Sara's Blog at SaraLibby.com (this should be on your daily bloggers list) and follow sara on Instagram, Facebook & don't forget to Pin with her also!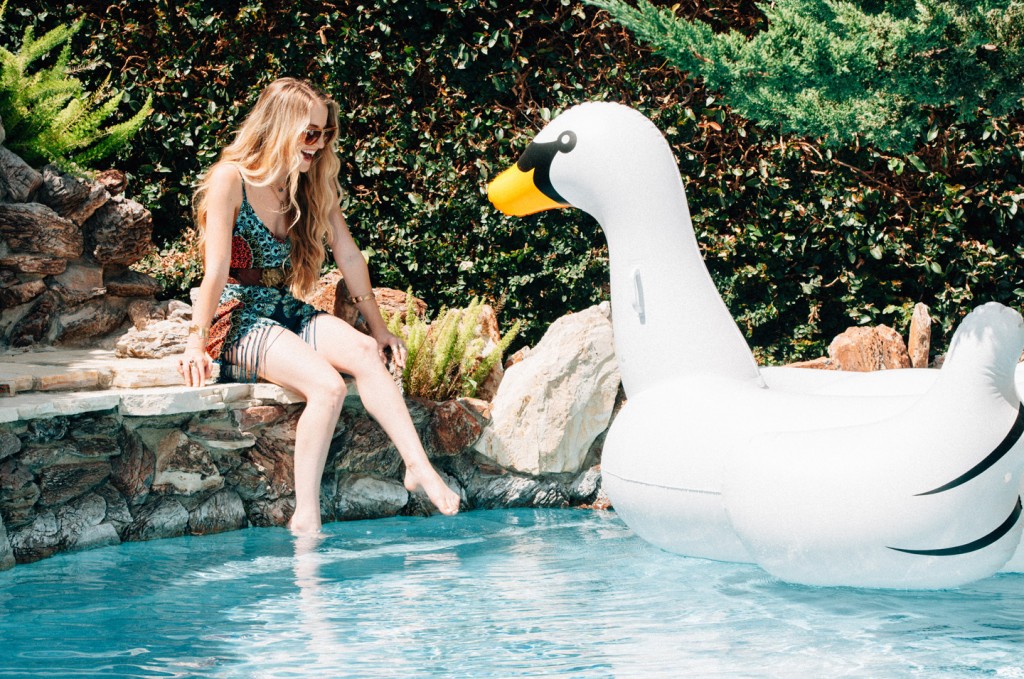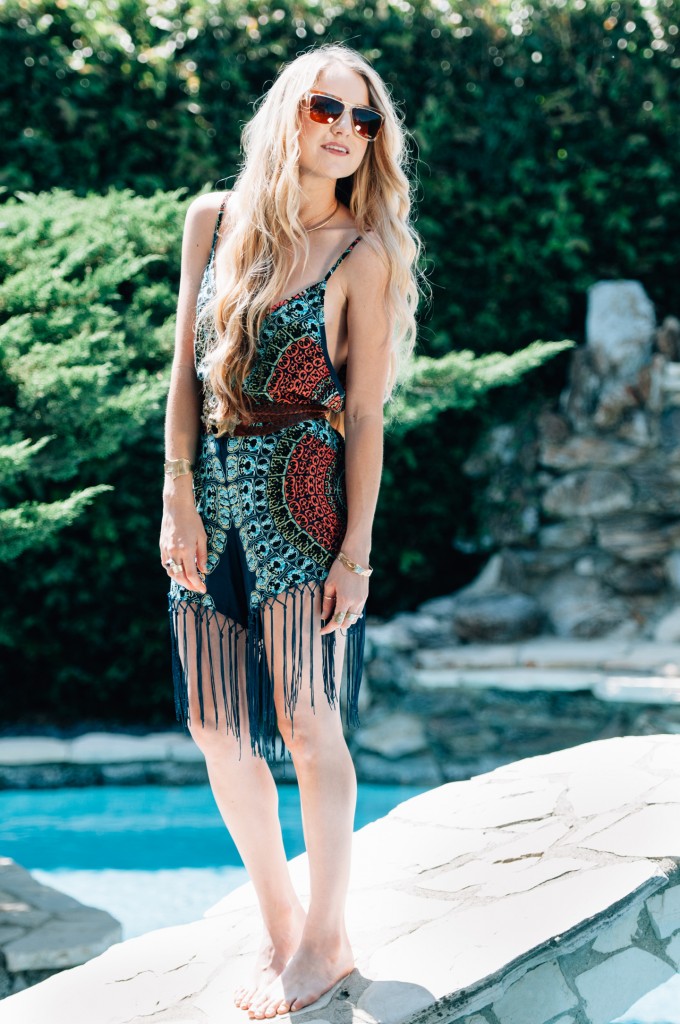 Romper: Cleobella from Prism Boutique// Sunnies & Belt: Vintage (Nicole's personal collection)// Jewelry: LaWeez
Q & A
When did you start blogging and what inspired you to start?
I started blogging at the very end of last year. It's been a whirlwind and a learning process, but I have had so much fun along the way! I began my blog on a whim… I needed an outlet to express myself creatively after working longs hours in healthcare. When the stress of work got to me, I realized that life's too short to not follow your dreams. I have always loved fashion and styling, and long aspired to be involved with fashion in one way or another. And voila! The seeds were planted and my little website was born. This would all be for nothing without the love and support of my future husband. He has been my photographer and number one cheerleader throughout this entire process. My blog is really our blog… When we take photos together, it's something fun, adventurous, and productive that we share. Lots of love and laughter go into our work. And I'm excited to see where this will lead us!
Describe your personal style and what influences it.
I would best describe my personal style as feminine, free and whimsical. I'm most influenced by sixties/seventies fashion styles, as well as current Lookbooks. I love being outside, exploring, and traveling; so of course I'm influenced by the beauty of nature and splendor of the outdoors.
Where do you find inspiration for your blog posts?
Inspiration comes from everywhere! I love looking at photography, other bloggers, and online Lookbooks for inspiration. I greatly admire Free People's styled shoots as well as Spell and the Gypsy Collective Lookbooks. There's some amazing bohemian trends coming our way from designers and clothing lines in Australia! For my posts, I like being able to tell a story, since we live our lives in the clothes we wear.
Are there other bloggers that you admire?
Of course! I greatly admire Peace Love Shea and Cara Loren. They are both beautiful women with totally different styles, and in my opinion, have completely trail-blazed the blogging community. In addition, the best part of blogging is the connections you make. Through social media, I have had the opportunity to meet some amazing women! I have been connected with some wonderful bloggers who I am inspired by daily: The Blonde Abroad, Cleo Collective, and See Dani Style.
What is the one item in your closet you can't live without?
I can't live without my vintage cowboy boots! There are dozens of pairs of shoes piled in my closet, yet I tend to go out with my boots on. They are so comfortable and can be worn with pants, shorts, dresses… you name it!
What fall trend are you most excited about?
Slouchy sweaters that can be layered over jeans or maxi skirts. It's one of my most favorite fall looks!
What is your next "must-have" purchase?
Oh goodness, this is probably the toughest question. There's a pair of Freebird by Steven boots I've had my eye on for months! I'm thinking it's about time to splurge on them because they are utterly amazing. Truthfully, I'm an online shopping professional, or addict (depending on how you look at it). So I have items in my shopping cart from Free People, Nasty Gal, and Novella Royale.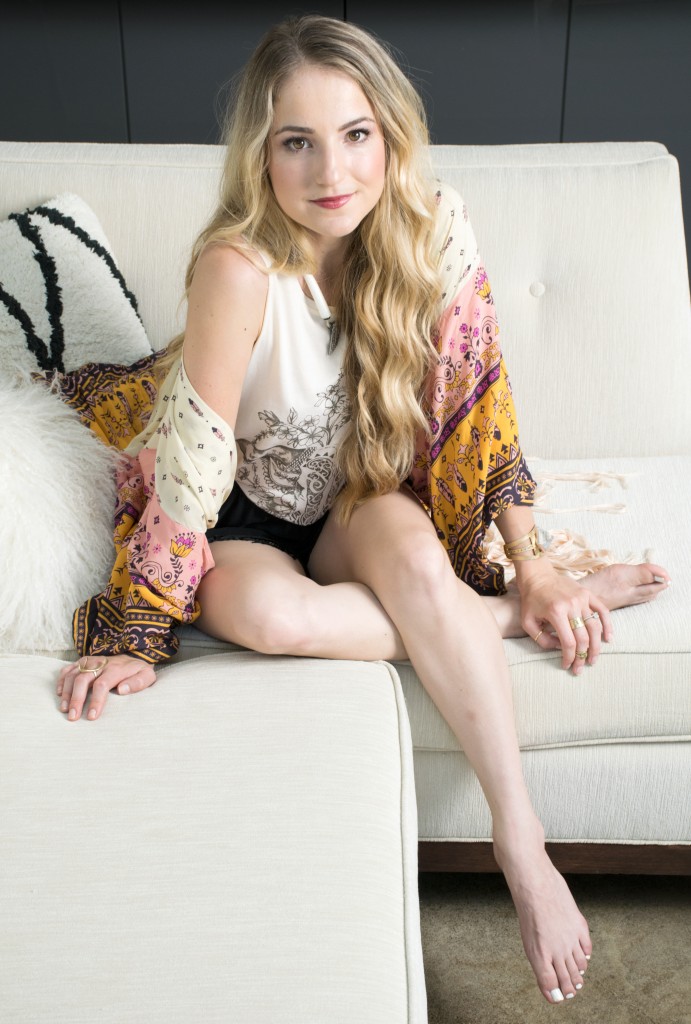 Kimono: Spell// Tee:// Shorts: Show me your Mumu all Prism Boutique// Jewelry: LaWeez
The Jewelry | LaWeez
Not only am I a huge fan of LaWeez Jewelry but also the creative woman behind the brand is equally as amazing! Katie and I came across Nichole and her amazing line at OC Fashion Week and we were both in love. We immediately knew we wanted to work with LaWeez Jewelry.  Nichole's line stands out from the rest, her unique style (Nichole's personal style is beyond amazing) and sensibility comes across in her designs. Nichole custom makes each piece herself with a combination of vintage chain, semi precious stones, metal, reconstructed piece of jewelry and she also carves and casts her own designs. As a jewelry lover this is very important, this means that her designs are unique to her  line and her line alone. Nichole also has an "Everyday LaWeez" collection for the ladies that like something they can wear everyday too. LaWeez Jewelry is a MUST! Follow LaWeez Jewelry on Instagram!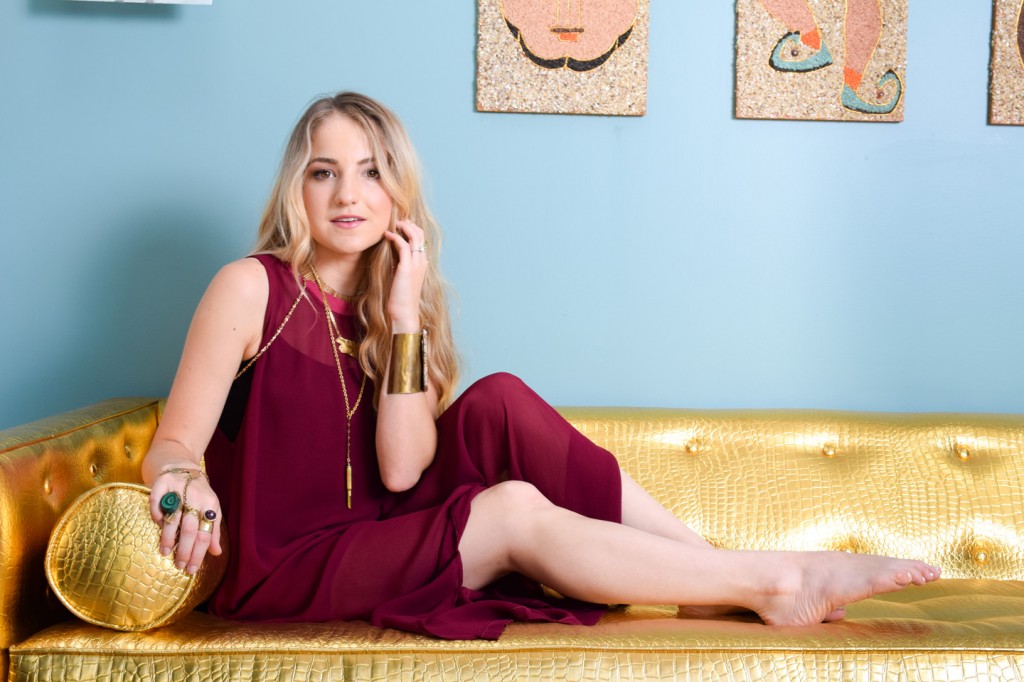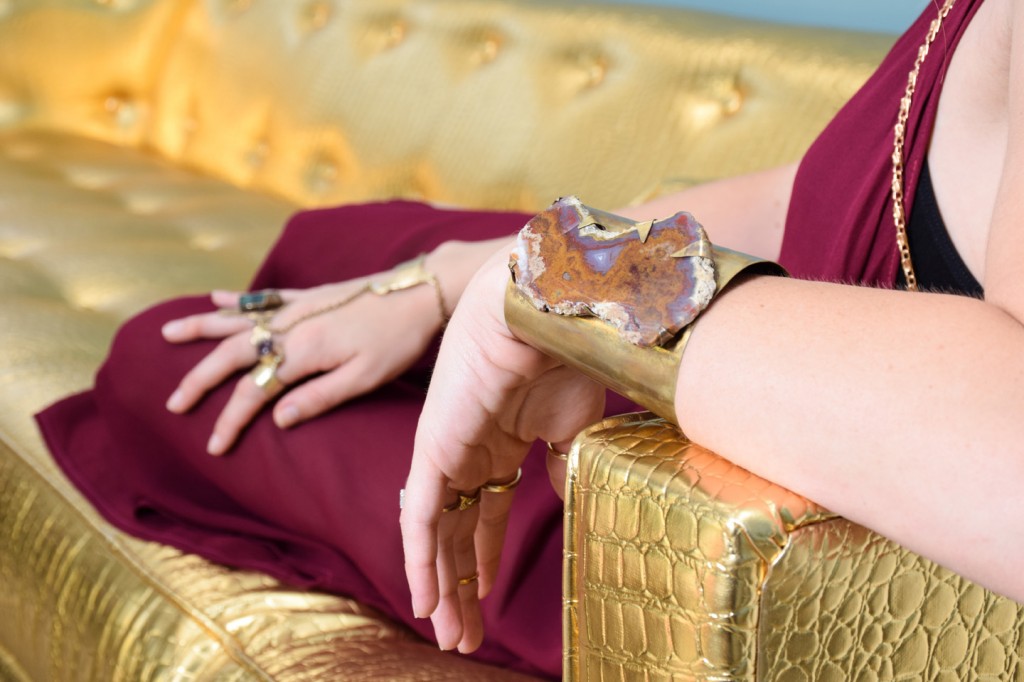 Dress: LACAUSA from Prism Boutique// Jewelry: LaWeez
We love Prism! This is every "cool girls" boutique from OC to LA, located in the perfect spot right in between-Long Beach! Ladies of the OC if you want a little "change of scenery" go check out Prism! This boutique is packed with the best of the best of bohemia street style with an edge, including brands like Cleobella, Novella Royale, Spell, Show me your Mumu and so much more boutique brand goodness. Prism Boutique is why I love boutique shopping, with its perfect blend of uniqueness, a cool vibe and friendly super stylish staff of stylists to help you find the perfect piece. Also, if you can't get up Long Beach to check out the store you can always shop with them online-YES ONLINE at PrismBoutique.com.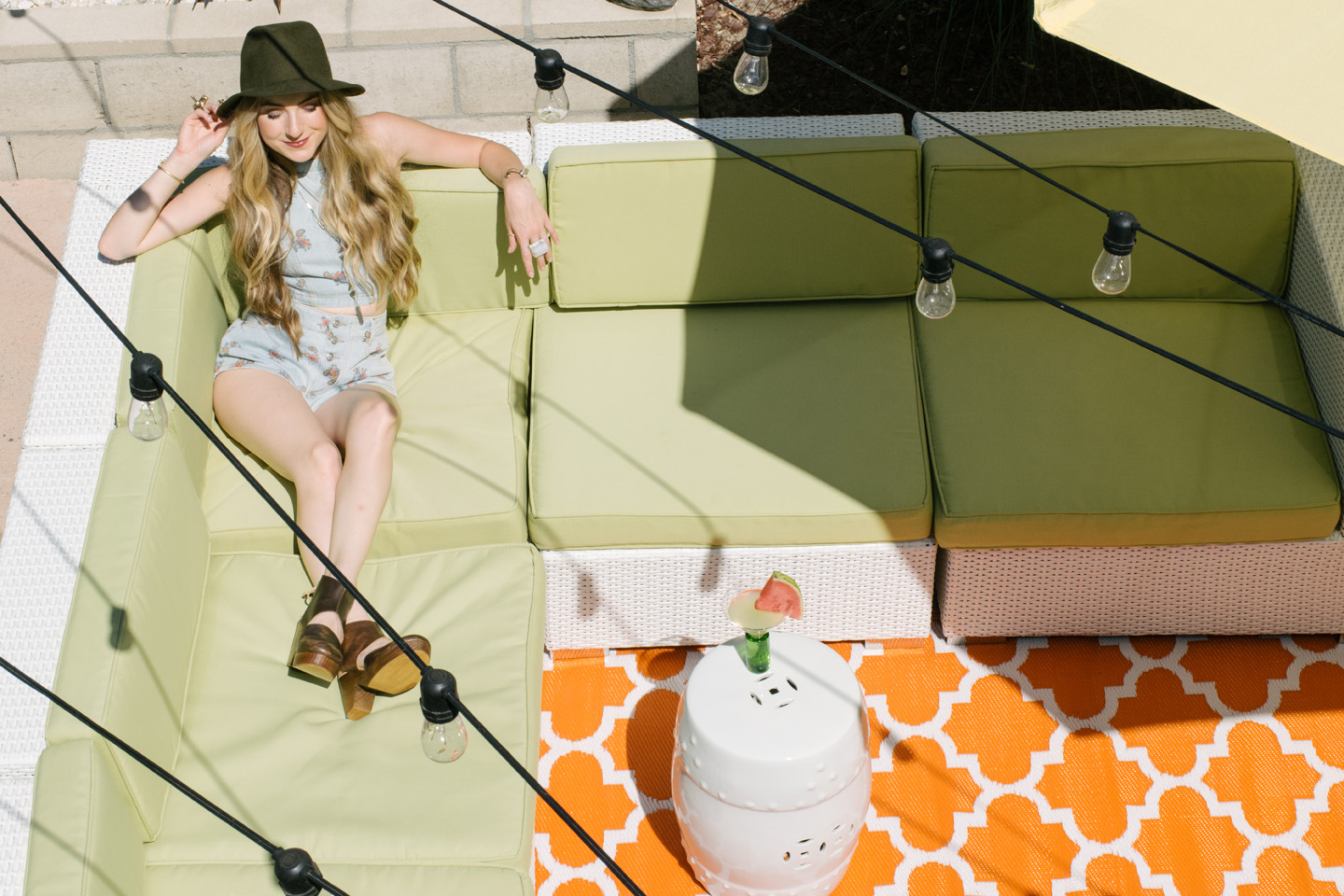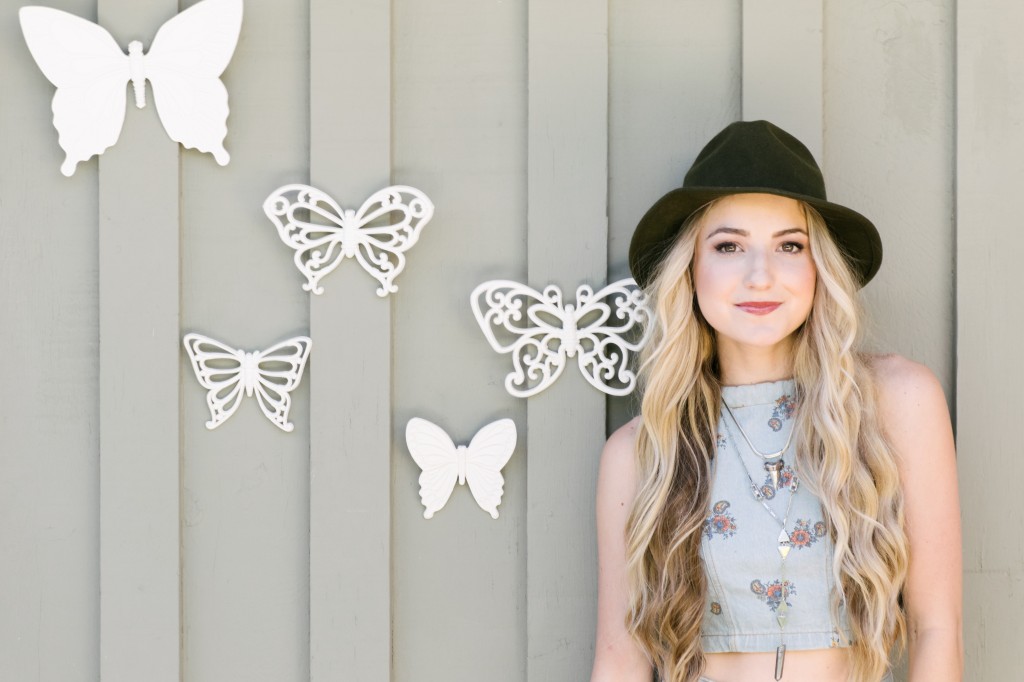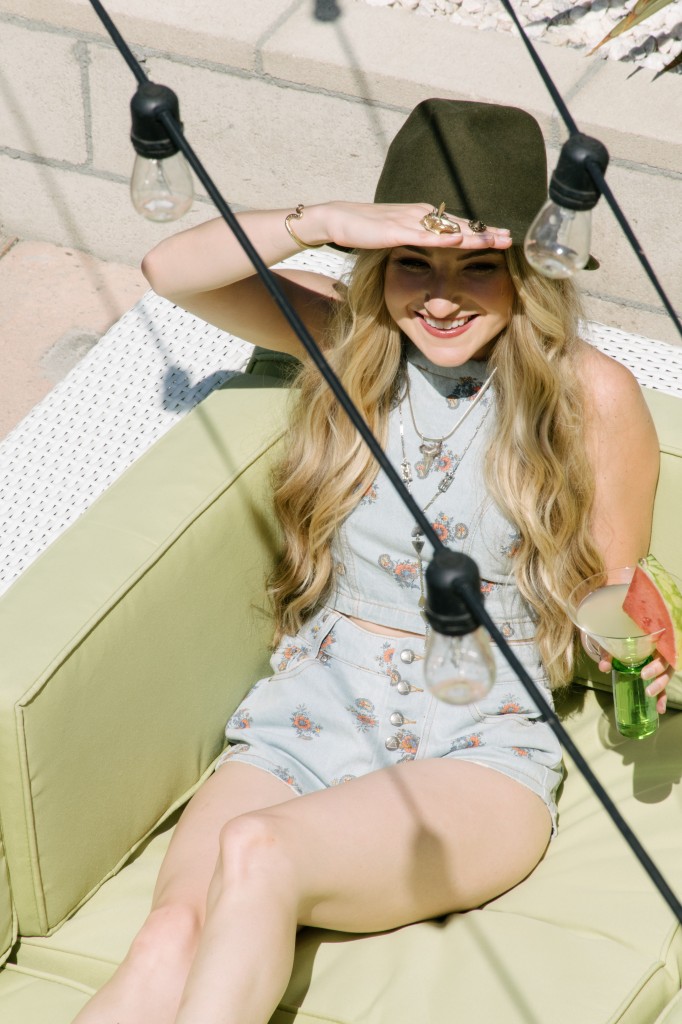 Top & Shorts: Some Says Lovin (BTW this look in on SALE)// Hat: Yellow 108 from Prism Boutique// Jewelry: LaWeez
We can not thank everyone enough for how much fun this shoot was. First I'd like to THANK Sara for making the long drive to work with OCSR, next I'd like to THANK Prism for lending us the amazing clothing for our shoot, of course I'd also like to THANK Nichole for not only lending us her amazing jewelry but for also having her home the back drop of our shoot, and last but not least I could not make any of this happen if it was not for our fantastic team!
Muse | Blogger: Sara Libby// Make-up: Taylor MacKenzie// Hair: Sara Libby & Rachael Dickens (BTW Sara has the most amazing hair EVER!)// Photography: Zachary Epstein// Stylist on Set: Katie O'Sullivan of Styled by Katie// Location: Nicole McKinney's home in Long Beach// All Clothing Provided by Prism Boutique in Long Beach