Why we ♥ Sarah
Juggling in Heels
I've been following Sarah's lifestyle blog Juggling in Heels for over a year. I first came across Juggling in Heels from one of our favorite boutiques, Bardot located in Newport Beach. Juggling in Heels has a little something for everyone, fashion, family, travel, food and more. Sarah is a wife and mother of three, her life is truly "Juggling in Heels". Sarah juggles being a wife, mother and blogger with grace and style, this is one of the reasons I love to follow Sarah's blog, plus she is a wonderful, sweet person I'm happy to call my friend.
Make sure to follow Sarah's lifestyle blog! Keep up-to-date on all things Juggling in Heels by pinning with Sarah, following her on Facebook, and seeing in-the-moment snapshots of Sarah's lifestyle on Instagram.

Sweater:// Shorts: Maison Scotch//Bracelets & Necklace: Gorjana all from Taim Boutique
Q & A
When did you start blogging and what inspired you to start?
I started
Juggling in Heels
back in April 2011.  I have always loved to write but was a little hesitant to start a blog.  I loved the idea of sharing everything I loved from style to recipes and also opening up about the challenges we face as mothers but I just wasn't sure I would have the time to do it with three little ones at home.  Then one day I was driving to work and the name "Juggling in Heels" popped into my head.  I took it as a sign that it was time to stop thinking about it and get started so I went home, purchased the domain, and just began writing.
Describe your personal style and what influences it.
My personal style changes depending on the day.  When I was working in a corporate environment, I had a much more conservative look.  Now that I am home full time, I can play around a lot more with what I wear.  So I guess that is what influences it.  How my day looks and the mood that I am in.  Some days I love a structured black blazer with a white button down, skinny jeans and heels.  Other days I will favor cut offs, a white v-neck and booties.  When I was younger I used to look around me and sort of "fit in" with what I saw.  Now I do whatever I want and what feels right for me.  I love black, white, grey and denim.  Always have, always will.  I have been challenging myself lately with prints and I must say, I love it.  But let's be real.  Many days my personal style is taken from the Lululemon "I look like I worked out even if I have not" lookbook.
Where do you find inspiration for your blog posts?
I find the majority of my inspiration from my own life.  Regardless of the type of post, it has been taken directly from my world in some way.  Style posts will involve pieces I am currently wearing and/or loving right now.  The recipes are from food I am really making for my family.  The interior design posts are pieces we are actually putting into our home.  Travel posts will share some of my favorite places we have been.  I laugh because at this point, there are really no secrets in what is going on at our home.  This all being said, I definitely get writer's block at times and I will read the news, magazines, peruse websites and visit other blogs for inspiration.  There is so much out there, it is easy to become inspired.
Are there other bloggers that you admire?
There are two blogs that I visit on a daily basis with my morning coffee;
Could I have That
and
Damsel in Dior
.  Their style is very similar to mine so I love seeing what they have found and how they are putting it together.  I have a laundry list of blogs that I visit throughout the week but these two are a definite.
What is the one item in your closet that you can't live without?
My Manolo Blahnik classic pointy toe heels.  I have never met a heel that I love as much as these and I have set a goal to have them in every color possible.  Once this is achieved, I won't be wearing any other shoe.  Ever.  They are the perfect height, extremely comfortable and look great with everything. Oh yes, and my denim jacket.
What Fall trend are you most excited about?
Hmm,this is a hard one because I love Fall and layers.  I wish we could wear it a bit more here in Orange County!  Over the knee boots are still a favorite and I live in my Stuart Weitzman's once the weather cools down.  I loved all the knits on the runways too.  It doesn't get better than a cozy sweater and a fireplace.
What is your next "must-have" purchase?
The Chloe Marcie crossbody.  After heels, handbags are my kryptonite.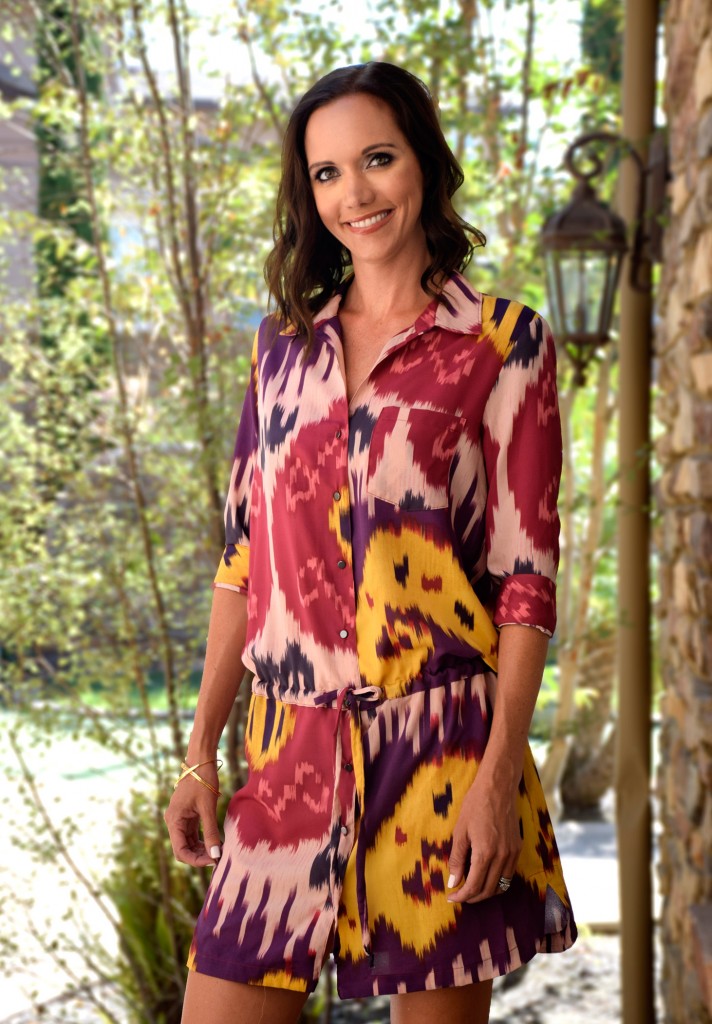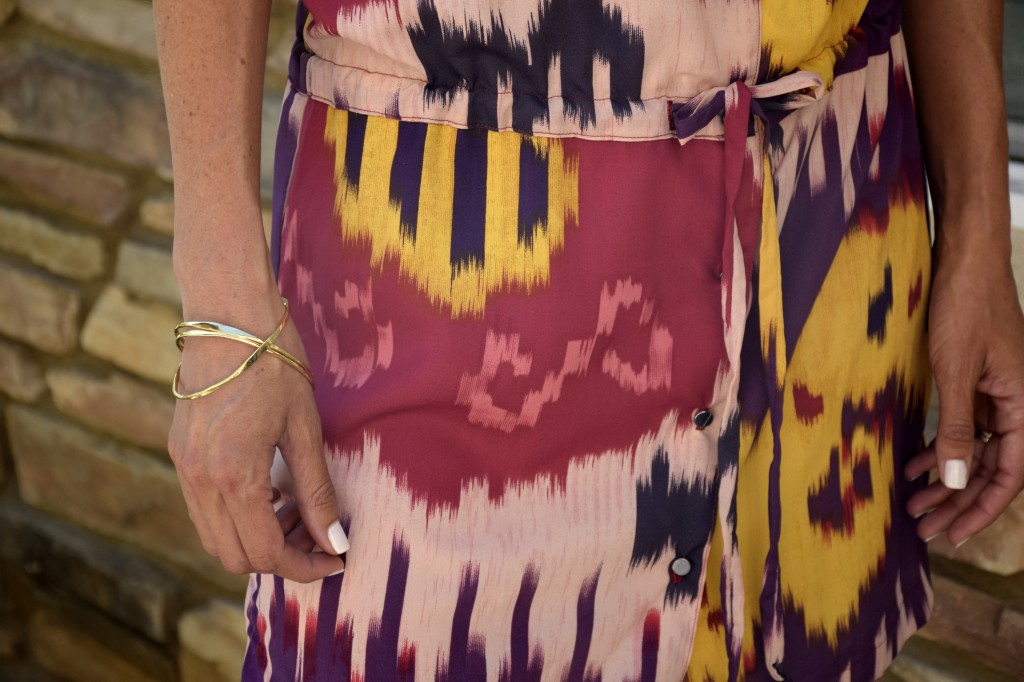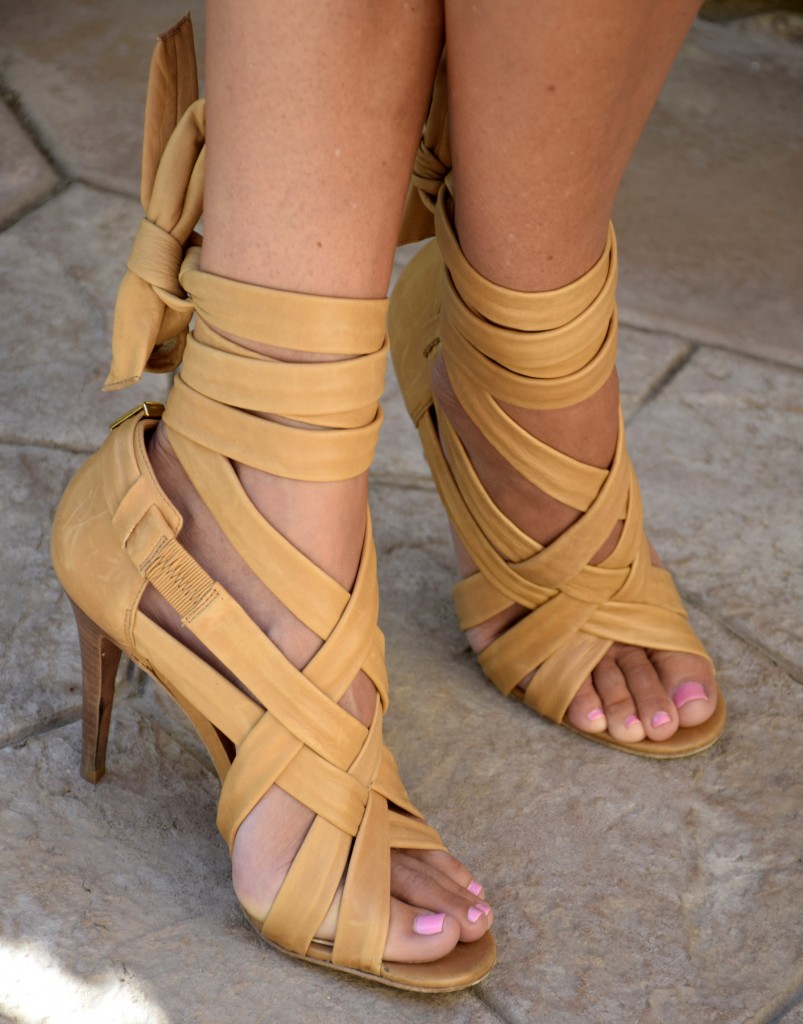 Dress: Rachel Pally (on sale now!) from Taim Boutique// Bracelets: Gorjana// Shoes: Tory Burch from Sara's Closet
Taim is a styling boutique located in Laguna Beach. One of the reason I love Taim is it's filled with clothing most woman wear everyday. You can't style your fun "novelty" pieces without a classic foundation wardrobe and Taim is filled with classic everyday pieces we all need,  and of course amazing, classic special occasion items. If you want a stylist to help you with your wardrobe in a boutique atmosphere Taim is your new shopping destination. Make sure to follow Taim on Instagram and Facebook plus rate Taim on the OC StyleLIST.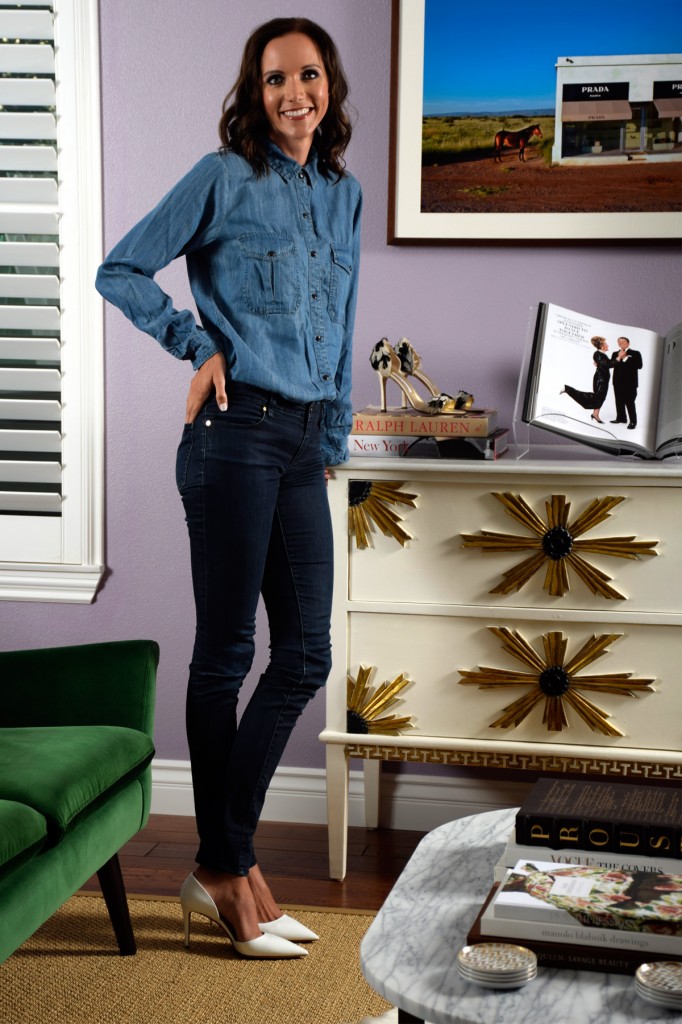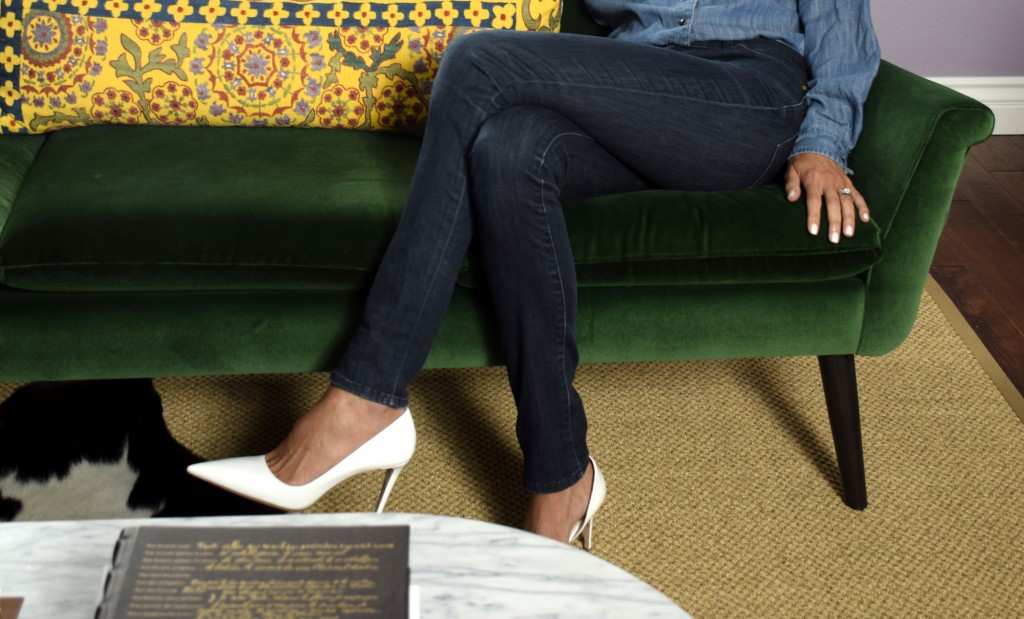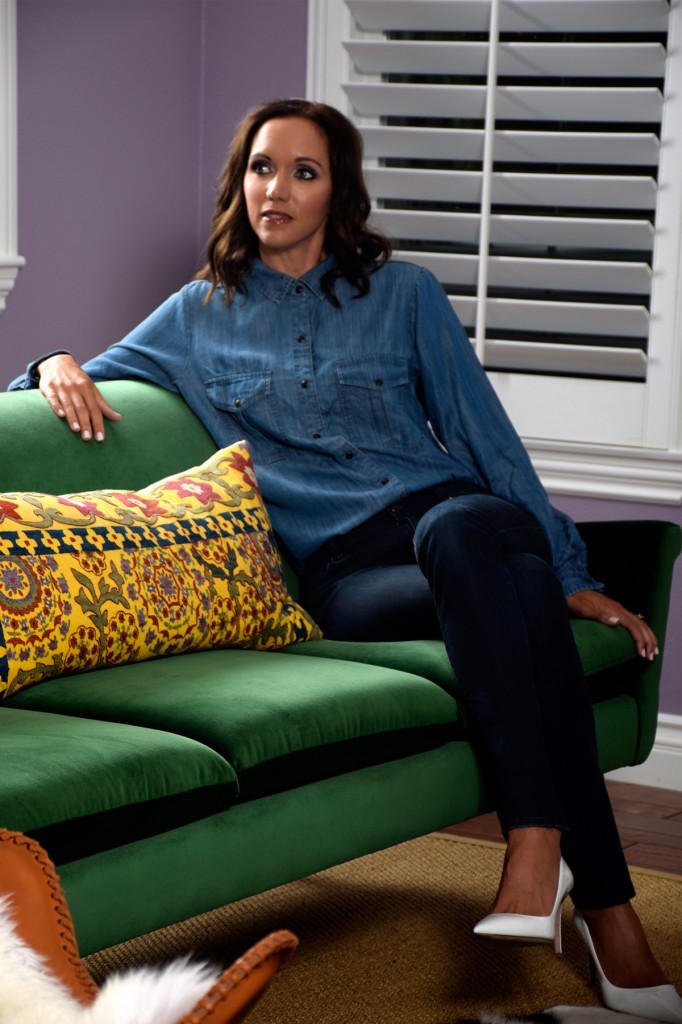 Denim Top & Jeans: Seven for all Mankind from Taim Boutique// Amazing White Pumps: Prada from Sara's Closet
Thank you!
We want to THANK Sarah for welcoming our team into her beautiful home for our shoot. We'd also like to THANK Taim Boutique for providing us all the beautiful clothing, and of course our amazing OCSR Team!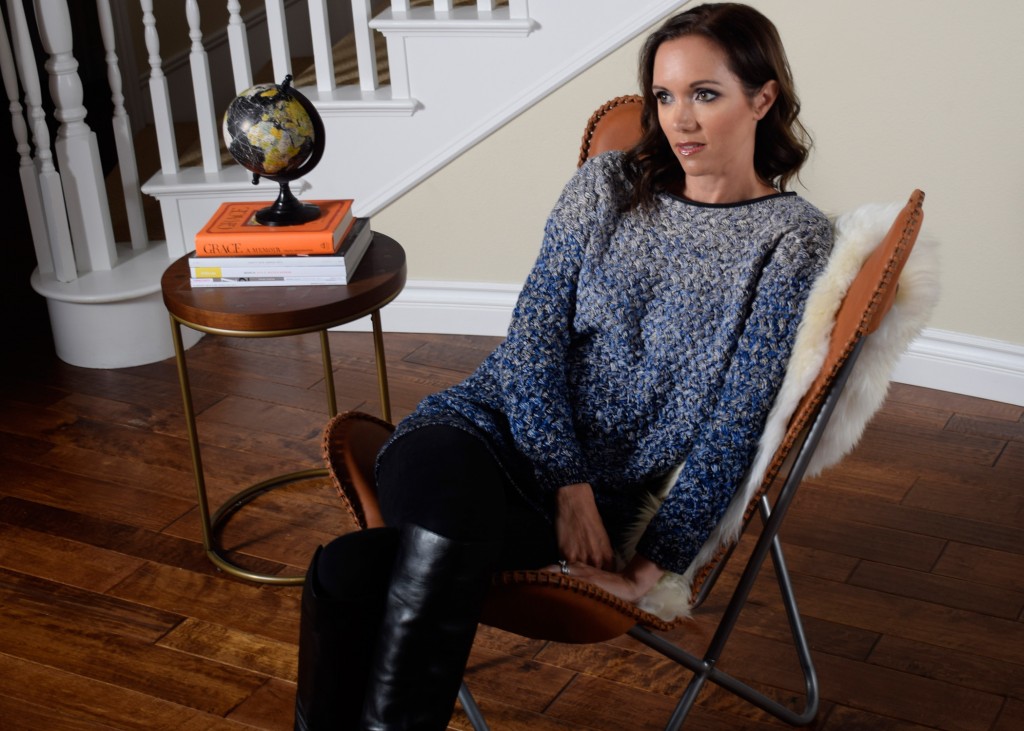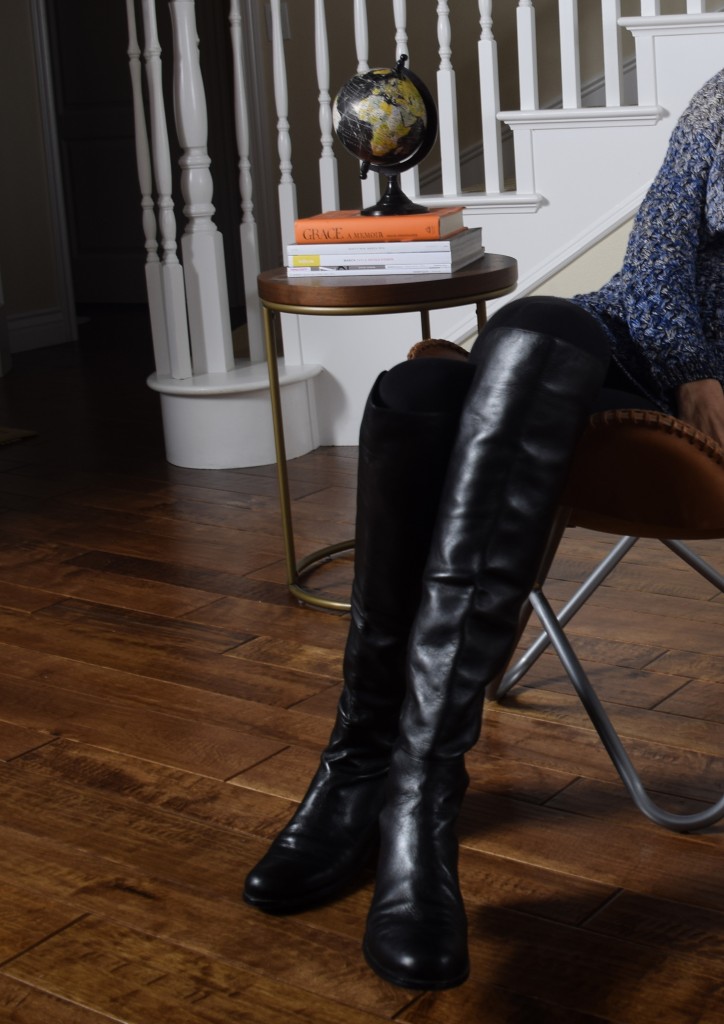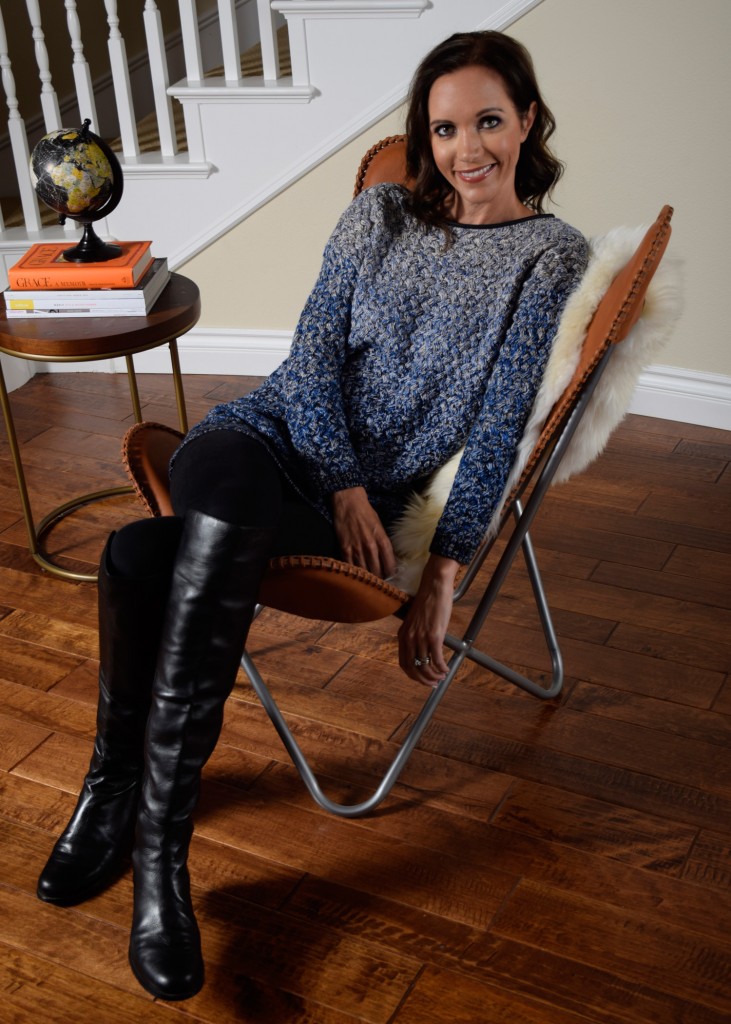 Sweater: Maison Scotch// Black Jeans: from Taim Boutique // 50|50 Over the Knee Boots: Stuart Weitzman from Sara's Closet
Blogger | Muse: Sarah Ollenburger of Juggling in Heels// Hair & Make-up: Swell Beauty// Photography: Rachael Dickens// Set Manager: Natalie Dickens// On Set Stylist: Katie O'Sullivan from Styled by Katie