The Wonderful Carry On…
Small and mighty, and most of the time completely ignored for its ability to save a bad travel day.
Recently I got stuck in Texas, due to weather delays, luggage no where to be found, stuck in a thunderstorm, and had to drive 14 hours to be at an event in Louisiana. This is where my neglect for my carry on quickly changed.
I had stuffed my carry on with my computer, snacks & notebooks. Not once had it dawned on me that I would have a weather delay, or my luggage might disappear into the unknown. When I finally received my belongings the next day, I had a whole new appreciation for my wardrobe, but also, I have never neglected that little magical piece of  luggage ever again.
When packing, keep in mind that most airlines have restrictions on the size of a carry on, so make sure to check with them before you take off for the airport. Standard measurements for a carry on are: 22 x 14 x 9 inches.
Keeping this in mind, when packing, try and keep your items small and portable, and keep your liquids under 3oz.
Below you will find a list of my Carry On Essentials, that are there not only if my luggage gets lost, but also there in case I need to freshen up at the airport, change my outfit, and mainly to help me travel knowing that I always have a back up plan. Thinking ahead gives us the ability to avoid bumps in the road & spend time doing more of the things we love! Enjoy 🙂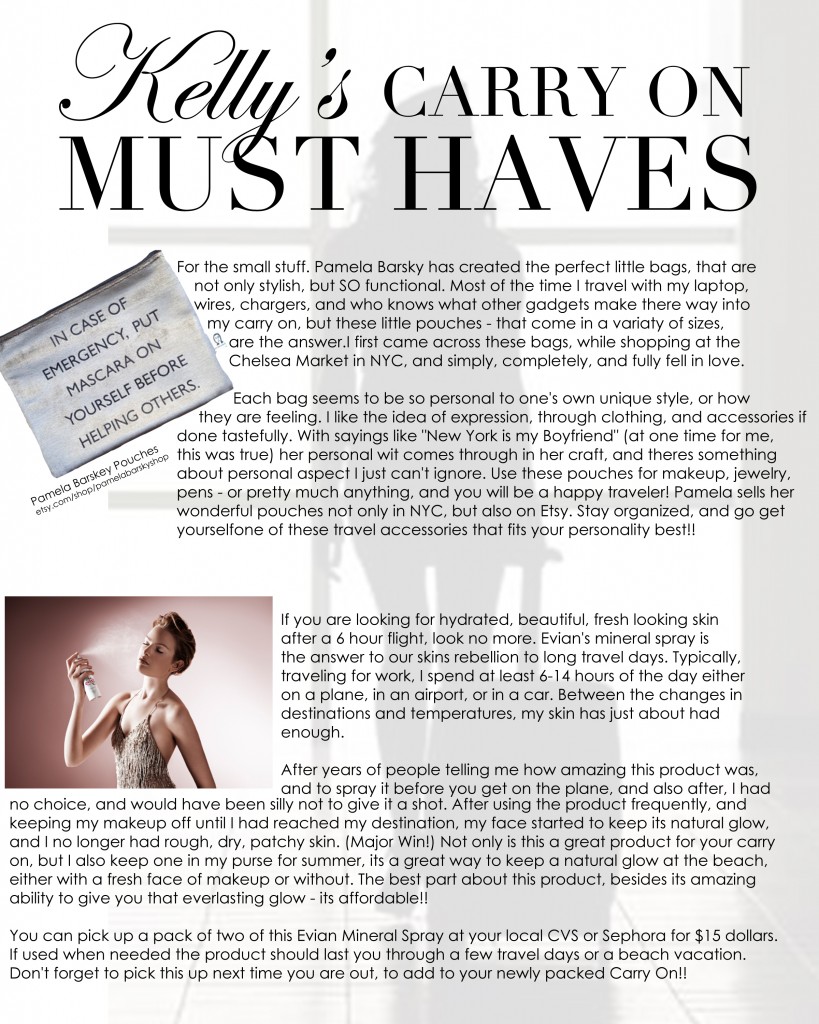 There are so many more amazing products I can add to this list, but these things are simply my favorite. Whether you are going on a business trip – or vacation, all these things will keep you looking and feeling like your best!
Photo Sources: Pamela Barskey Pouches || Evian Spray || Neutrogena Make-up Wipes || Kate Somerville Intensive Exfoliating Treatment || Laura Mercier Foundation Primer || The Slimsonic Travel Toothbrush || Michael Kors