We Love Sneakers…
And so does everyone else!
We're seeing sneakers everywhere! Trendsetters and street style stars have been rocking their sneakers with just about every look. Sneakers are no longer just for comfort or the gym, they are now a fashionable staple. With that being said, what your sneakers are worn with can either be an obvious no brainer, like cut-offs and a tee, or something a little edgier, like high slit pants. It's time to pair your sneakers with something a little unexpected. Even if your sneakers are a little beat up don't worry, you can still style them in unexpected ways.
No matter your style, minimal, flirty, bohemian, tomboy, chic, adventurous or a combination, we've picked a few of our favorite looks of the moment, both effortless and few unexpected looks, for a little inspo.
Sweatshirt Dress
This look is a no brainer for most SoCal gals. The perfect off-duty look for just about any weekend activities from the beach to a BBQ.
Flirty Mini Summer Dress
Sneakers will instantly add a casual, toned down vibe to any mini dress.

Chic Ladylike Dress
Have a dress you love and think, "I can only wear this on special occasions". Not anymore! Throw on a pair of sneakers and wear your pretty dress anytime.
Trend on Trend
Contrast denim with a frayed hem and a ruffle top pair perfectly back to sneakers. Keeping your trends to solid colors will allow you to wear multiple trends at once without looking like a fashion victim.

Slip Dress
A slip dress can worn a ton of different ways, even ones with strong patterns. Stylist TIP: If you have a piece of clothing with a strong pattern that you would like to "tone down" pair it with a solid piece of outerwear, like a denim jacket, black or white blazer or a trench.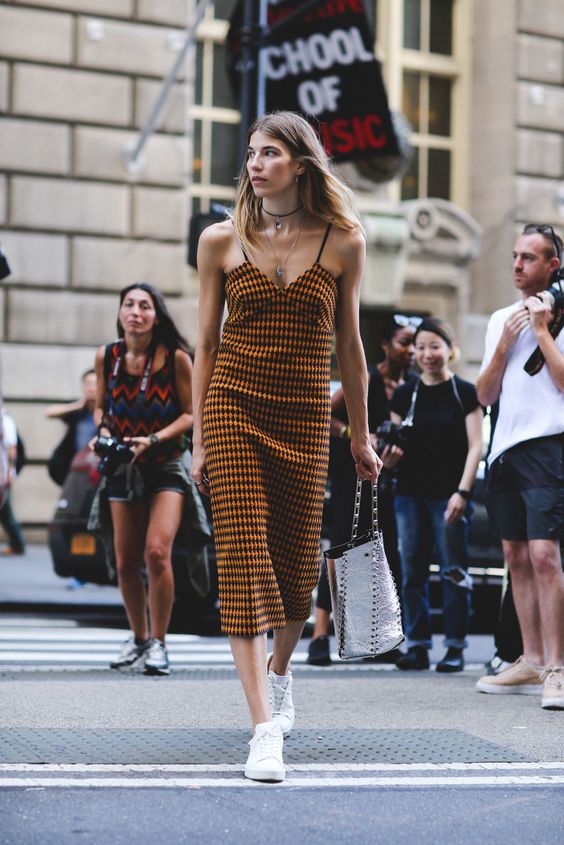 Rock Tee + Sequin Skirt
Finding multiple ways to wear a "novelty" or "special" piece of clothing, like a sequin skirt, is key to getting the most out of anything you buy. The last thing any of us need to do is buy something we wear once.

Denim Shorts or Mini Skirt
Pencil Skirt + Sweater
I love this look. It's transforming in front of our eyes from on to off duty, and warm to cool effortlessly.

Black Midi Tee Dress  (personal fav)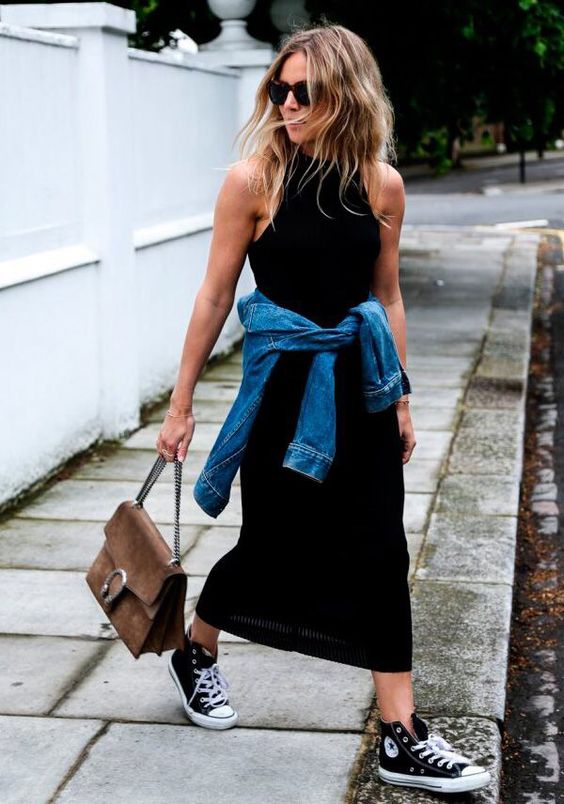 Metallics
Trend Alert: Pleated skirts are going to be HUGE this fall. Have you seen Dior's pre-fall 2017? It's kinda amazing! Plus, you can recreate it on a serious budget. We all love that!

Embroidered Tunic
A simple Converse can literally can be worn with anything. Is it me or does this look make you want to take a vacation in the tropics?

Chic Separates
 We love this unexpected look. High slit pants, black crop top with embroidered jacket paired with metallic sneakers…. perfection. An unexpected look doesn't need to be complicated or NEW. I love a little inspiration to help me get more creative with what I already have in my closet.

Minimal
Chic and simple paired back to sneakers gives a laid back, cool girl vibe that is always on trend and in style.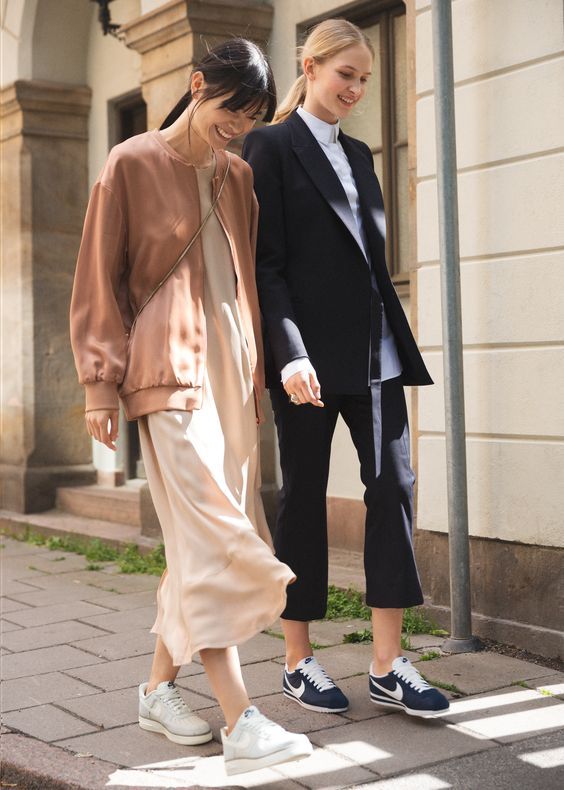 How do you wear your sneakers? Tell us in the comments below!
All Photos Sourced from Pinterest unless otherwise credited.