How the OC's Top Bloggers Transition in Style
We've been talking a lot about transitioning into fall more than fall fashion itself. Simply because our SoCal weather isn't interested in fall fashion. It too, isn't ready for summer to be over. Balancing the idea of fall fashion in our current heat wave is a challenge, but OC's top bloggers have figured it out. We put together some current looks from our favorite OC "IT" girls to get you inspired to stay stylish in the heat.
Kathleen is always chic and this transitional look is no exception. A vest or sleeveless light weight outerwear is a great way to add an additional layer that gives the vibe of fall style but still works with our current weather. Plus changing your open toe sandals for closed toe shoes is another detail to give a more fall fashion feel.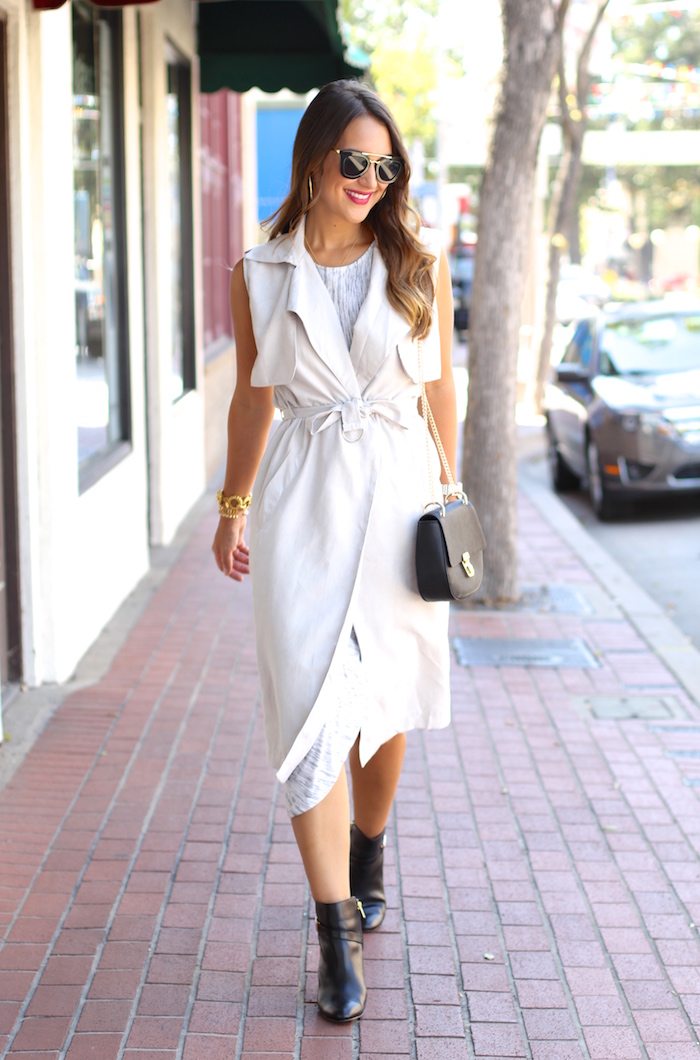 To SHOP the LOOK CLICK HERE
First and foremost this dress is stunning! Dark neutrals like navy are really a great choice all year round, and of course especially for this time of year. Quick Tip: For a more "fall feel" style your navy with black accessories instead of nudes, just like Jen.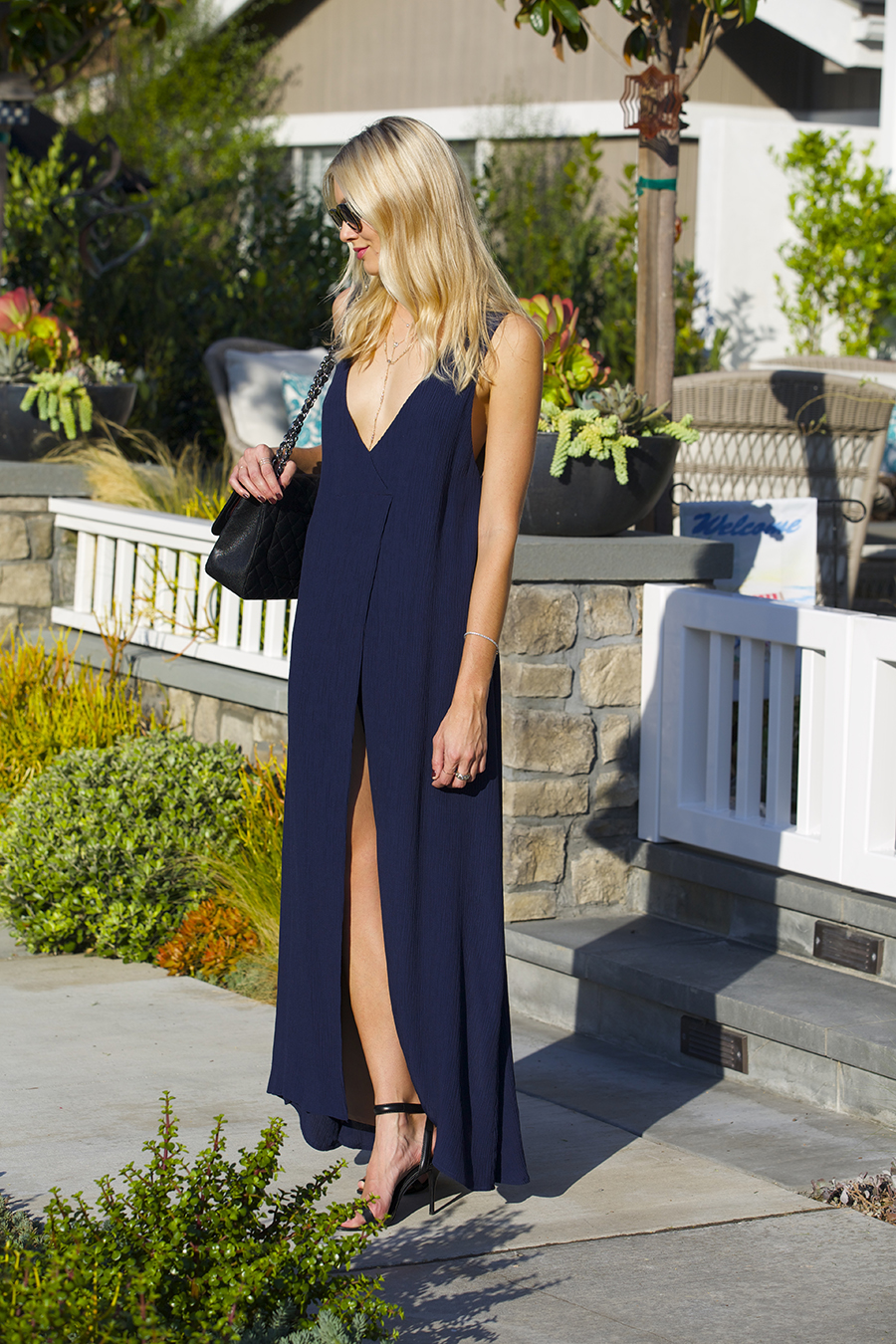 To SHOP the LOOK CLICK HERE photo by Keely McCullough
Stripes are definitely one of my favorite go to patters that work great all year round. I love how Nikki paired her striped dress with darker neutrals like red and camel. Dark neutrals are going to be your biggest style ally during the summer to fall fashion transition.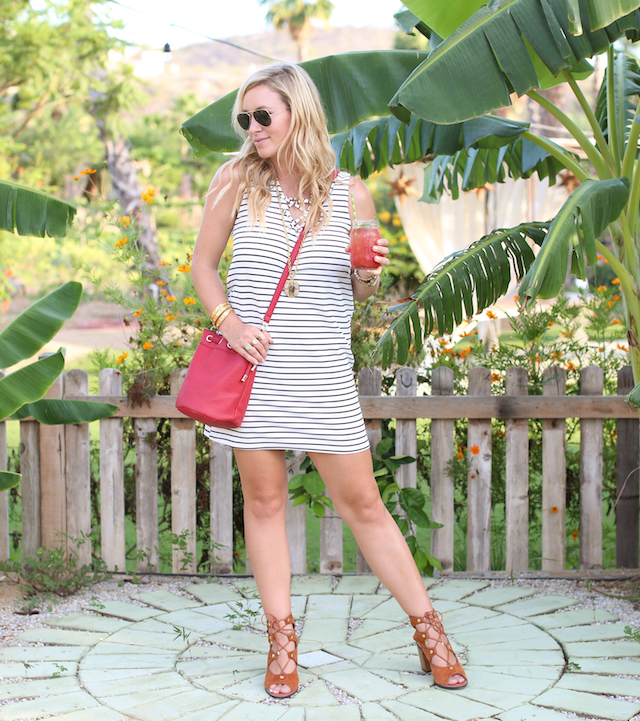 To SHOP the LOOK  CLICK HERE Photo by Taylor Cole
Dark florals are a huge trend this fall season. Picking a trending print in a warm weather silhouette, like a romper, is the perfect way to get the best of both seasons. And of course you can never go wrong with a winning combination of black booties, moto leather jacket & a leopard clutch paired with anything and everything.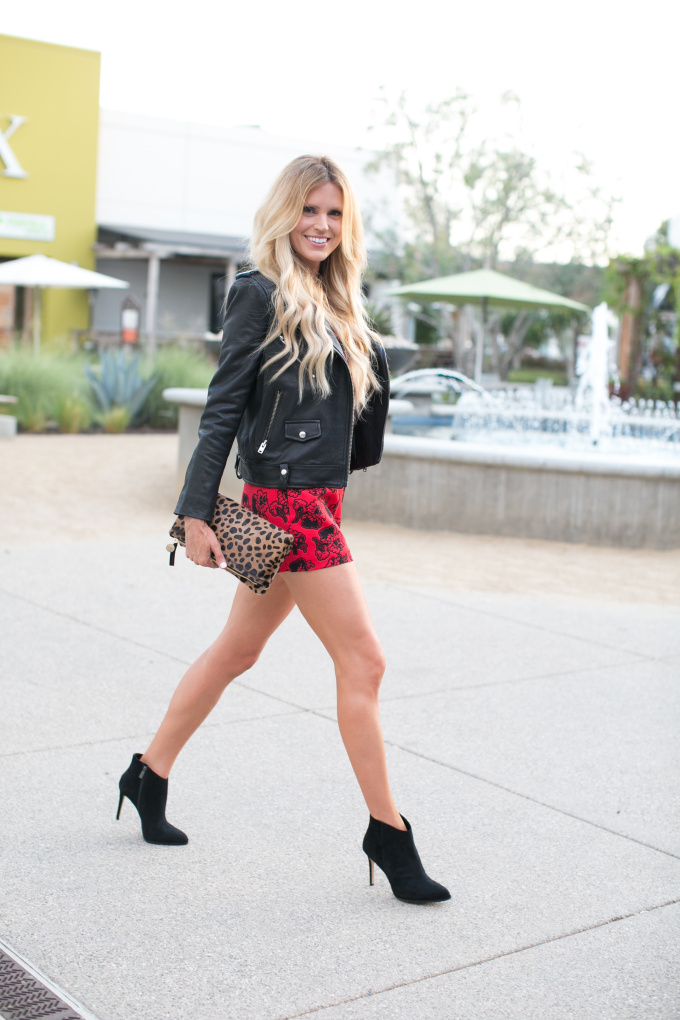 To SHOP the LOOK CLICK HERE Photo by Taylor Cole 
I'm a huge fan of both these incredibly talented woman. They have been collaborating all summer and you have to check out both of their blogs to see what this stylish duo has been up to.
This is another great example of how picking lightweight fabrics in fall colors or prints paired with a bootie or close toe shoe gives a fall vibe while keeping you cool as a cactus.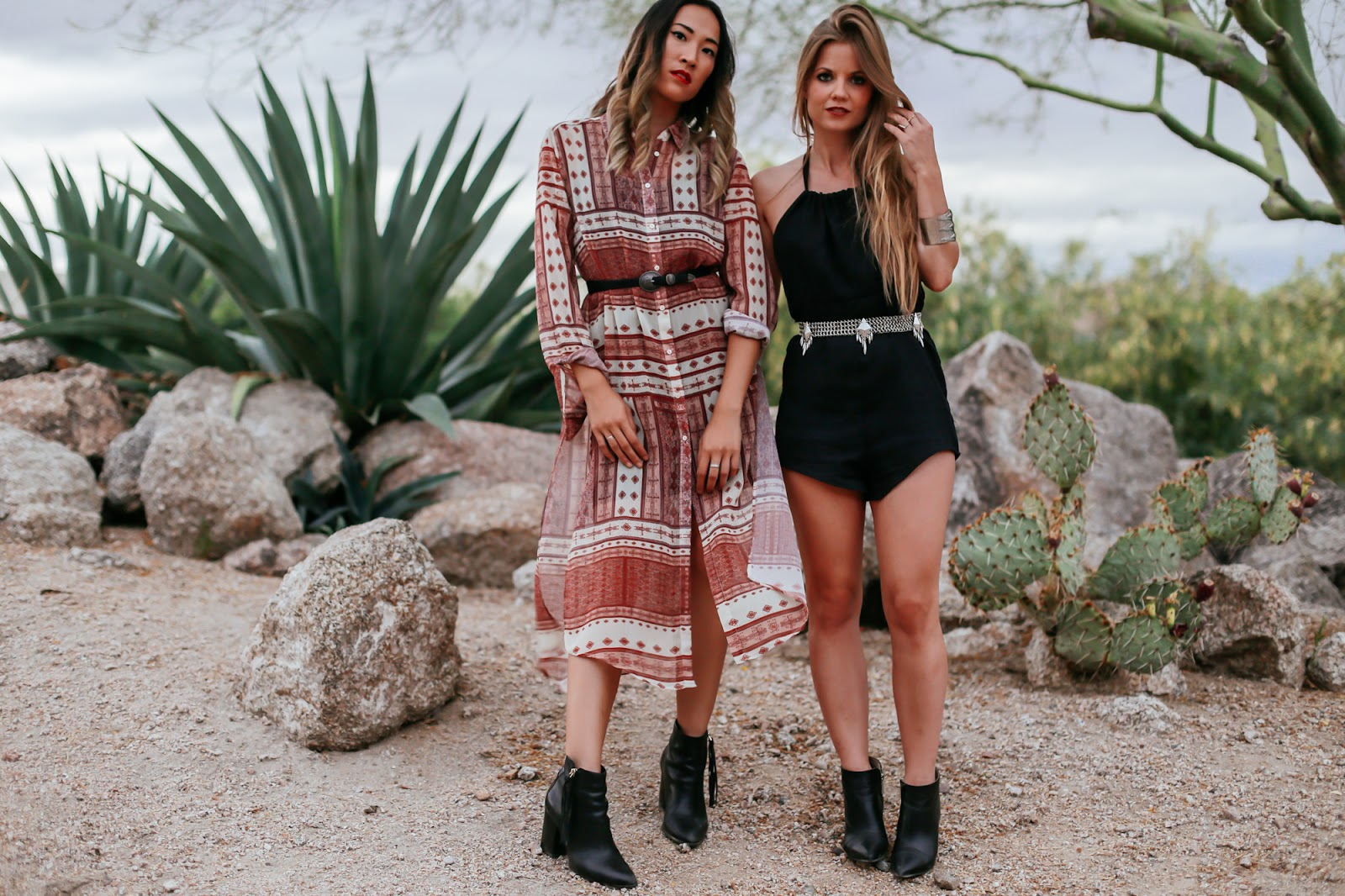 SHOP both LOOKS CLICK HERE 
This hot mama of 3 never lets us down when it comes to style. This year has been all about fringe and I love the way Lyndi paired her fringy jacket with boyfriend shorts-chic boho perfection.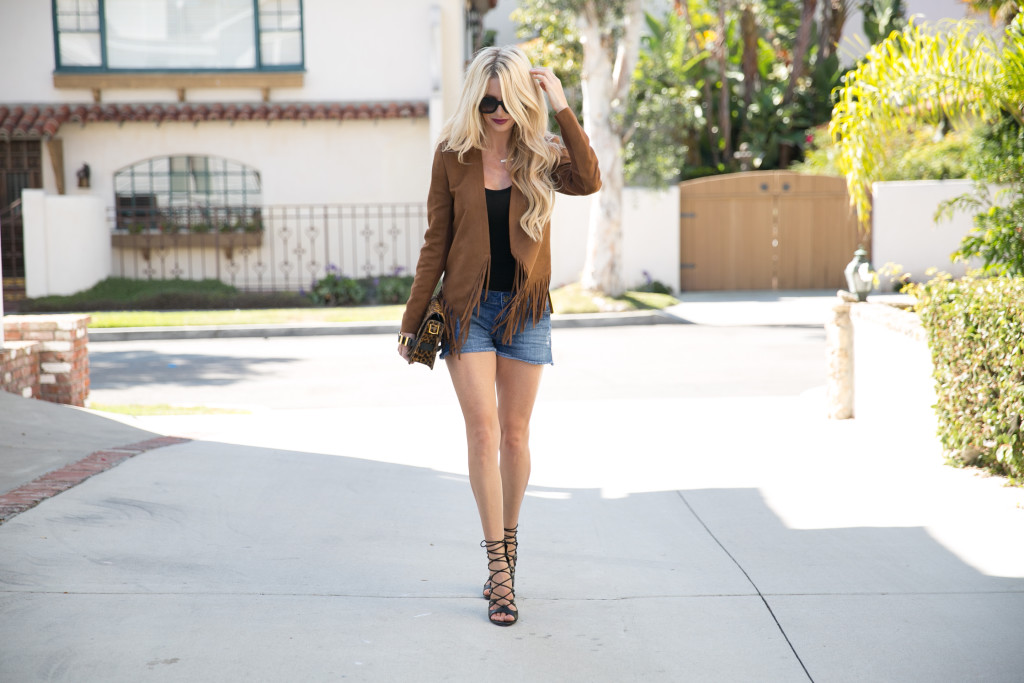 SHOP the LOOK CLICK HERE
More lightweight fabric in a fall print! LOVE IT! I love the darker printed dress paired back to nudes. This gives this fall trend a fresh feel.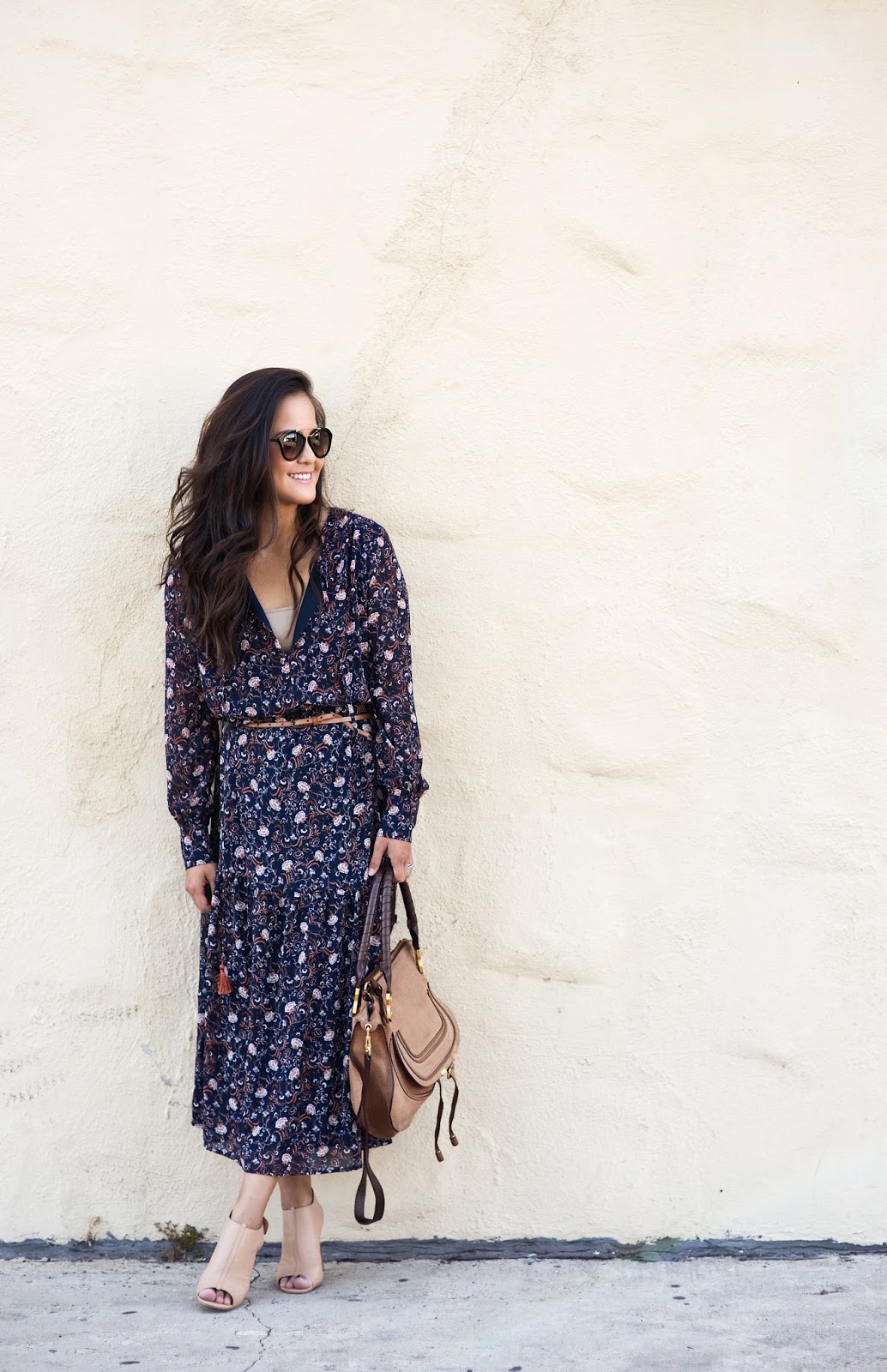 SHOP the LOOK CLICK HERE Photos by Gabi Wells
Remember, style is suppose to be fun and a reflection of you. We all get in a style rut. That's what inspiration is for! Whether you copy these looks or just simply add some style details and make them your own, we're always here to keep you inspired to be the best in OC style.