DIY Tropical Tablescape
There's no doubt that the ladies of Joy n' Company love a good party…wedding, opening, anniversary, birthday, shower, launch – well, you get the gist!
When the gals at Style Report Mag approached us to help collaborate with the launch of fitness icon, Katie Dunlop of Love Sweat Fitness' Hot Body Sweat Guide and Four Week Meal Plan, we happily jumped on the opportunity. Being that we recently launched our own business in December, we were fresh off the launch party train with lots of fun ideas to share! We were honored to celebrate a fellow #girlboss who empowers other women to feel healthy, happy and sexy in their own skin!
The inspiration for the LSF launch came from Katie's logo, which is a colorful, heart-shaped pineapple. So fun, right? We knew we had to infuse a variety of colors to embody the spirit of Katie's personality!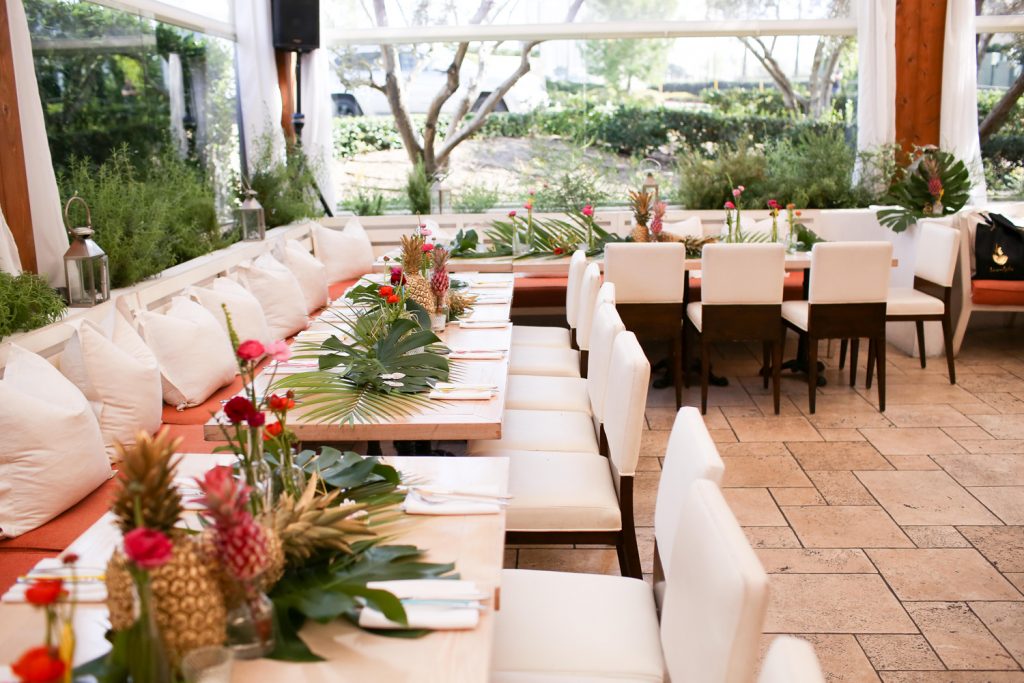 It was too much fun creating this look, so we thought, let's share a tropical tablescape DIY. We are going to show you, step-by-step, how to re-create this fabulous, Tropicana-inspired look in your very own home!
Gathering all the Pieces
For the LSF launch, we had the help of our talented friend, Marisa Lara of Seven Stems Florals to source all the goods that made our tropical tablescape a dream. But for those who don't have a florist-friend on hand, here is what you can do to substitute:
1. Gather some forage!
Get outside, cruise your neighborhood, do a little pruning, and return with some greens that will add the perfect runner to your tropical tablescape! We used palm leaves and one of our favorites, Monstera.

2. The Fruit!
Next up, head to your favorite grocery store to pick up a few different sized pineapples! We love Trader Joe's, and they have a great flower selection, too! Pick up a few bundles of color. We scooped up pink and orange ranunculus!

3. Now time for the GOLD!
We got a can of gold spray paint from our local hardware store. We did a shiny finish but you could also go matte. Spray the pineapples from top to bottom, one day in advance so you don't have that lingering paint smell!

4. Add some dimension!
This is where you can have fun incorporating decor pieces you already have. Things like votives and vases. We also had some gold geometric shapes by Threshold, which were purchased at Target.

5. Air Plants!
For the finishing touch we added air plants, placed inside the larger geometric shapes. Air plants can be found a your neighborhood nursery, Home Depot, or even on Etsy.

Now…let's put it all together!
Firstly, lay the greenery down the center of the table (make sure you leave some room for the plateware, glassware and flatware!).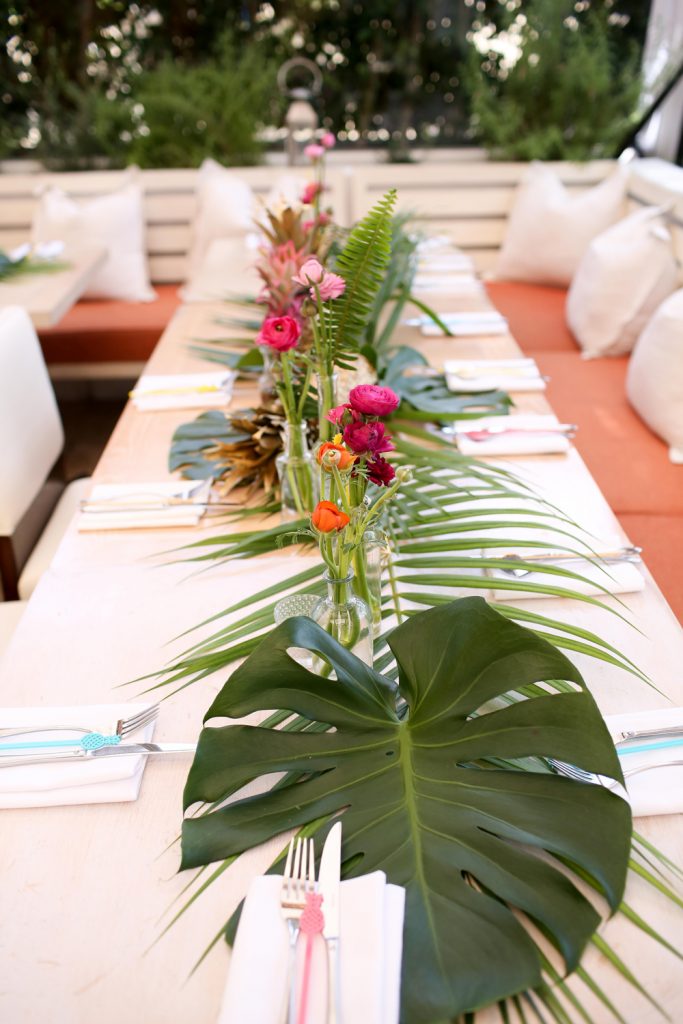 Cluster the Monstrea leaves in the center to create a bed for the gold pineapples (the gold pineapples will be the main centerpieces!). Sit one pineapple turned upright and another laying on its side for depth.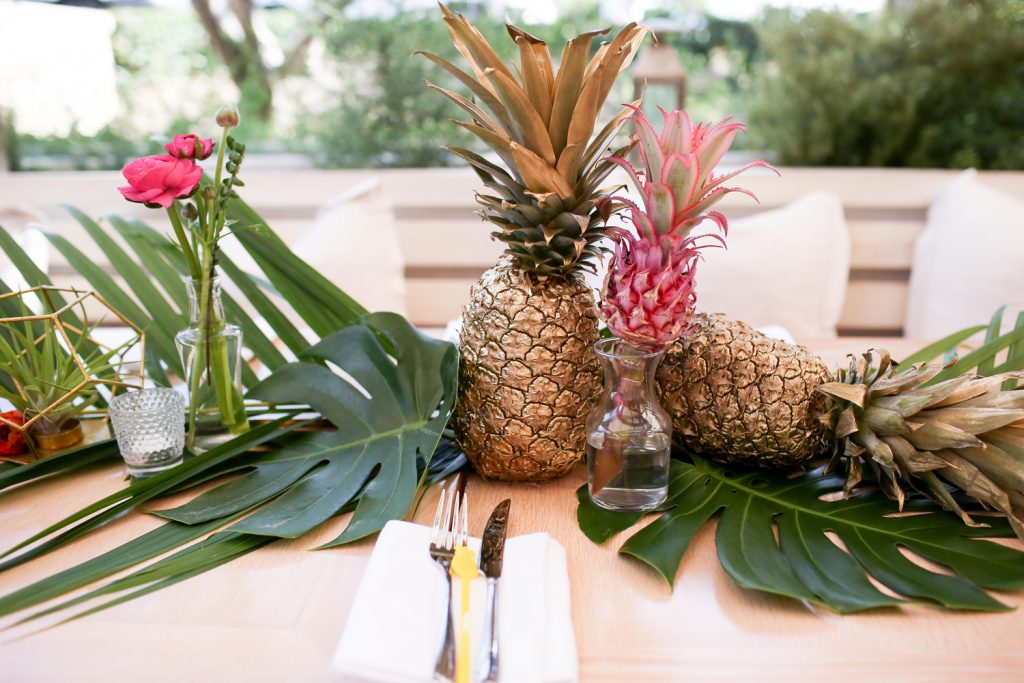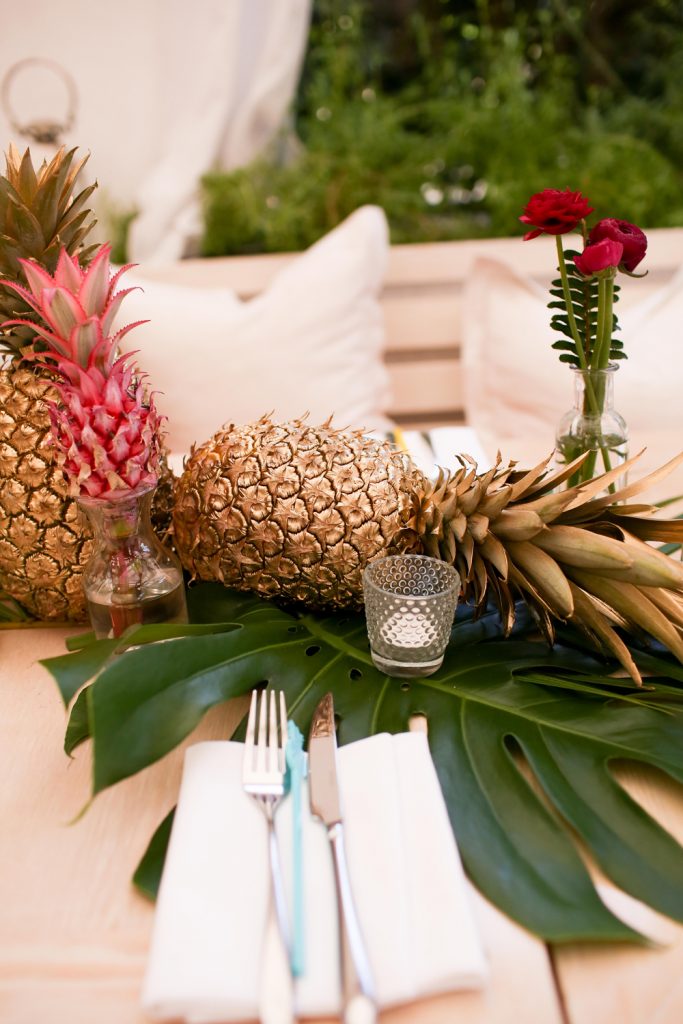 Add clusters of your chosen flower, in a mix of clear glass vases and bottles. (It's always great to have a stash of eclectic bottles to play around with).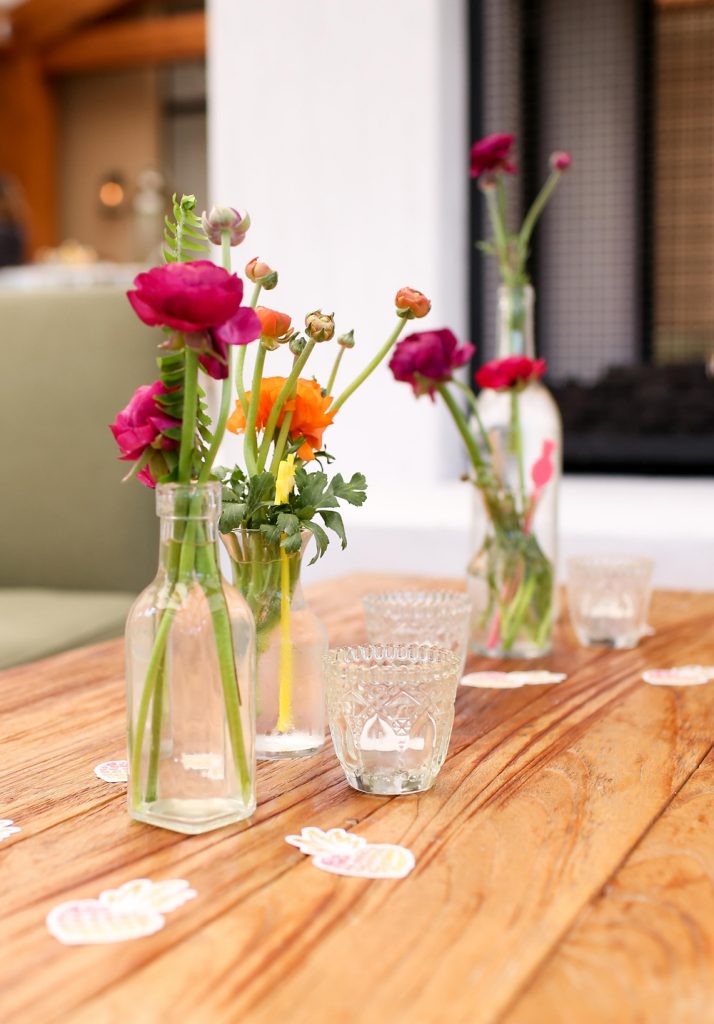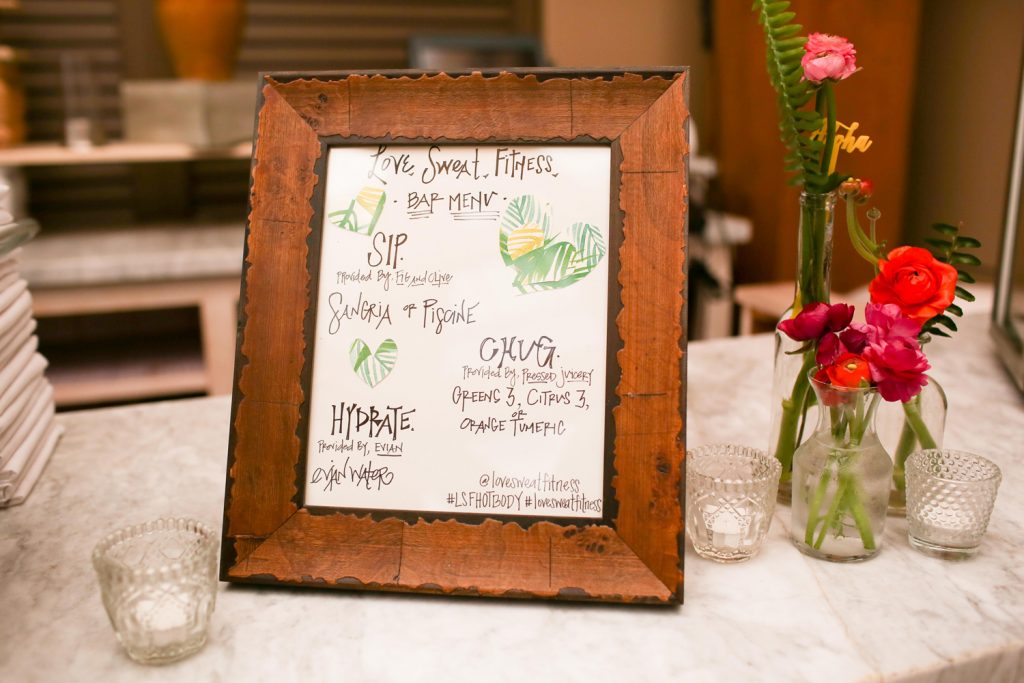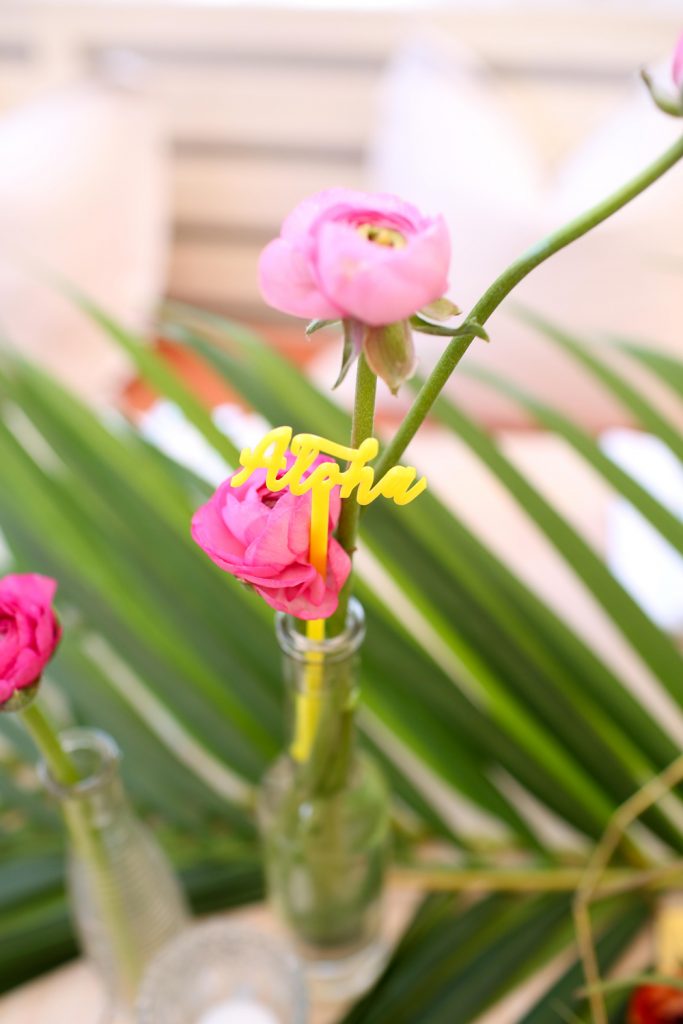 Sprinkle air plants in the geometric shapes and add a few votive tea lights.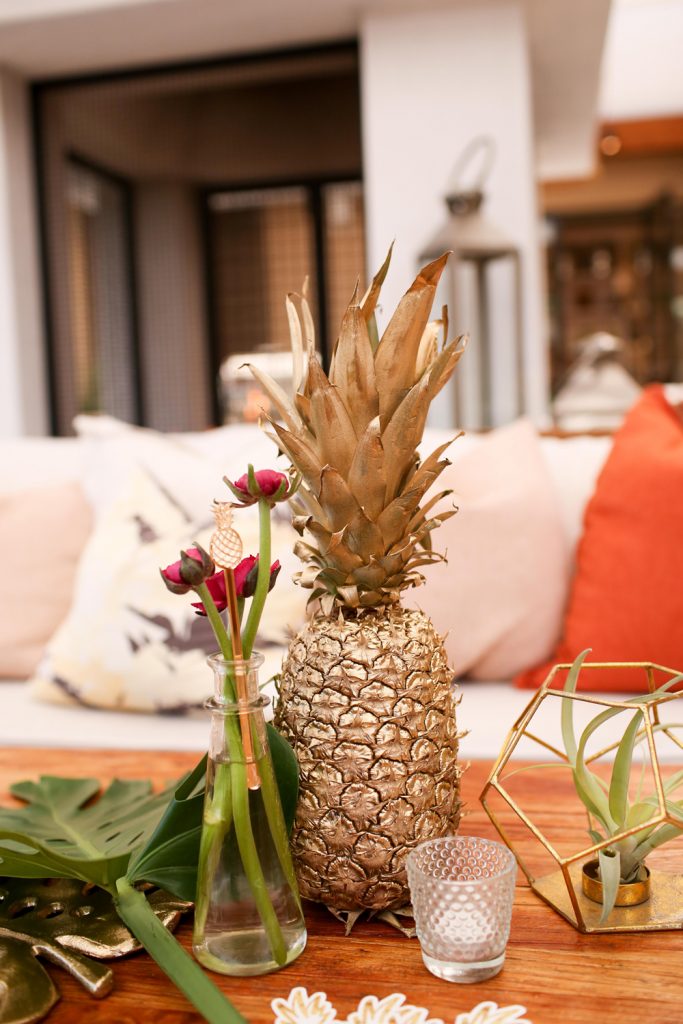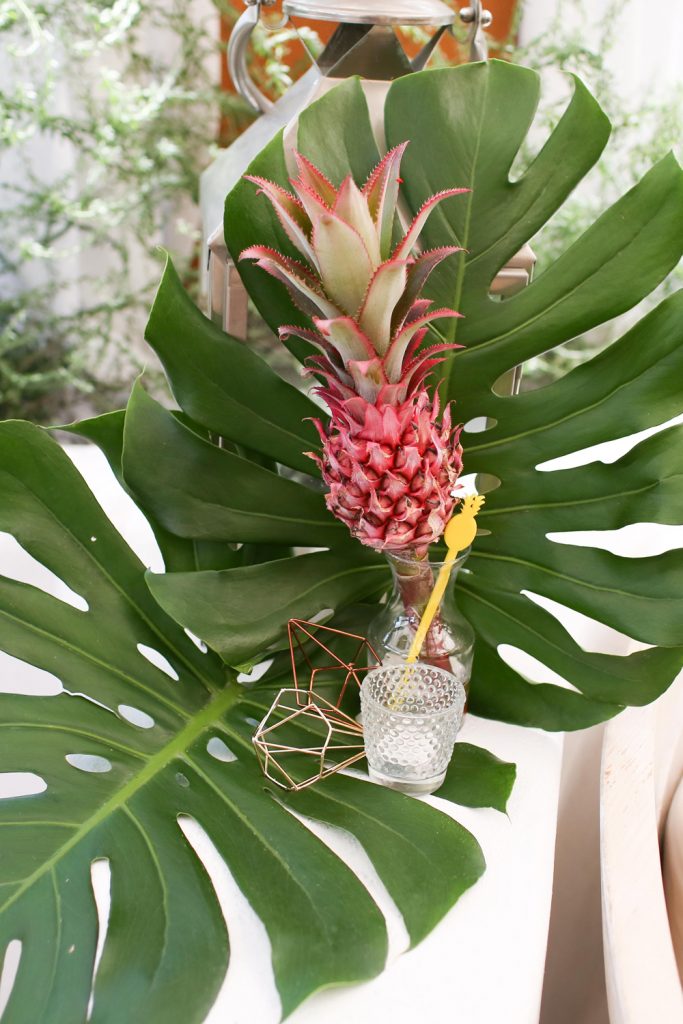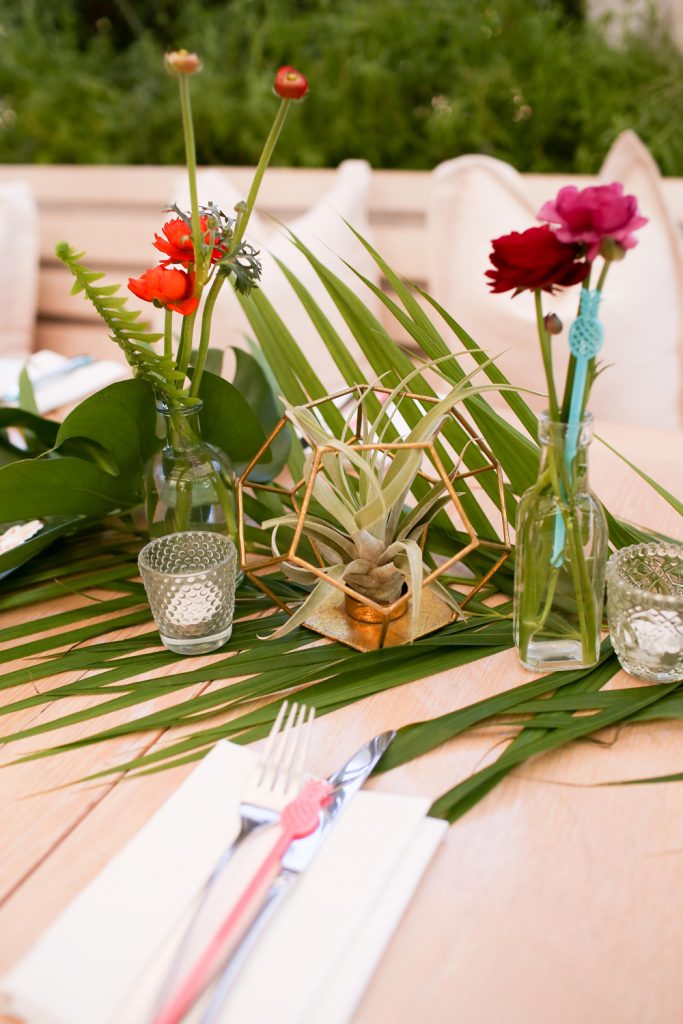 Voila! You just completed the perfect tropical tablescape!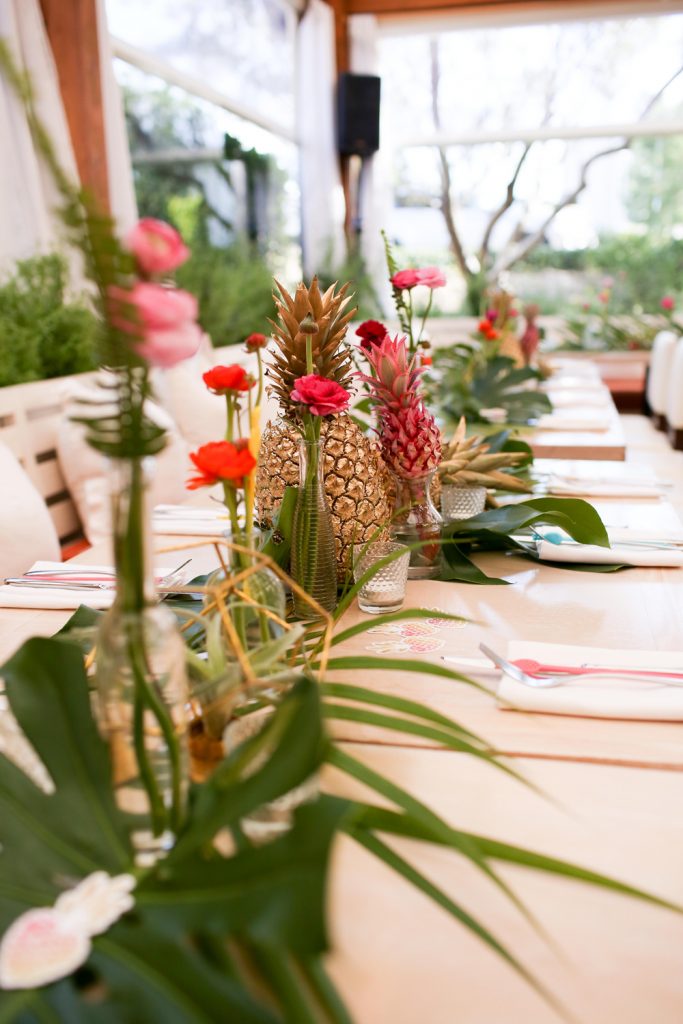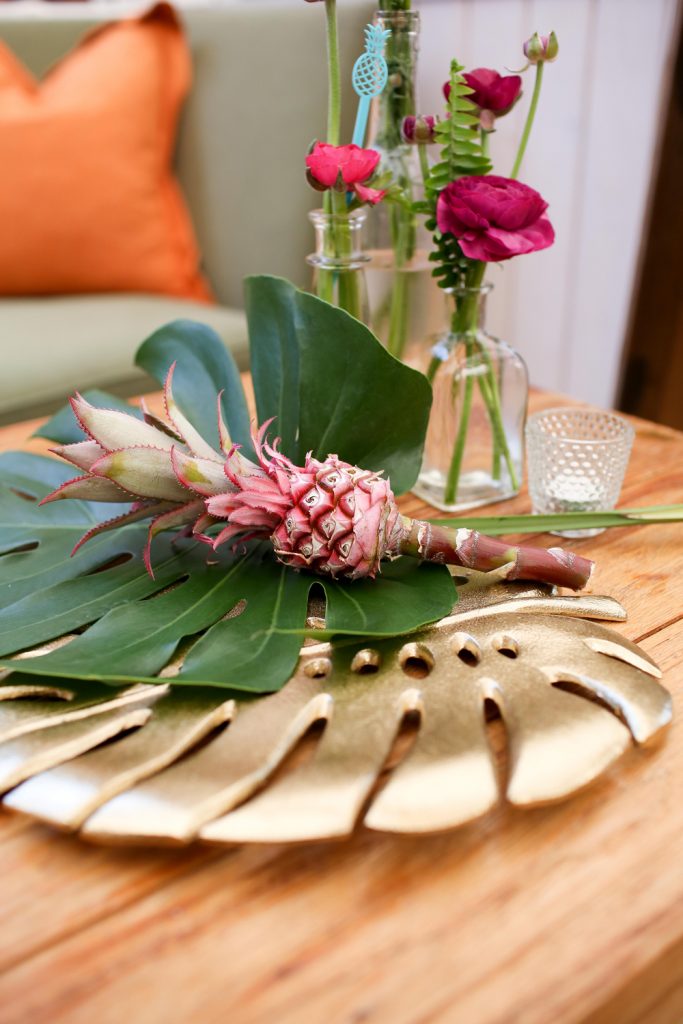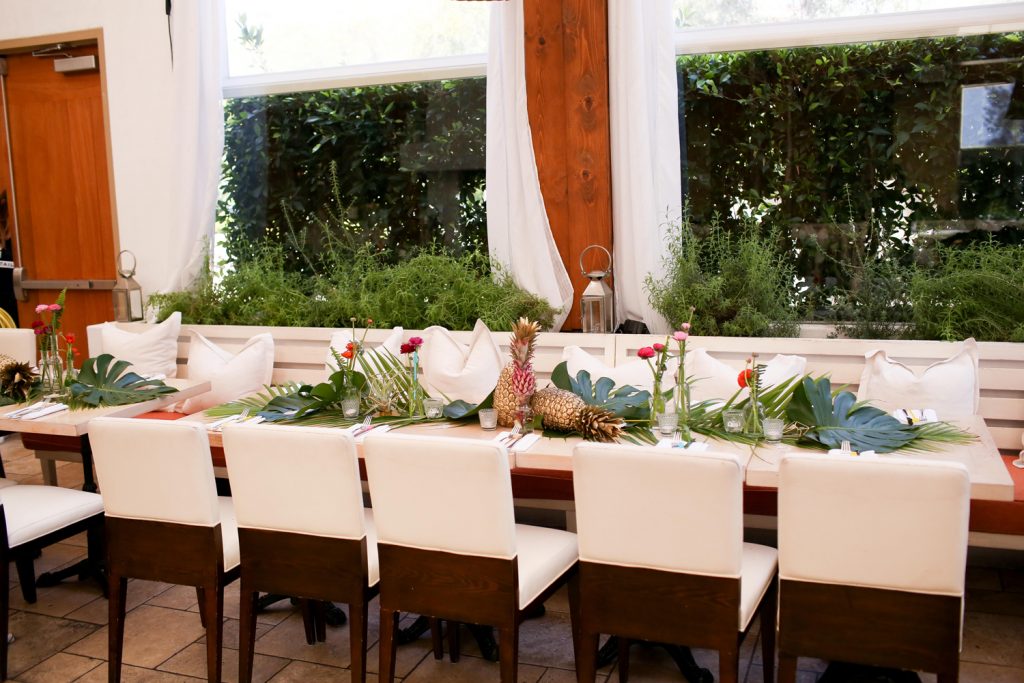 Give yourself a little pat on the back! Now, turn on your favorite playlist, light some candles, make a yummy batch of Pineapple Jalapeno Margaritas and you've got yourself a party! Cheers!
Did you like this DIY? Do you want to see more? Let us know if the comments below!
Photography by Candace Rock Photography