Cleo Collective
Why we ♥ Chelsea…
I came across Chelsea on Instagram via our friends at Stitch & Feather. Chelsea is an Instagram heavy hitter, she has a loyal following over 31K strong, with her infectious smile and killer bohemian style, this 21 year old fashion blogger has hit the blogging world running.
Chelsea's fun, free spirited Instagram pictures drew me in and lead me to her blog-Cleo Collective. I was so impressed I wanted to feature Chelsea on OCSR, and so I set up a meeting. I met Chelsea at Alta Coffee in Newport Beach, she walked right up to me and gave me a big hug, and I knew right away that girl behind the photos was just as sweet and free spirited as the photos she's in. It was my meeting with Chelsea and her infectious spirit that inspired the Blogger Series. Get to know this amazing young woman behind the blog, Chelsea Lauren AKA Cleo Collective.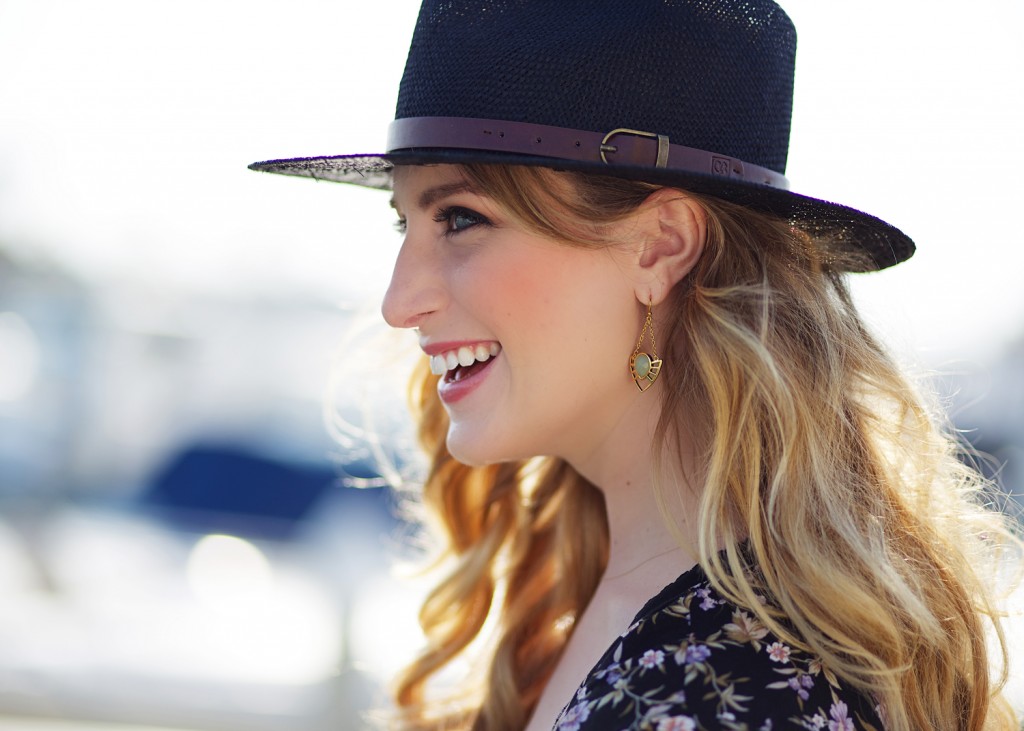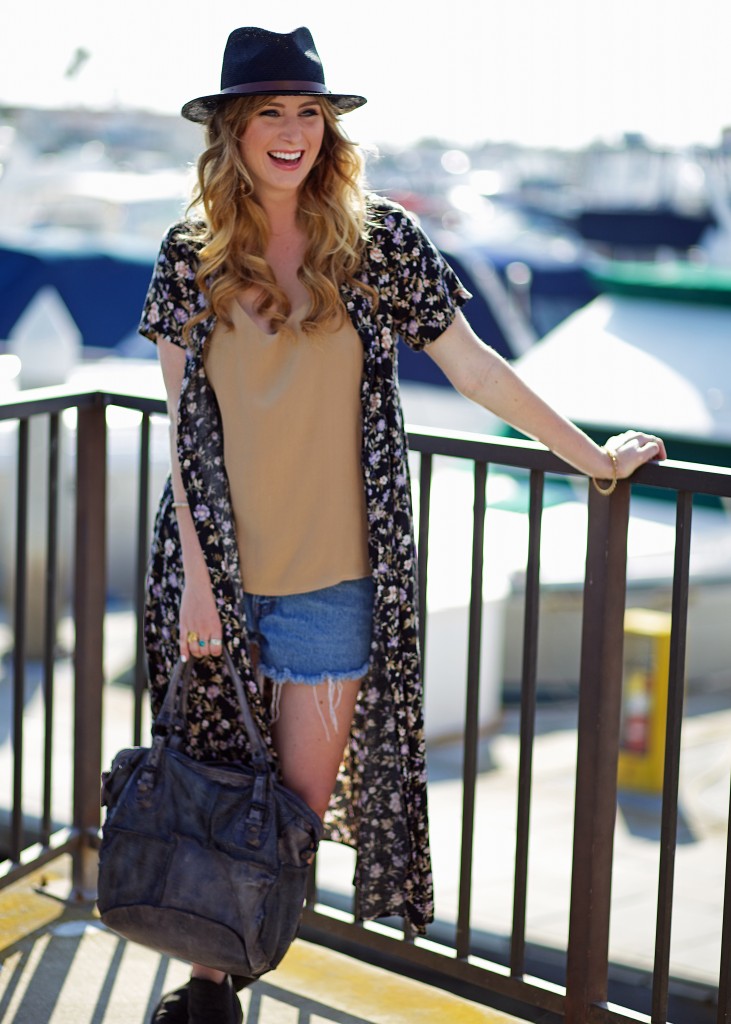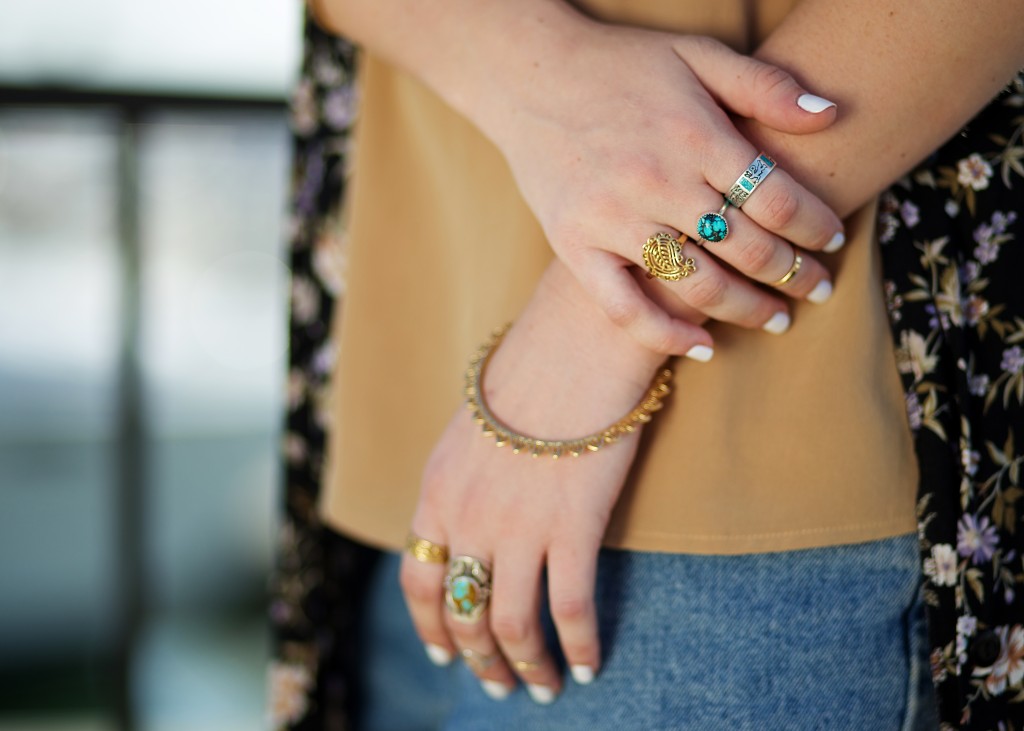 Tank: Merritt Charles// Hat: Brixton both from the Shop. Laguna// Kimono | Vintage Shorts | Booties | Bag: Chelsea's personal collection// Earrings | Paisley Ring | Bangle: Matterial Fix
Q & A
When did you start blogging and what inspired you to start it?
Oh goodness, it's kind of a long story… Cleo Collective is actually my 2nd blog. Going into my senior year of high school, my school was entered into a nation wide fashion show contest called "Walk the Walk" hosted by Hurley at the US Open of Surfing. Over 600 schools competed for a spot to participate in this fashion show through video challenges, in-store competitions and voting rounds. My high school made the top 6 and since I had a lot of experience with Costume Design I was given the role of "Head Fashion Designer." Hurley then sent us their entire fall line with the instructions to re-construct, tear apart, do whatever you want to these pieces to make them your own. My team and I created outfits for about 30 different people to model in front of 10,000 people at the fashion show held at the US Open of Surfing. One of my designs took first place for People's Choice Award and my school ended up winning $5,000.
After this whole event ended, I was searching for a creative outlet and way to organize all my inspiration and ideas. My first blog "California Closet" was born during November 2010. I ran this site through the remainder of high school and had so much fun with it — I even scored an internship at Wildfox Couture from it! Anyways, when I entered into the university I decided to take a hiatus from blogging and focus on my studies. A few years have passed and now that I'm getting closer to graduation, I started to really think about what it is that I wanted to do after college. I kept thinking about re-starting my blog and doing more fashion stuff. Then a girl on the shuttle that was in one of my art history classes said, "I don't mean to be creepy, but I always look to see what you're wearing!" That set the ball in motion… I wanted to create a new site though that reflected how my personal style and writing had changed and evolved, as well as incorporate travel, history of fashion, gluten free/healthy living, music, and art. A " collective" of sorts. At the time, I was also playing around with possible character names for a children's book I'm toying with and my mom suggested "CLEO" based on my initials – Chelsea Lauren Exton and adding the O to stand for Originals. I really dug that name and "Cleo Collective" was born!
Describe your personal style and what influences it.
Audrey Hepburn and Stevie Nicks at a rock show. Haha, if that makes sense. Living in Southern California definitely influences my style in terms of comfort and ease. Being able to throw on a pair of denim cut-offs and a kimono when I'm rushing is my go-to. However, my style is an amalgam of things. Growing up, I spent many summers at my grandma's house in New Mexico and developed an affinity for vintage, turquoise and southwestern jewelry and styles at a young age. And then I sometimes like to dress with the sophistication of Audrey Hepburn and imagine I'm in Paris or something. A little bit romantic, a lotta bit bohemian with an edge.
Where do you find inspiration for your blog posts?

A majority of my blog posts focus on outfit of the day and whatever I'm wearing. However, when I initially was crafting what I wanted my blog to be about I created a whole notebook full of ideas revolving around "history of" fashion and where different styles came from, gluten free recipes, travel, music playlists, artist profiles and that sort of thing. I'd be in sitting in class listening to a lecture and hear something that really sparked my interest and then research the heck out of it and have a zillion tabs opened on my laptop. Curious about medieval times and how the castles were built? Google it. What fabrics were they using for dresses and why were certain ones reserved for royalty? Purple is a symbol of royalty, why? I am endlessly fascinated by that sort of thing and I try to incorporate a little of the history and other categories that collectively make up what I'm about, but currently most of my posts focus on outfits I've styled.
Are there other bloggers that you admire?
Quite honestly, I'm so busy balancing school/nannying/blogging that I don't stay as up to date on other blogs as much as I'd like to. However, I have been able to make some really awesome friends in the blogging community and love and admire all that they do!
Chelsea Lane of zippedblog.com was one of, if not the first friend that I made when California Closet started. I've recently become friends with SeeDaniStyle, TheStyleRiot, Hanger Shortage, Sloppy Elegance and Sara Libby.
What is the one item in your closet you can't live without?
Black. Black jeans & black leather jacket. Oh and a good pair of denim cut offs, preferably Levis.
What fall trend are you most excited about?
I probably shouldn't admit this, but I don't really read trend reports or listen to what Vogue has to say or whatever. There was a time when I relied on that sort of thing, but a lot of the time I'm not a fan of what's trending or it doesn't flatter my figure. So I couldn't really tell you what the fall trends are… I have been seeing a lot of bell bottoms recently, which I absolutely adore. They make people's legs look a zillion miles long. And it kind of seems like the whole Western vibe and kimonos are in, which is cool, but that's what I'd be wearing regardless of what's in vogue.
What is your next "must-have" purchase?
A curling iron with European plug outlet…. and a good leather jacket.
Dress: RVCA// Hat: Brixton// Booties: Matisse// all from the Shop. Laguna// Belt: Chelsea's personal collection// Bangle | Elephant Necklace: Matterial Fix
"Matterial Fix jewelry is inspired by charities empowering girls; their story is our purpose. Every purchase is a voice for change, a chance to make materialism matter. 10% of sales is donated to see girls educated, dreaming and thriving."
Matterial Fix is the perfect everyday jewelry. Wear each piece alone, layer it up or mix and match with your current faves, just like Chelsea. Stay tuned for a more in depth Q & A with the woman behind Matterial Fix.
Tee: Dakota Collective// Button Down: Sam & Lavi// Sunglasses: D'Blanc from the Shop. Laguna// Vintage Cutoff Levi Shorts | Booties | Bag: Chelsea's personal collection// Elephant Necklace | Pendant | Paisley Ring: Matterial Fix
So, as most of you know OCSR is big fan of the Shop. This Laguna Beach boutique has been a shopping destination since it opened it's doors in March of last year. The Shop. Laguna has everything a bohemian beach babe needs; swim, sunnies, beach towels, jewelry, and of course killer clothes. Make sure to check out the Shop. Laguna next time you're in the beautiful Laguna Beach. If you can't make it down to the beach, they ship! Just give them a call 949-715-8308.
Dress: Love Stitch// Sandals: Coconuts// Hat: Brixton all from the Shop. Laguna// Jewelry: Material Fix
I would like to give a special thanks to all the amazing woman involved including; Jessica Watson (the Shop. Laguna owner), Chelsea Lauren (Featured Blogger), Courtney Sims (Owner Designer of Matterial Fix), Gayle Dawn (Photographer) and of course team OCSR for making this collaboration a success.
Blogger | Muse | Stylist: Chelsea Lauren of Cloe Collective// Photographer: Gayle Dawn Photography// Hair & Make-up: Swell Beauty// Creative Direction: Rachael Dickens// Assistant: Katie O'Sullivan of Styled by Katie// Set Manger: Natalie Dickens
[gravityform id="2″ name="Newletter"]