Spice up Your Skincare with Fall's Favorite Flavor, Pumpkin Spice
I absolutely love the fall! From sweater weather and being able to layer up, to the delicious candle scents that hit the shelves of some of my favorite fragrance shops. But one of the biggest trends I absolutely love is pumpkin spice! And it is actually something I incorporate into my skincare year-round. SO, with that in mind, I am so excited to share with you the skincare benefits of pumpkin, spice, and everything nice, as well as some of my all-time favorite products for achieving beautiful skin (while indulging in your favorite scent)!
The Benefits of Pumpkin
While many people would be happy to indulge in pumpkin spice skincare for the scent alone, pumpkin itself actually offers a host of amazing skin benefits! It is a rich source of Vitamin A, Vitamin C, Enzymes, AHAs, Carotenoids, and Minerals. Which means you can expect to see benefits such as: exfoliation, anti-aging, anti-acne, a brighter skin tone, and more!
One of the most popular types of pumpkin products? Masks! And with good reason.. They harness the exfoliating properties of pumpkin to slough away dead skin cells, boost cell turnover, and deliver a fresh, smooth complexion.
What About the Spice?
Much like peanut butter goes with jelly, pumpkin and spice are the absolute perfect blend. And I want to share some of the skincare benefits of those spice-based ingredients with you!
Cinnamon Oil – best known for its stimulating effect on the skin (and delicious scent), cinnamon oil is a fragrance ingredient that delivers tonic and antiseptic properties. While it is safe for skin use in the proper dilutions, it is important to note that high levels of cinnamon oil can cause irritation. So, exercise caution if you are planning on using this ingredient in a DIY preparation!
Clove Oil – I cannot possibly be the only person who absolutely adores the scent of clove oil. In addition to smelling amazing, this essential oil delivers powerful antiseptic and wound healing benefits, and also helps to tone the skin! Much like cinnamon oil, this ingredient works great when properly diluted into a skincare product. But you will need to use it sparingly and very carefully if planning to use it for DIY.
My Favorite Pumpkin Scented Products & How to Use Them for Beautiful Results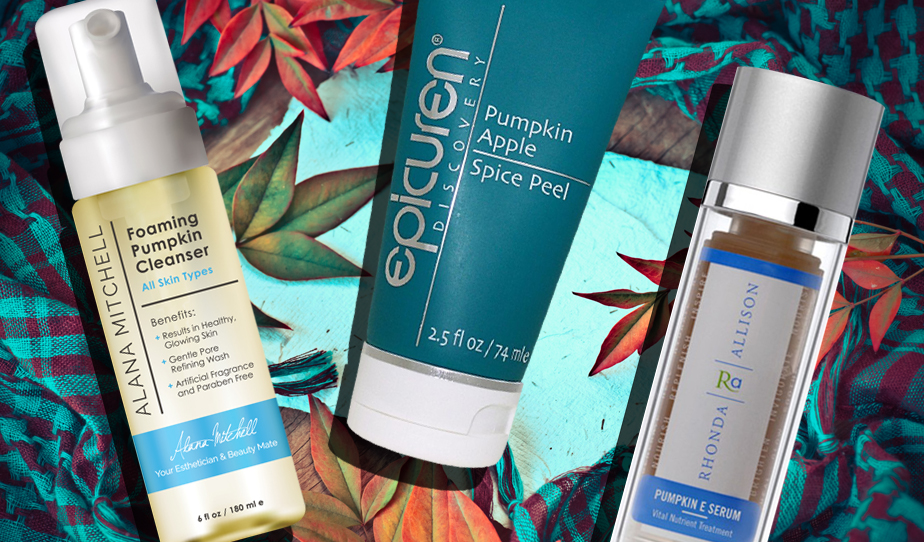 Cleanser Pick: my Alana Mitchell Foaming Pumpkin Cleanser. Call it a shameless plug if you want to, but I worked long and hard developing this formula. Perfect for all skin types, this cleanser is gentle enough for daily use. It helps to refine pores, remove dirt, oil, and debris, and leave behind a smoother, brighter complexion. An added bonus: much like my other products, this cleanser is artificial fragrance and paraben free. And yes, it does still smell delightfully like pumpkin spice.
How to Use: Simply apply 2-3 pumps 1-2x daily (twice daily if this is your primary cleanser) to your damp face, then rinse for optimal results!
The Benefits of Cleansing: If you aren't already cleansing twice a day, now is the time to start! Not only does cleansing serve to rid your skin of dirt, oil, and makeup, but it also helps to prep your skin for your follow-up products (meaning they will more effectively absorb into your skin).
Normal-Oily Skin Mask Pick: Epicuren Pumpkin Apple Spice Peel. This was a tough one for me, as there are quite a few amazing pumpkin masks/peels on the market. But I went with this one on a combination of absolutely loving the scent, and seeing the most results. This Epicuren staple works to minimize the appearance of pores, helps to stabilize oil production, fights free radical damage, and leaves your skin looking (and smelling) fabulous. This is another one of those products I enjoy reaching for year-round.
How to Use: After cleansing, apply about a dime size amount of product to your face, neck, and chest. Be sure to avoid the eye and lip area, and leave on for 3-7 minutes. This product can be used 3-5 times a week but, I recommend starting at 3 days each week.
The Benefits of Peels: So often people are scared off by the word "peel". It can evoke the stereotypical image of Kim Cattrall (who, by the way, is rumored to love this particular Epicuren mask) as Samantha Jones, with a red, irritated, flaky face following a peel gone-wrong. Luckily, most at-home formulas will not result in this, especially when directions are followed. Peels are great for sloughing away dead skin cells, which not only helps to reveal more radiant skin immediately, but also helps to increase cellular turnover, resulting in anti-aging results over time.
Dry Skin Mask Pick: Eminence Organics Pumpkin Latte Hydration Masque. If you are battling dry skin, this is a mask you are definitely going to want to check out. And yes, the product does indeed smell like a pumpkin latte. It combines pumpkin puree and botanical oils to soothe, balance, and hydrate your skin. This is one of my favorites when my skin starts to feel tight and dry!
How to Use: Apply a thin layer of this mask to cleansed skin and allow to sit for 5-10 minutes. Remove with a warm, damp washcloth, then rinse your face with cool water.
The Benefits of Hydrating Masks: having more normal/combination myself, I absolutely love hydrating masks. They allow me to get a boost of moisture without having to wear a heavy or greasy feeling moisturizer. For those with dry skin, a hydrating mask is a fabulous way to get some extra nutrients and hydration onto the skin!
Serum: Rhonda Allison Pumpkin E Serum.  This particular serum is designed for dry, dull, dry/acneic, and depleted skin. So, oily skin types might want to stray away or use this as both their serum and moisturizer. This formula is jam packed with various nutrients, vitamins, and antioxidants. It delivers serious moisture in addition to rejuvenating skin cells.
How to Use: Cleanse face thoroughly, then massage a layer of serum into your skin. Follow up with a moisturizer.
The Benefits of Serums: Much like cleansing, this is a product you will want to pick up if you aren't already using one! Serums are unique from cleansers in that their thinner consistencies allow the ingredients to absorb further into your skin, thus leaving you with more beautiful results. Serums are fabulous for achieving desired benefits faster and more effectively. Layer your serum under your moisturizer, this serves to hydrate and treat the top layers of your skin.
PM Treat: Dermalogica Pure Night. While this product does not smell like pumpkins, it does harness the beauty benefits of pumpkins, raspberries, cranberries, and more to deliver some seriously impressive results. Pure Night works to deliver a brighter and more even skin tone, while also hydrating and revitalizing your skin.
How to Use: Apply Dermalogica Pure Night to cleansed skin every PM.
The Benefits of PM Products: I'm often asked if PM products make a difference, and they absolutely can! Your skin does most of it's healing while you sleep, which is why your 8 hours of rest are so important. A product designed specifically for night time use can help boost that beauty rest. A common reason certain products are recommended for night time use is that they deliver beautiful results, but can also cause sun sensitivity. So be sure to follow instructions and use PM products only in the evening!
Whether you're simply craving a little pumpkin, or are looking for solutions to boost and brighten your skin, pumpkin is a fabulous ingredient to incorporate into your skin care routine! I'm curious, what are some of your favorite pumpkin spice treats for fall?