The Real Girl's Guide to the Tribal Trend
More is More
The Tribal Trend is always close to the heart of  bohemian girls. This is more than a trend to most OC beach babes and fashion lovers alike. At the root of bohemian style is the love of whimsical prints, one-of-a-kind jewelry and the  idea that you can never have too many jewels adorning your body at any one time.
The two key componets of the tribal trend are prints and lots of statement jewelry. Wearing the tribal trend in a real way is a balancing act with both print and jewelry. It's not that  easy to wear lots of statement jewelry-it can be heavy and loud, we added the illusion of lots of statement jewelry with Flash Tattoos.
If this is the first time you're hearing of Flash Tattoos let us explain how cool they are! Simply put… They're metallic temporary tattoos. They are super easy to apply, last about a week, and can be put anywhere you can think of. They are fun way to adorn your body with the illusion of jewelry.
Bo·he·mi·an
a

 :  vagabond, wanderer; especially :  gypsy 
b

 :  a person (as a writer or an artist) living an unconventional life usually in a colony with others
Here are 5 looks to inspire your tribal style.
Piled High
An extra large stack of thick bangles will add a tribal vibe to any printed dress. STYLIST TIP: These will be heavy so one stack on one arm is plenty.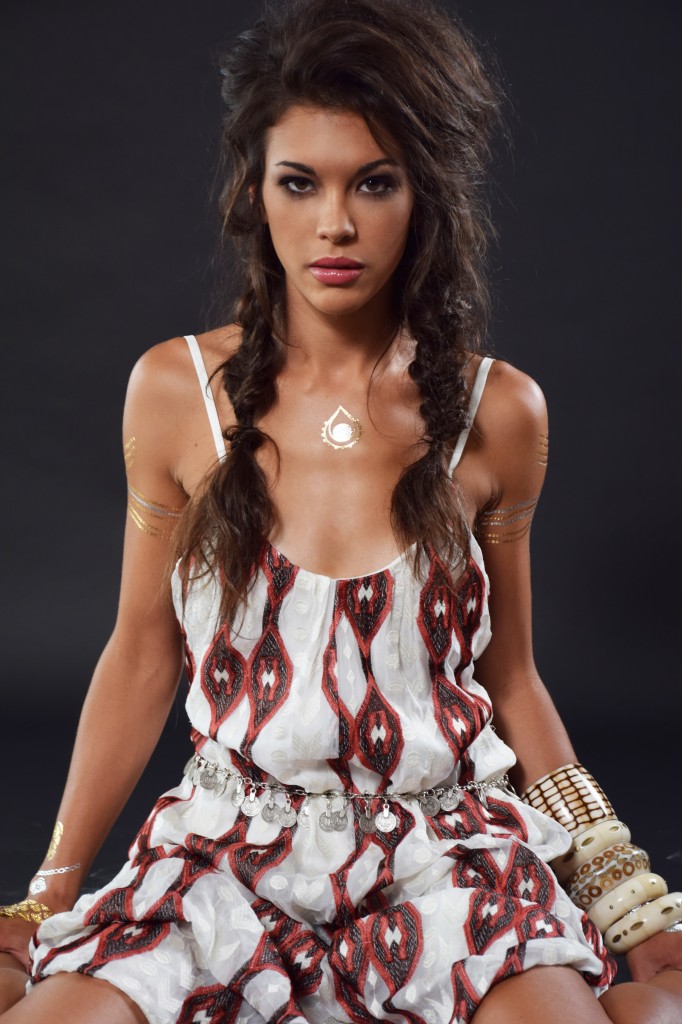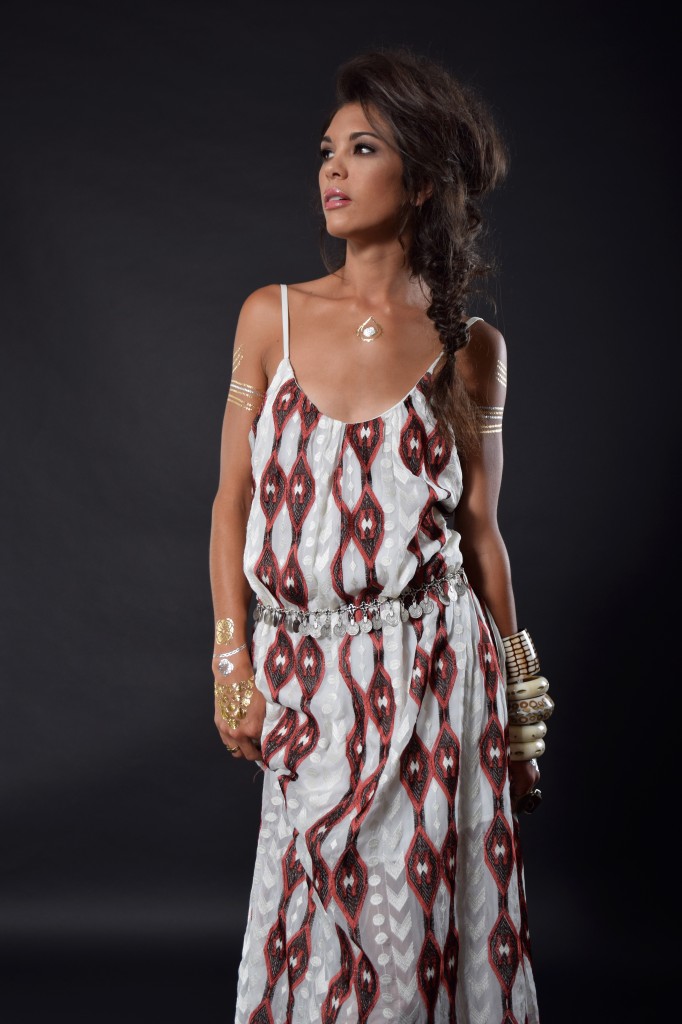 Maxi Dress: Line & Dot// Coin Belt: Raptor Jewelry from Uptown Girl

Print on Print
Mixing prints has been "on trend" for the last few seasons- mixing two ethnic inspired prints with items you normally wear is a great way to enjoy the trend while being comfortable in your "go to" pieces, likes jeans and a loose tank.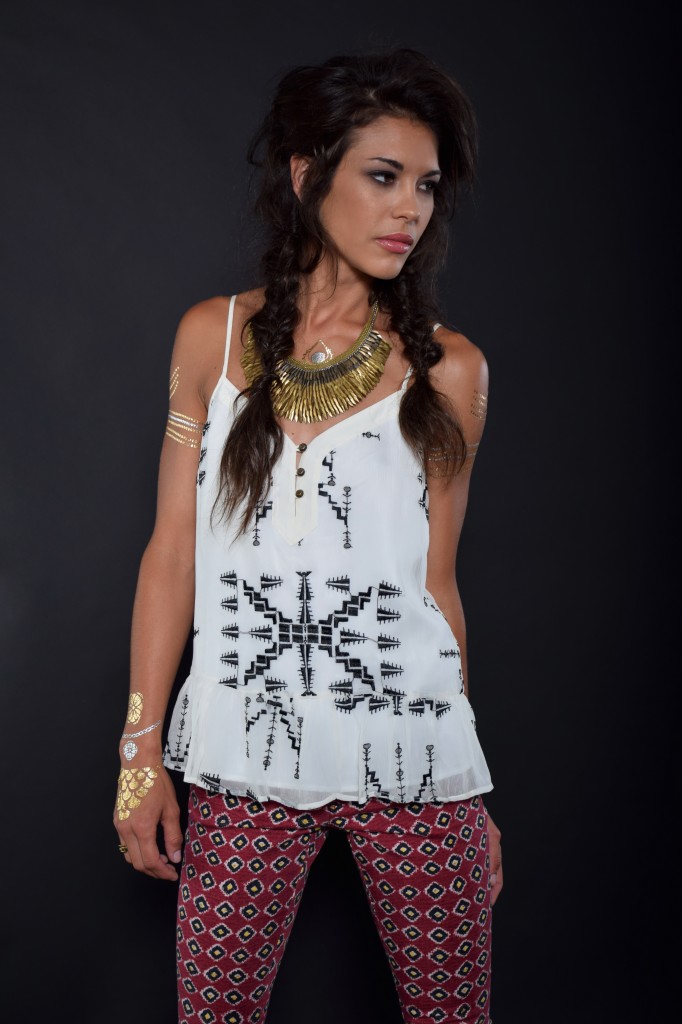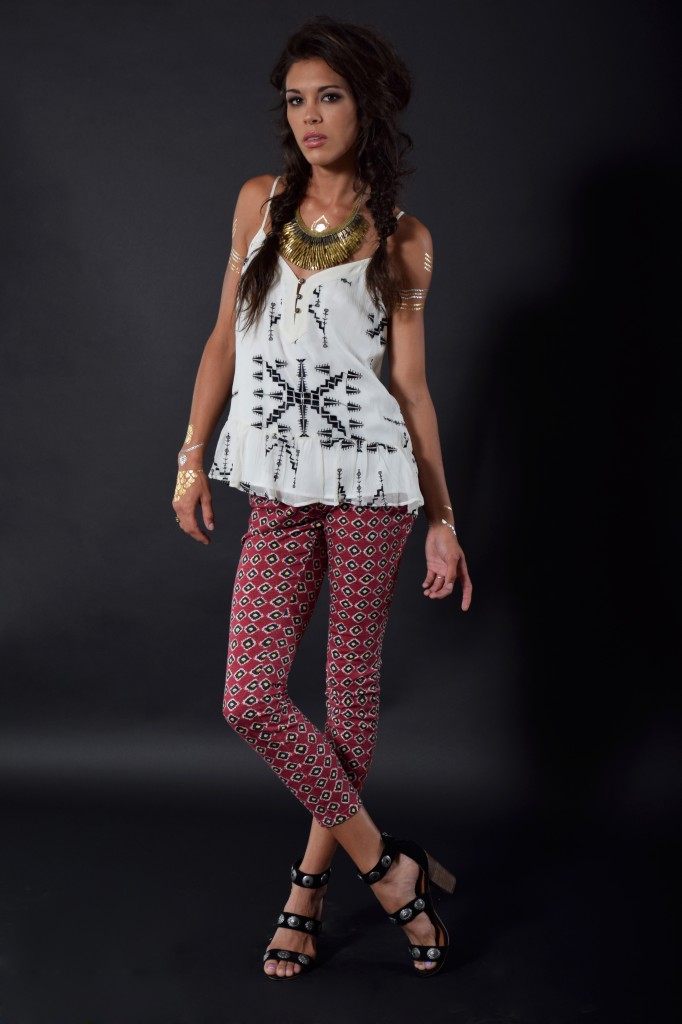 Top: 12th St. by Cynthia Vincent// Pants: Pam & Gela both from Bardot// Shoes: DV + Vanessa Mooney from Swirl Boutique
Arm Candy
Mirror a large stack of beaded bracelets on both wrists. Have fun with color and texture.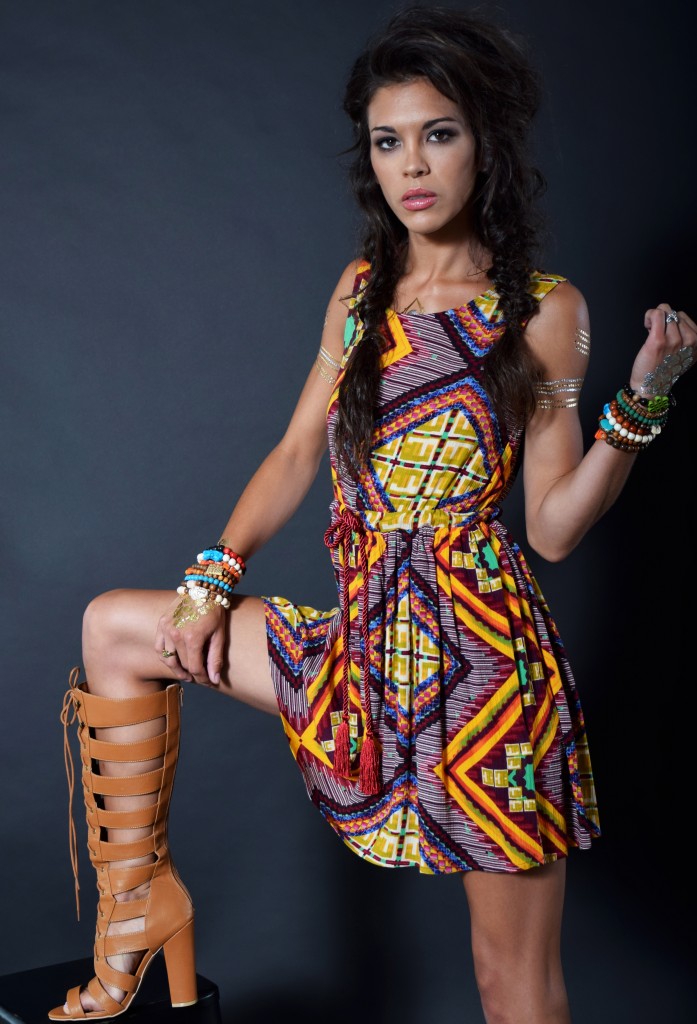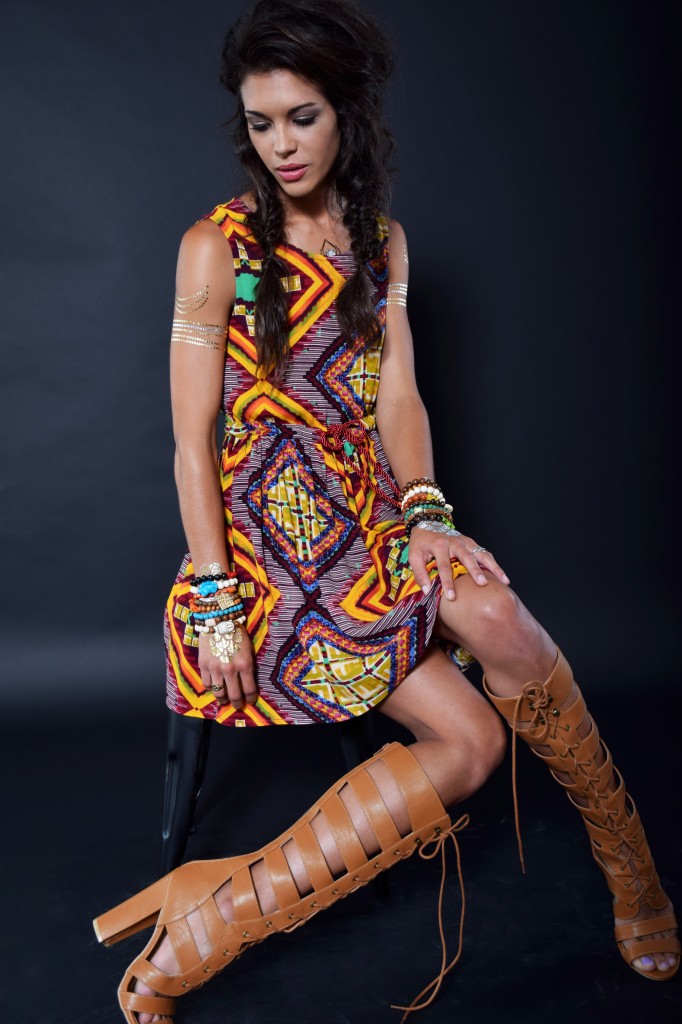 Mini Dress: MINKPINK// Gladiators both from Uptown Girl// Bracelets: Jess Loves Jewels
Bead Work
This top is a statement in itself. Pairing this statement top with chambray wide leg pants gives an air of  polish to this midriff revealing summer look.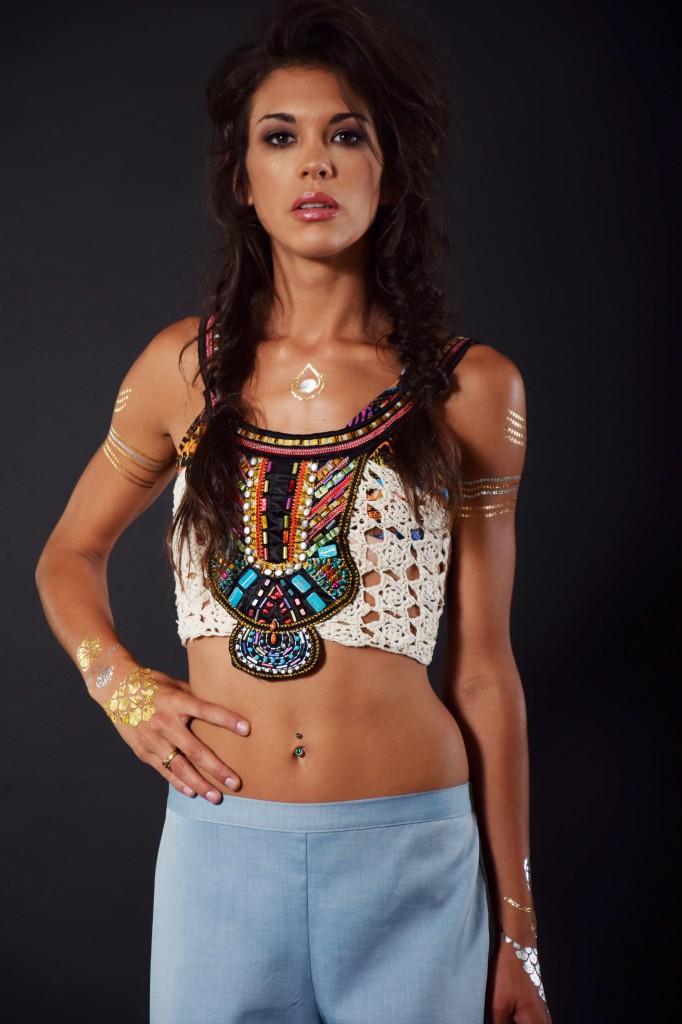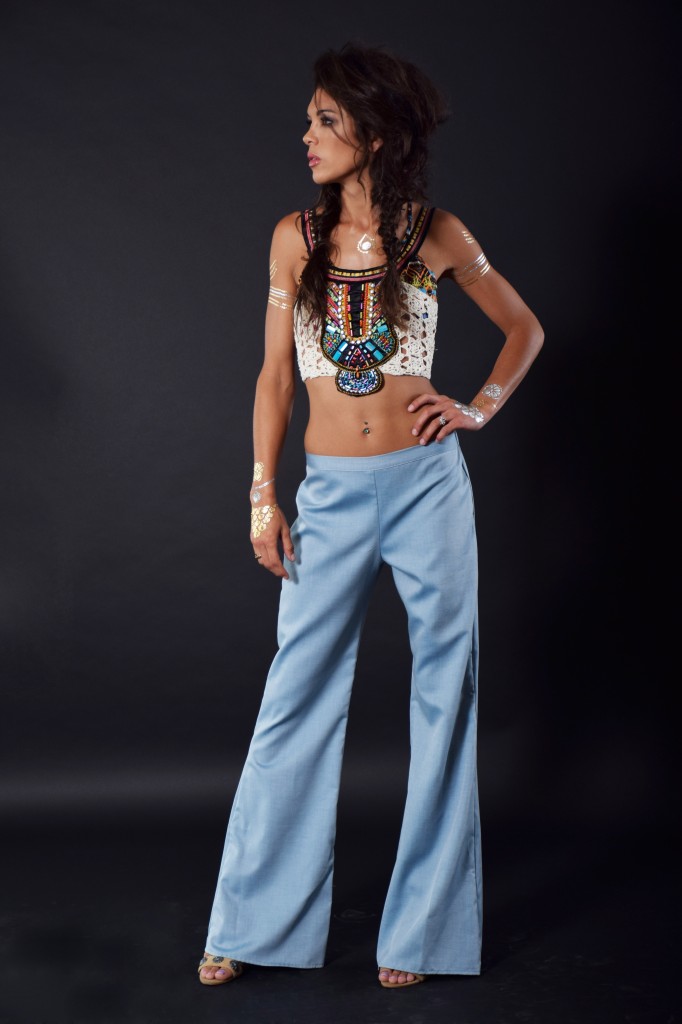 Top: Signature from Uptown Girl// Pants: Merritt Charles from Bardot// Shoes: DV + Vanessa Mooney from Swirl Boutique
Edgy Aztec
I love this one piece! The aztec printed "skort" (skirt in the front-shorts in the back) with it's built in simple black top makes this romper a very easy way to rock two trends in one. Just add a few statement necklaces and great shoes and you're "on trend" look is finished in 1,2,3.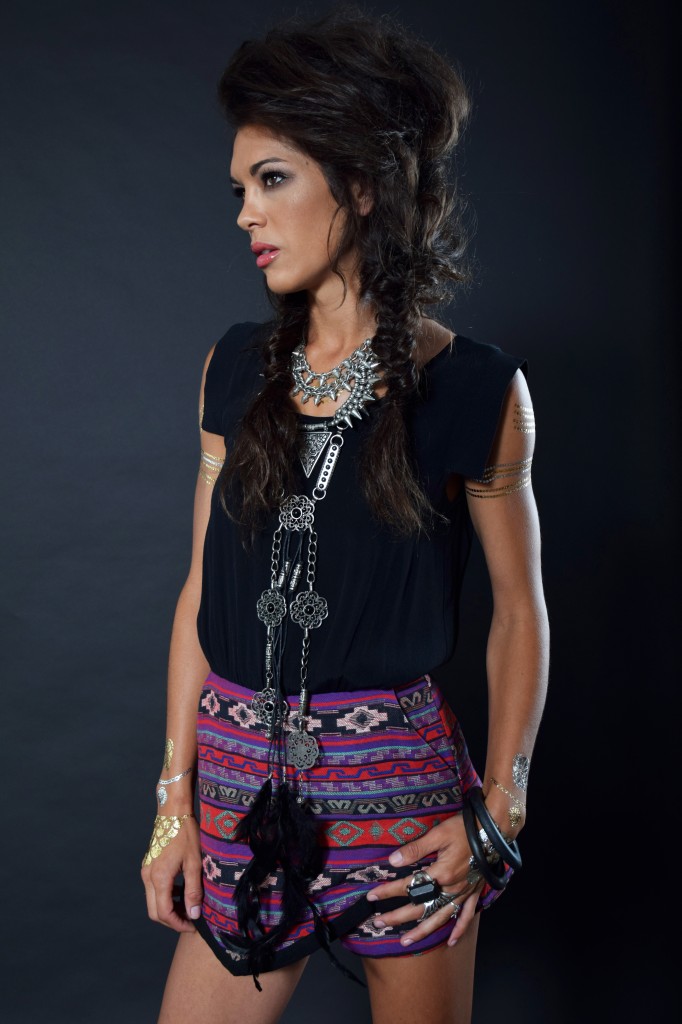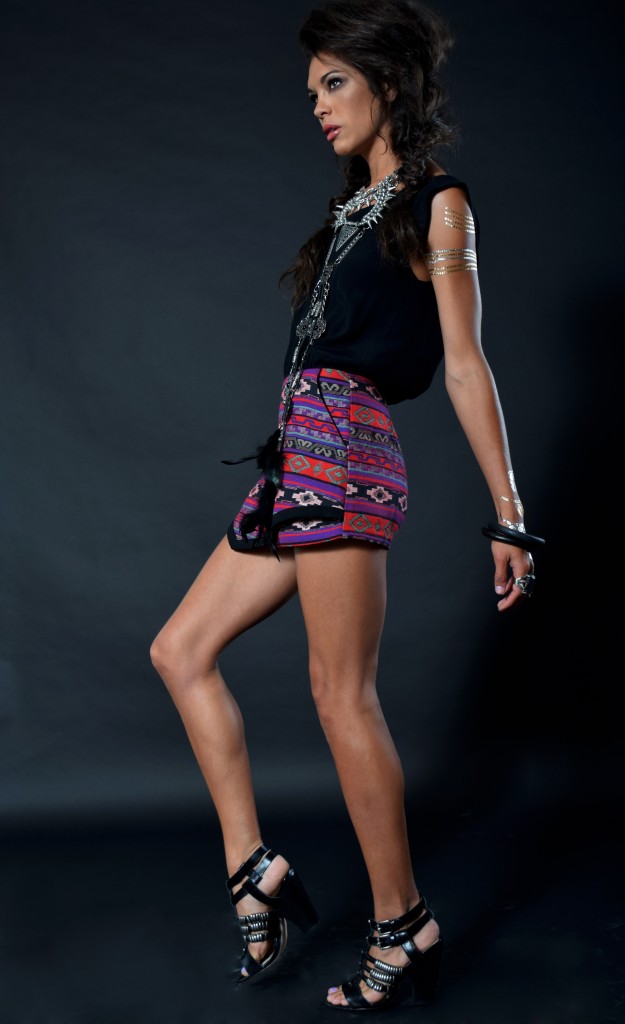 Romper: MINKPINK from Uptown Girl // Shoes: Madison Harding (no longer available)// Jewelry: OCSR Studio Collection
THANK YOU TO BARDOT, UPTOWN GIRL, SWIRL BOUTIQUE & ISLA BOUTIQUE  for providing items for this layout.
Model: Katie Collins// Hair & Make-up: Dee of Swell Beauty// Stylist: Katie O'Sullivan of Styled by Katie & Rachael Dickens// Photography: Rachael Dickens