As you all know, we are beach girls to the core. Any extra time we have to spend lying on the sand, we will. Any beach babe knows that great beach essentials are a must, and one of the most important essentials is a towel. Being introduced to MAYDE, we immediately fell in love with their Turkish towels, and new we had to share.
The owners of MAYDE are coastal folk, living by the beach on Australia's Gold Coast. Just like us, they are always beside one body of water or another. They couldn't find towels that suited their lifestyle – lightweight, fast drying, but also aesthetically cool. Feeling like the market was lacking, Sylvia and Tim started their own towel business; specifically Turkish Towels. Why Turkish Towels? A Turkish towel's versatility knows no bounds. It can be used as a traditional bath/beach towel, as a scarf, a shawl, a wrap for a baby, as a picnic rug, a table or chair cover, an all-purpose gym towel (yoga, workouts etc), and much more.
With these key elements in mind, MAYDE was born.
What's your inspiration behind the creation of each towel? How involved are you in the design process?
Our towels and blankets are produced using many traditional and modern designs. Some of the designs span back centuries, others have been created more recently with the advent of looms that are a little more versatile in their production abilities! We look over the designs all the time, and find the stuff we like. It's really as simple as that. From there we choose colour palates, which can take time as we battle over which ones are our favorite. More recently we were able to start selecting our own personal color palates as opposed to the color options in stock. It's allowed us to get much more creative and really sink our teeth into the design process, which we love.
Tell us about your latest collection?
Late last year we released our "Naviguer Avec Moi" SS16 campaign, meaning "Sail Away With Me" in French. My husband and I are big lovers of travel and after travelling with our own towels, we were inspired to do a travel themed campaign. So we showcased our products in the 'travelling way'. Tegan Dermek was the face of the campaign for the 3rd year in a row, and it was shot by local photographer Samantha Lorking-Tanner. Combined, they captured the essence of travel. Fun, adventurous, calming, mesmerising, and inspiring. All the things we love about getting away.
How did you decide on MAYDE as the name of the brand?
That's a hard one as it almost originated out of thin air. We (my husband/right hand man/co-conspirator, Tim and myself) were trying to come up with something clever that would stand the test of time. "Hand Made", "Made with Love", "Made with Care", all those terms kept coming up when we were considering how we wanted the brand to feel. From there, my head somehow imagined up "MAYDE." I liked that it was a little left of center, easy to pronounce and bold. Classic, without being pretentious and long, and could also tie back in to the story of how our products are, well, made!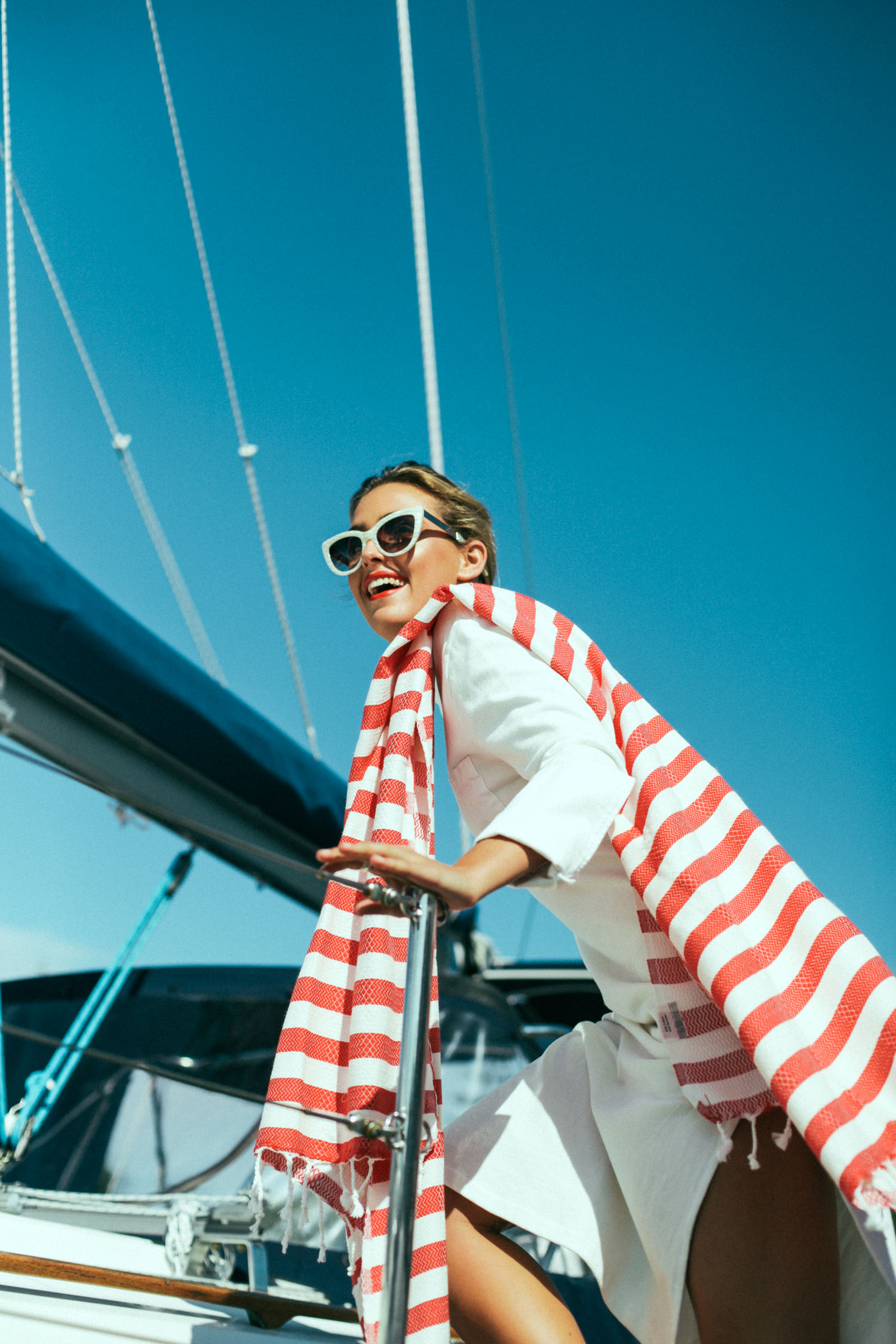 What makes MAYDE unique?
When researching for our ranges, we look at everything: How the styles and colors translate to a beachy lifestyle. Whether they'd also work for people who don't necessarily consider themselves 'beachy'. We look at the weights of the towels and how they're produced. We also then take care in ensuring our products are presented to the market in a way that would make a customer stop as they're walking past and say "I need one of these in my life!" To do that, we've included information about the towel onto the packaging (a nifty, reusable cotton drawstring bag), how to care for the towel (or blanket), how it can be used, as well as the name and size of the towel (we name all our products after Australia's beautiful beaches and bays). Keeping ahead of the game and providing our customers something fun and useful is what it's all about.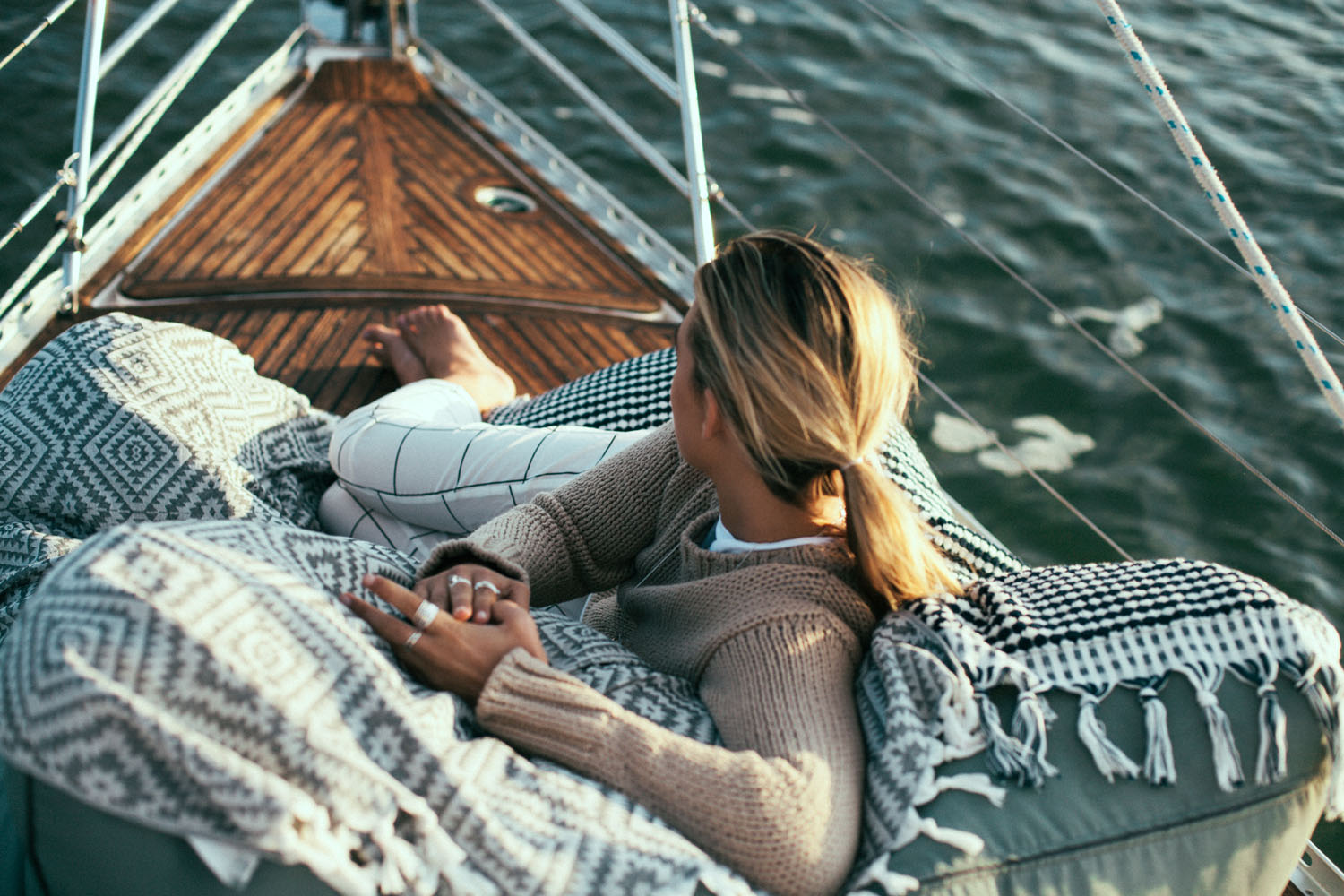 Whats your favorite piece in the collection?
That's like asking me which kid is my favorite! It's a tough one as I have affection for all our products. However, if I HAD to choose, it would be between the Avalon, the Clovelly and Rainbow towels as well as the Tallow blanket.
Do your travels play a big part in building a collection?
Of course! One of the great things about our towels is that considering the history of hand looms in Turkey (we're talking 500+ years here), towels just don't go out of fashion! Therefore, they work worldwide. You might travel to Europe and notice your clothes are different to the locals, however, towel 'fashion' works just as well here as it does anywhere else in the world. So we want people to take our towels with them everywhere, that's what they're there for 🙂
What next for MAYDE?
So many goodies! We've expanded some styles to include new colour ways, we've got some new interesting designs with a particular focus on the single sided terry collection, as well as a whole new adult and kid poncho collection which we're really excited about. All this to come later in 2016 so sleep with one eye open.
Find MAYDE locally at Thalia Surf & Poler Outdoor Stuff in Laguna, or shop their Online Store
All photos provided by MAYDE Photographed by Sami Lorking-Tanner. Model: Tegan Dermek
Stay Connected to MAYDE on..