Making the Most out of Your Small Space
Brittany Stiles Henderson is a California native with an innate passion for great design, exceptional craftsmanship, and the luxe-chic quality of the California lifestyle. Encouraging homeowners to break away from the latest trends, Brittany works closely with her clients to identify and develop their own unique style, then uses this as a foundation to design beautiful, livable and timeless homes with character.
Brittany works with clients of all home sizes, and today shared with us some important tips and tricks to living in a small space. She encourages her clients to focus on what they really love – and need! Read on to see how you can make the most of your living areas with clever storage ideas, and investment pieces that won't break the bank.
Install open shelves wherever you need extra storage space. It's a perfect place for dishes, books, magazines, games, and baskets and boxes that can store miscellaneous items like kids toys, stationary, or batteries and light bulbs. Having these items on display forces you to keep them neat and organized and can really add to the personality of the space.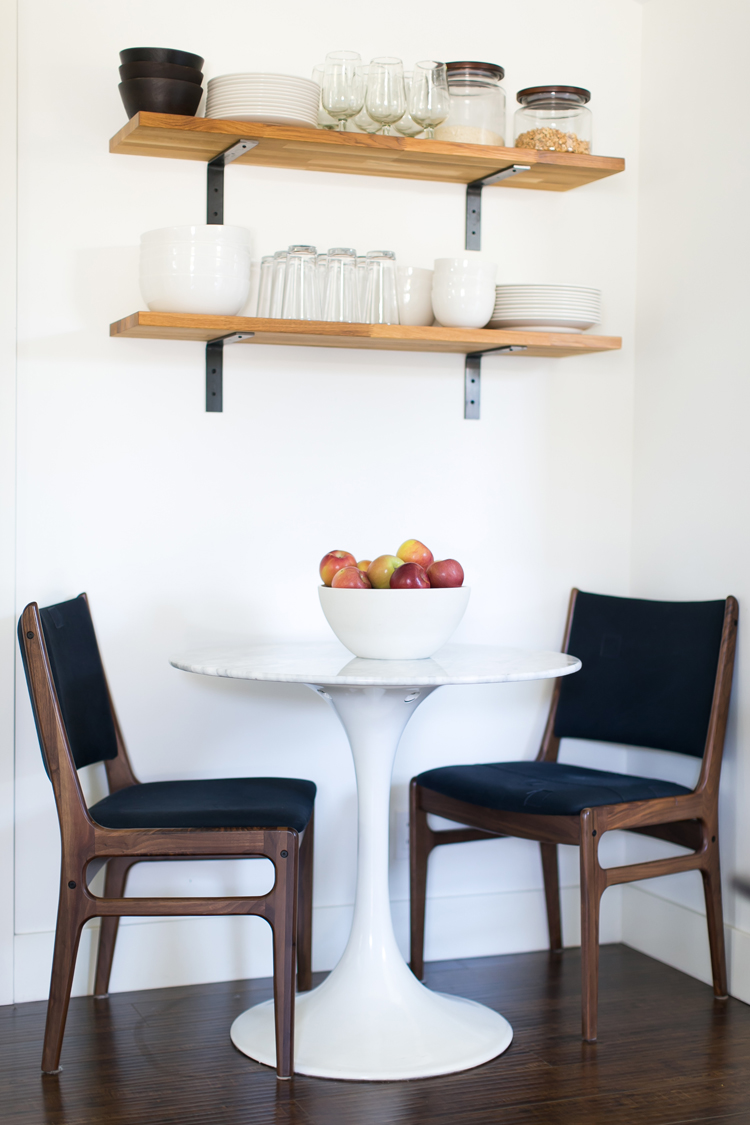 Use furnishings with dual purpose. Storage ottomans with wheels give a place to put your feet up in front of the TV, and can store toys and other items. We didn't have room for a glider in the baby's room/den so we put it in the living room and it acts as extra seating when we have guests as well as a place to rock the baby. We have a sectional that converts into a really comfortable bed when we have guests.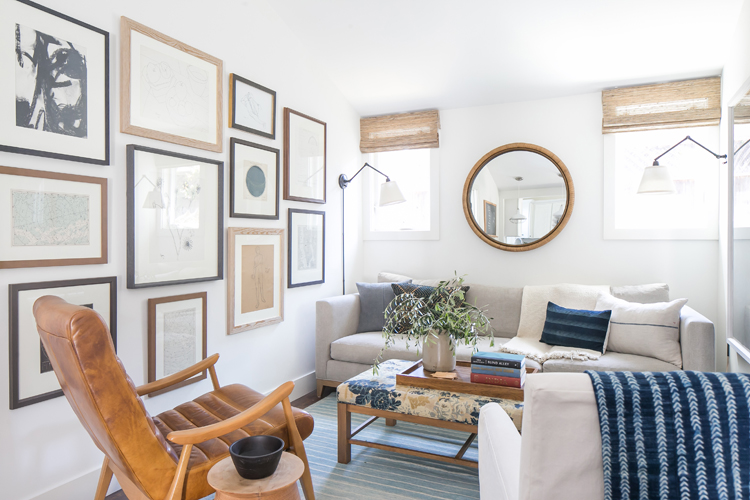 Make your patio an extension of your home when the weather is warm. Learning to utilize even the smallest of outdoor spaces is key in warm weather months. It can make your home feel twice as big and is the perfect excuse for dining outside or gathering around a chimnea/fire pit with friends.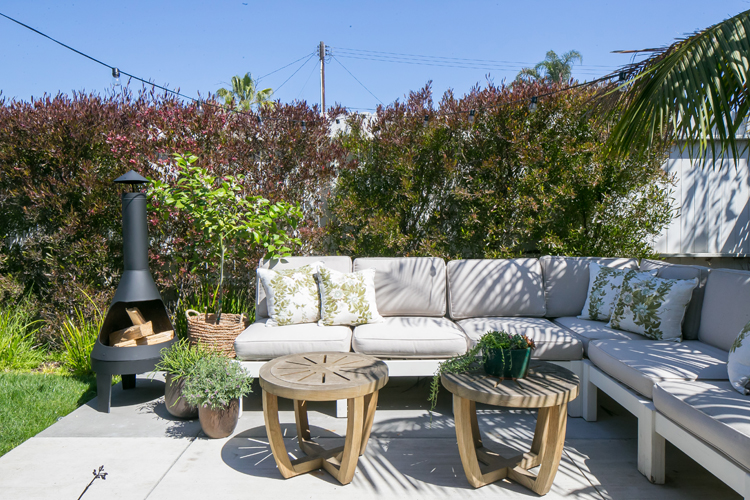 Utilize wall sconces. We didn't have enough room for side tables in the living room and we needed the surface of the bedroom night stands for other things (since table top space was so limited) so hanging wall sconces was the perfect solution to provide extra task lighting and interest to the design without using or requiring side tables.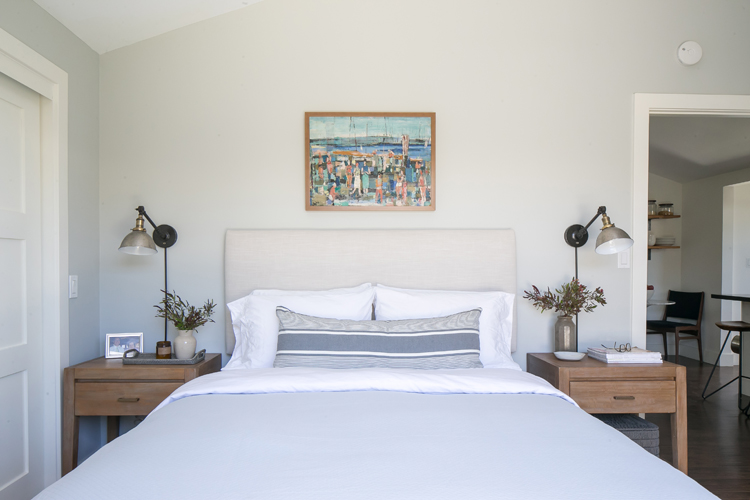 Install wall hooks on the backs of doors and anywhere else that would be helpful. A small space for us also means small on closet space so having hooks to hang bags, purses, towels, etc. keeps them from cluttering the floor or tabletops.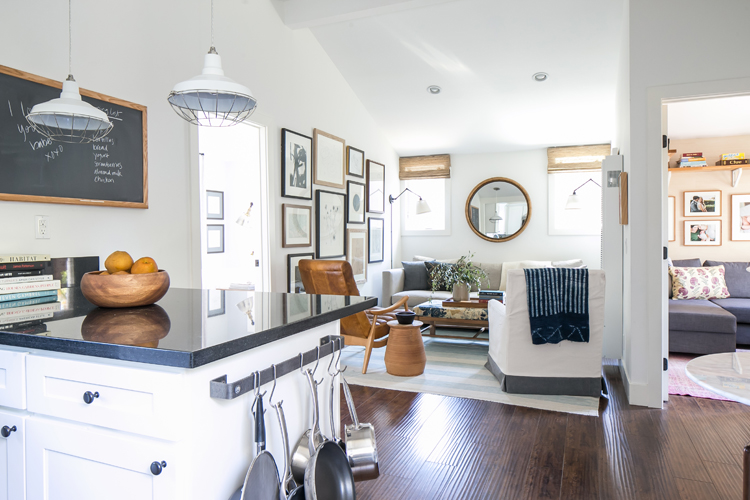 If you're planning on staying in your small space for a while, invest in furniture pieces that fit the space perfectly, to give you optimum flow and function in your space. After looking and looking and not finding anything the right size ready made, I had an ottoman and chair custom made so that I could obtain the perfect size and shape for my living room.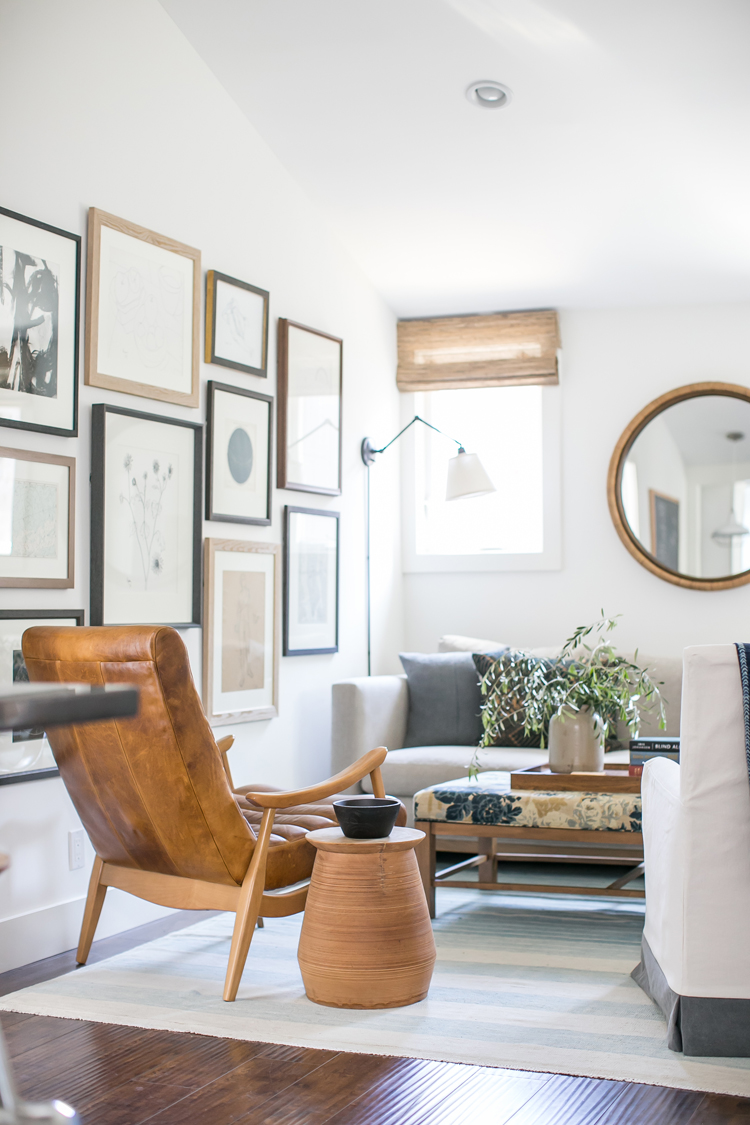 Maybe the most important tip is to purge your belongings and focus only on what you really love and really need. I have found that one of the best things about living in a small space is learning how to live with only those things that I need and love and letting go of the rest. I don't have a garage full of boxes or closets full of clothes and clutter that I don't need simply because it isn't an option. It's a really liberating way to live.
More About Brittany Stiles: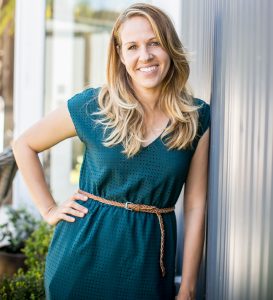 Brittany Stiles Henderson's work crosses disciplines – from interior design to architecture to art collection and curation – and extends throughout California. Brittany's diverse roster of clients ranges from top business leaders and entrepreneurs (including Jim Buss, owner of the Los Angeles Lakers) to entertainment industry executives to young professionals and families. Thanks to her eclectic collection of vintage, antique, and one-of-a-kind furnishings, Brittany also serves as a One Kings Lane Tastemaker, and has hosted four successful tag sales for the popular online furnishings site. She holds degrees from Brigham Young University and the Fashion Institute of Design and Merchandising and currently resides in Eastside Costa Mesa with her husband Kyle and daughter Eve.
All photos provided by Brittany Stiles