High Waisted Jeans
Do or Don't? I say do!
High waisted jeans are my new obsession! Maybe because it flatters my shape (hourglass) or it's on trend, either way I'm loving this hot style. I love high waisted jeans in all their forms, from skinnies to flares and old school vintage 501's. I'm not alone in my affection for this trend; models, celebrities, trendsetters, and fashion bloggers have already gone all in on this trend. I've picked out 10 inspiring looks I'm going to recreate.
Skinnies
In your 20's, rocking a simple crop top with stretchy high waisted skinnies and booties is perfection. A little styling tip…. If you're going to rock this look, keep your top a bit more boxy than tight, and as far as your shoes, shy away from platforms or overly sexy shoes; try booties, flats, wedges or chunky heels.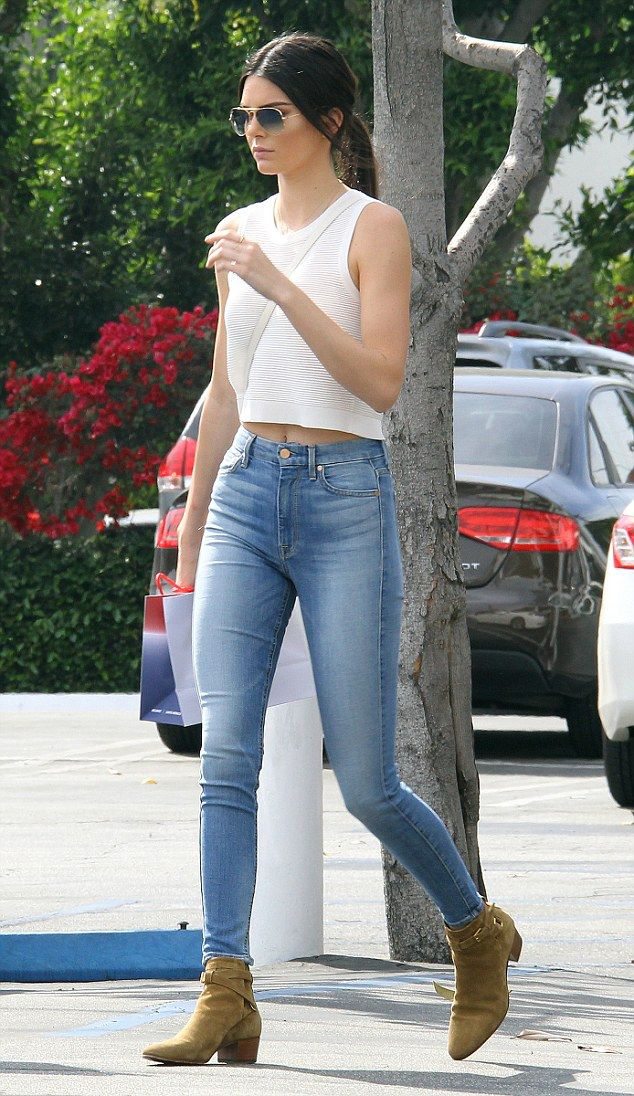 Source Who What Wear
Change up your simple tank & jeans with a statement necklace, cool cape (blazer works too) and sexy pumps.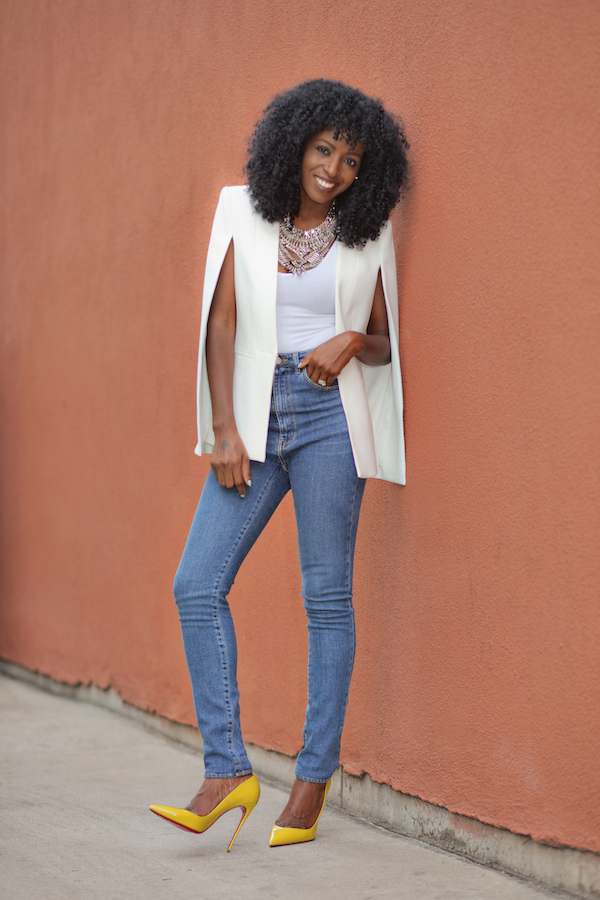 Source Style Pantry
This look is more my speed… Simple chic with a little edge, plus this styling shows a great way for woman out of their 20's to rock skinny, high waisted jeans. Style Tip… Pick denim with less stretch and little more structure in the fabric.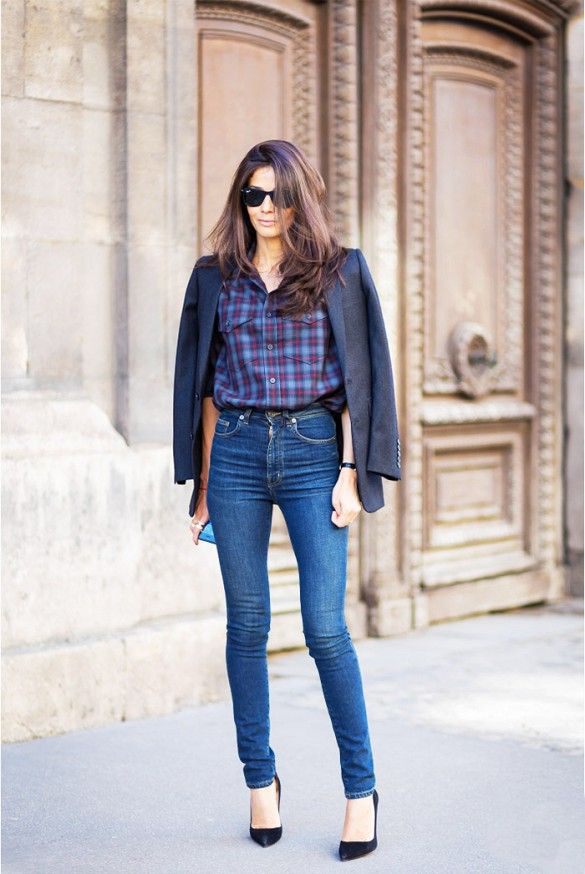 Source Style Du Monde
Miranda Kerr nails simple, sexy, street style. This is a look to copy! If it's a little too sexy for you, add outer wear like a moto jacket, blazer, or soft trench; a cool vest would work too.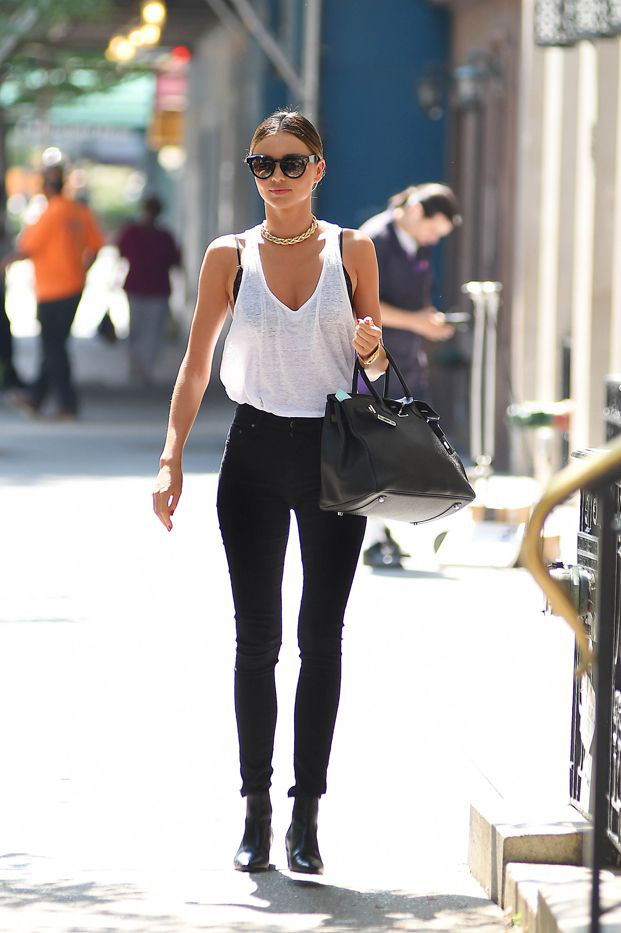 Source Who What Wear Photo by NCP/Star Max/GC Images
Flares
High waisted flares are all the rage! These jeans flatter just about every woman at every age. Show off your waist with these flattering jeans. High waisted flares can be styled with a simple tee & belt, a novelty crop top or a boxy blouse. The trick to showing off these jeans is a crop top that lines up with the waist band (or a little higher) and for a blouse or tee, simply tuck it in. Shoe choices…. When it comes to shoes a chunkier shoe like a wedge or stacked heel is ideal.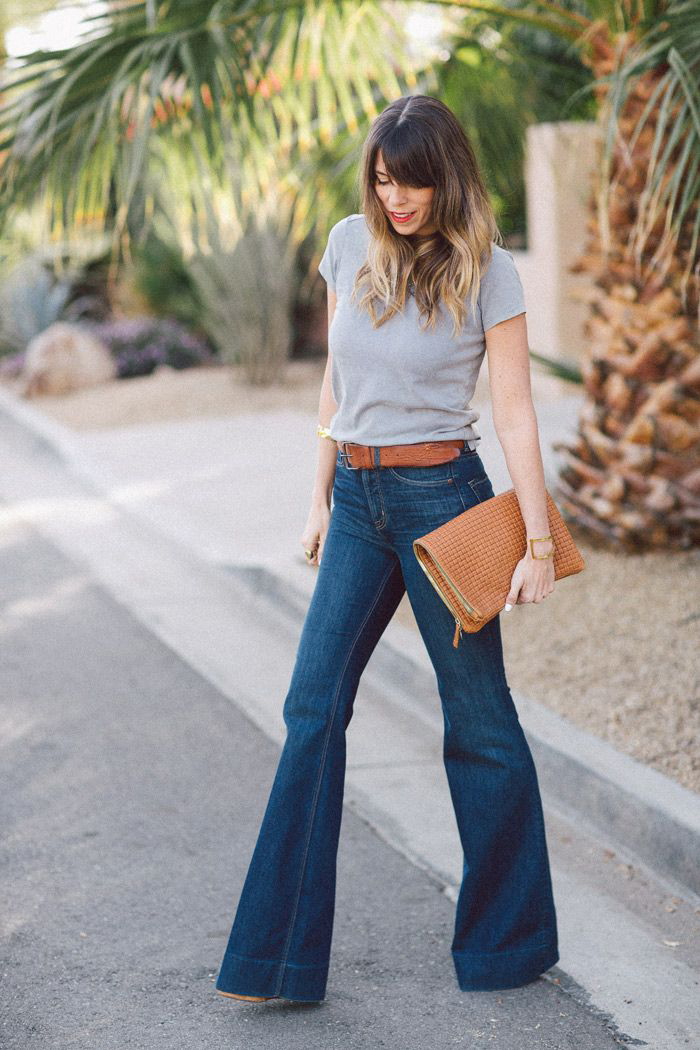 Source A House in the Hills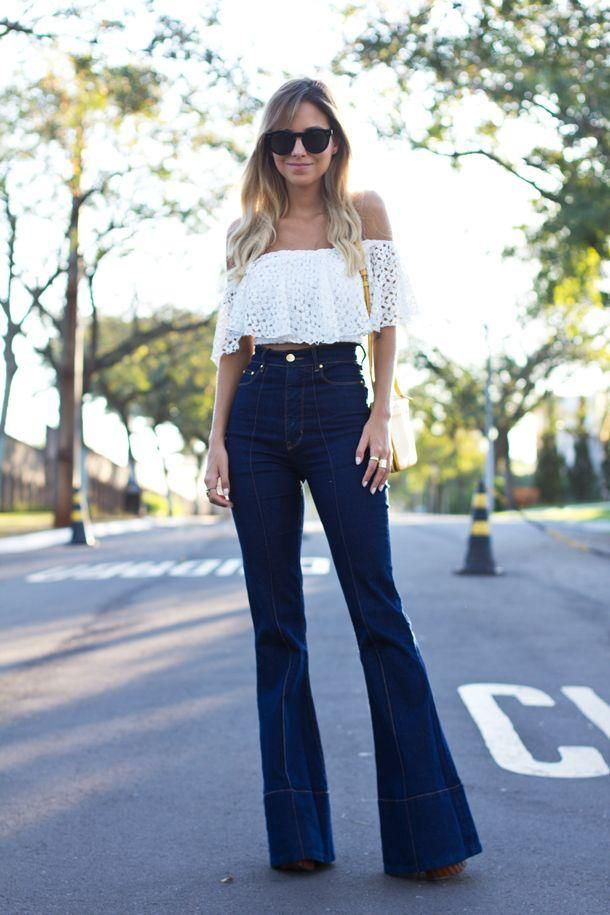 Source Sonhos de Crepom 

This look is my favorite!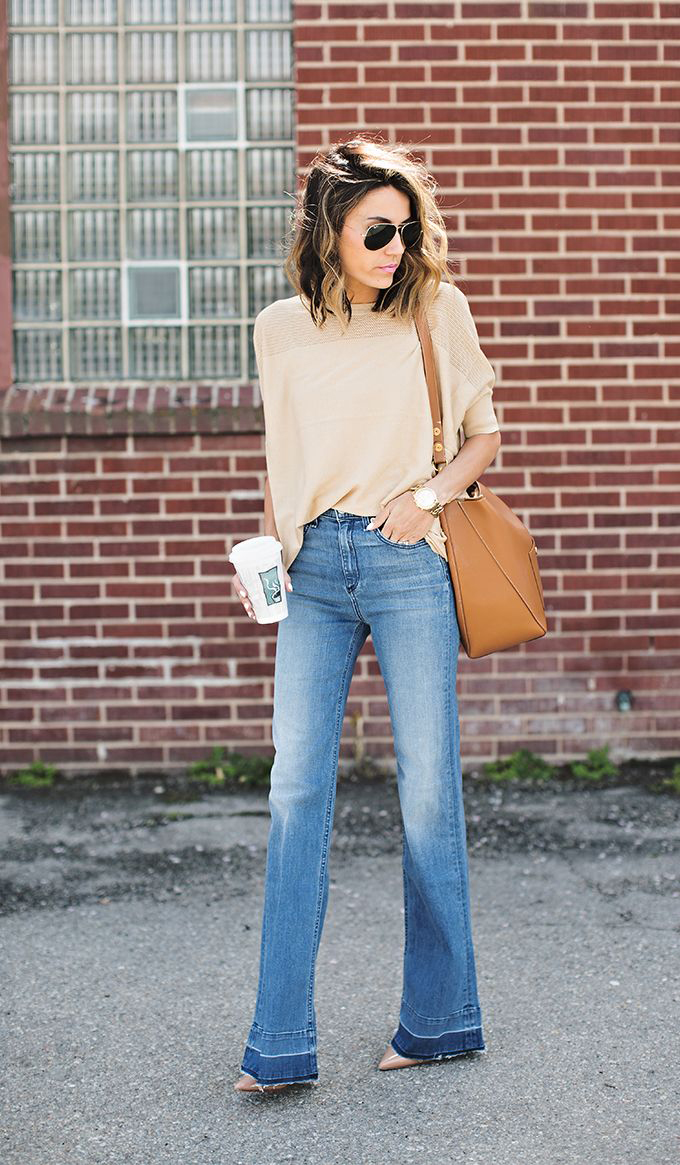 Source Hello Fashion Blog
Vintage
To me there is always something so cool about vintage. Vintage says cool girl more than trendy; And lets face it when it comes to fashion it's really about reinvention, so why not go back to the original style inspiration?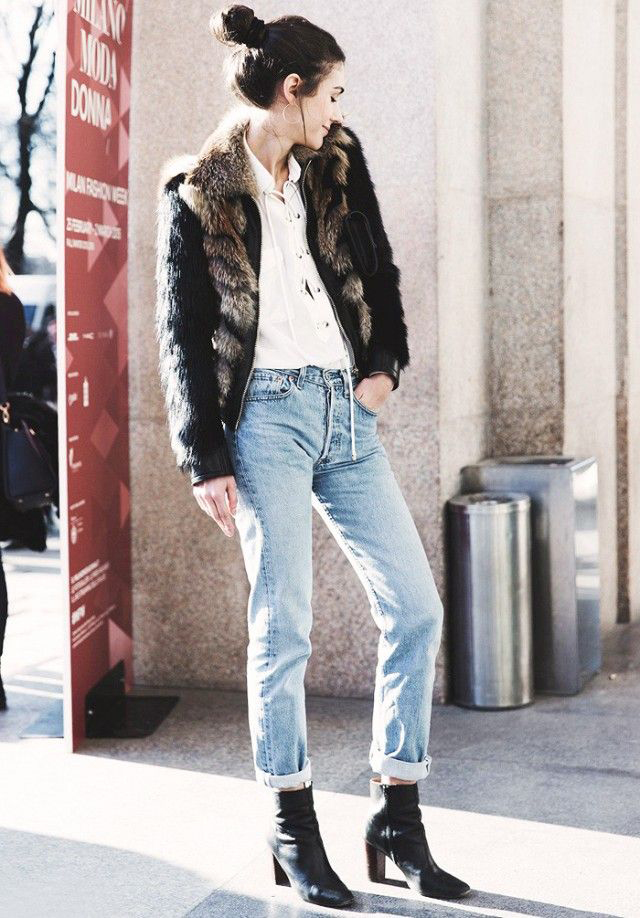 Source Collage Vintage
I'm sure a few of you have been seeing "mom" jeans on some of the hottest bloggers and fashion "it" girls. I took the plunge and picked up a pair, and I love them. There is always something so satisfying about trying something new.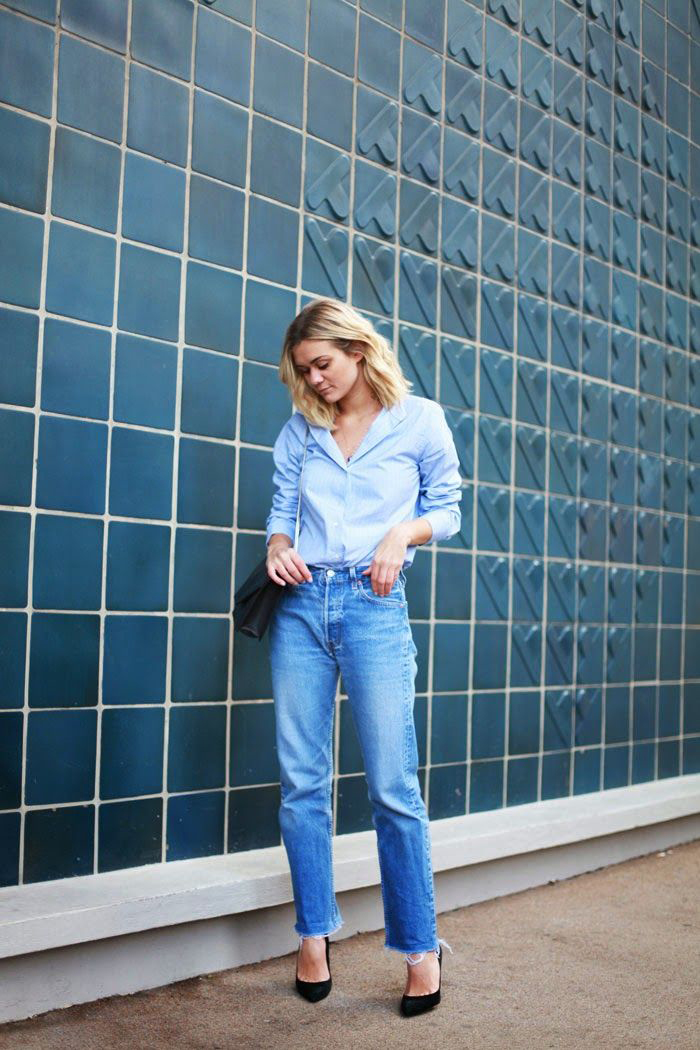 Source Adenorah Photo by Aude
Source Street Peeper
[gravityform id="2″ title="true" description="true"]