I mean Carrie Bradshaw Lied at the Montage Laguna Beach…… What a life!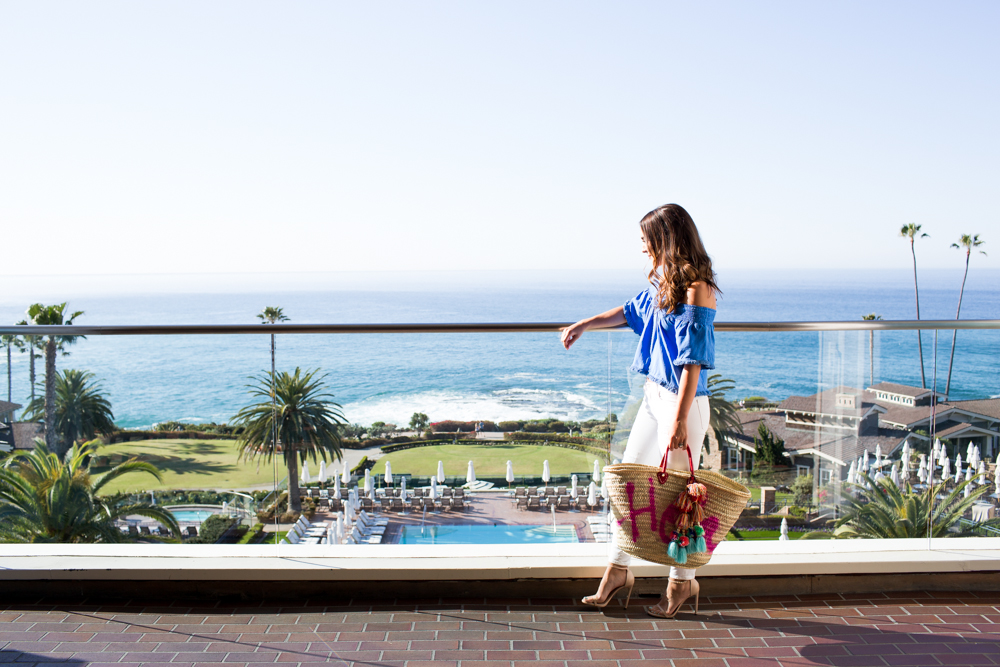 Top: Suboo from Bardot// Pants: J Brand from Mi Place 949-219-9919// Shoes: Stuart Weitzman (Kathleen's)// Beach Bag: from Bardot// Jewelry: Mark Patterson Fine Jewelry
Carrie Bradshaw Lied
For the few of you who don't know blogger Kathleen Barnes, a.k.a. Carrie Bradshaw Lied, let me introduce you all to one of the wittiest, coolest girls you'll every want to know. One of the reasons I love Kathleen's blog (and so does everyone else) is her ability to make wearable everyday clothing look both effortless and chic while always sharing a bit of herself. Her Southern charm not only comes across in her smile but her words. Kathleen's blog is one of the few blogs I actually read, she's so open, honest and funny. Yes, I know I always gush about our Bloggers of the Month and that's because I have a secret…. I only work with really down to earth nice people that I like. It's true! Being a kind, relatable, nice person is important to me in all aspects of life but when I want to share who and what I like it's important that those people are nice. It's kinda simple.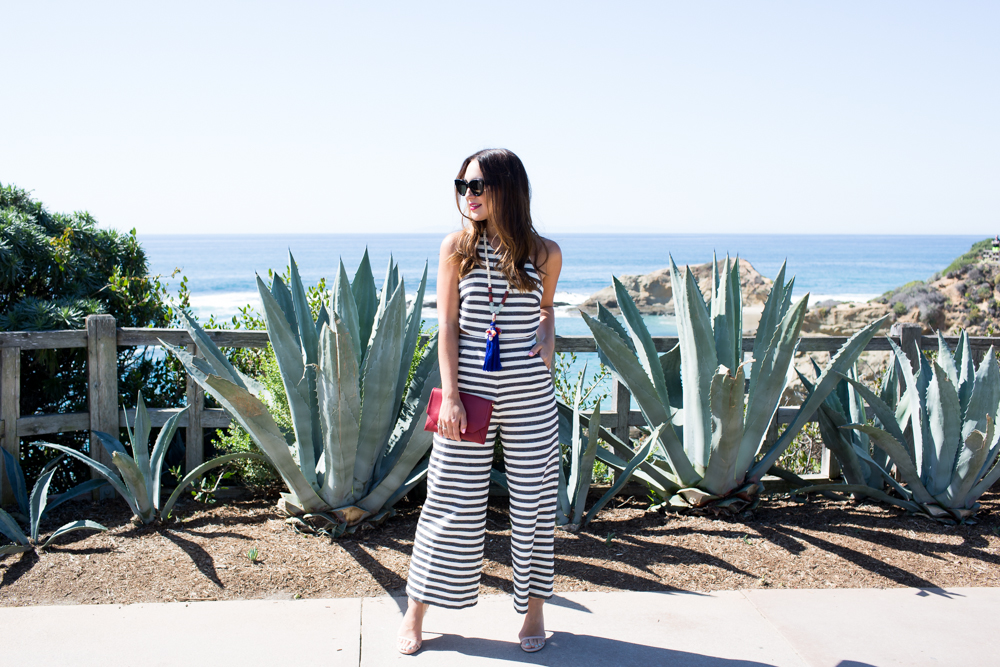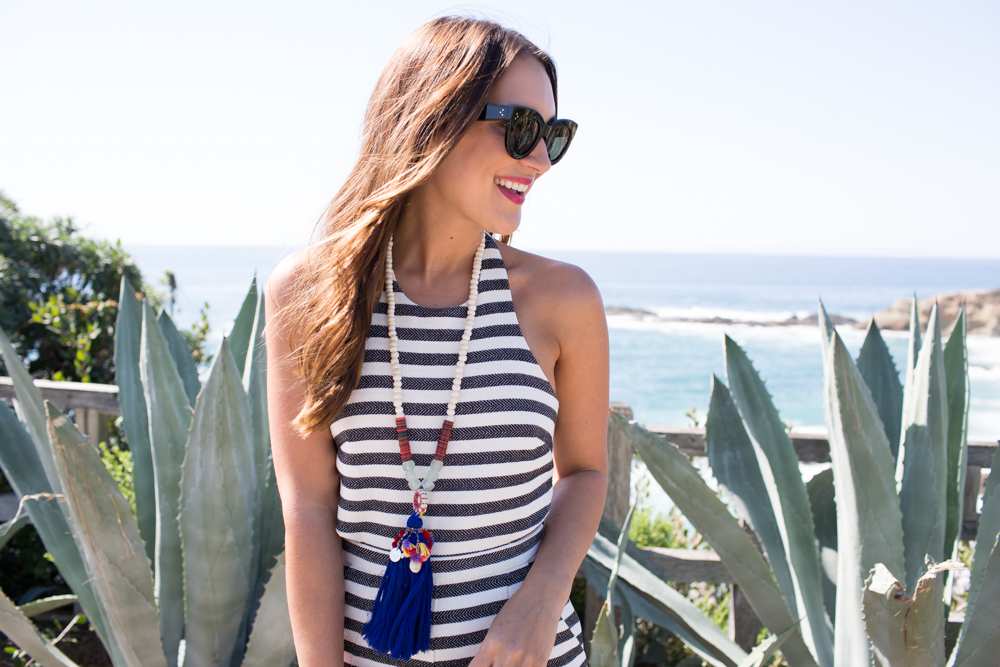 There's nothing better than an amazing location when you have an amazing to friend to share it with. Did you know that the top two bloggers in the OC are great friends? We did! Once we knew we were shooting at the Montage Laguna Beach  (so rad btw) I thought why not bring a friend to enjoy the view at Mosaic Bar & Grille. Cheers to blogger Nikki Minton of My Style Diaries for hanging out!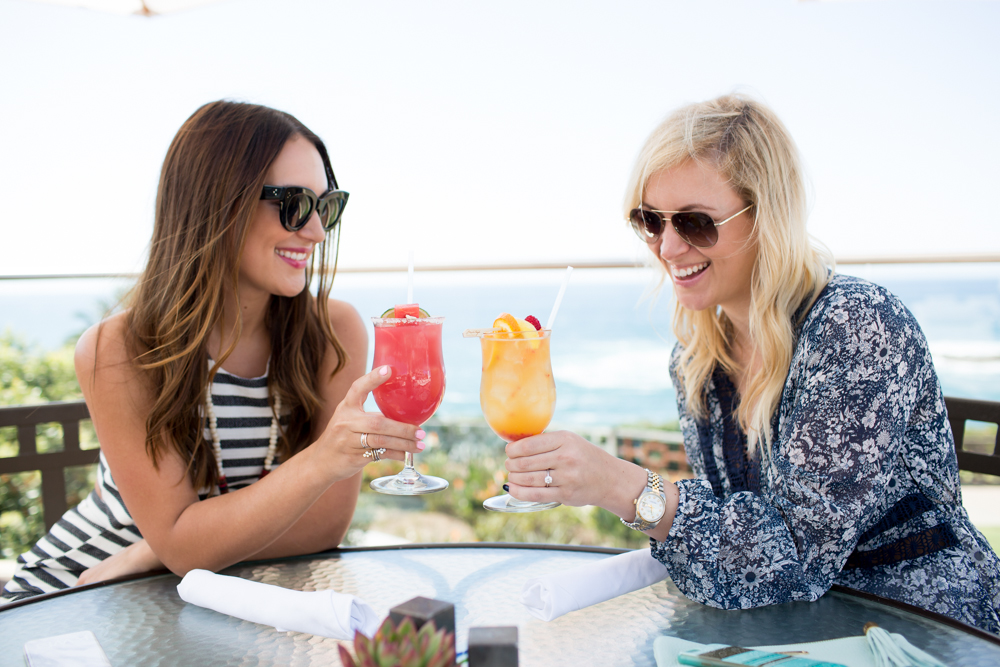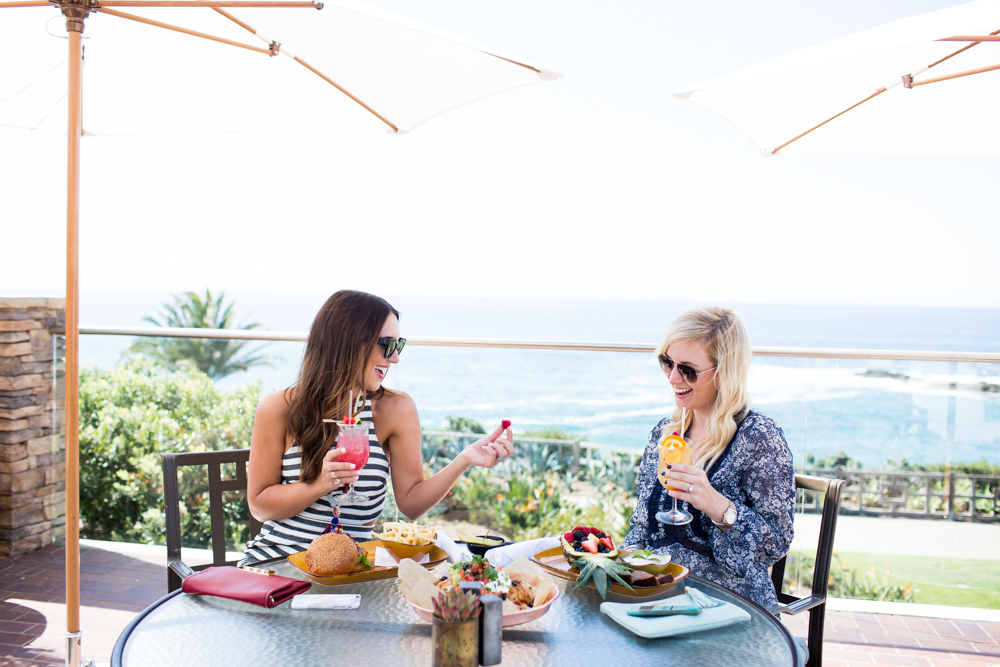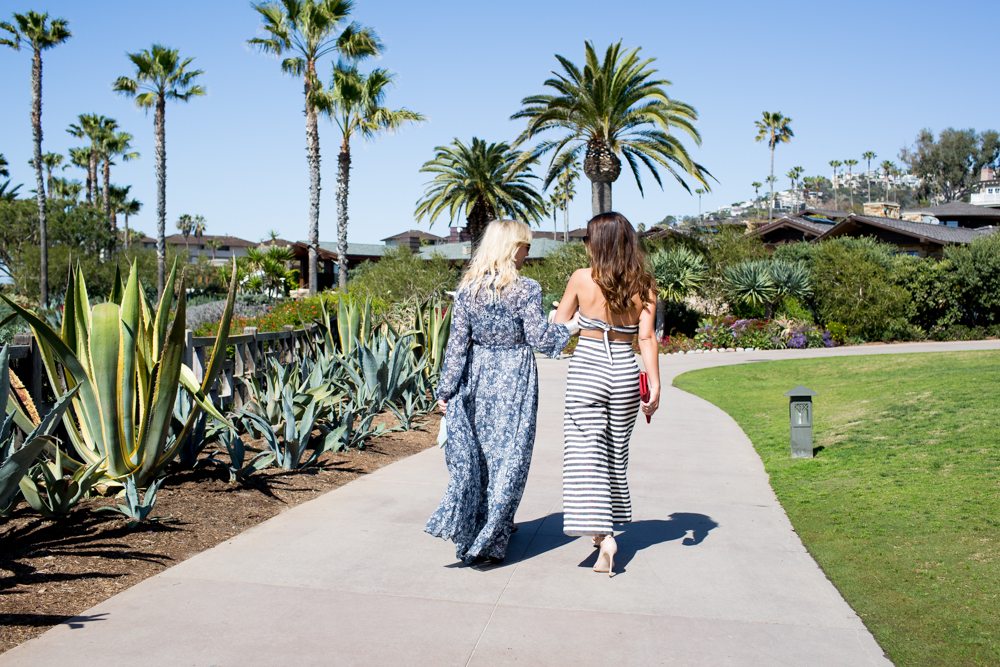 Kathleen's Outfit Details | Jumpsuit: Mara Hoffman// Necklace: Theodosia both from Bardot// Sunglasses: Quay Australia from Blue Eyed Girl// Diamond Rings (right hand): Mark Patterson// Nikki's Outfit Details (stay tuned and click over to her blog of details)
One of the best things about the Montage Laguna Beach is you don't have to choose between the beach or the pool, you can to both in one afternoon.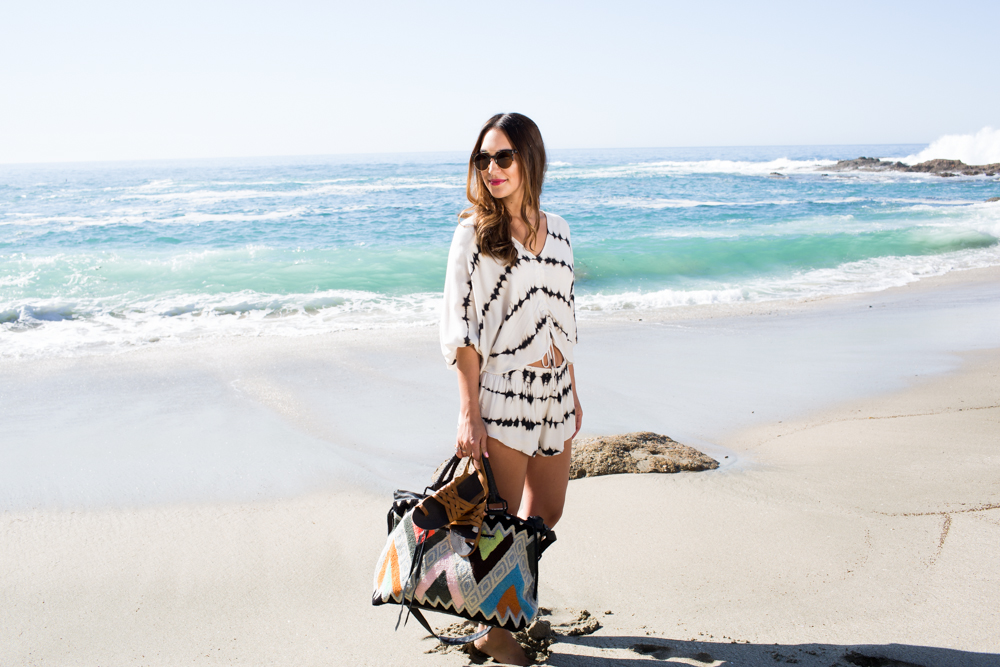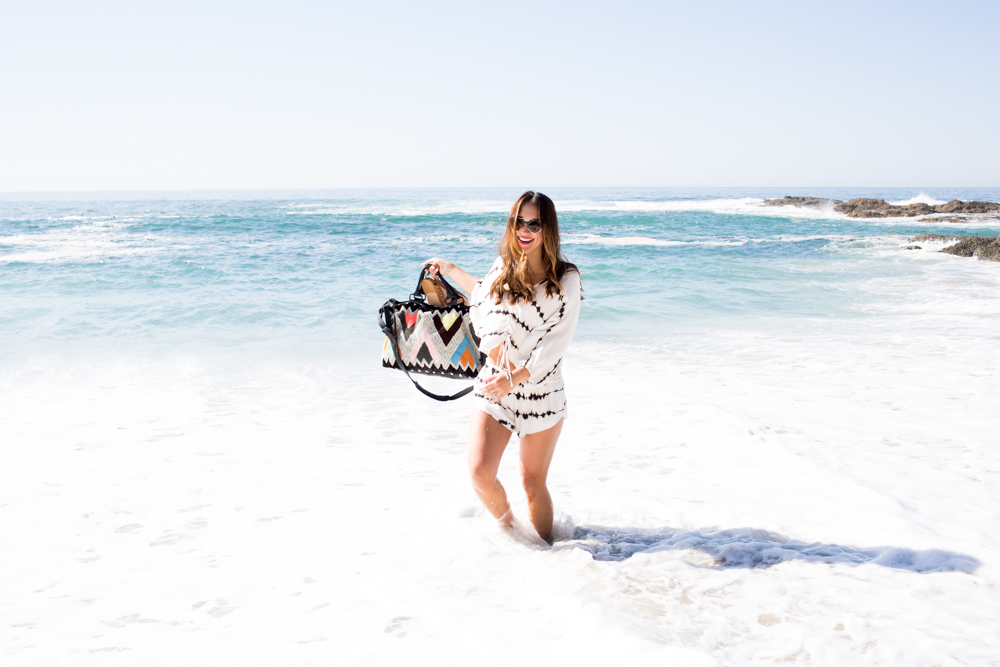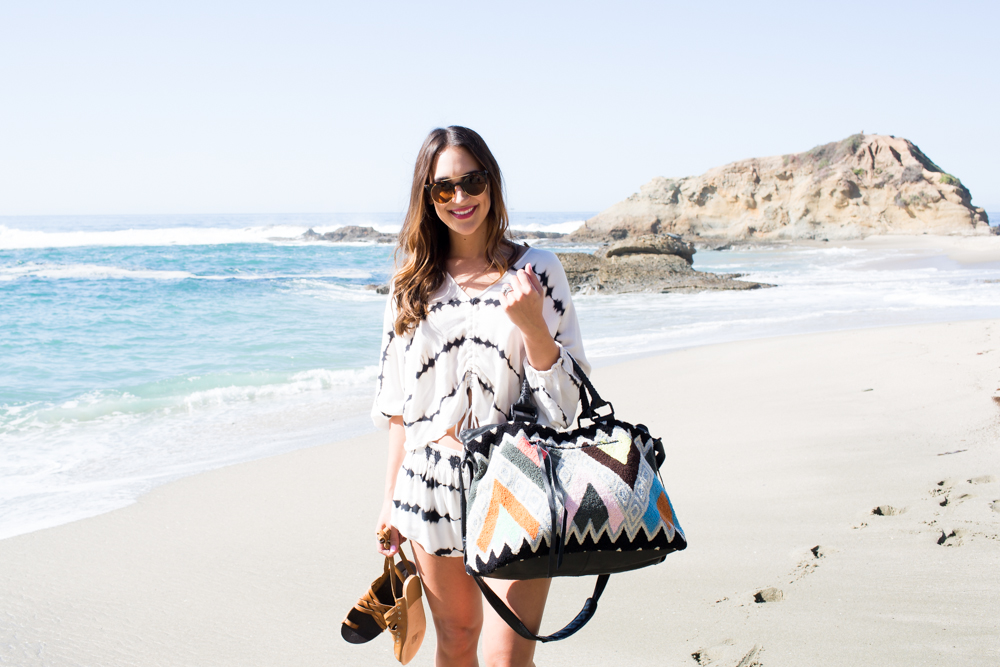 Top & Bottoms: Blue Life Top & Shorts// Bag: Cleobella// Sandals: Free People// Sunnies: Quay Australia all from Blue Eyed Girl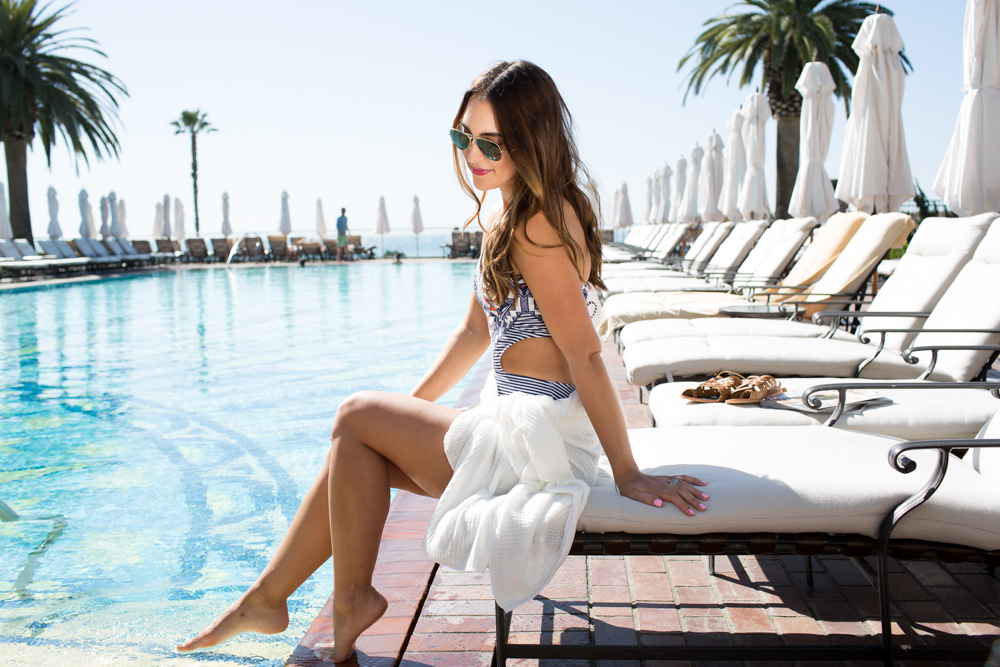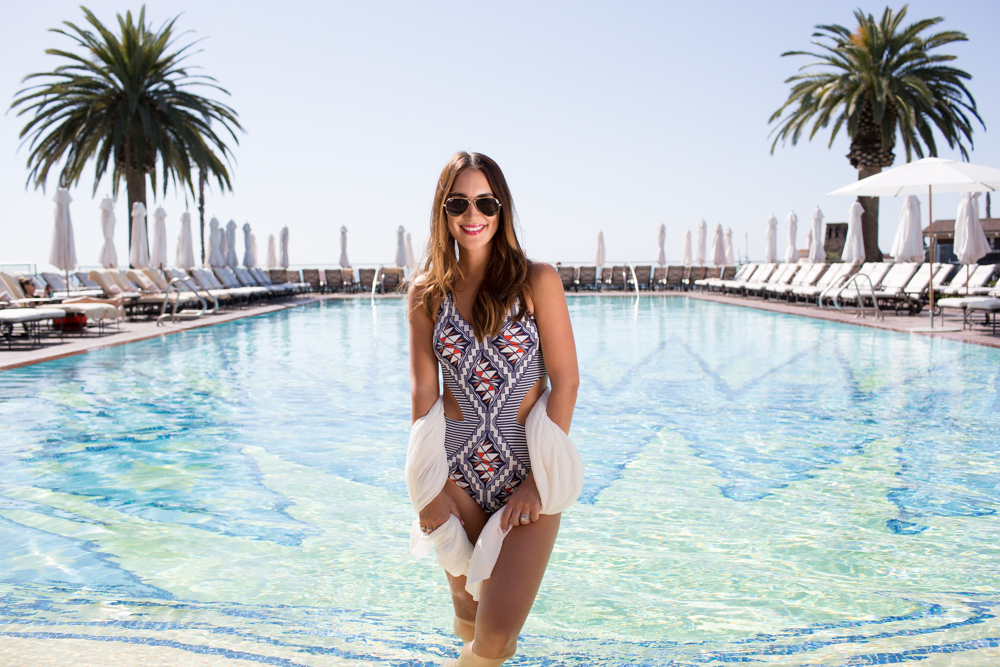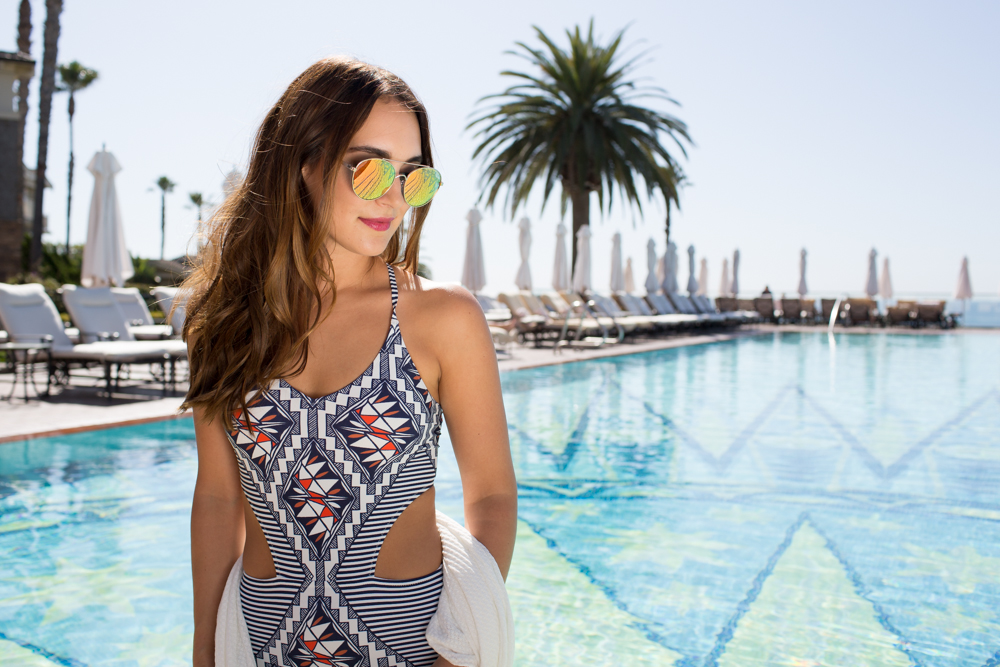 Swim: Tory Burch from Treasures at the Montage Laguna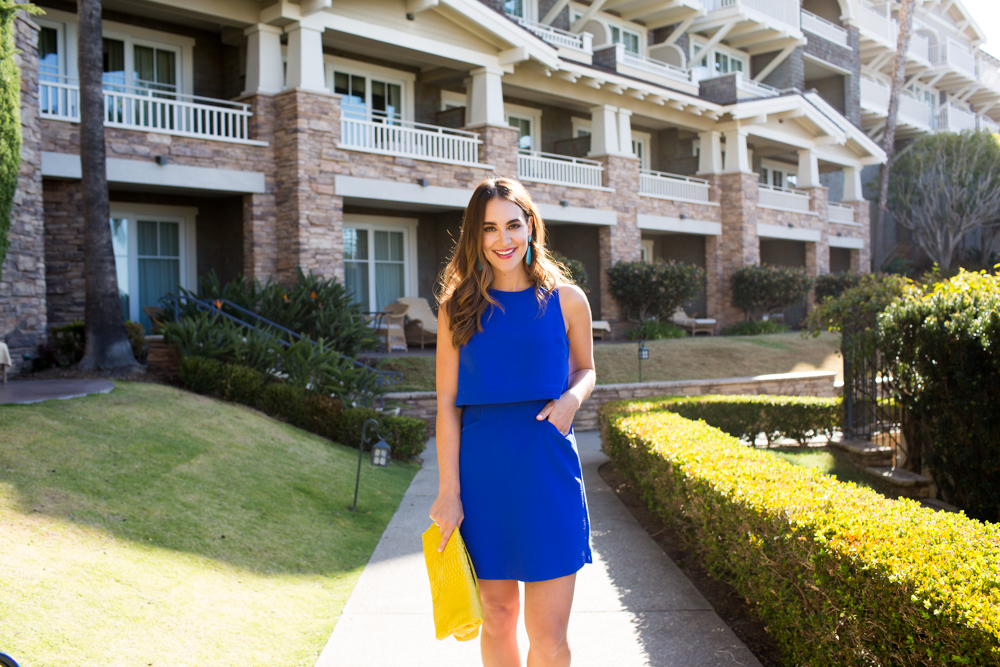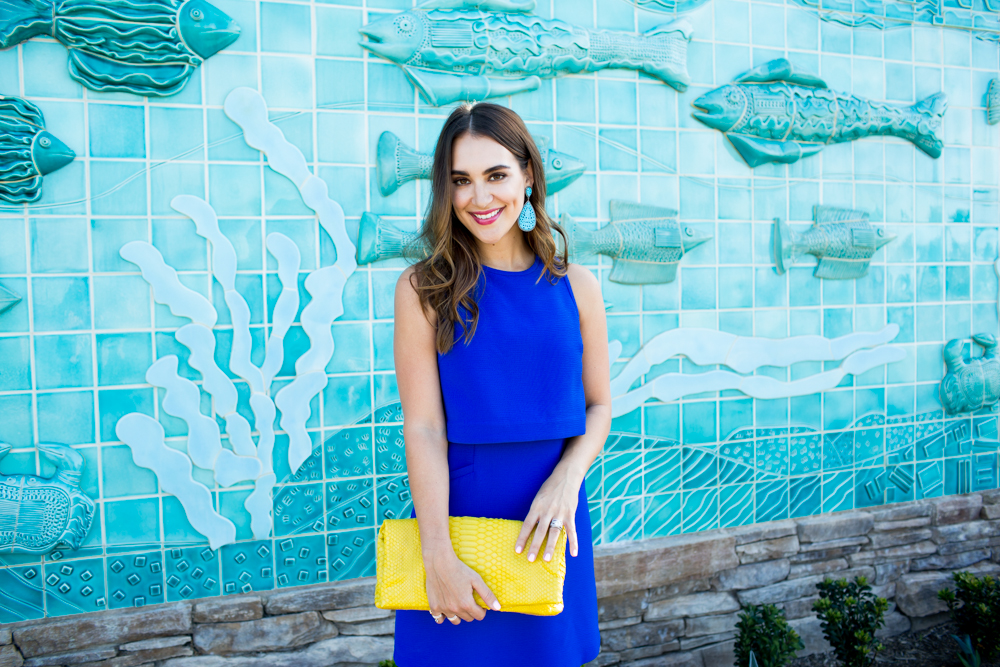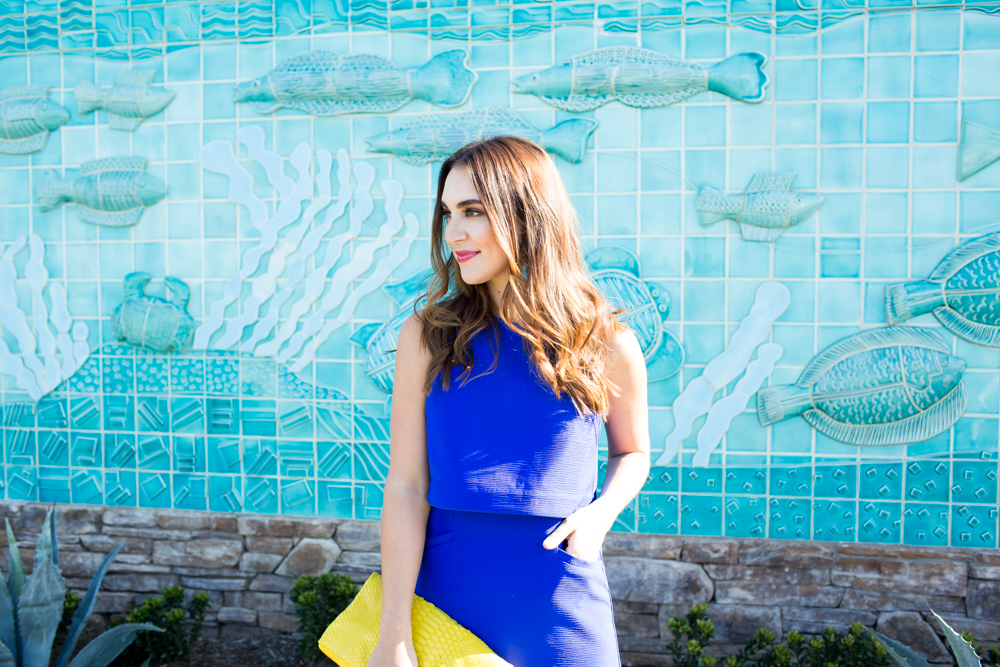 Dress: Suncoo Paris from Bardot// Bag: Ling Wu// Hand Carved Turquoise with Diamond Earrings: Paradiza all from Mi Place (call for pricing 949-219-9919)
Who's up for cocktails at the Studio? OMG, what an amazing place for dinner and of course a great outfit. BTW we're all obsessed with this white leather moto jacket from Mi Place!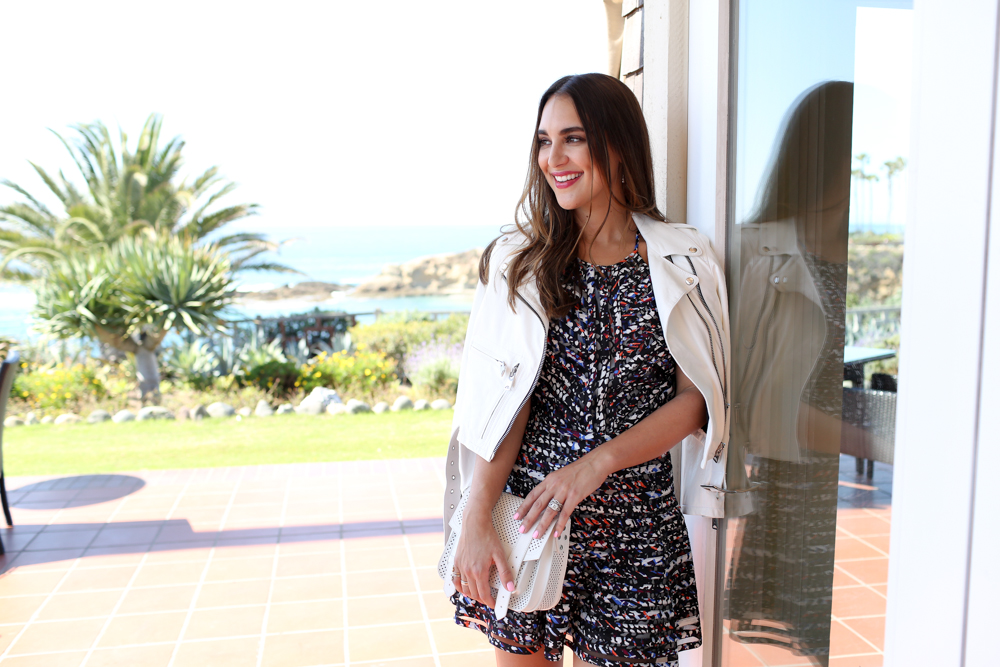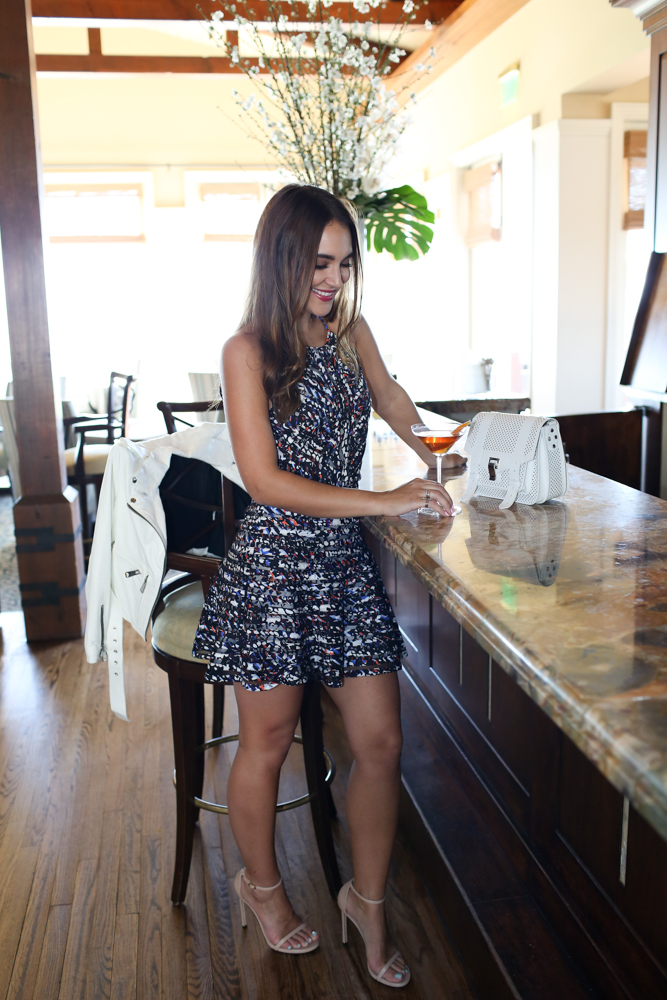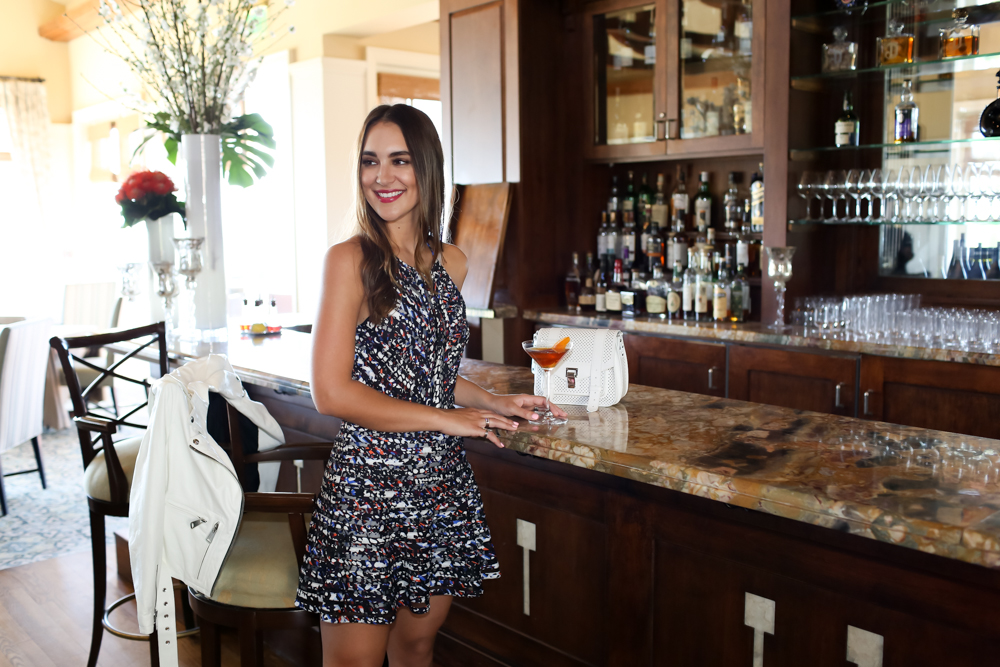 Dress: Parker from Red Fox (CDM location)// Leather Moto Jacket: R13// Crossbody (styled as a clutch): Proenza Schouler both from Mi Place 949-219-9919
Want more detailed pics of all the looks? Not to worry, stay tuned to Carrie Bradshaw Lied for more pics!
Sooo many special thank yous….. First we'd like to thank Paula owner of Hotelements for securing our location at the Montage Laguna Beach. Also Thank you to Leah Mohammadkhani the Marketing & PR Manager of the Montage Laguna for being an amazing Host. And of course a big THANK YOU to Candace Rock Photography, my team & blogger gal pals Kathleen Barnes & Nikki Minton for a fun "work" day and an amazing collaboration. Thank you ladies for always bringing your best!
Muse/Blogger: Kathleen Barnes// Special Guest: Nikki Minton// HMU: Nicci Gaona// Photography: Candace Rock Photography// Styling: Katie Keyes// Styling Assistant: Kirby Morris// Creative Direction: Rachael Dickens// Location Manager: Natalie Dickens// Location Coordination: Paula Oblen// Location: The Montage Laguna Beach
Clothing & Accessories Provided by Bardot, Red Fox, Blue Eyed Girl, Mark Patterson & Treasures at the Montage Laguna Beach
We love your thoughts…. Feel free to leave a comment. XO Team OCSR