My Favorite Products for My Daily Skincare Routine
Taking care of my skin and having a daily skincare routine is an absolute MUST. I had the biggest birthday of my adult life earlier this year, and having people who know me casually be surprised at my age made me so thankful that I began taking care of my skin in my early 20's.
I am not a skin care expert, I just know what has worked for me over the years. When it come to the products I love and use, I have both tried and true products that have been faithfully by my side for almost 15 years and others that I have recently stumbled upon. My skin tends to run on the dry side, plus I have medium (olive) skin that can get really tan (although I don't). I only mention this as to the products that I'm recommending.
Part 1 | Daily Skincare-The Face
Having a daily skin routine is a MUST. This doesn't have to cost you big money, especially if you're young. If there are two things I can empress upon you the most it is to wear sunscreen EVERYDAY, rain or shine, and wash and moisturize your face every evening before bed. DON'T sleep in your makeup!
Here are a few my favorite skin care products (they all rang in price) & where you can purchase them online: the drug store, department store or beauty supply.
1. Face Wash: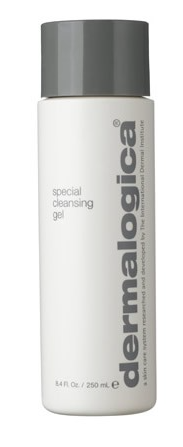 Dermalogica Special Cleansing Gel
I tend to always go back to this product even when I fall in love with some thing new. I've used this product off and on for more than 15 years.
I can not say enough about how much I love this product to wash my face. I'm not always great about getting to the mall to buy this product so my back up is the product above, but if you have a chance to try this-DO IT!
                                 "I love my Clarisonic!"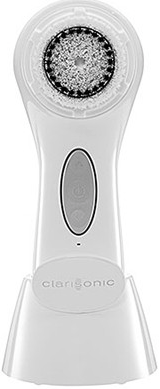 And neither of these items would be complete without my Clarisonic.  I could go on and on about how wonderful of a product this is. No matter what product you wash your face with, a Clarisonic will always enhance your products ability to clean your face. It's worth every penny. I've had mine for more than 5 years.
2. Moisturizers & Sunscreen for your Face
I use two different moisturizers, one for the day (plus a separate sunscreen)-it's lighter weight and doesn't interfere with my makeup (some moisturizers can make your makeup run). I also use a thicker moisturizer for night time. This plumps up my skin and makes it feel youthful.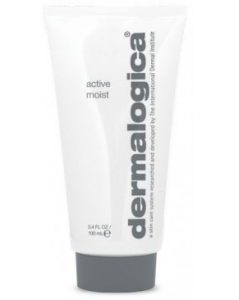 Day Product: Dermalogica Active Moist 
This has been my go-to moisturizer for years. It's light weight and is the perfect texture under my makeup.
Sun Screen: Neutrogena Ultra Sheer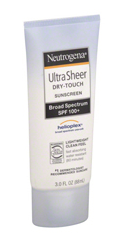 Personally I feel that your skin care products should be separate. One product that "does it all" always seems to lack something for me. That's just my opinion. If you're going to wear one product on your skin every day, make it sunscreen-whatever brand works best for you. Here is a little tip I wish I would have thought of or known years ago, apply sunscreen to your neck and chest a.k.a your décolletage. This is also an area that can show age and needs to be protected.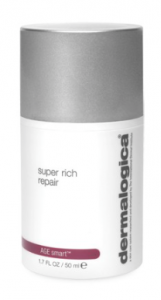 Night Product: Dermalogica Super Rich

OMG if you want your skin to feel plump and healthy put this on before bed and you'll wake up with happy skin! Just a tip… This is very thick so give it at least 5-10 minutes to soak in a bit before you hit the pillow.
Part 2. Daily Skincare – The Body
Nivea Essentially Enriched Body Lotion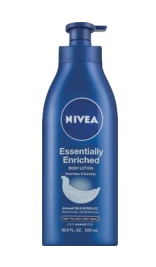 Now that your face is clean and moisturized it's time to talk about your body's skin care regiment. The skin on your whole body needs to be taken care of too. My hands down favorite body lotion is Nivea Essentially Enriched Body Lotion. This is a thick lotion that keeps my skin smooth and hydrated. I suggest waiting a few minutes before putting on clothing other than lounge wear you're going to hang out in the house in. I like thicker creams for my skin. This doesn't work for everybody but I found that it works for me.
I realized that most of these products are a bit pricey but our faces are worth what ever we can afford.
Disclaimer: I am not a skincare expert. My skin tends to be dry and not sensitive. I DO use all these products daily. If you're looking for a skincare expert, Alana Mitchell is your gal!