Three Bridal Gowns + a Maid-of-Honor
OC STYLE REPORT has teamed up with SWELL BEAUTY to give all you fashion loving girls a new twist on wedding style. We will be bringing you fashion and wedding trends, new ways to look for inspiration for your wedding day style, original editorial wedding shoots with the some of the most sought after wedding photographers, venues, florists, and accessory designers in Southern California, and more!
How the Finishing Touches to your Perfect White Dress Set the Stage for your Big Day.
Style, like beauty is truly the sum of all parts and your wedding day is no exception. Accessories are hair & make-up are equally important components as your wedding dress to ones overall wedding day style. For our first collaboration we styled 3 wedding dresses and a bridesmaid dress from The White Dress for an event with Swell Beauty at the Rancho Capistrano Winery. This being OC STYLE REPORT's first bridal styling shoot, we stayed true to essence of bridal.
It's not always the dress that makes your look a particular style, but the accessories.
Modern Bride
Our Modern Bride is "modern" simply because of the way we chose to style the mini birdcage veil. The inspiration for this look did not come from the world of bridal but fashion and music-think Beyoncé at the MET Gala. It's looking at bridal styling in a different way that will set you apart on your wedding day.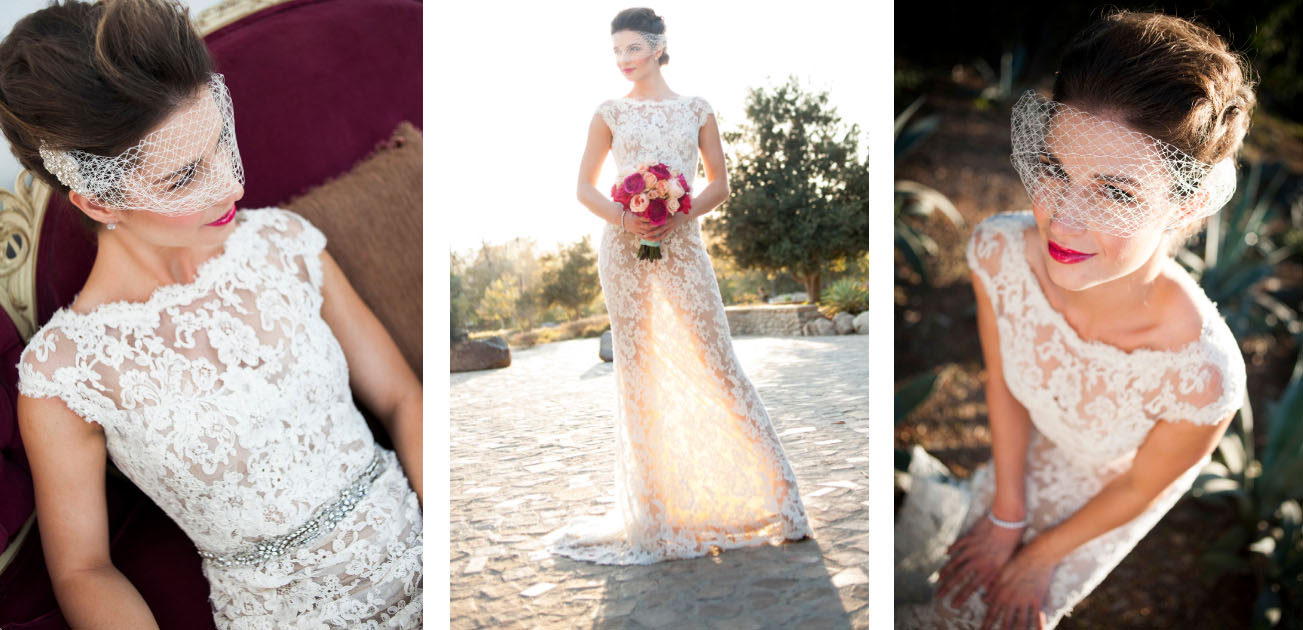 Mini Birdcage Veil: Swell Beauty// Belt and Jewelry: Kash Crystals// Dress: For information please contact The White Dress (949) 723-0121
Bohemian Bride
So many of us southern California ladies love bohemian style, but boho for your wedding day look can be tricky. We wanted both glamour and bohemian style for this look. Simply taking a crystal embellished head piece and wrapping it on the upper arm and adding a soft silk belt with a flower, gave this glamours dress a bit of bohemian flare without being over-the-top boho.
Don't forget, it's your day to be glamours; let your venue & flowers speak your bohemian style while standing in the spotlight with grace and beauty.

Belt: Swell Beauty Accessories// Armbands & Earrings: Kash Crystals//Dress: For information please contact The White Dress (949) 723-0121
Vintage Bride
Subtly adding your theme to your wedding day style is key to not looking like your wearing a costume especially when it comes to vintage. We took a wedding accent belt and used it as a head piece weaved into the finger wave of the hair to give a vintage feel to a modern woman. Again, it's this accessory & hair alone that finish the look in a subtle vintage style.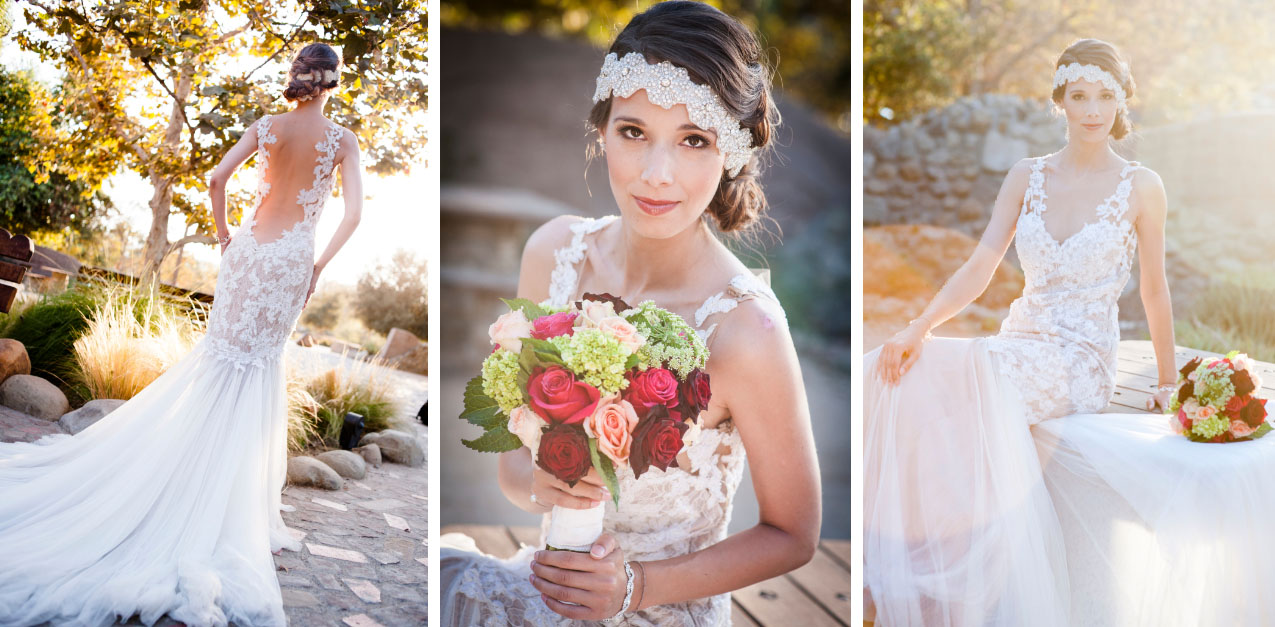 All Accessories: Kash Crystals// Dress: For information please contact The White Dress (949) 723-0121
Maid of Honor
Having your Made of Honor stand out is always a powerful statement. She's been there for you through the years as a sister or best friend. Plus, she has been in charge of throwing you parties and keeping you sane thoughout your whole wedding experience. Set her apart with something special.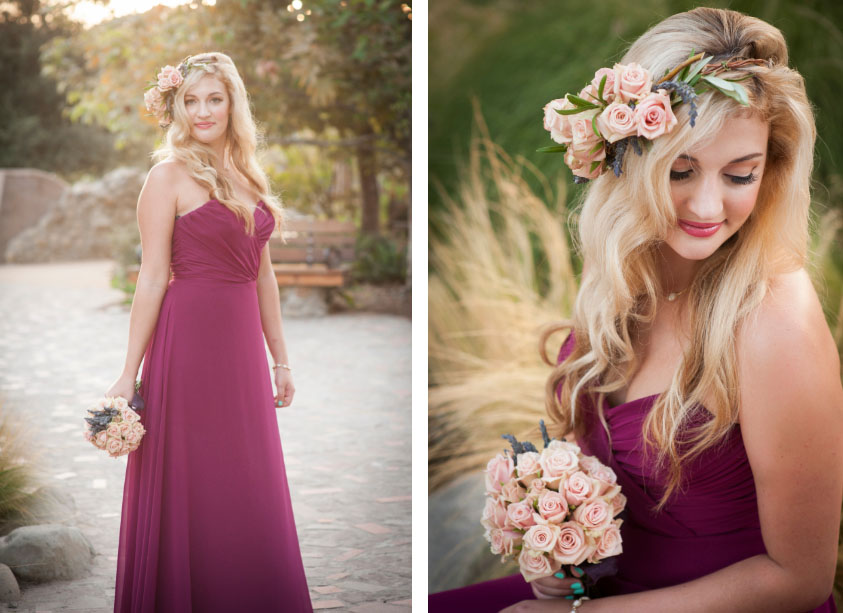 Jewelry: Kendra Scott// Dress: For information please contact The White Dress (949) 723-0121
OC STYLE REPORT & SWELL BEAUTY WOULD LIKE SAY CONGRATULATIONS, AND OF COURSE WE'RE HERE IF YOU NEED ANY PROFESSIONAL HELP FOR YOUR BIG DAY.
Wedding Photographer: Rebecca Thacher (949) 290-2492// Florist: Studio C Florals (949) 689-1094// Dresses provided by The White Dress (949) 723-0121// Hair & Make-up: Swell Beauty// Stylists: Katie O'Sullivan & Rachael Dickens// Event Location: Rancho Capistrano Winery// Photography Location: Ramos St.
Want professional styling help for you big day? Email us for a consoltation at Rachael@ocstylereport.com