New to Lido Marina Village
It's no secret that we love the new and improved Lido Marina village; and it just keeps getting better! Clare V, Jenni Kayne & Alchemy Works are just a few of the amazing shops that line the water, but it doesn't stop there. Retail stores, coffee shops, book stores and more is what you'll find while strolling through the Village. And now, with the addition of Serena & Lily, you can shop all the best home decor as well!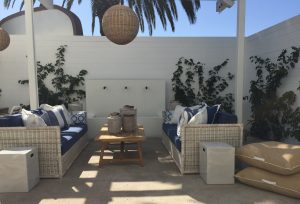 Serena & Lily is an inspirational, lifestyle brand that brings a creative California spirit to home decor. They empower customers to discover their own personal style and express it with confidence. We were so excited to attend Serena & Lily's press day and get an exclusive look at their gorgeous new store in Lido Marina Village, before their grand opening.
My day with Serena & Lily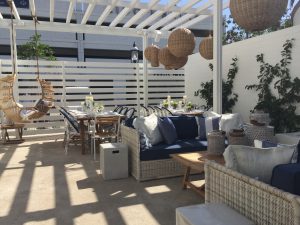 We started the day doing one of my favorite things in Newport…cruising the harbor on a duffy boat! The boat was beautifully decorated for the day with Serena & Lily goodies including a rug and pillows; and of course stocked up on another two of my favorites: rosé and sparking water. After taking a relaxing boat ride we pulled up to the Marina and docked the boat. I drooled in awe as we walked over to their newest location.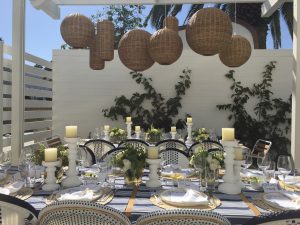 The store is nautical with a modern twist. It has clean lines and is full of curated collections of furniture, lighting, outdoor living, decor, and gift items. They also feature Serena & Lily's signature bedding, textiles, wallpaper, rug and paint collections. Rad, illuminated light fixured filled the outdoor patio. We enjoyed a lovely lunch out on the patio while chatting with the talented Serena herself. She is actually an amazing artist and hand painted serval paddles hanging on the walls of the store.
It was such an inspirational day. I felt honored to be apart of it and sit next to some top bloggers and magazine editors I admire. I encourage you all to go pop by their store to check it out, definitely worth it!
Have you been to the new Serena & Lily? Tell us what you think in the comments below!