Real Wedding
Katie & Brendan Keyes
We are excited to bring you a new wedding segment, Real Weddings. We will be highlighting stylish brides with all their tips, details, and vendors, as another style resource for you, our readers, in all aspects of your stylish lives. We knew right away that Katie's (and Brendan) Colony Palms wedding was going to be styled to perfection; and of course she did not disappoint.
Katie's Colony Palms wedding was so stylish it has been shared in multiple publications both online and in print including White Magazine.
XOXO, Rachael & Natalie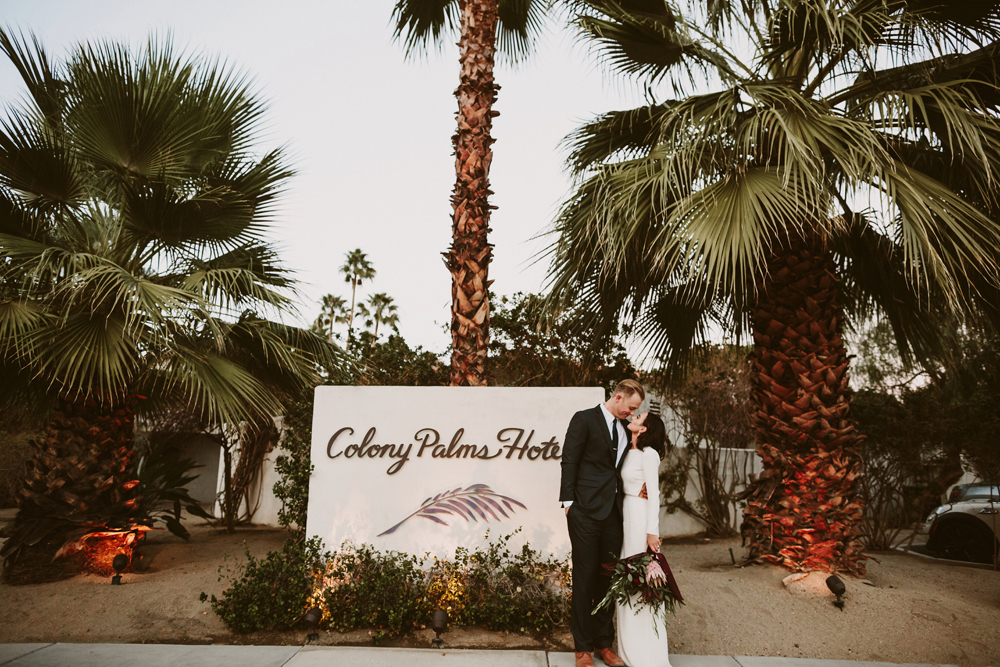 I'm so happy to share my wedding with you. Being a wardrobe stylist, stepping outside the box and having something different than everyone around me was very important to me when planning my wedding. My Husband and I were both set on having a fall wedding, so that was an easy decision. Picking the venue was the next thing to tackle. My hubby and I both knew we wanted a mini destination wedding, and Palm Springs holds a special place in our heart, as we always escape out there. Living in Orange County, it was just close enough for our family and friends to make it but far enough to get that weekend getaway. We wanted to create a vacation feeling where our guests could relax and soak it all in for a couple of days. With that being said, we didn't want the typical "ACE or The Parker wedding". Don't get me wrong, we absolutely LOVE both of them and spend time there often, but we felt it was overdone and just wasn't right for our wedding. We spent some time out there going to places that weren't usually in our hotspot routine. We come across Colony Palms Hotel and immediately fell in love! It is kind of hidden and has this very intimate feeling; which is exactly what we wanted. It has the Palm Springs vibe we love, with a splash of old Hollywood. We stopped looking and booked it right away! Once the venue was dialed in, it was on to the dress!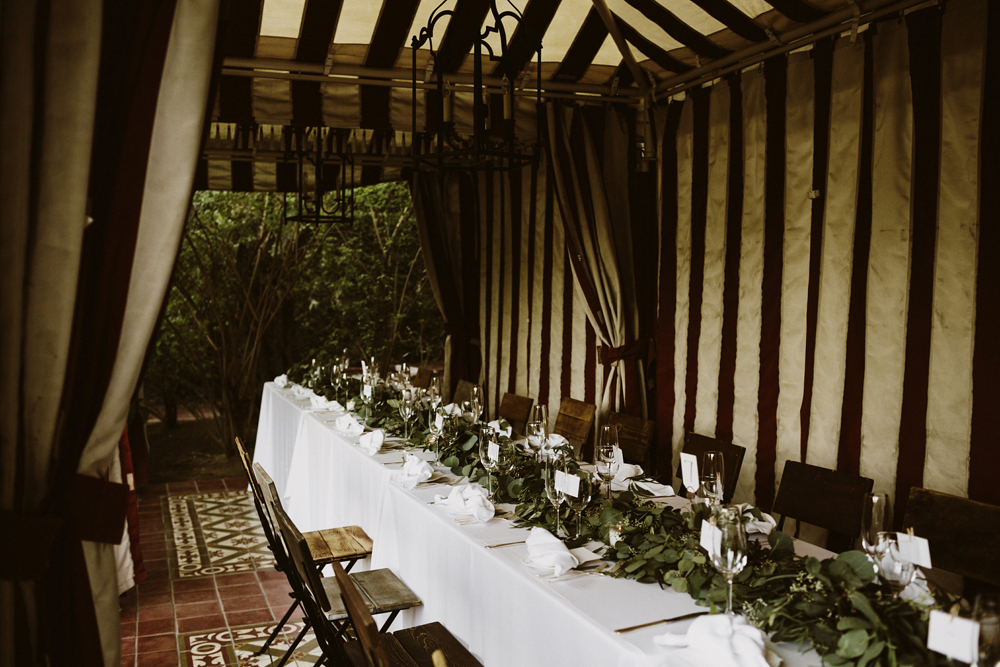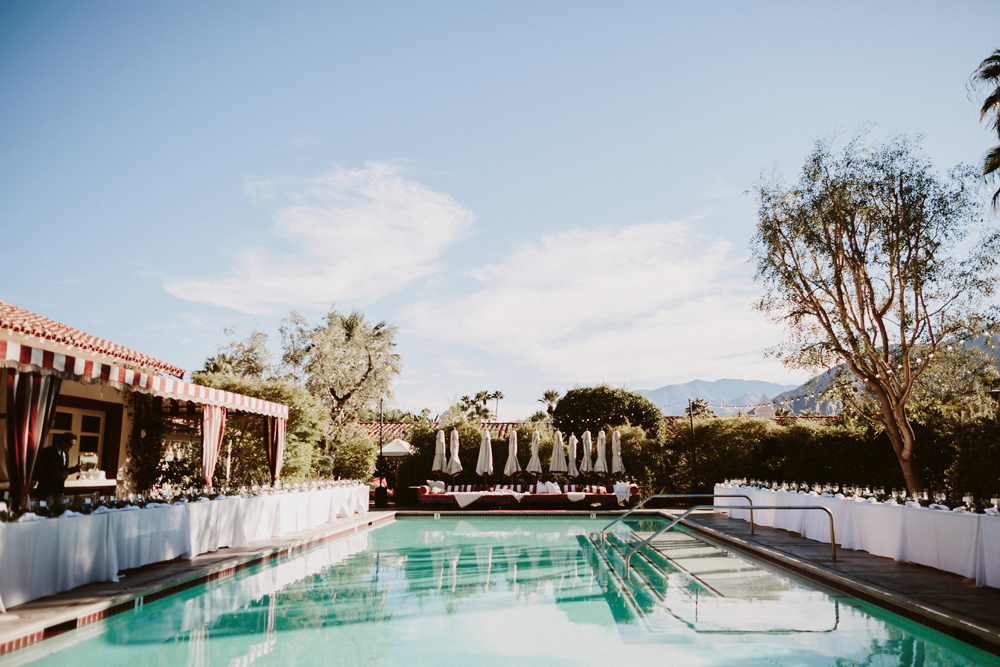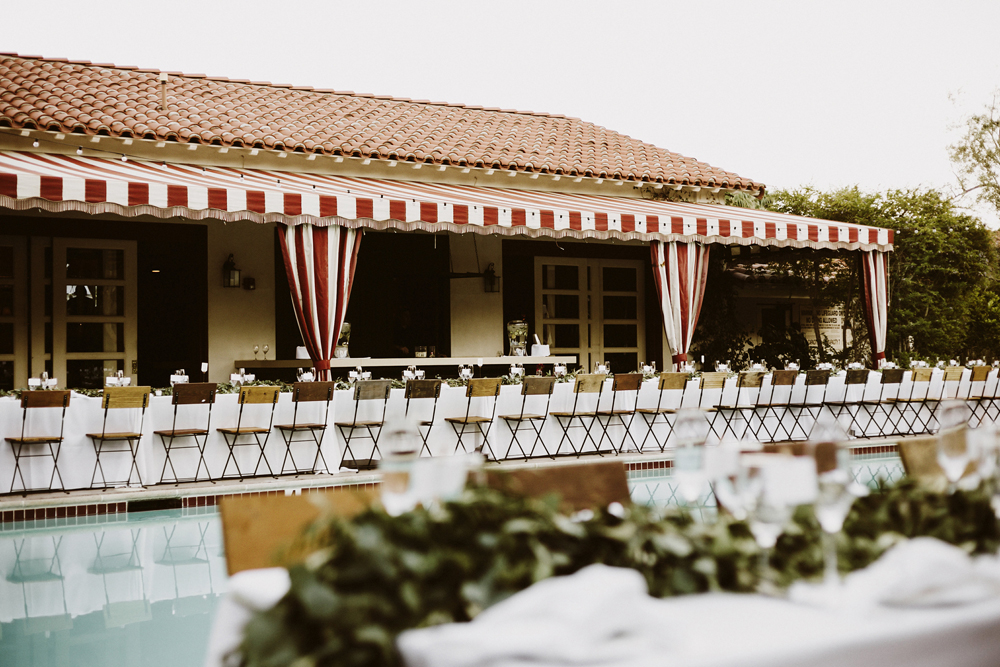 Naturally, fashion is in me so this was the part I was really excited for. Going into the "finding the perfect dress" process, I thought I knew exactly what I wanted and I was wrong! Well sort of… I knew, hands down, I wanted long sleeves. There's something so unique about a long sleeve wedding dress and I knew I didn't want to veer away from that. I initially wanted more of a boho feel, but again kept seeing it everywhere and it made me want to run in the opposite direction. I came across this amazingly elegant yet simple Houghton Gown and I was OBSESSED!! I tried on some more dresses just to be sure but when I couldn't get this one out of my head, I knew it was meant to be and it was a done deal!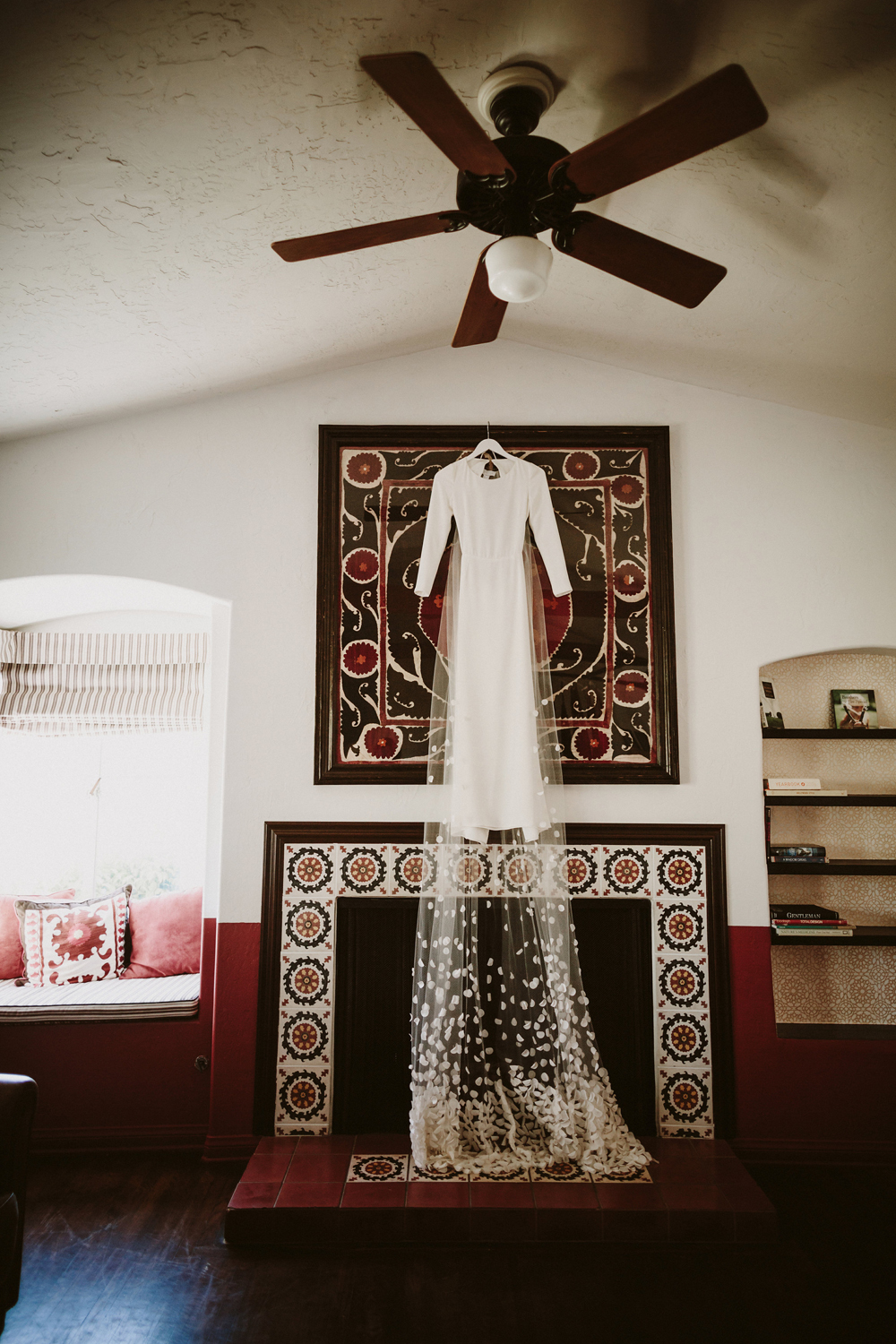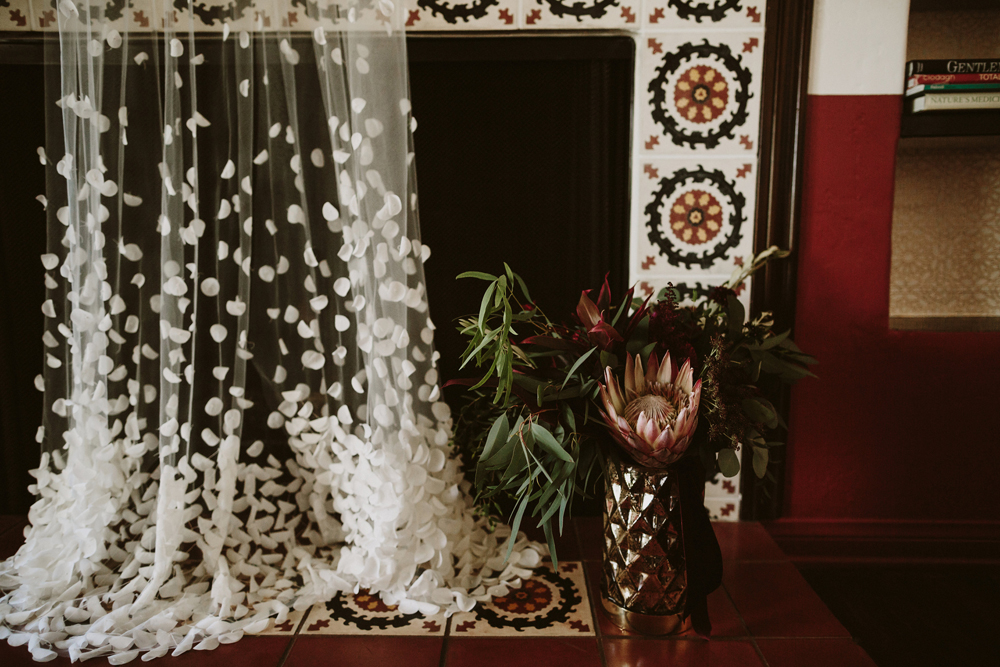 A lot of my inspiration stemmed from my dress. My dress was very modern with clean lines, so I wanted to keep that throughout each detail. Burgundy is my ultimate favorite color and since it was going to be a fall wedding, I thought it was perfect to incorporate. The copper accents stemmed from something else that was a personal love to us… Moscow mules are mine & my husband's favorite cocktail, so of course we had to have them! The copper mugs are so fun & they inspired us to have copper details throughout.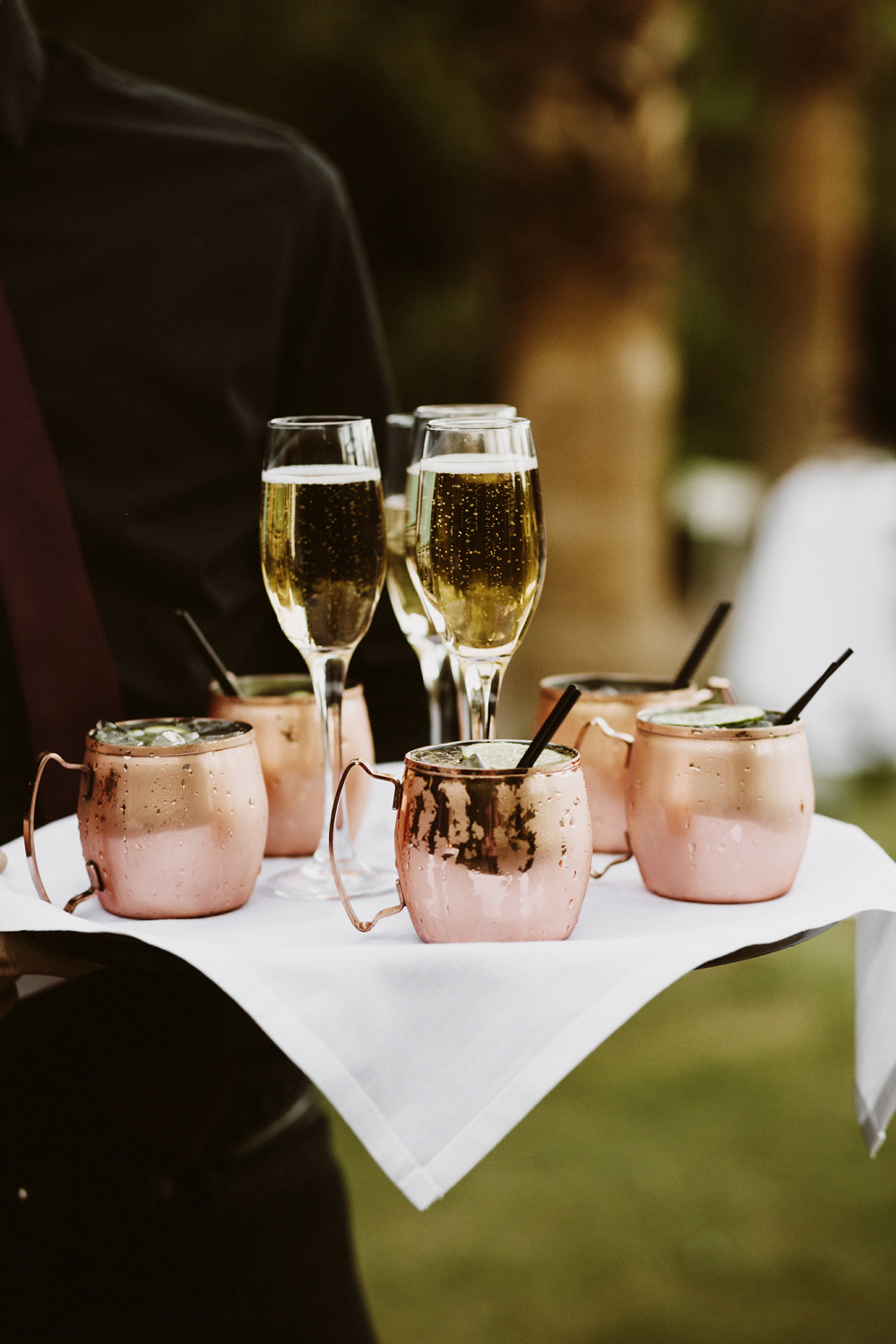 If I had any advice to give it would be to stick to your gut! This is yours and your hubbys day, don't let others dictate. Of course you will have so many opinions, and that's okay to listen and take in, but at the end of the day, it's about YOU AND YOUR HUSBAND!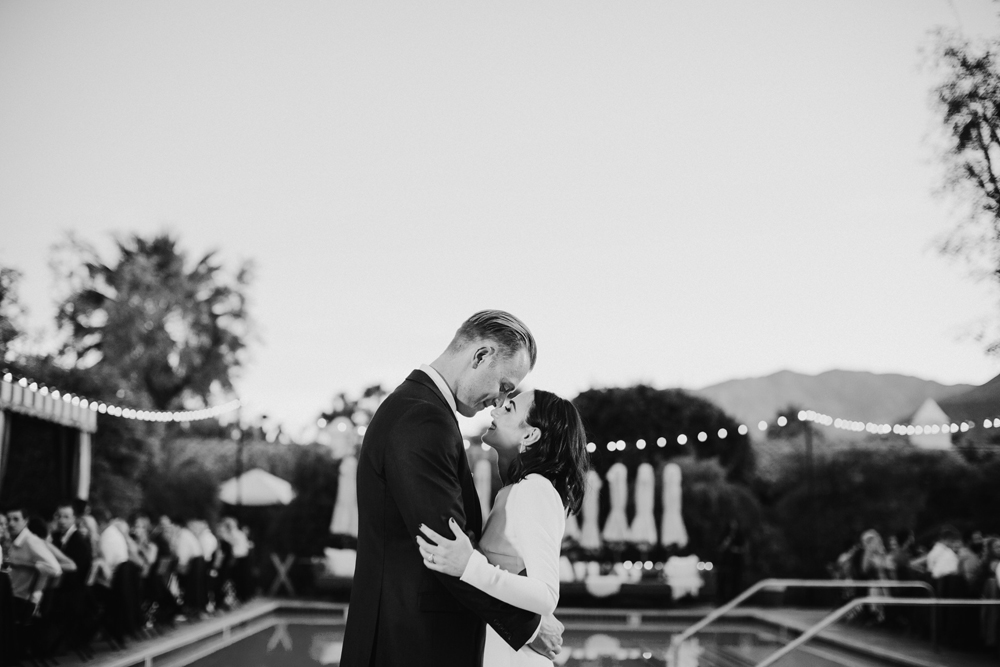 Another note… Make sure you spend money where you REALLY want to first. Pick a couple things that are important to you and check those off the list first. For us, it was photography and florals. I am SO happy we spurlged on both those vendors, they absolutely killed it!! My dress and accessories were also EXTREMELY important to me and I started looking right off the bat! Everyone was teasing me saying "Katie, you have time!" I didn't care, I couldn't wait to look to see what was out there (that's the fun part,right?) I was lucky enough to have my beautiful mom offer to handle that financially, BUT I still had a budget…once I found the dress (thank God it didn't take up the whole budget!) I then had to figure in my veil, shoes and accessories. The shoes were tough, I knew I wanted something fashion forward, funky and I thought a touch a burgundy would be fun to pull it all together, but I didn't have a huge budget for them. After a LONG hard search, I ended up at the Barneys New York Co-op at the Carlsbad outlets and came across these stunning Phillip Lim 3.1 burgundy pointed toe with a white heel. It was love at first site! They were clean cut and fashion forward and I knew they are a match made in heaven with my dress.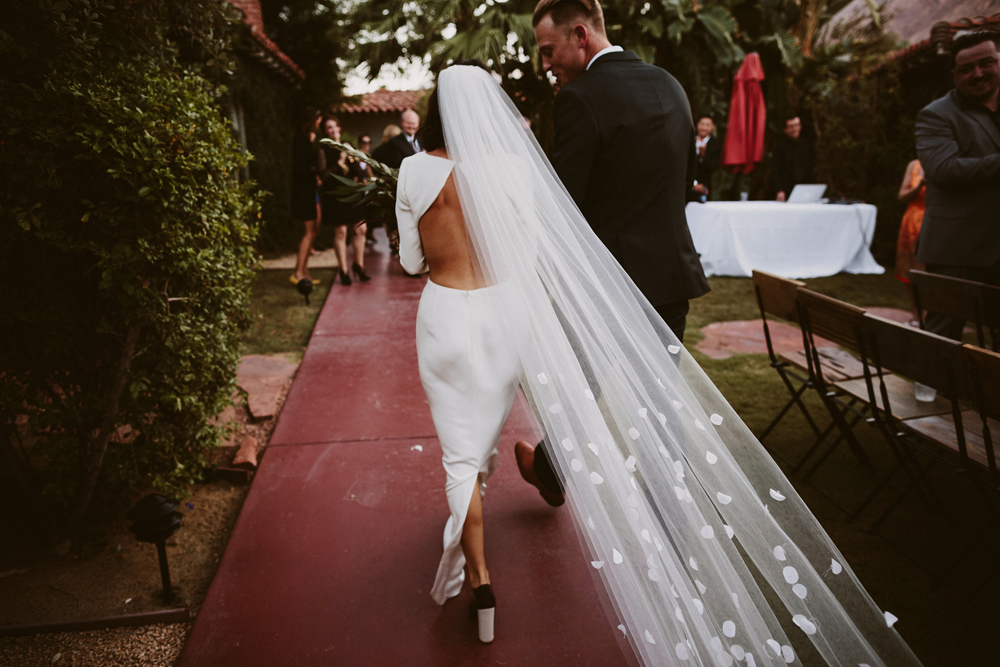 Our wedding was seriously the most magical day of our lives & I wouldn't change a thing. My vendors did a beautiful job at making my vision come alive, I couldn't imagine it without each and every one of them.  I want to inspire others out there to be different and unique to themselves. Stay true to yourself but step outside the box if you want. Have fun with it! Be in the moment and cherish this time. It's all over in a blink of an eye.
xx,
Katie Keyes
























CREDITS
Photography: Lauren Scotti
Venue: Colony Palms Hotel
Florals: The Blooming Gypsy 
DJ/ Photobooth- DJ Chris Paul
Donuts- Sidecar Doughnuts
Chairs: Planks and Patina
Calligrapher: The Cozy Gnome 
Invitations/Menus: Micheal Laser Design
Gluten Free Wedding Cake: Mother of the Bride
Hair: Courtney Laser Hair: http://courtneylaserhair.com
Brides Dress: Houghton
Brides Shoes: Phillip Lim 3.1
Brides / Bridesmaids Jewelry: La Weez
Bridesmaid Dresses: Reformation & Zara
Grooms Suit: West End
Grooms Shoes: Cole Hann
Brides Reception Leather Jacket: ScoutFolks
Brides Reception Dress: Nightcap from Red Fox