Tips to Update your Fall Wardrobe
Fall Wardrobe
Finding ways to update one's wardrobe is on the top of most fashion lovers minds. Personally, I'm all about finding a few key pieces each season that give my favorite "go-to" looks new life. Texture, color and print are ways you can infuse a modern vibe into your everyday looks. Update your fall wardrobe with these tips.
Have fun with texture and add a little shine to your look with metallic accessories like shoes or a bag. We're loving the metallic embroidery in this midi dress, and the shiny vibe of the whole look. This dress is the perfect addition to your fall wardrobe. The color is perfect into the holiday season. And this dress can be worn now with our warm weather and later with a layered tee, turtleneck, sweater, jacket, or a combination.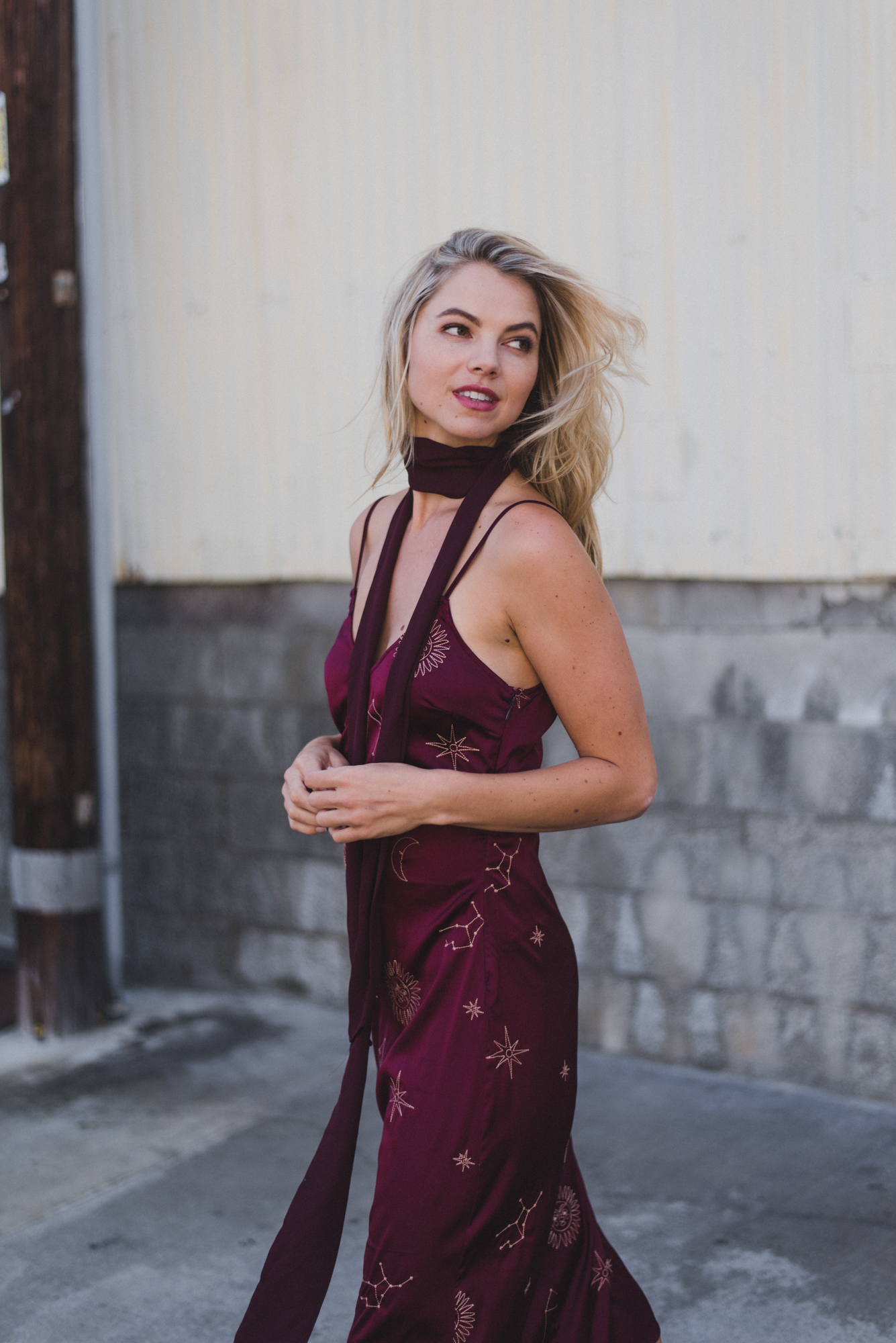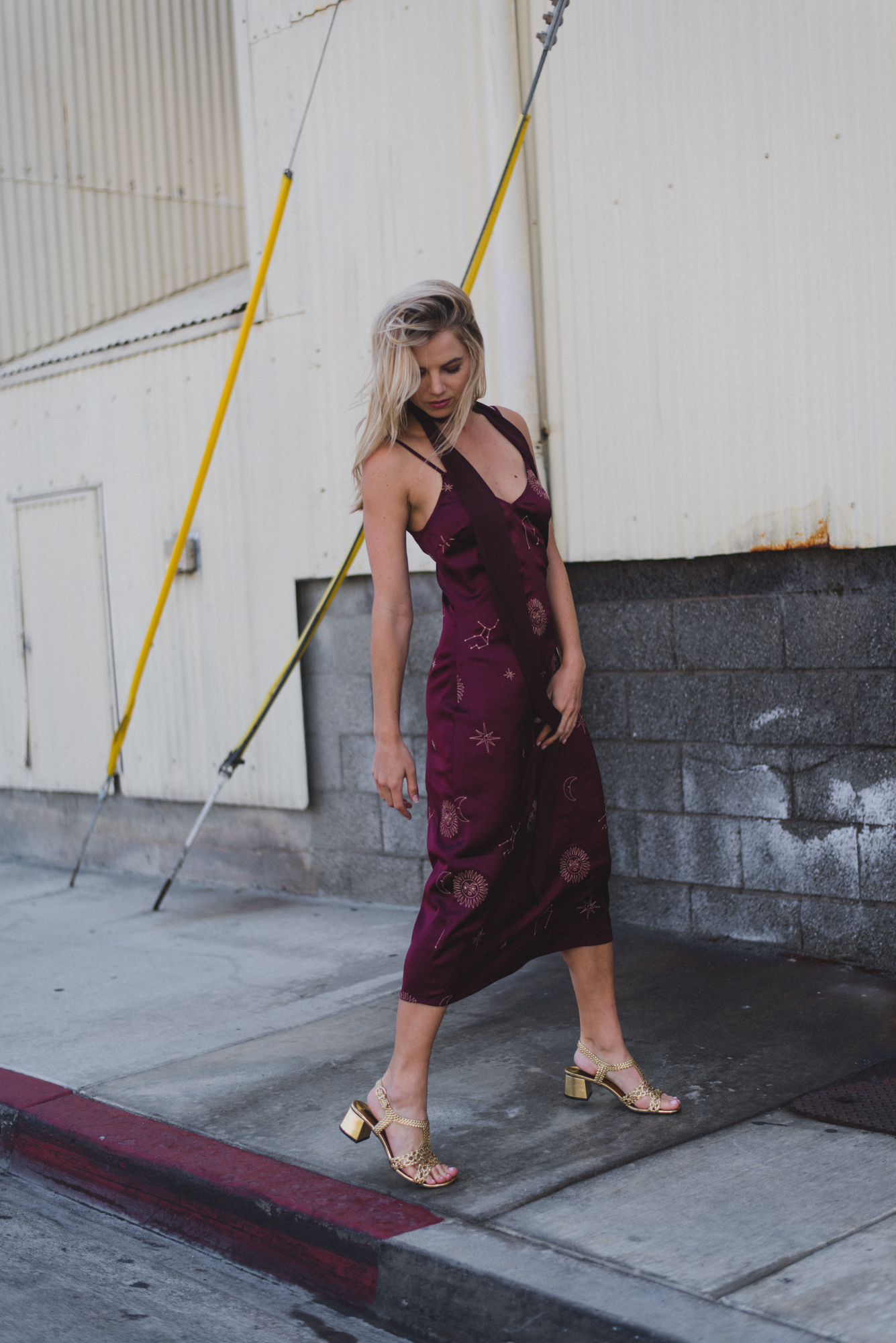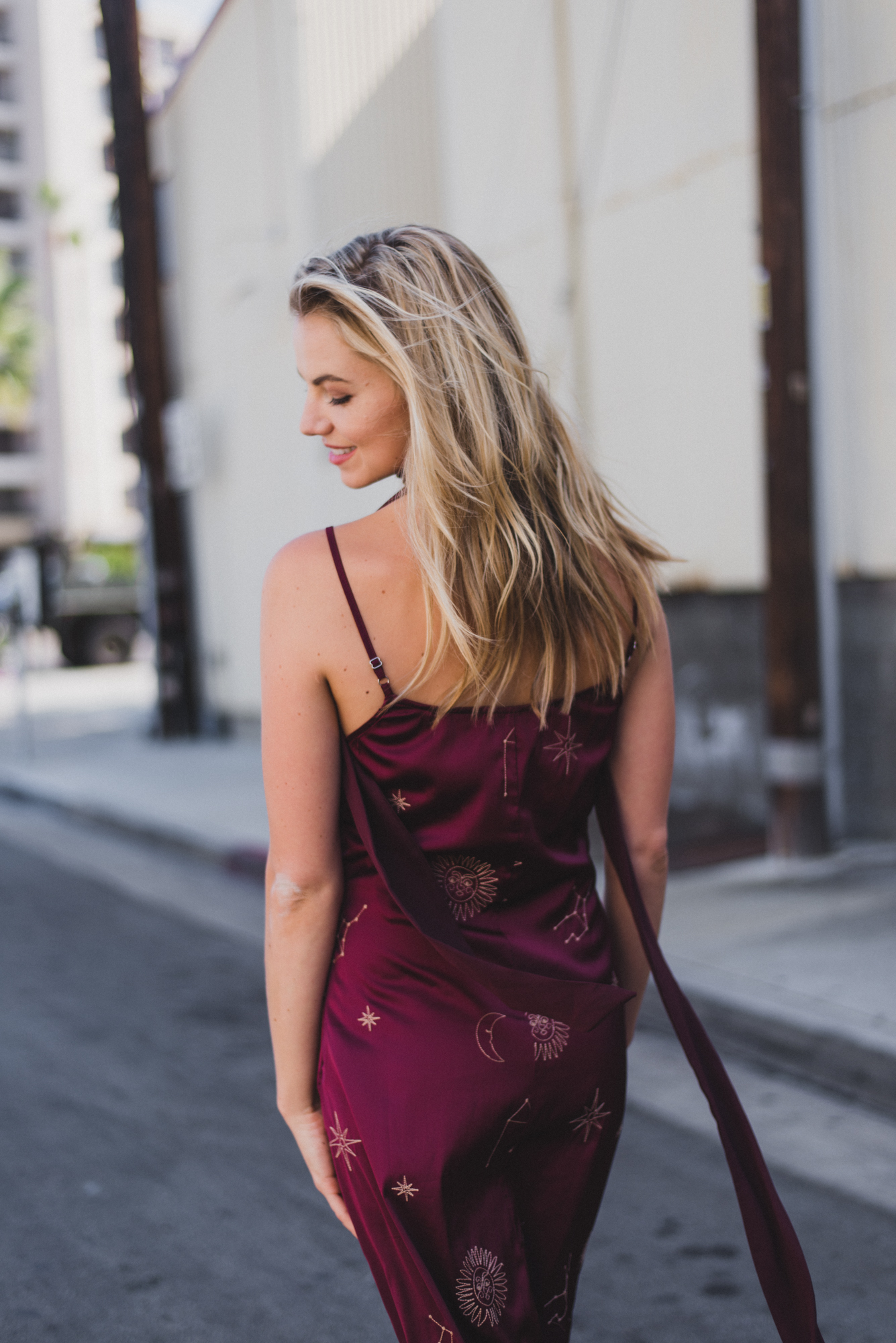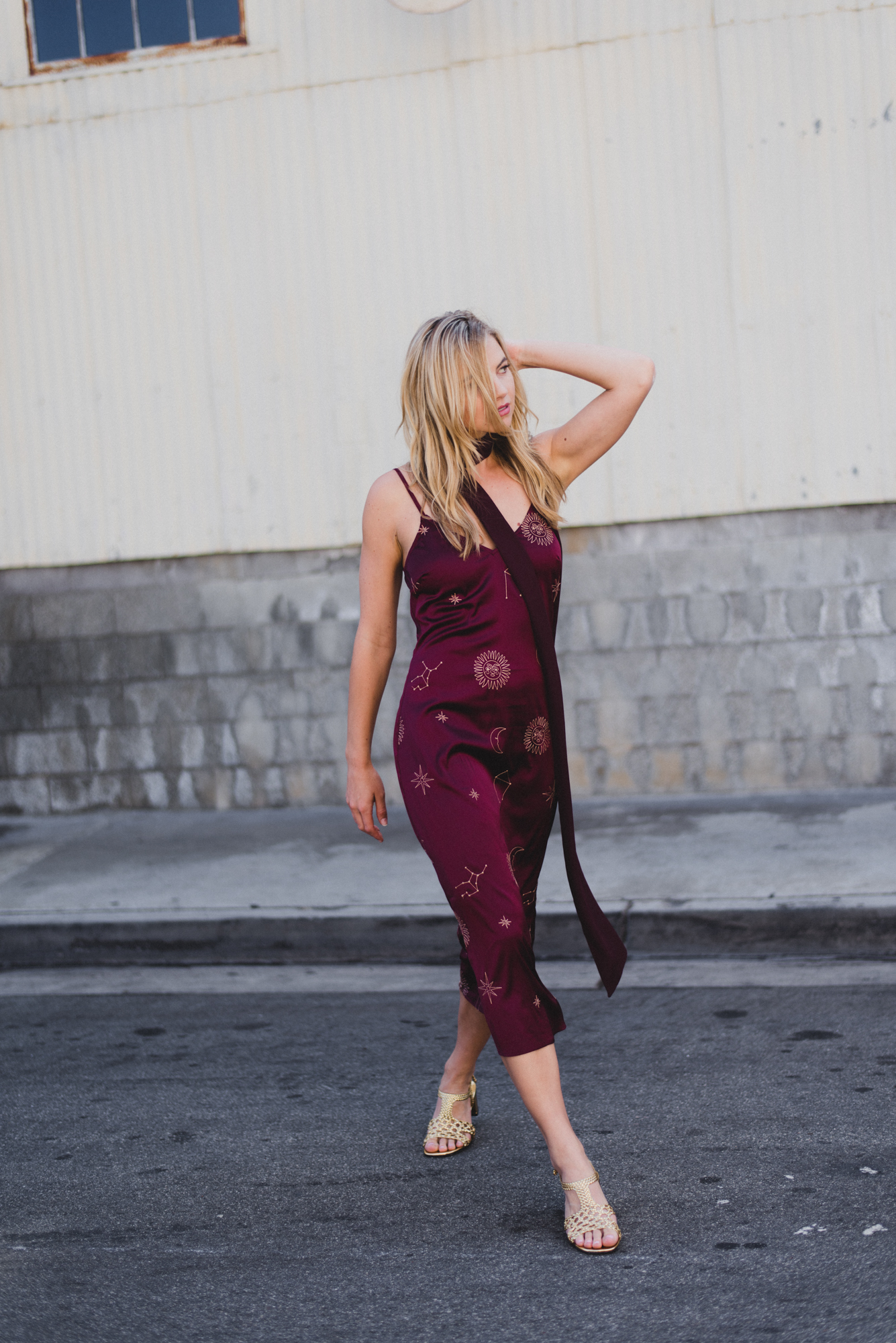 Dress: CALIstyle via Resurrection
Right now I am obsessed with white shoes! Trust me, you'll see them over and over this season.  If you're of the old-school mind set "no white shoes after Labor Day" it's time to think again. White shoes are hot hot hot! Shoes are a great, and easy, way to update your wardrobe. Shoes always fit and can be worn day after day.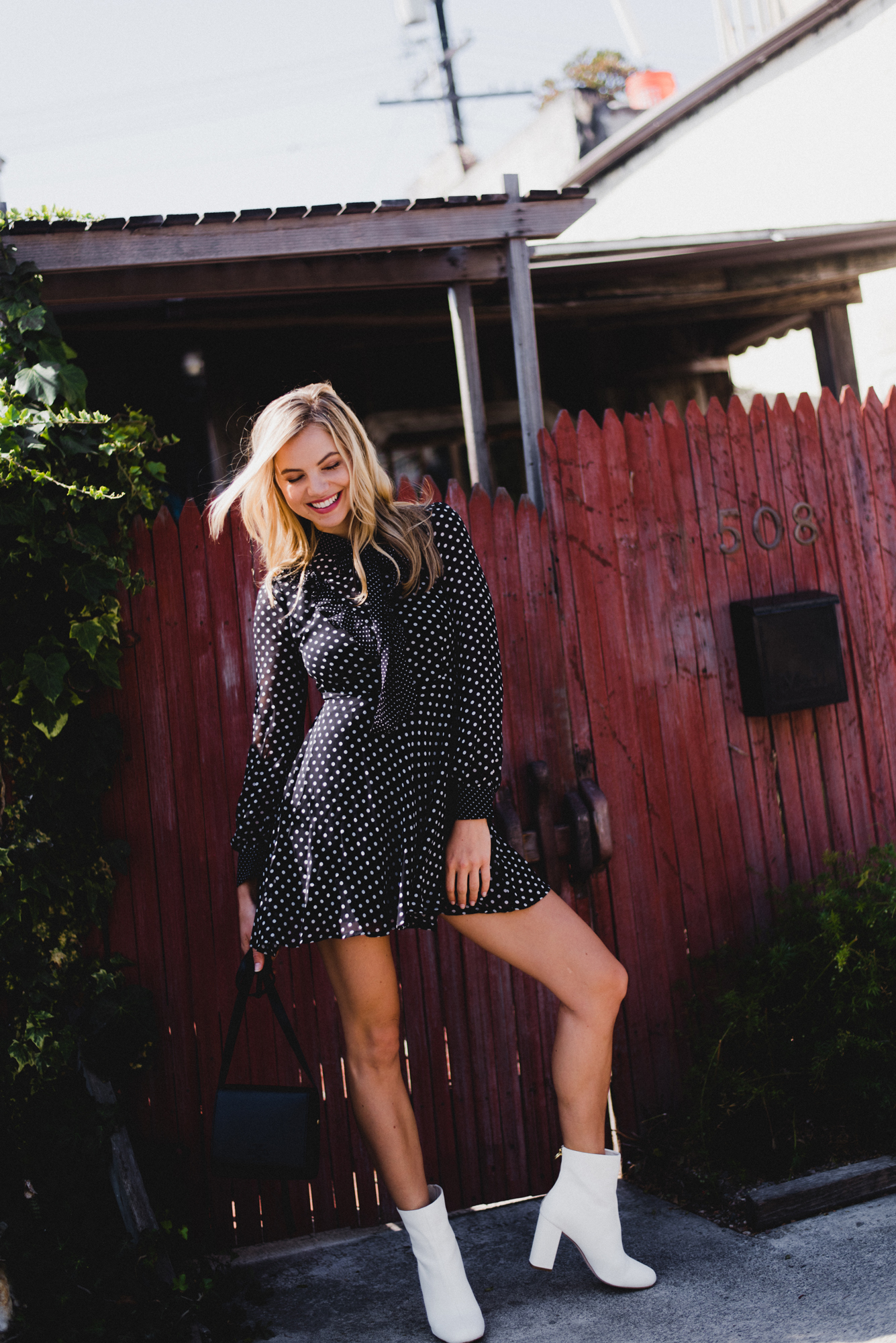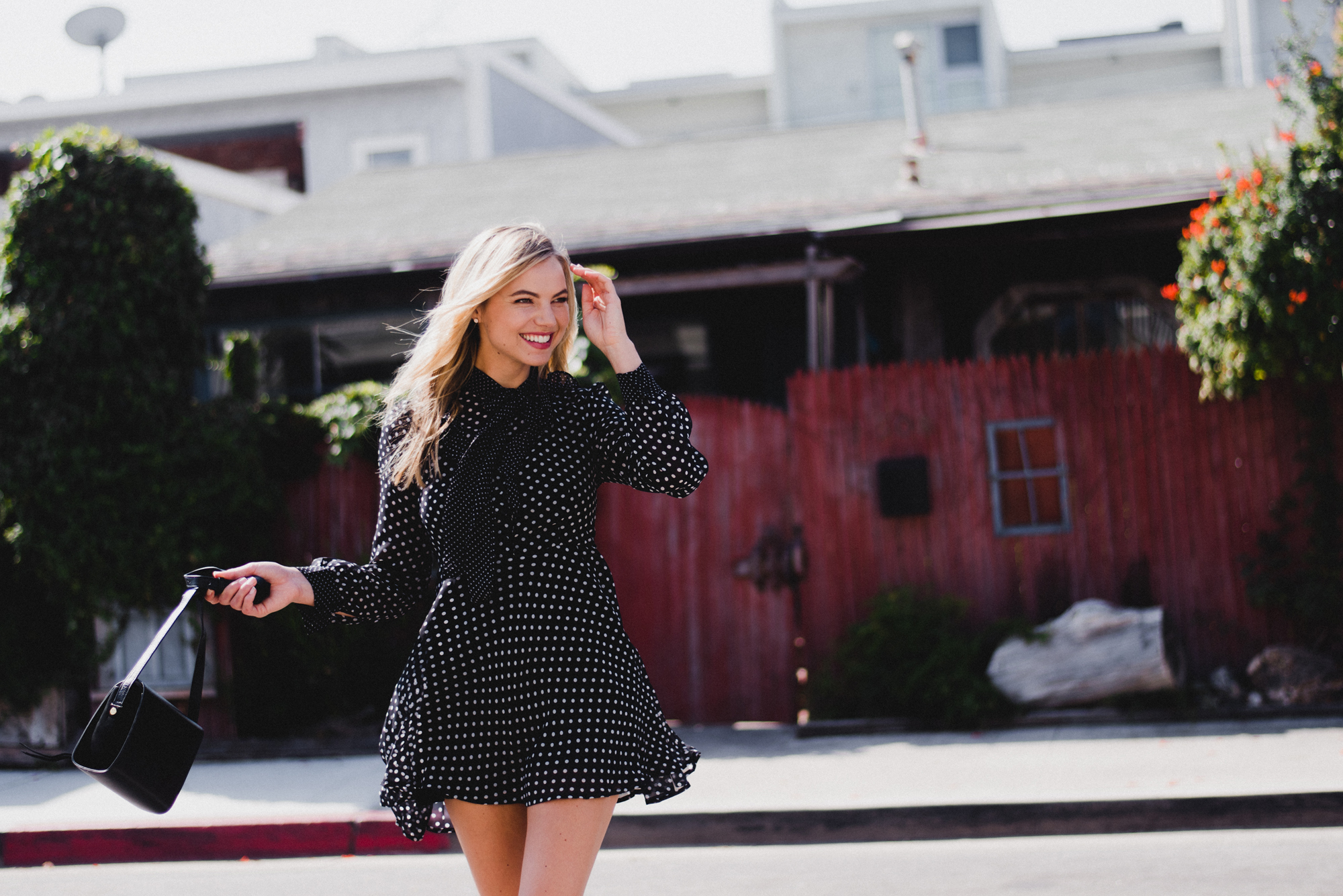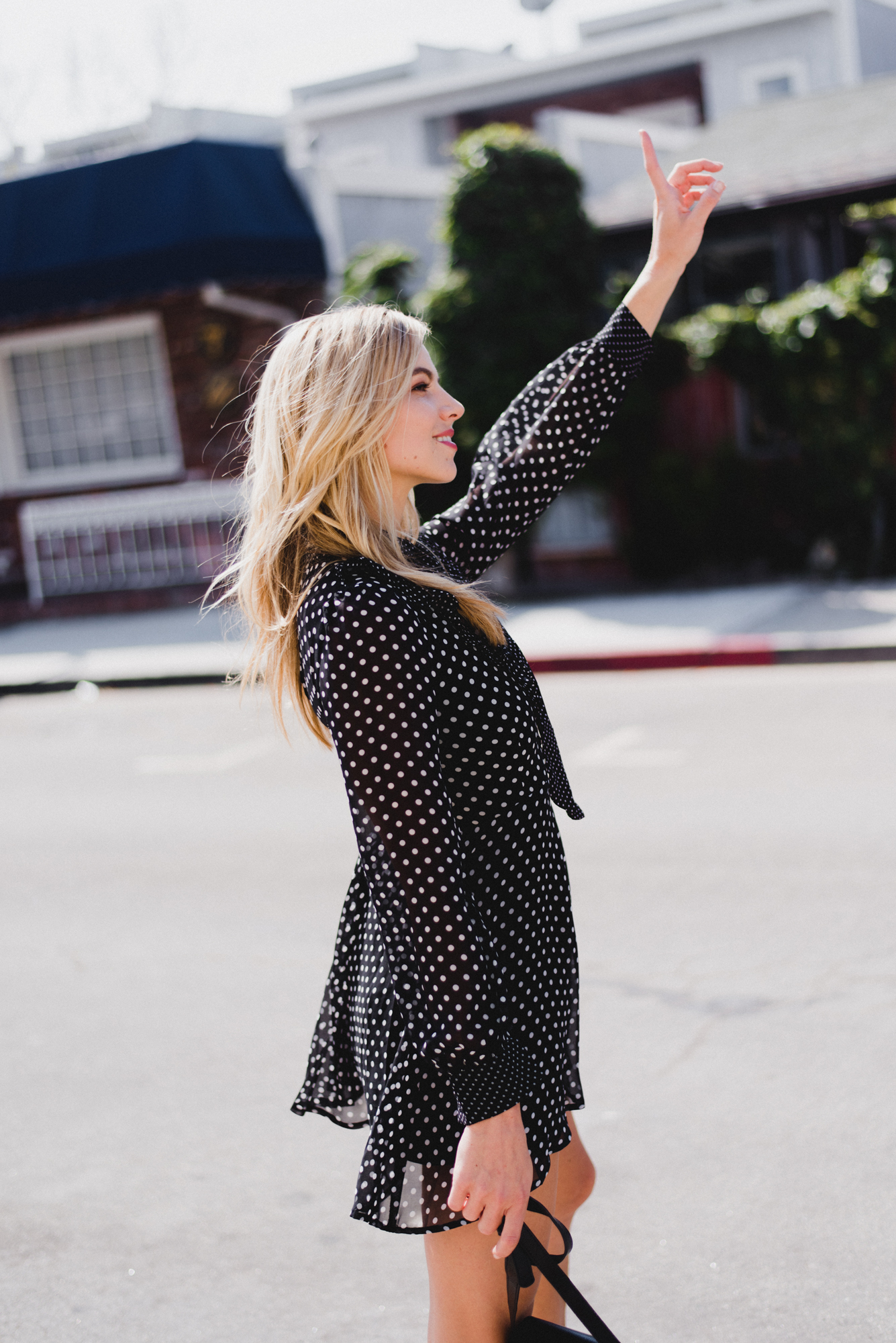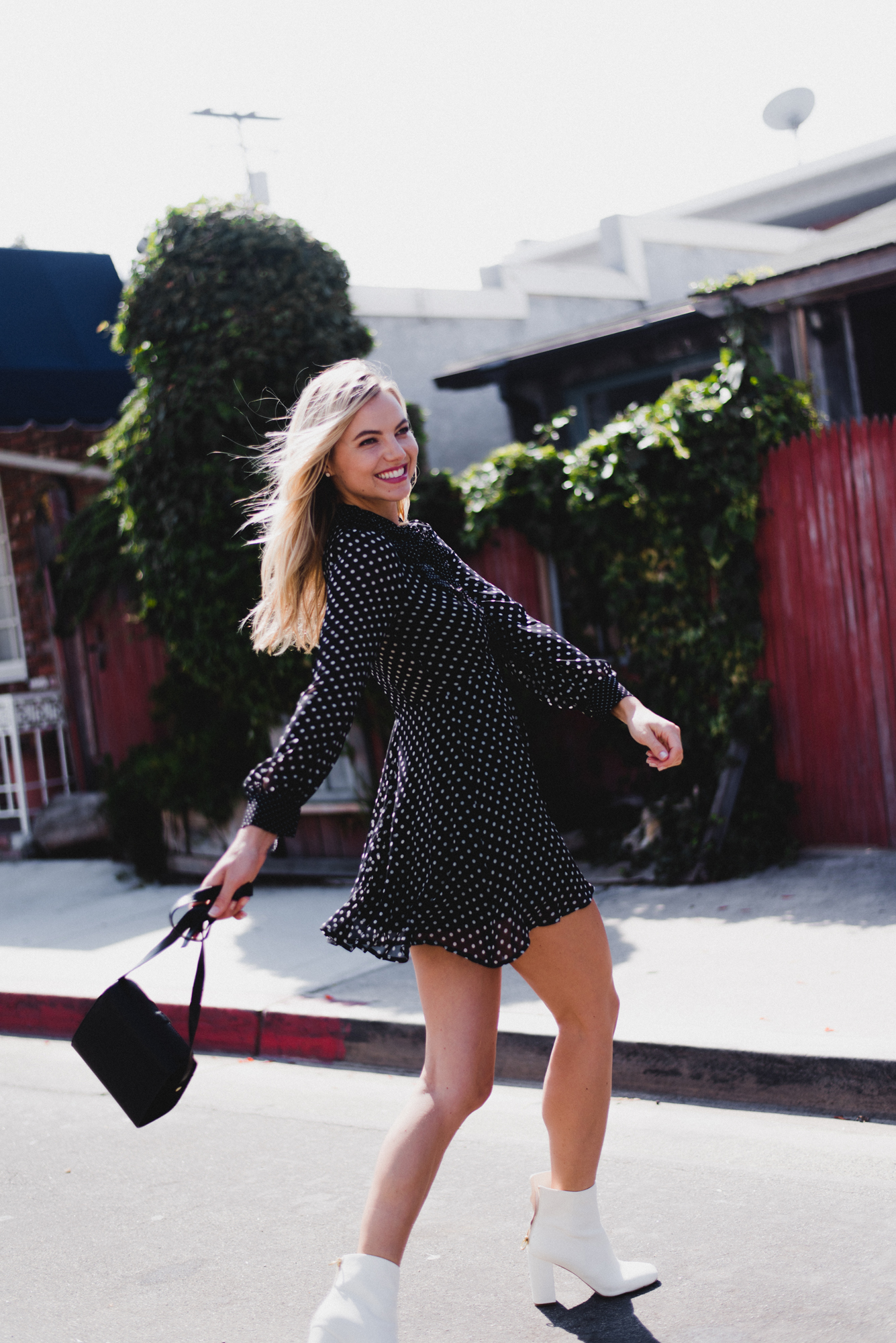 Dress: CALIstyle via Resurrection
We all love and NEED a black leather jacket. But if you're in the market for a new leather color to spice up your collection, try a shade of dark berry. If you normally wear grey and black in the fall and winter months, trading your black jacket and boots for other colors will instantly give your favorite jeans and tees new life.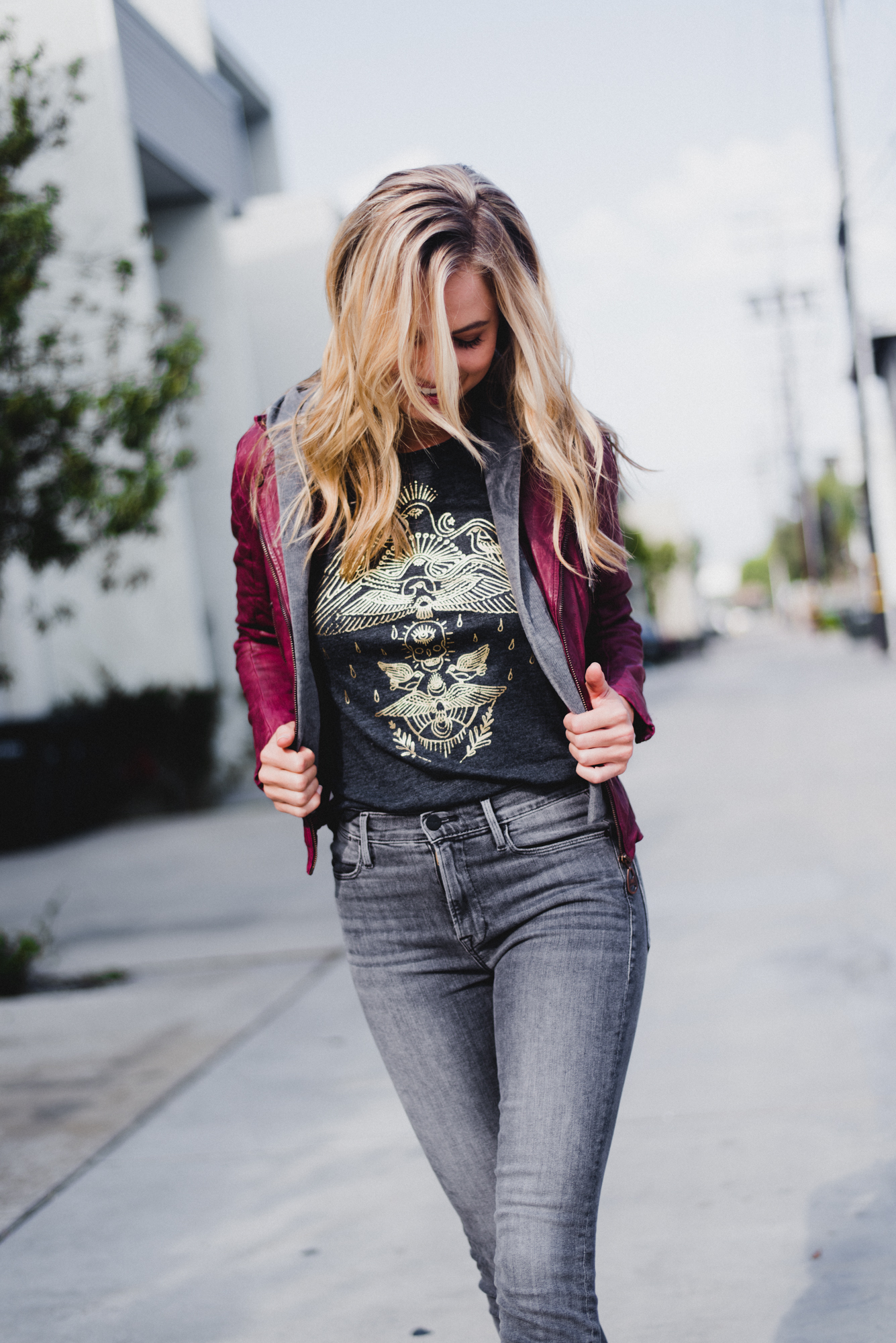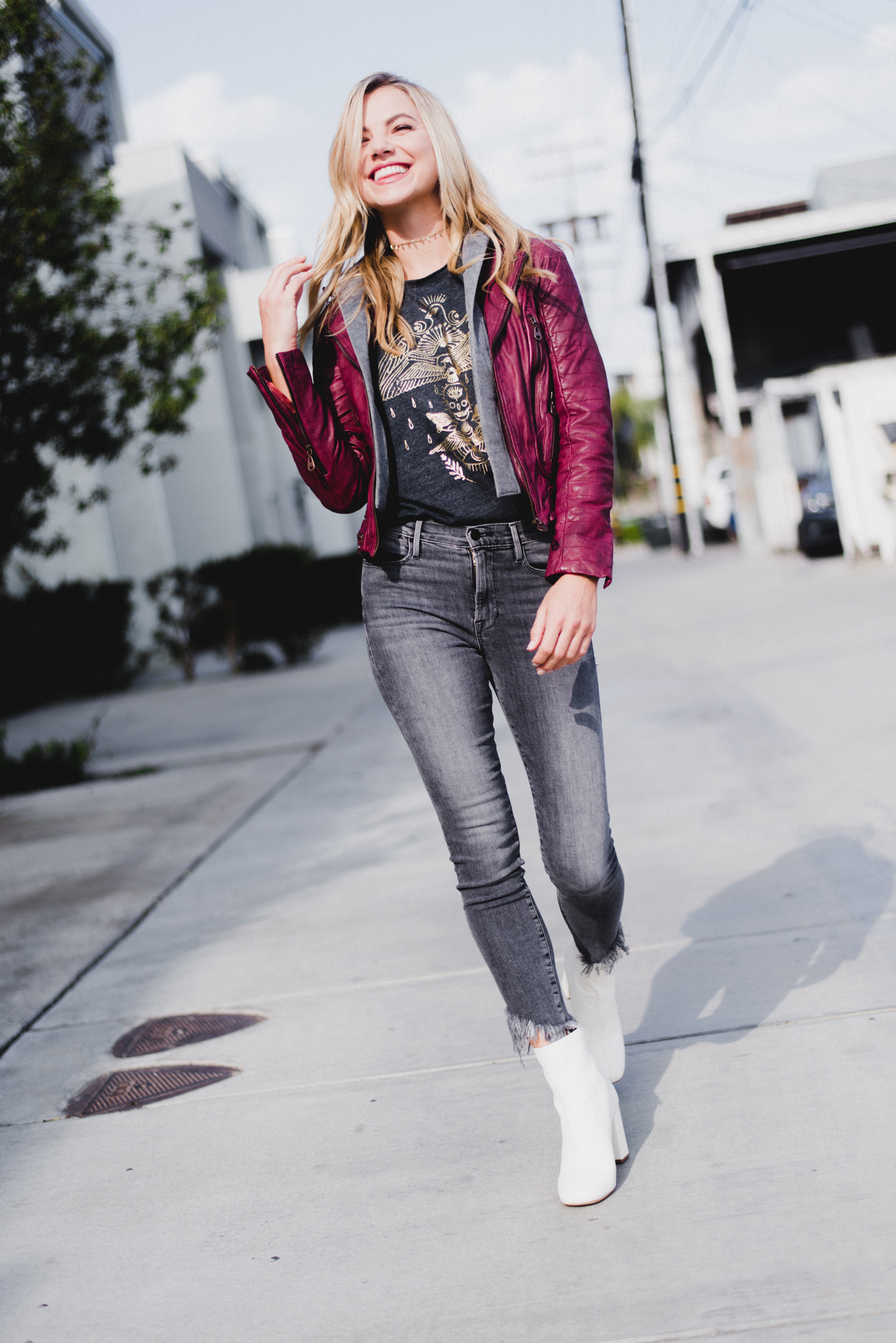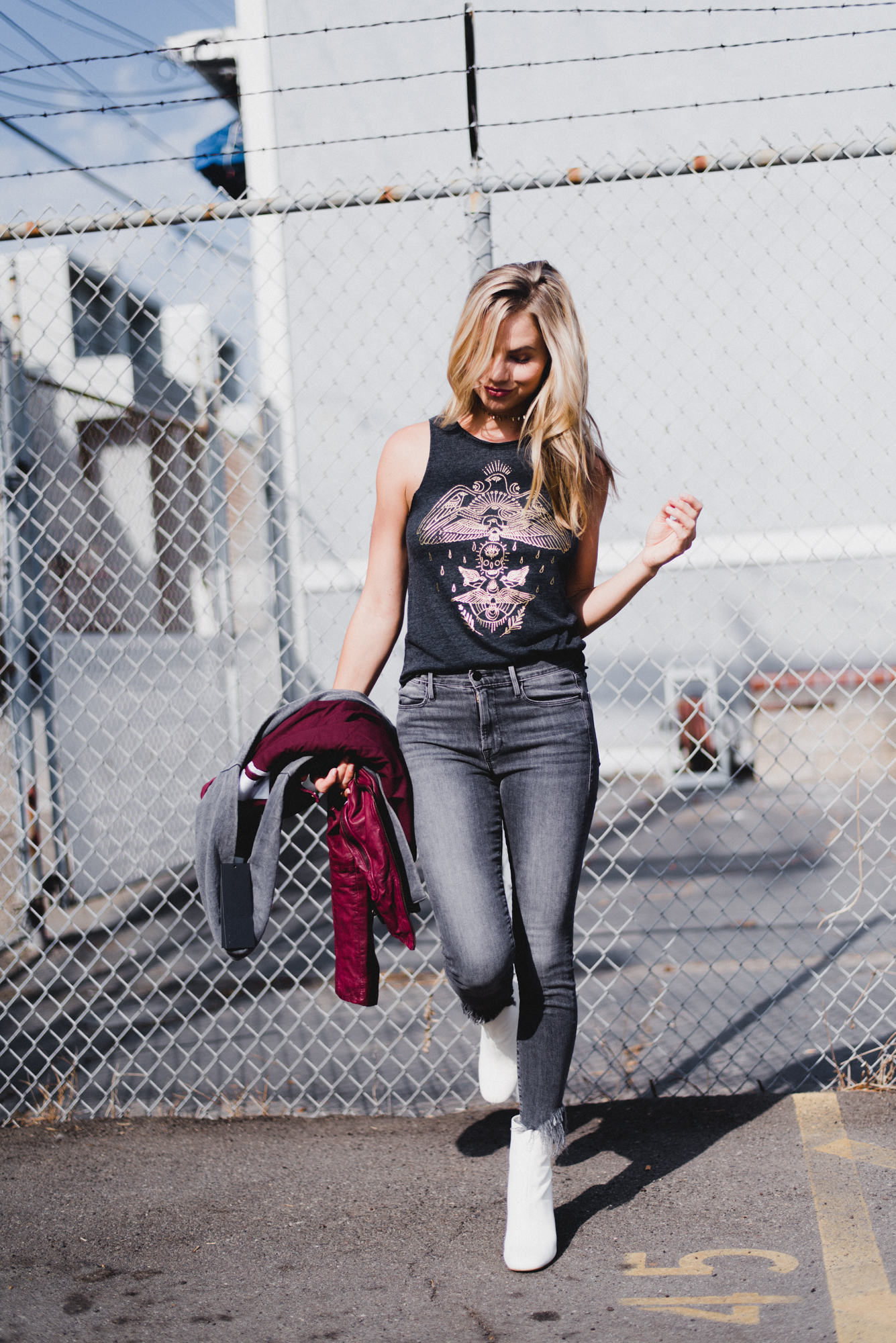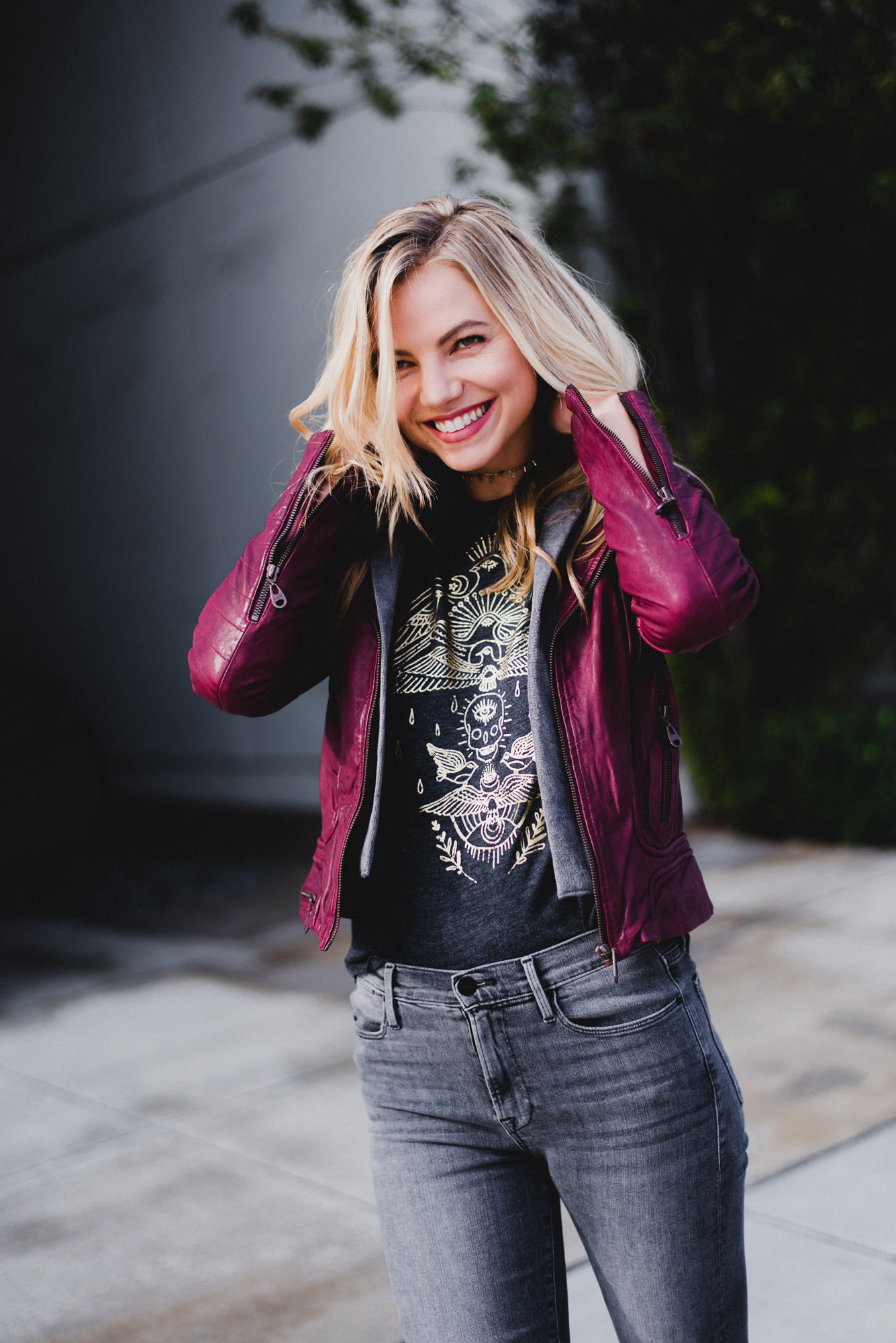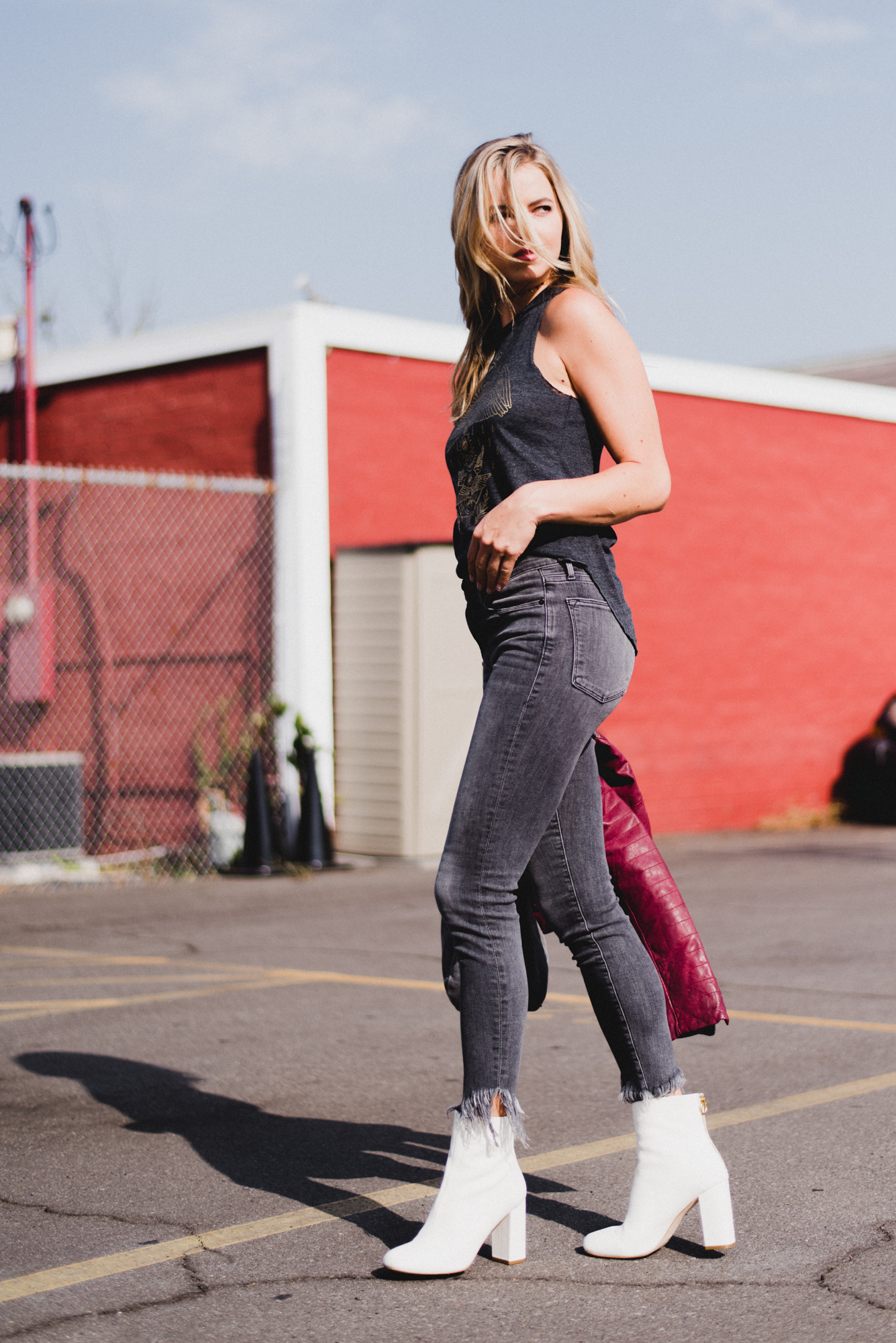 High Skinny Shredded Raw: FRAME Denim// Graphic Tee: Chaser Brand// Leather Jacket: Doma all Via Jeanni Champagne Boutique// Booties: Joie
I've been talking about mixing prints for the past few years. I find that mixing prints is always a daring way to go. Here's another "old-school" rule to break; stripes and polka dots together. Another trend you'll also begin to see is front slits in pants and jeans. And clearly you're beginning to see my love for white shoes!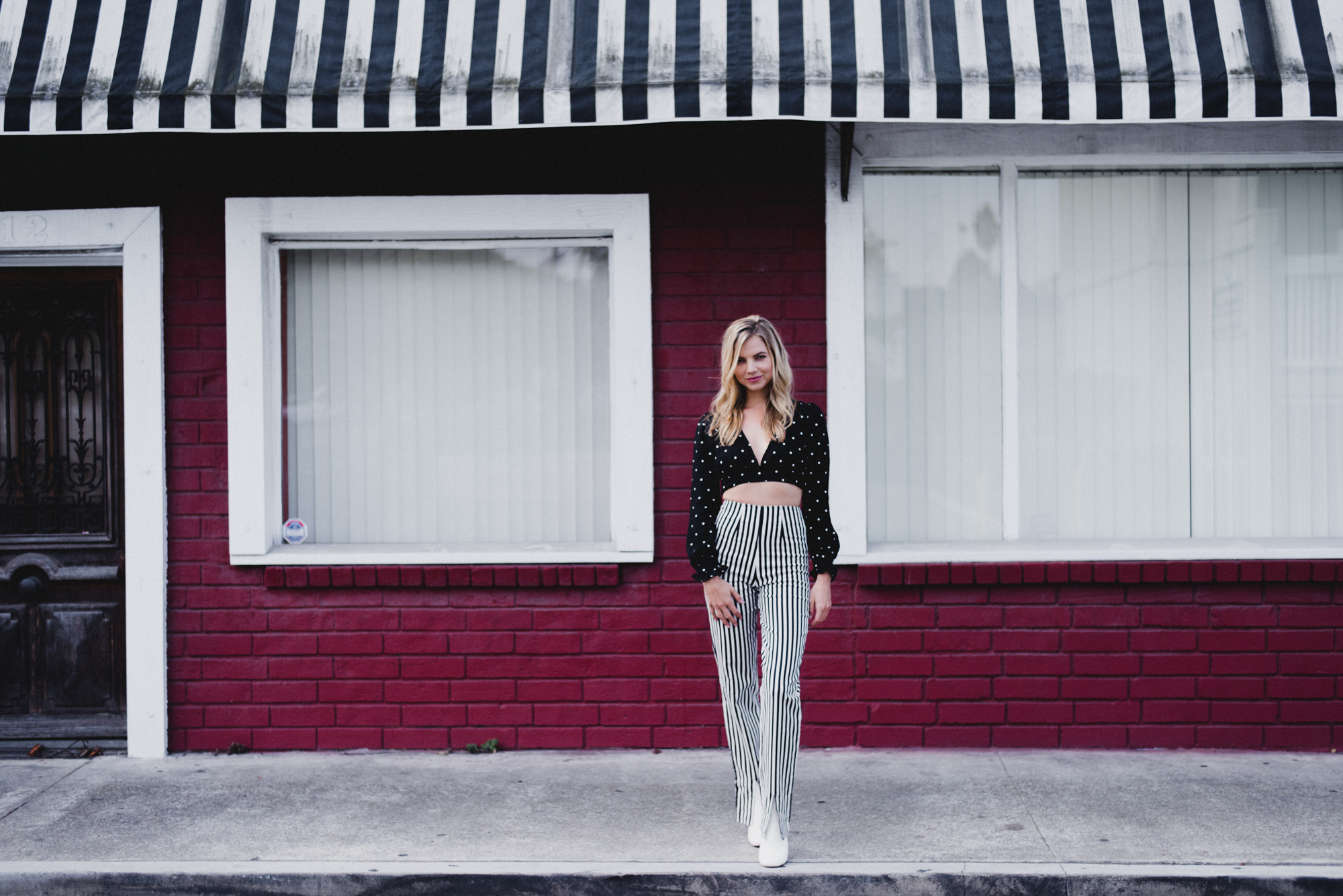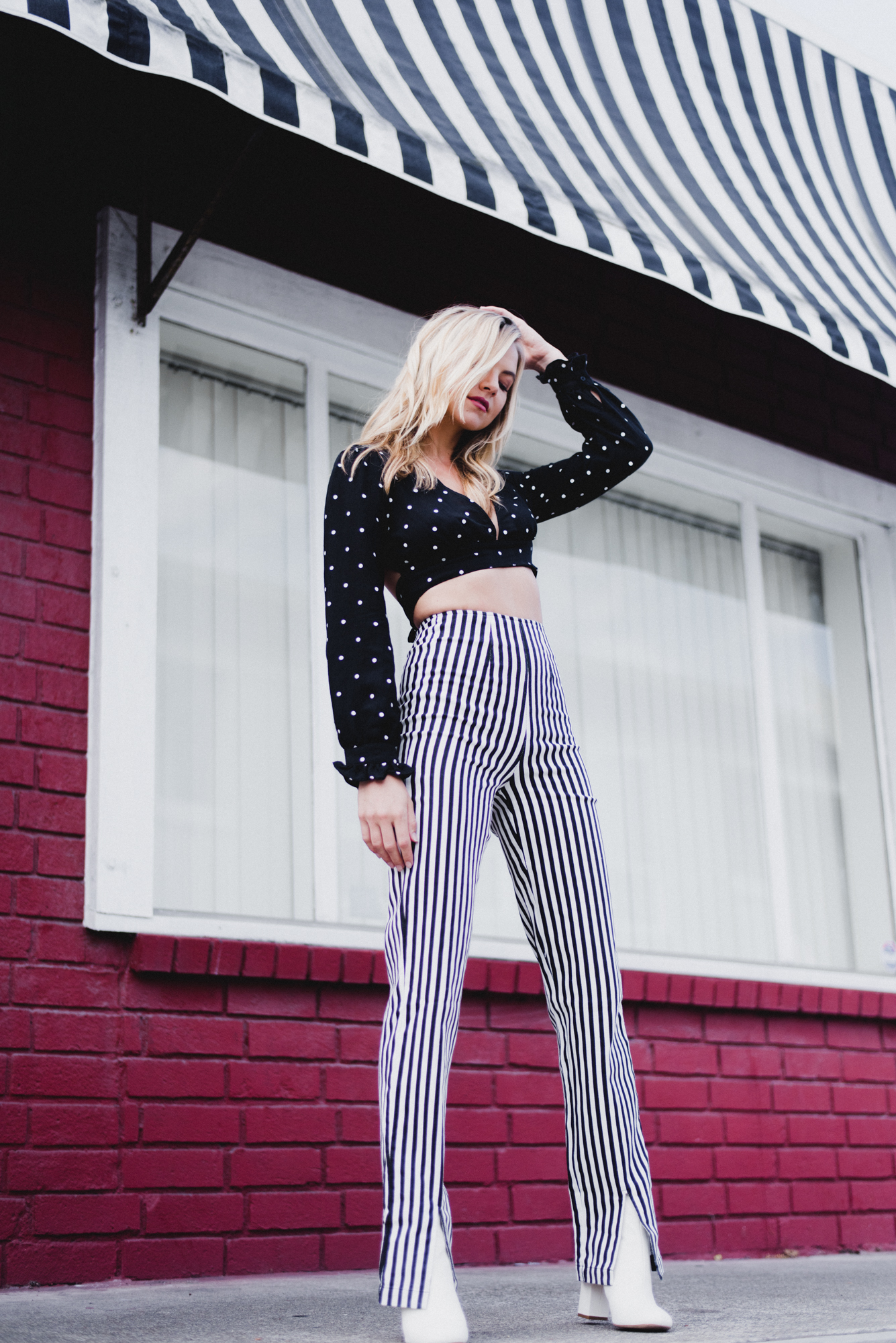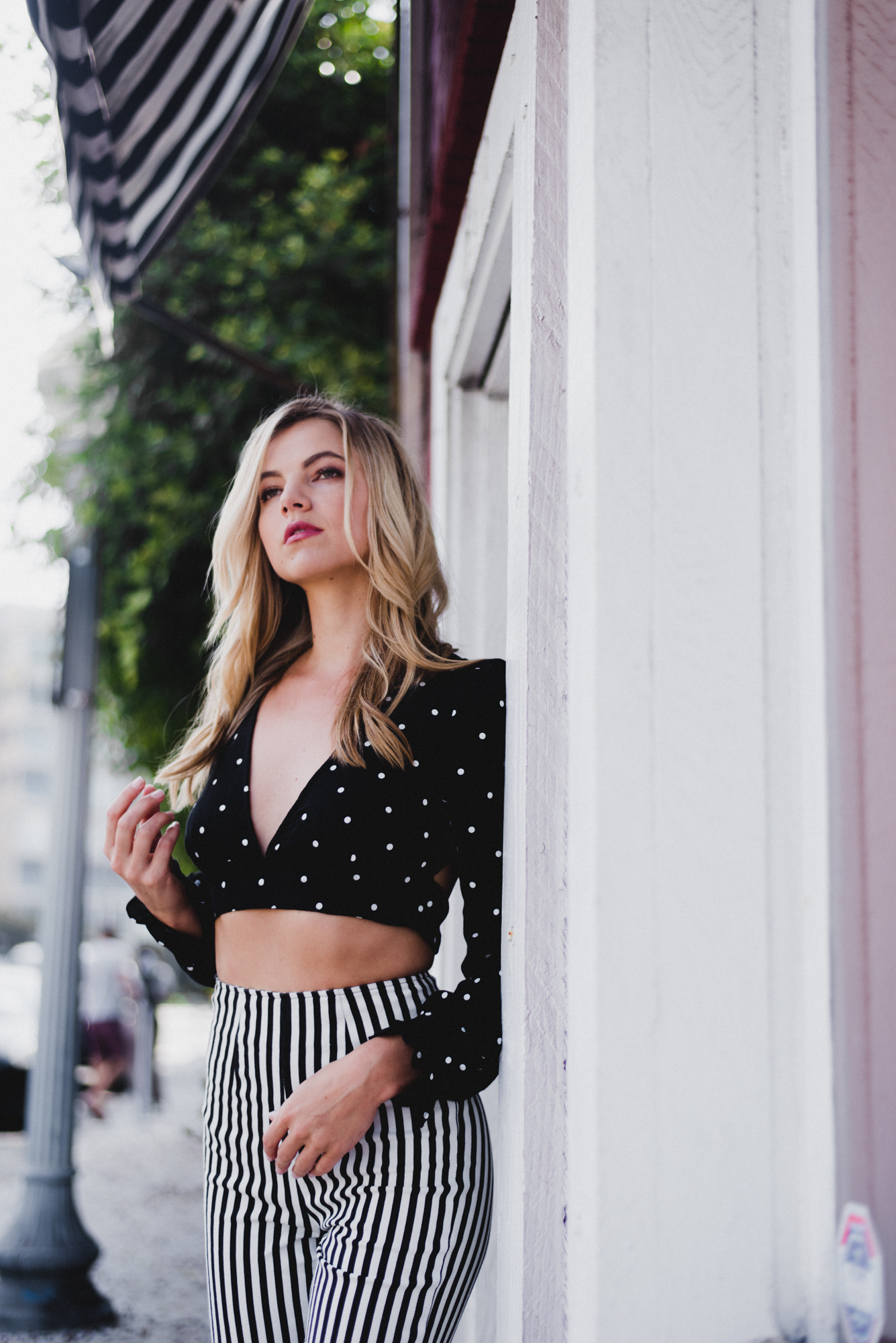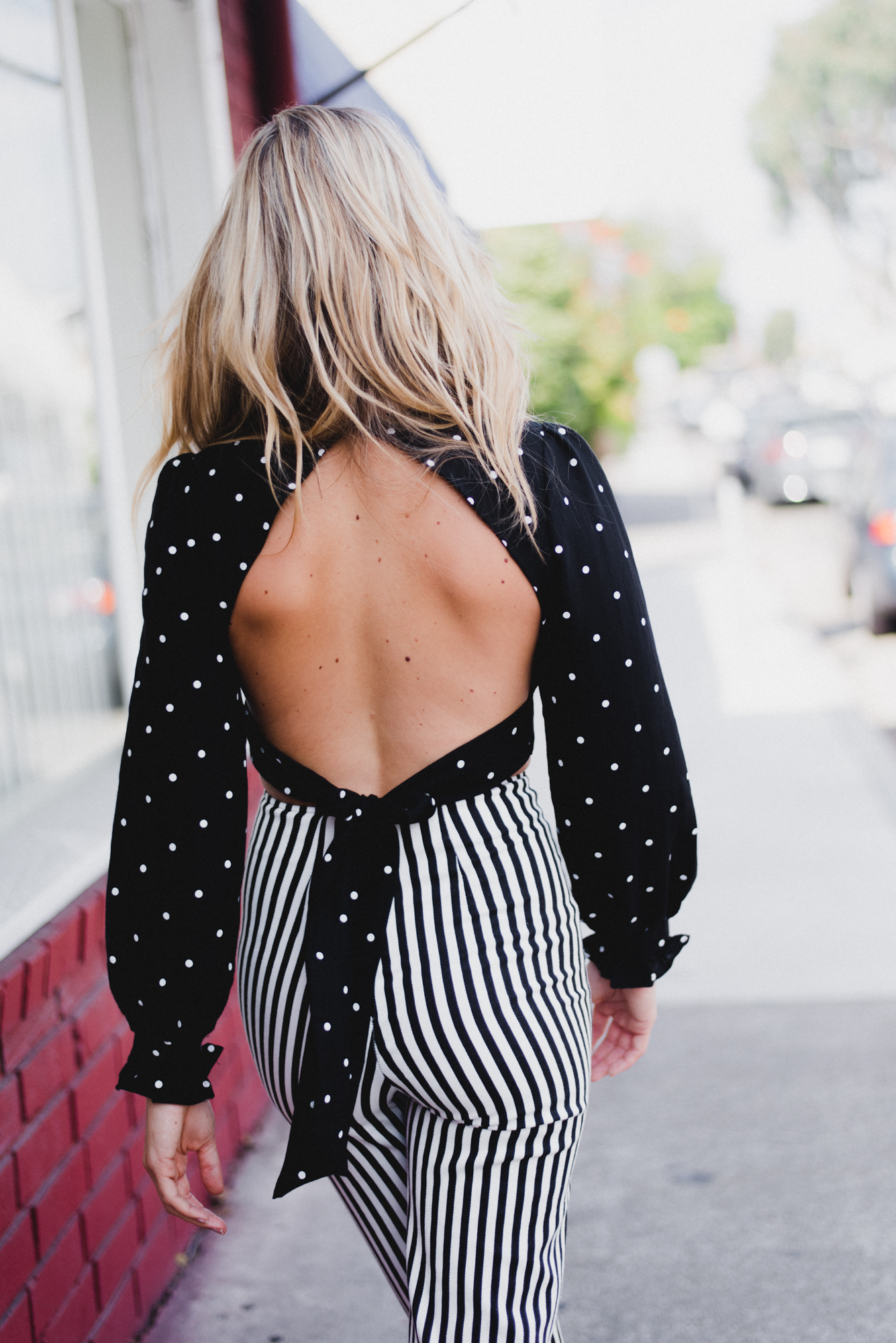 Top + Pants: CALIstyle via Resurrection (BTW this look is under $100!)
I don't know about you but I live in tees and jeans. It's a problem for me. So for that reason, I'm always trying to come up with ways to make my simple jeans and tee more interesting. That's probably where my love of trend denim comes from. Spring brought us the two-toned denim trend, and it's not going anywhere any time soon…. Well at least for another season. Jacket's are key to stylish dressing. I'm sure most of you know about the three piece rule. The idea that your looks should consists of three pieces or layers. This is one rule that all stylish babes rely on.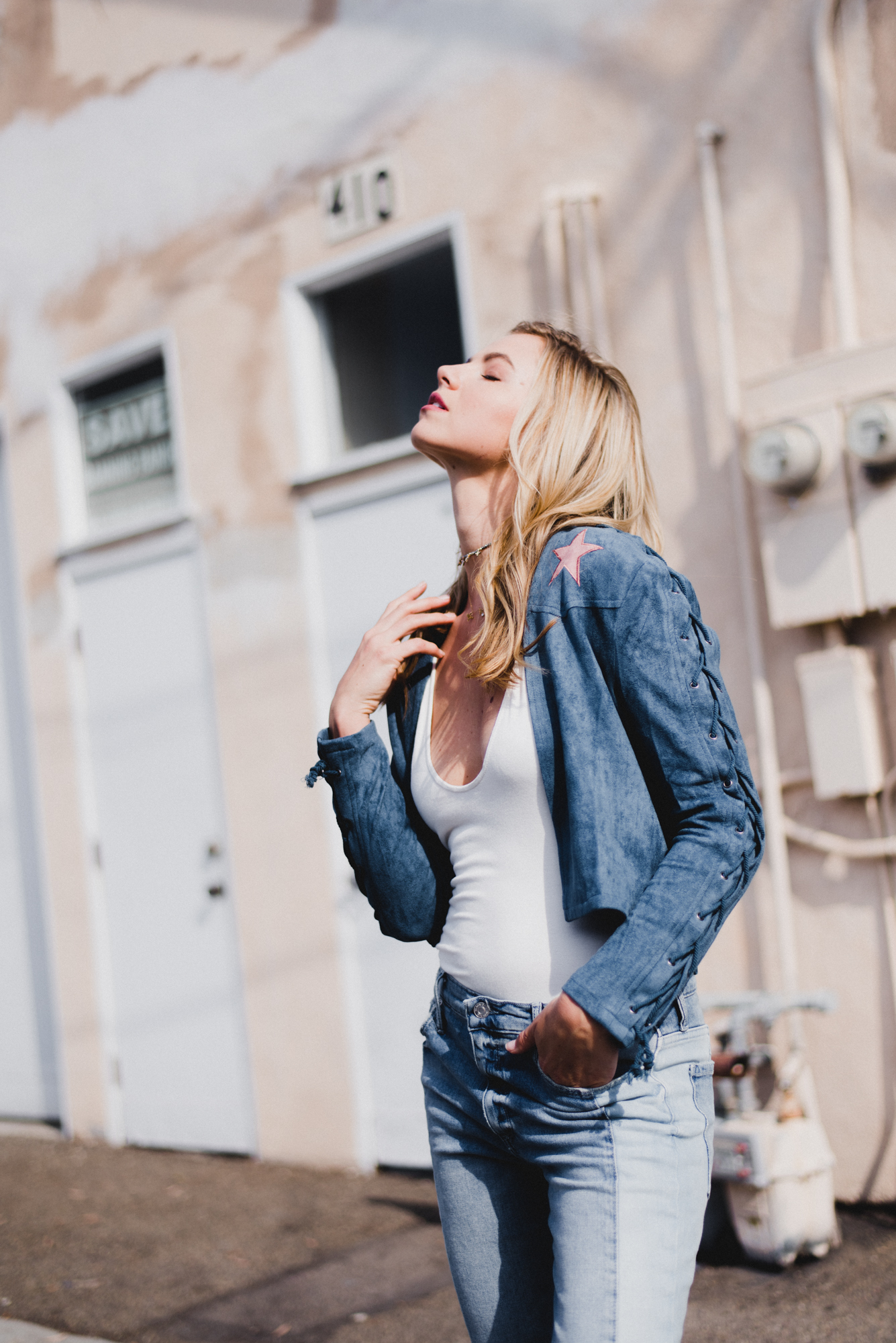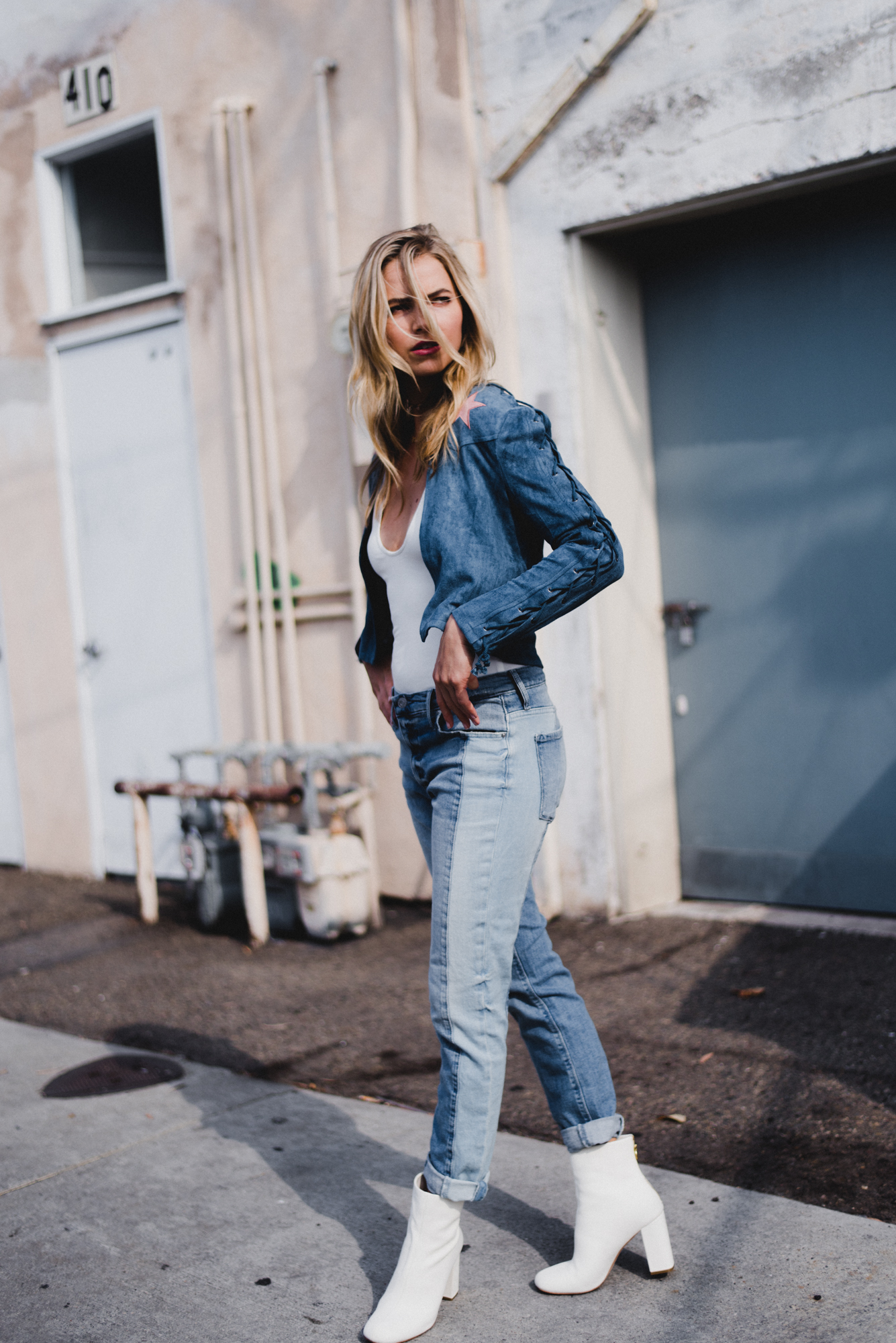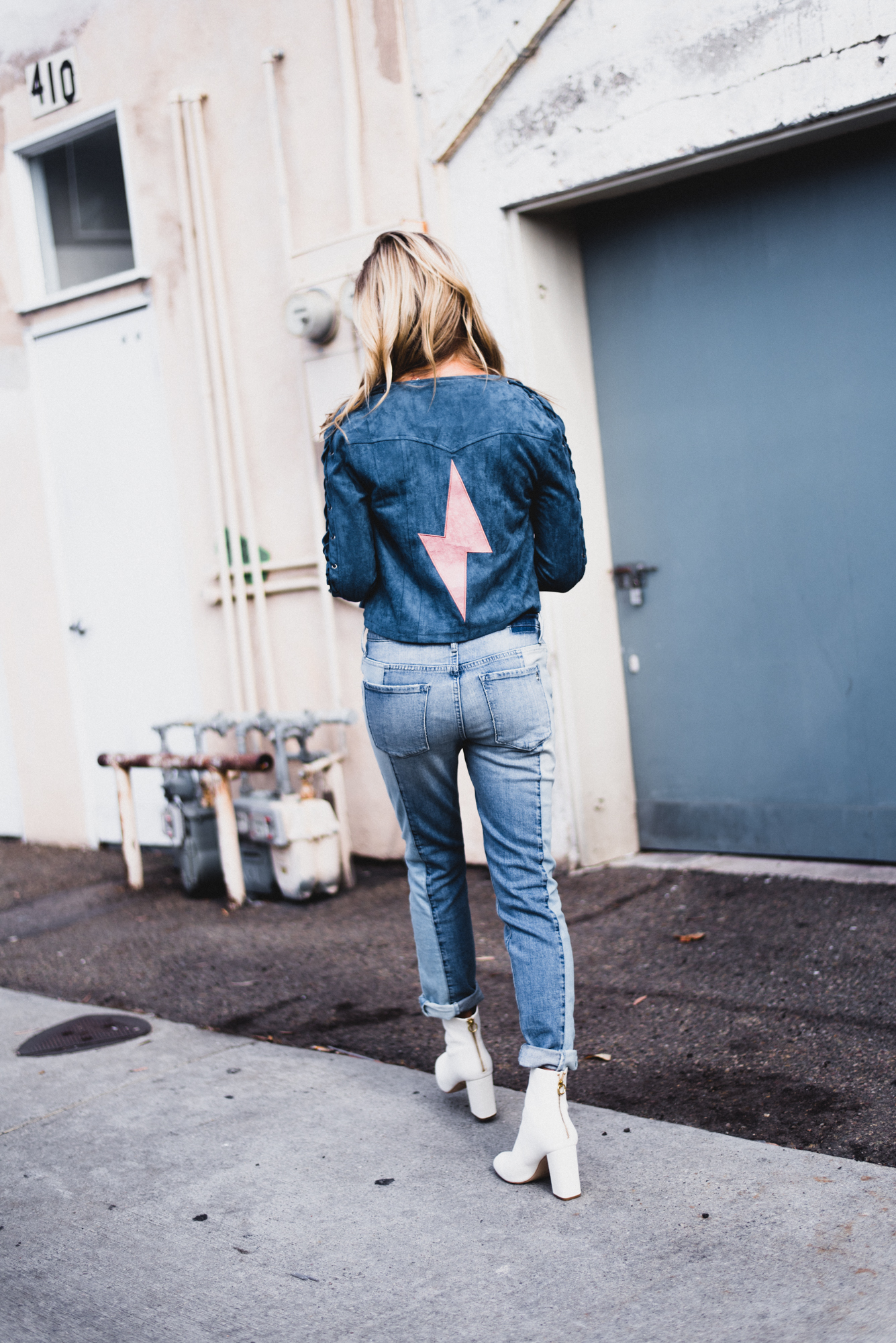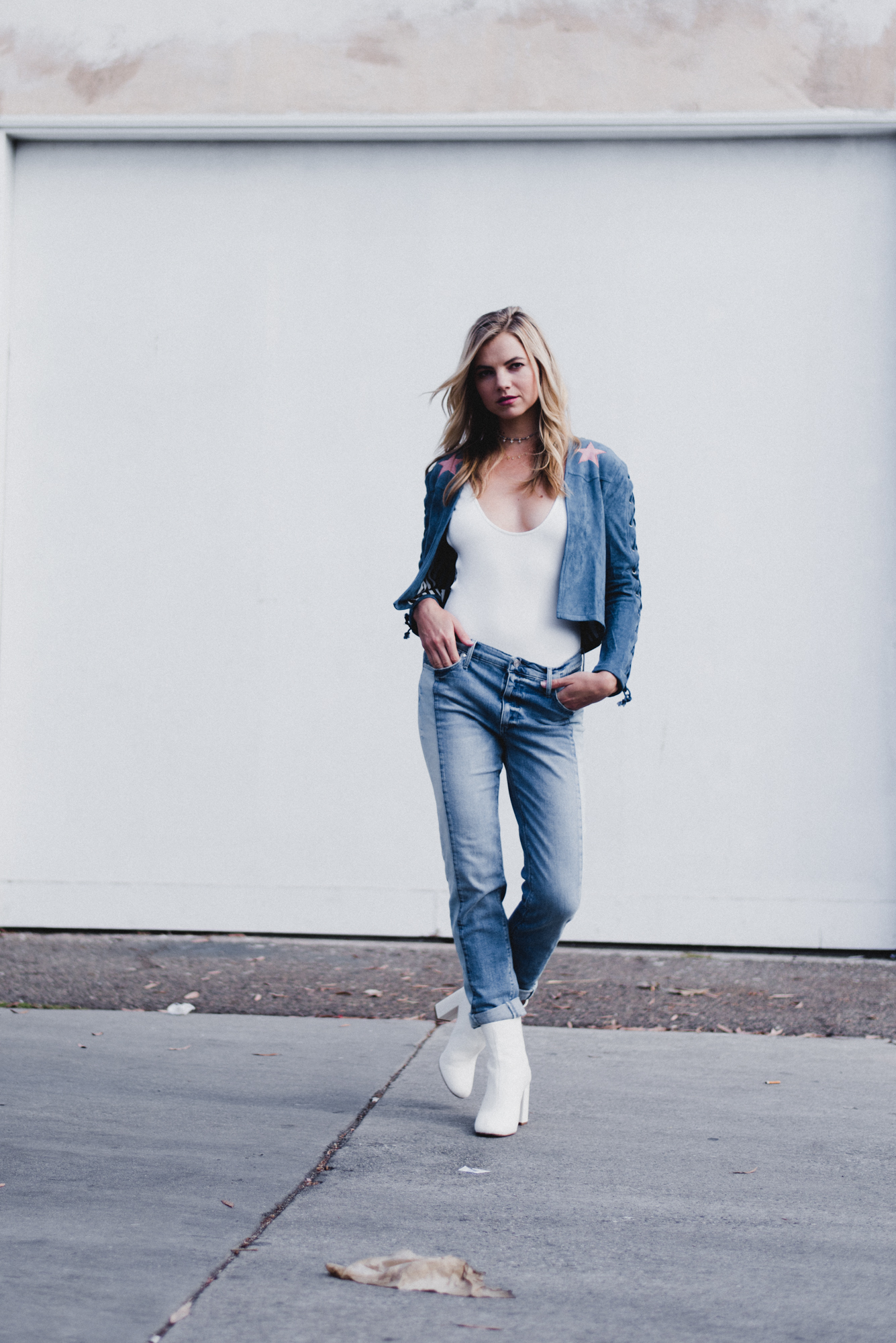 Swap your boring black pants and shoes for printed pants! You can do it! If you're nervous, try a black pant with a little print like these ones. The great thing about these is you can wear them with solid color blouses as well as printed ones. Seriously get out of your bubble and try something new.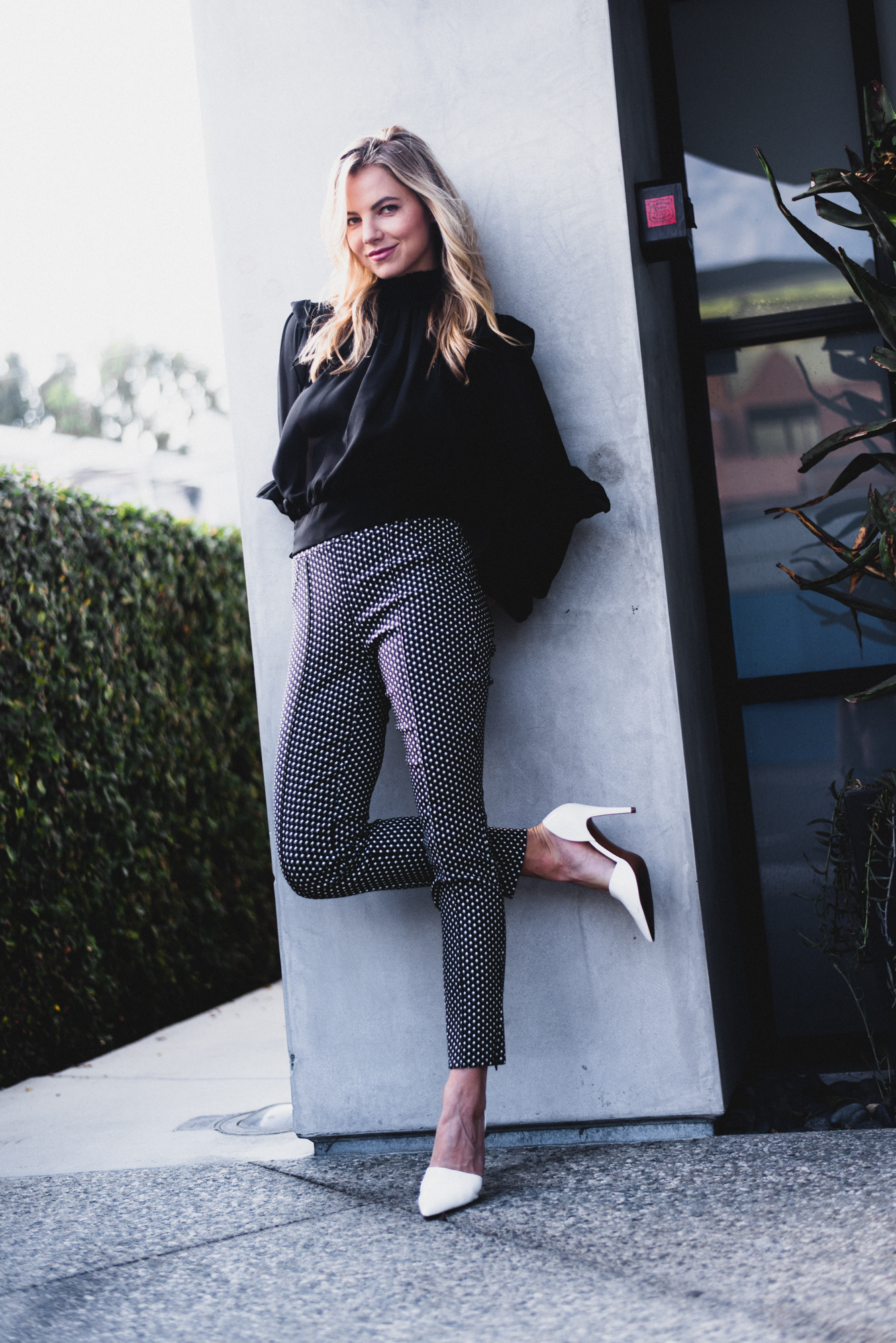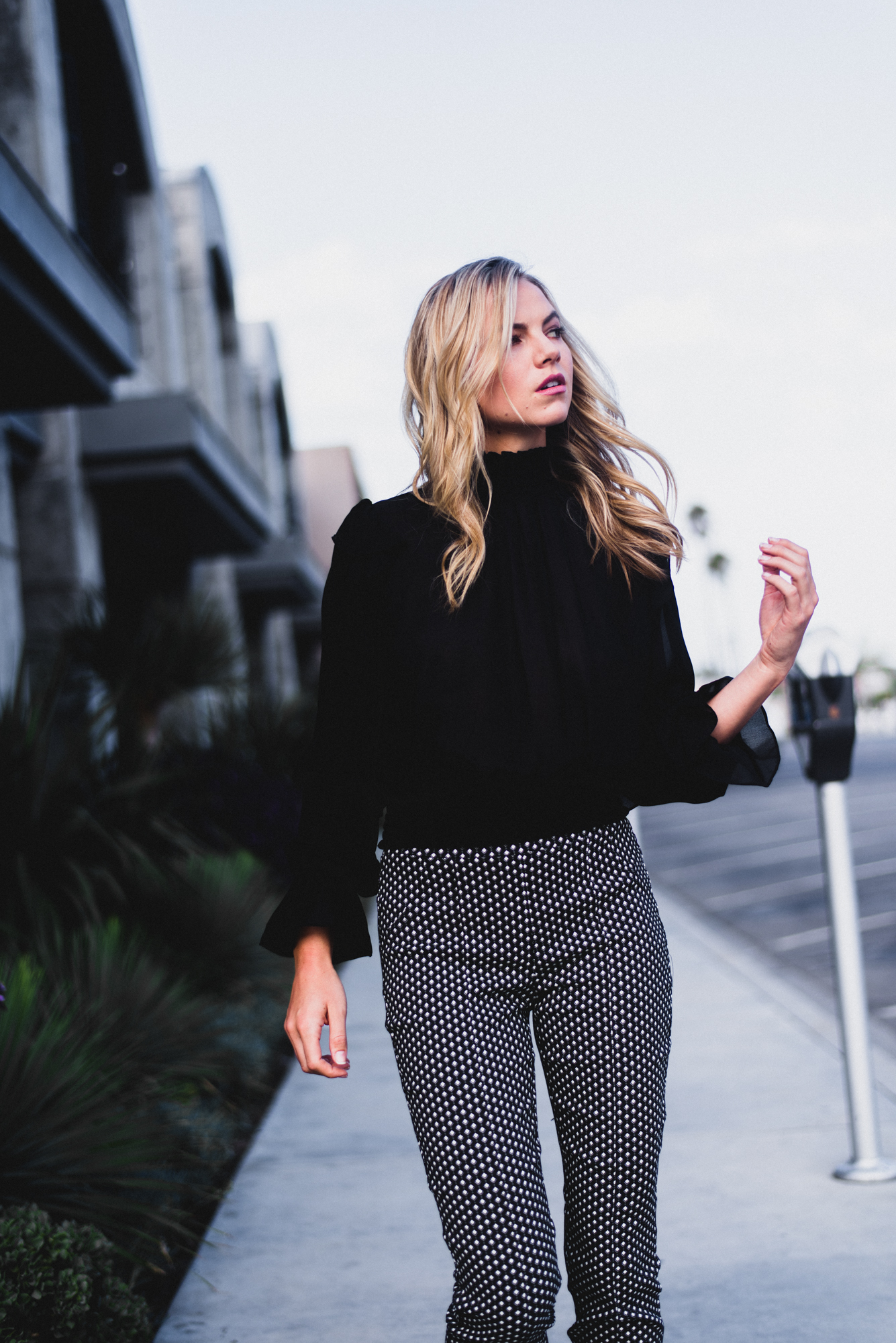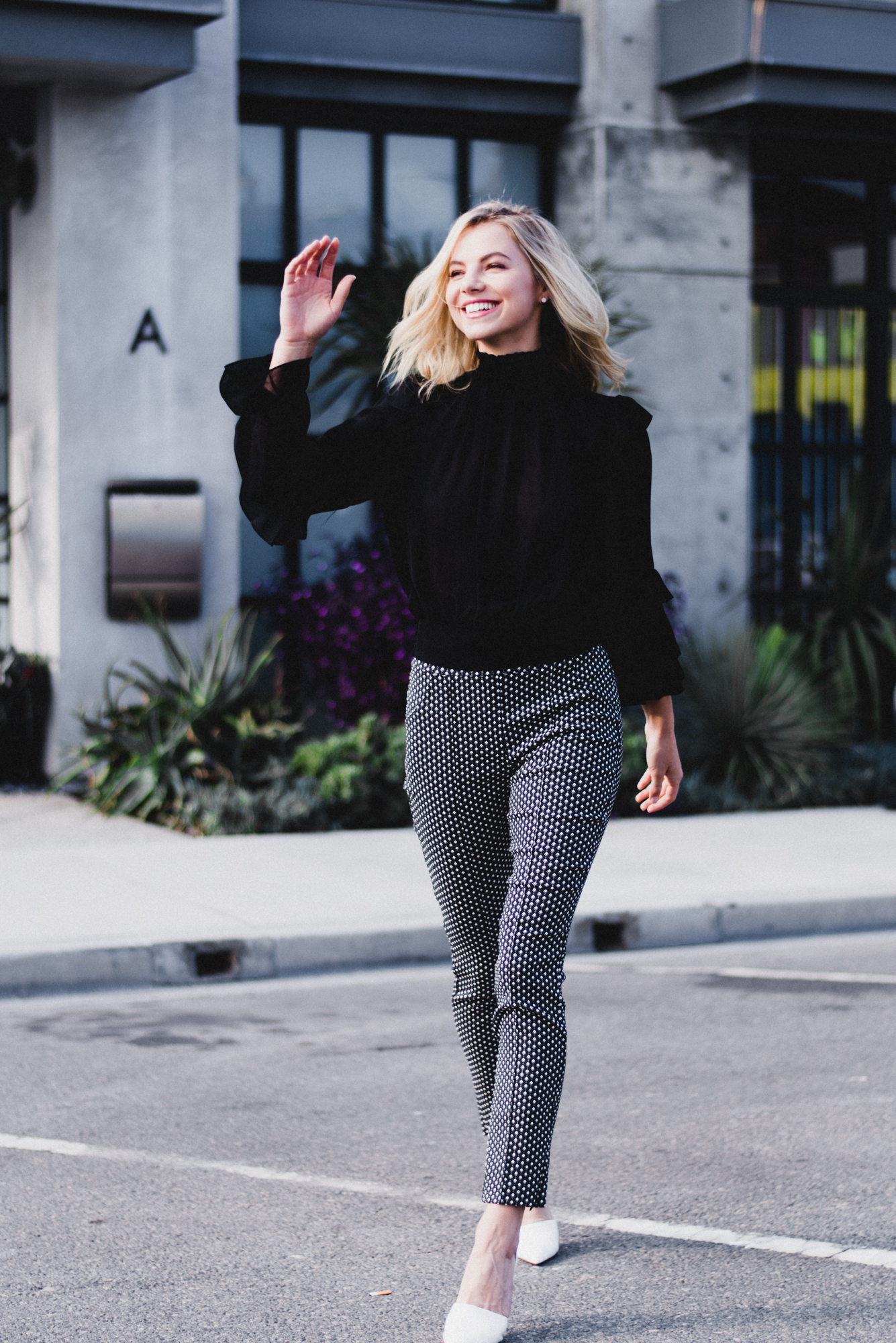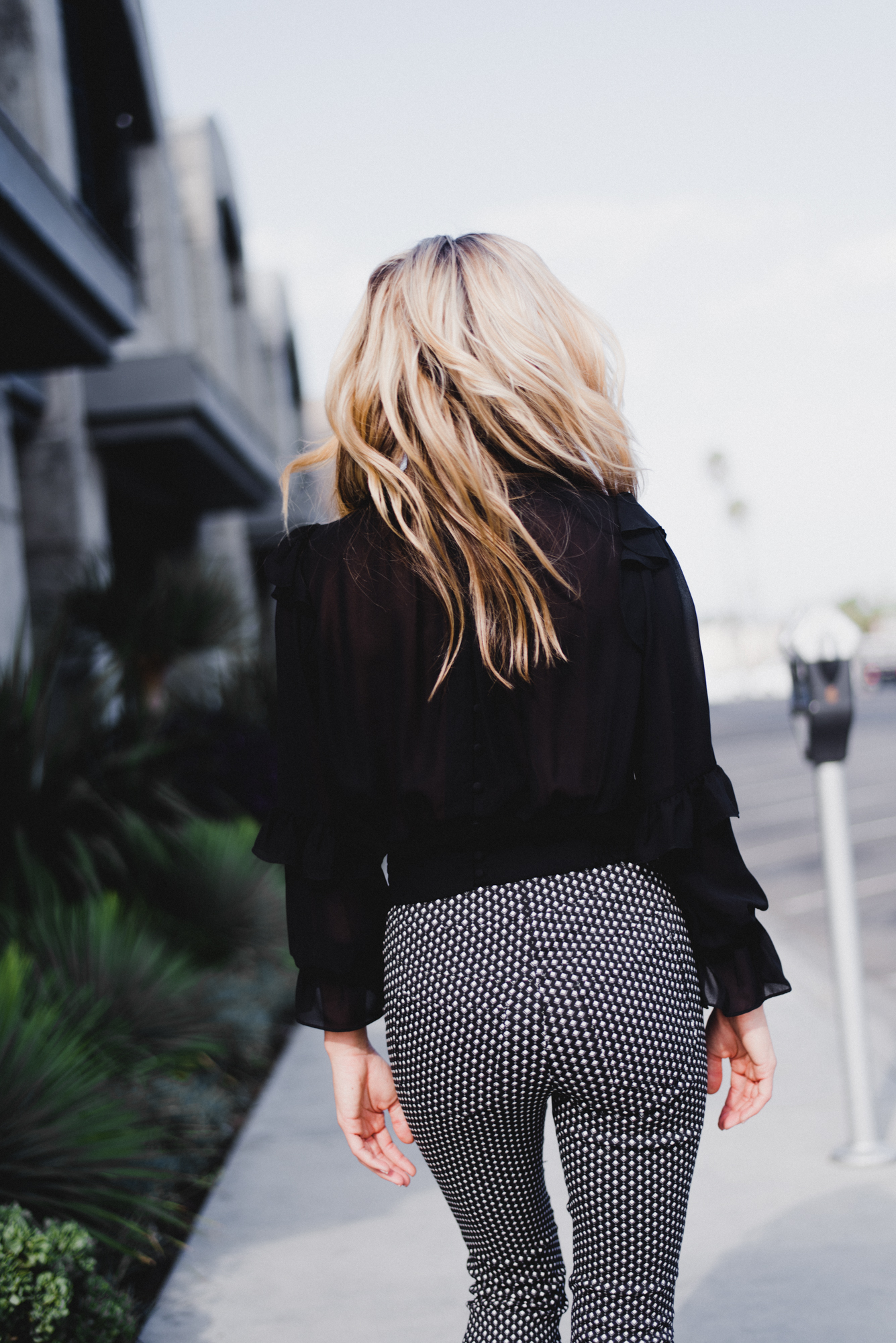 Blouse: FRAME Denim// Pants: Joseph Ribkoff both via Jeannie Champagne
Like everything, Styling takes practice. But I promise, when you're able to style yourself in ways that make you feel good and make the most out of your wardrobe investments, you'll be a happy woman.
CREDITS:
Model: Natalie Korzon// HMU provided by Salty Blonde Cut Co. Makeup by Jennifer Mau Hair by Fran// Photography + Styling: Rachael Dickens// Location Manager: Natalie Dickens