Written by Rachael Dickens & Katie Dunlop
Transition from the Gym to the Street
It's time to get real! We're all busy, and getting in a workout is important, but squeezing a workout into an already busy schedule can leave one without time to "get ready" for the rest of the day's to-do list. We partnered with our friend, and mega fitness blogger, Katie Dunlop of LOVE SWEAT and FITNESS to give us all tips on how to make the transition from the gym to the street smooth, quick, and stylish.
Running from teaching classes and training clients to business meetings, Katie has mastered the art of  transitioning from the gym to the street. Check out Katie's tips, tricks and must haves in your gym bag.
Katie's After Workout Beauty Routine
Whether you're heading into the office or running errands, you'll want to freshen up post-workout. Here are my 5 tips to keep it simple.
Change Undergarments including; Socks, Panties & Sports Bra
Quick Body/Face Wipe Down with Juicy Bamboo
CC Cream with Bronzer & Mascara for a Fresh Face
Dry Shampoo & Hair Ties for a Simply Braid
Don't forget to refuel!
It's important to get some protein in your body and rehydrate. Protein bars are perfect when you're in a hurry, just make sure they aren't loaded with sugar.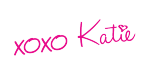 The Fashionable Extras
When it comes to freshening up one's gym outfit to take to the street, it simply takes the addition of a few basic fashion pieces. A fresh tee, strapy bralette, denim/chambray shirt or jacket, cardigan, and fashionable kicks can instantly make a stylish statement.
We had a great time mixing and matching Katie's active wear with some wardrobe essentials for some sporty, street style inspiration.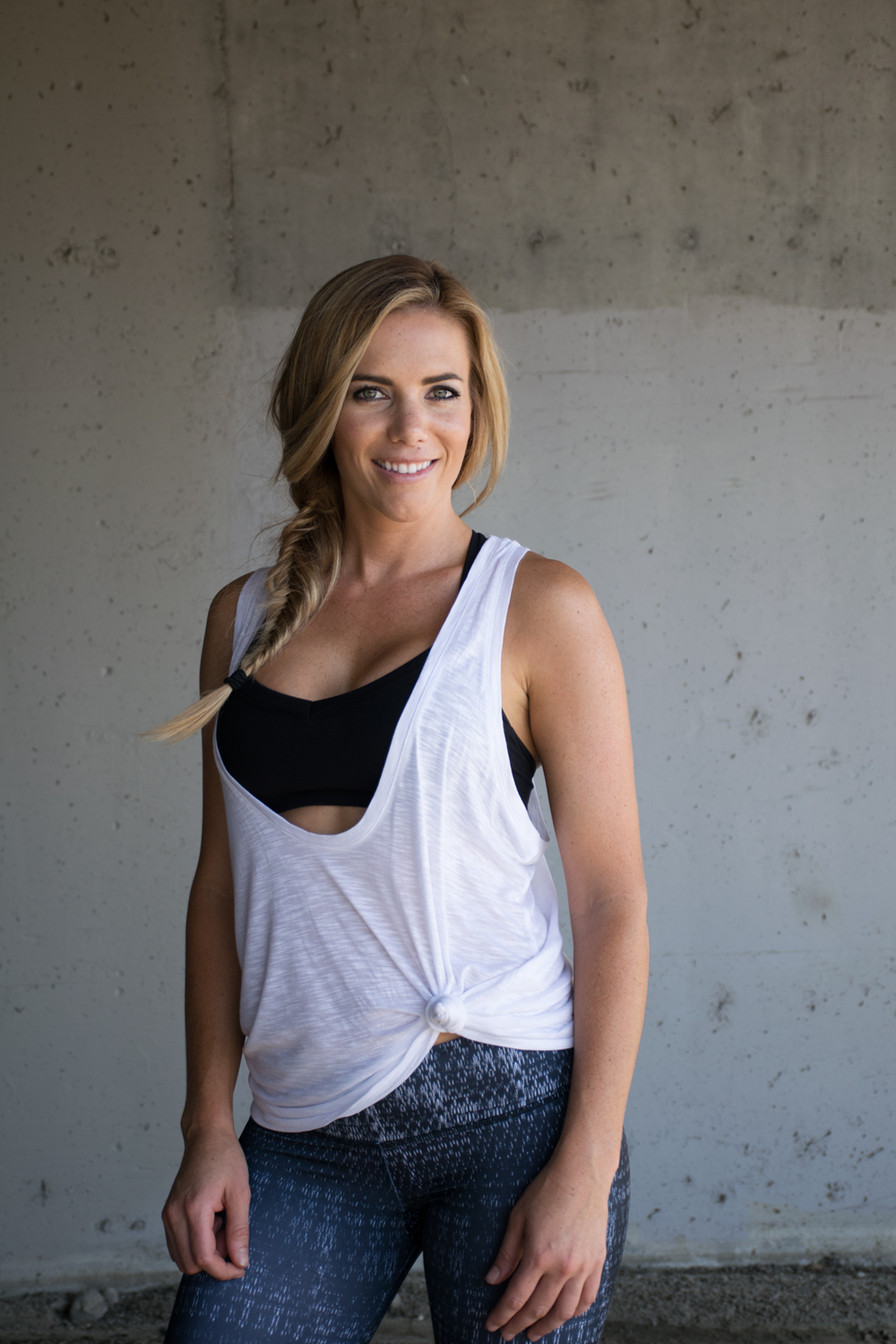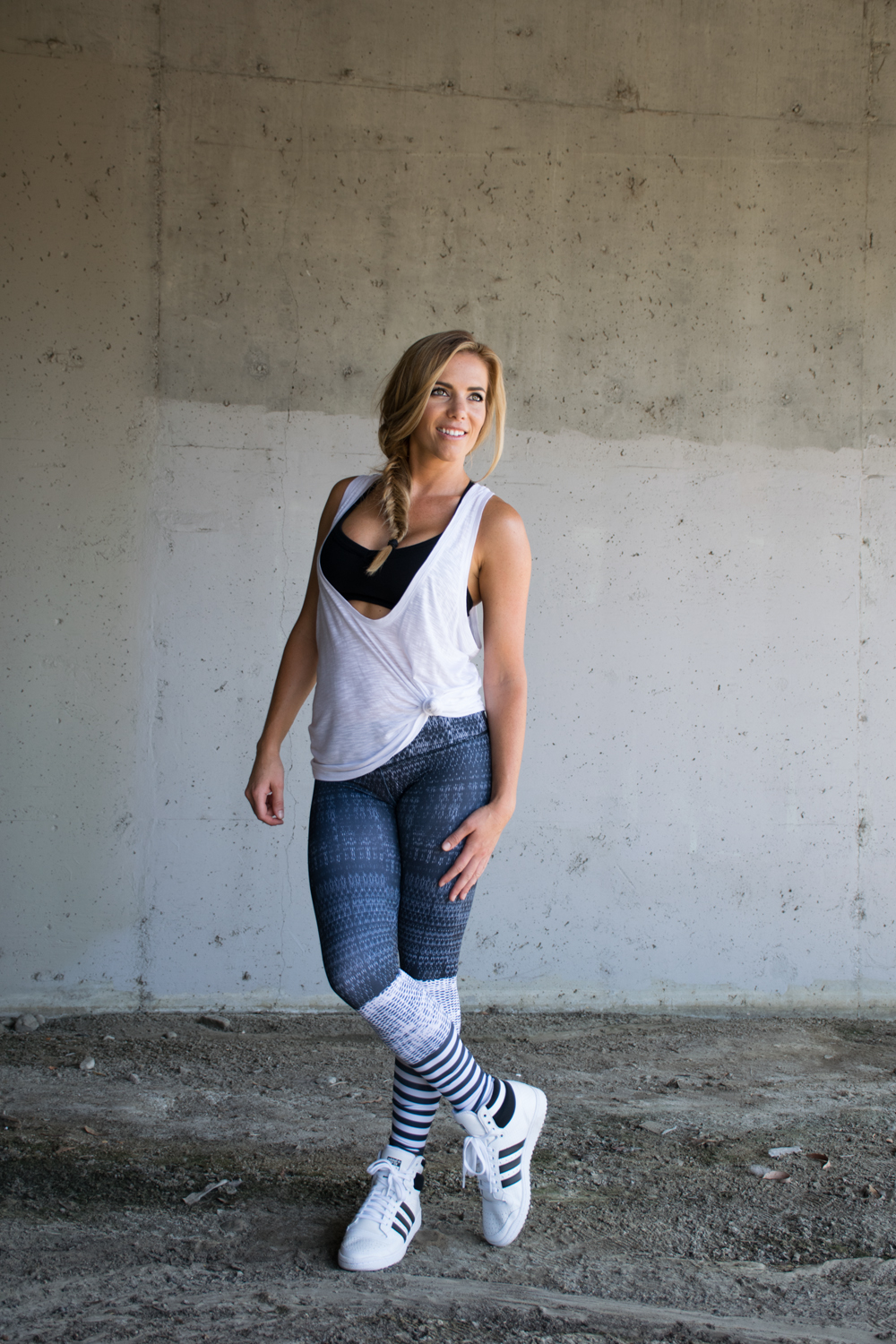 Tee: Olivaceous from Luna B//Pant: Onzie//Sports Bra: Public Myth// High Top Sneakers: Adidas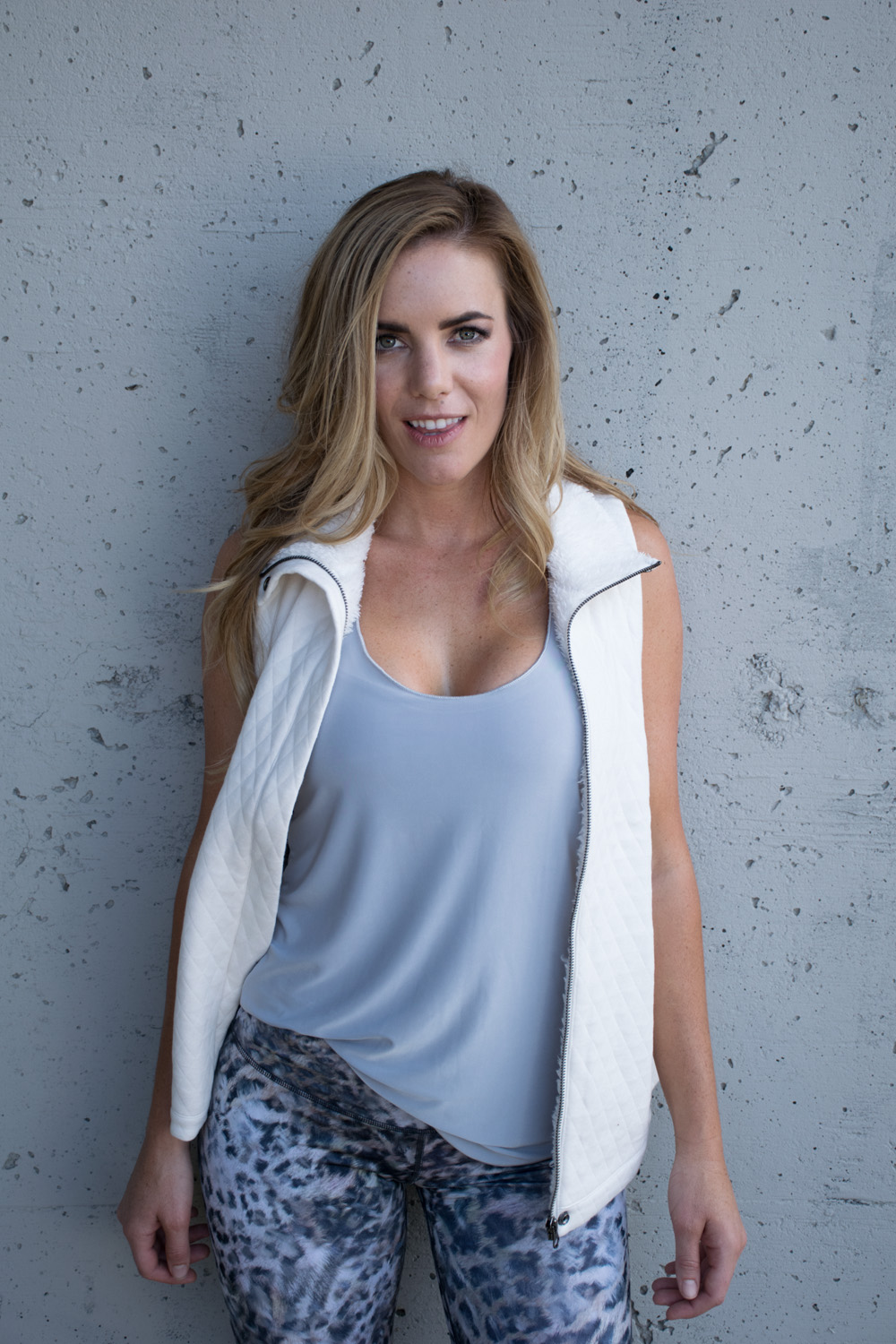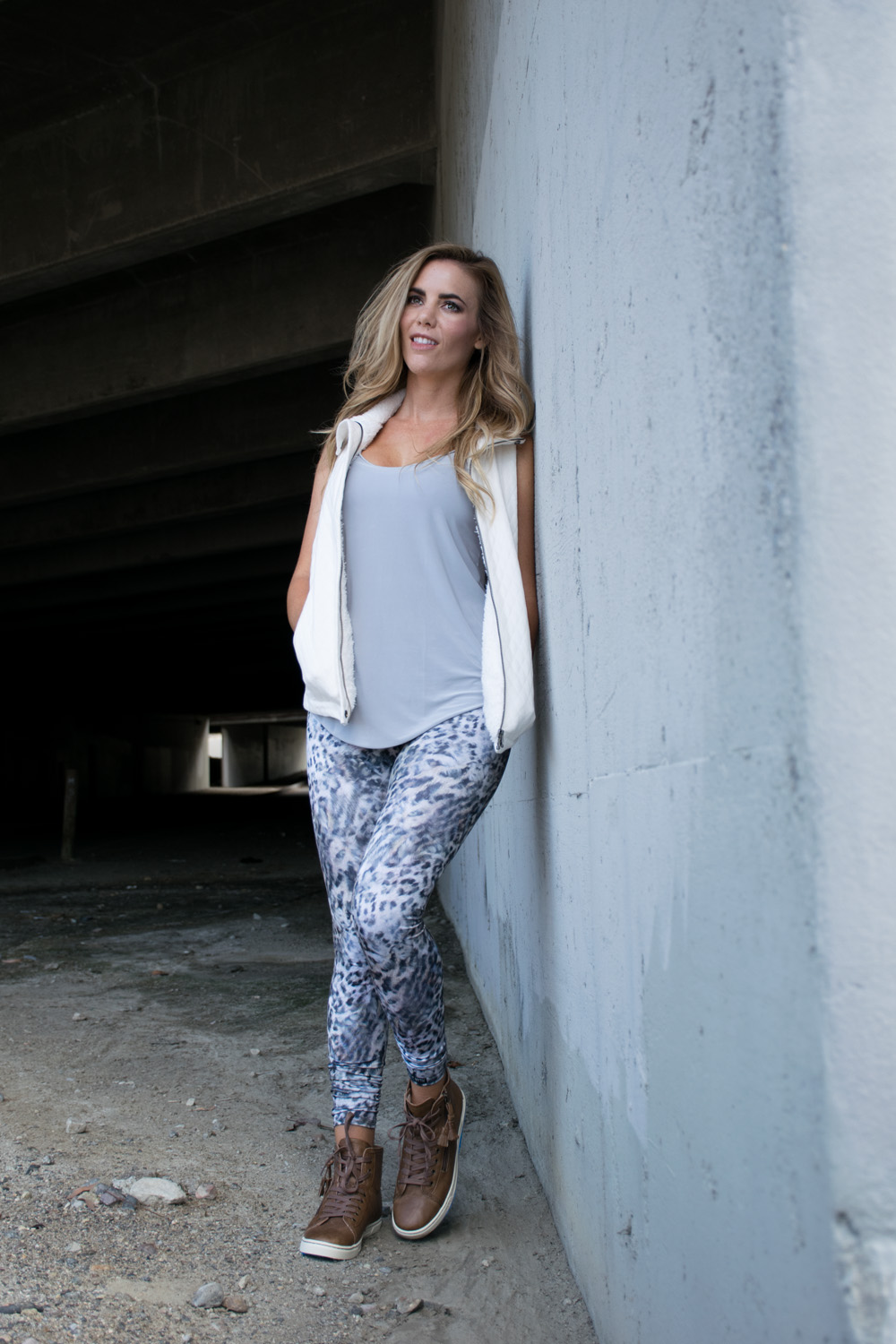 Vest: SW3 from Red Fox// Tank: Onzie// Pants: Public Myth// Sneakers: UGG from Nordstrom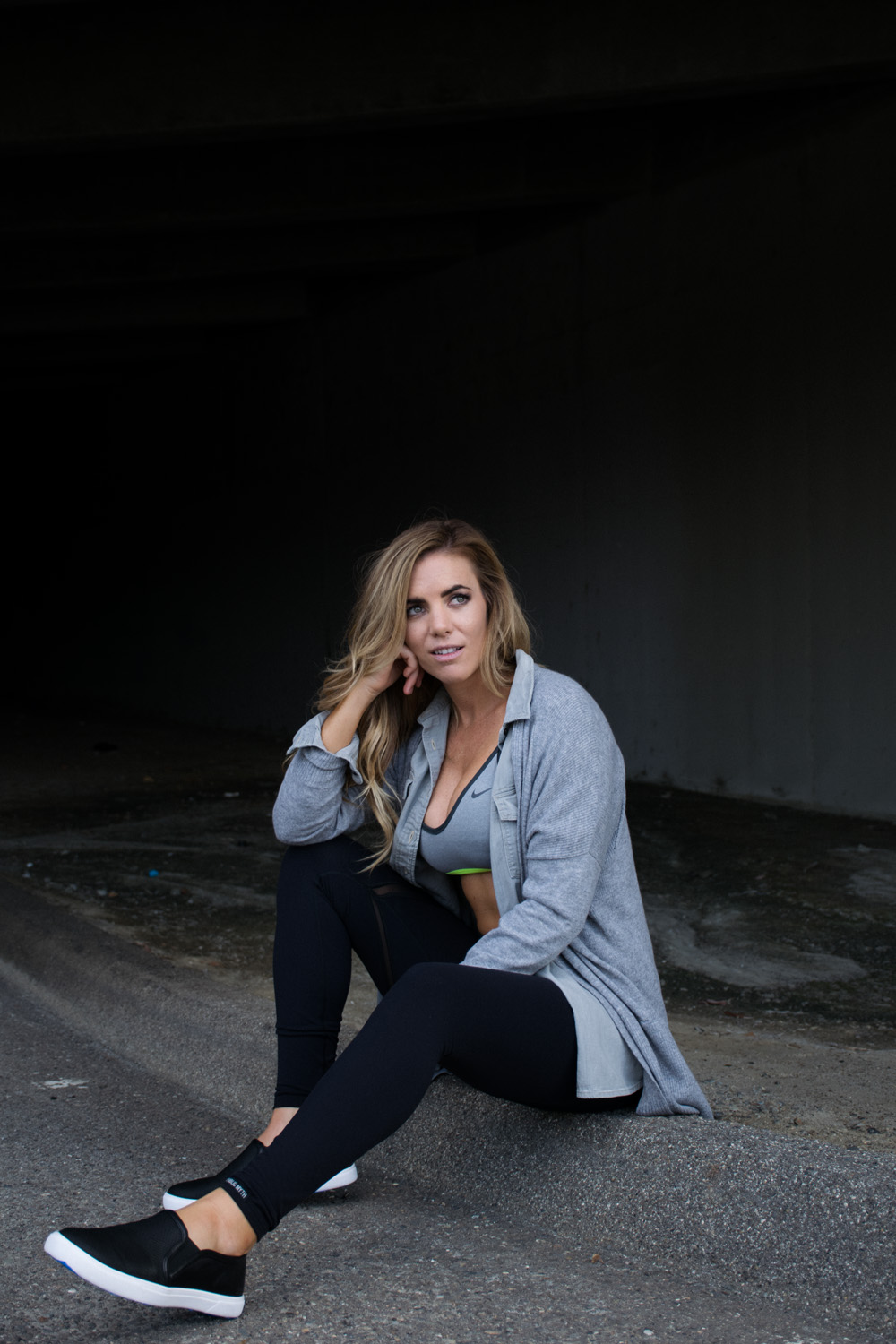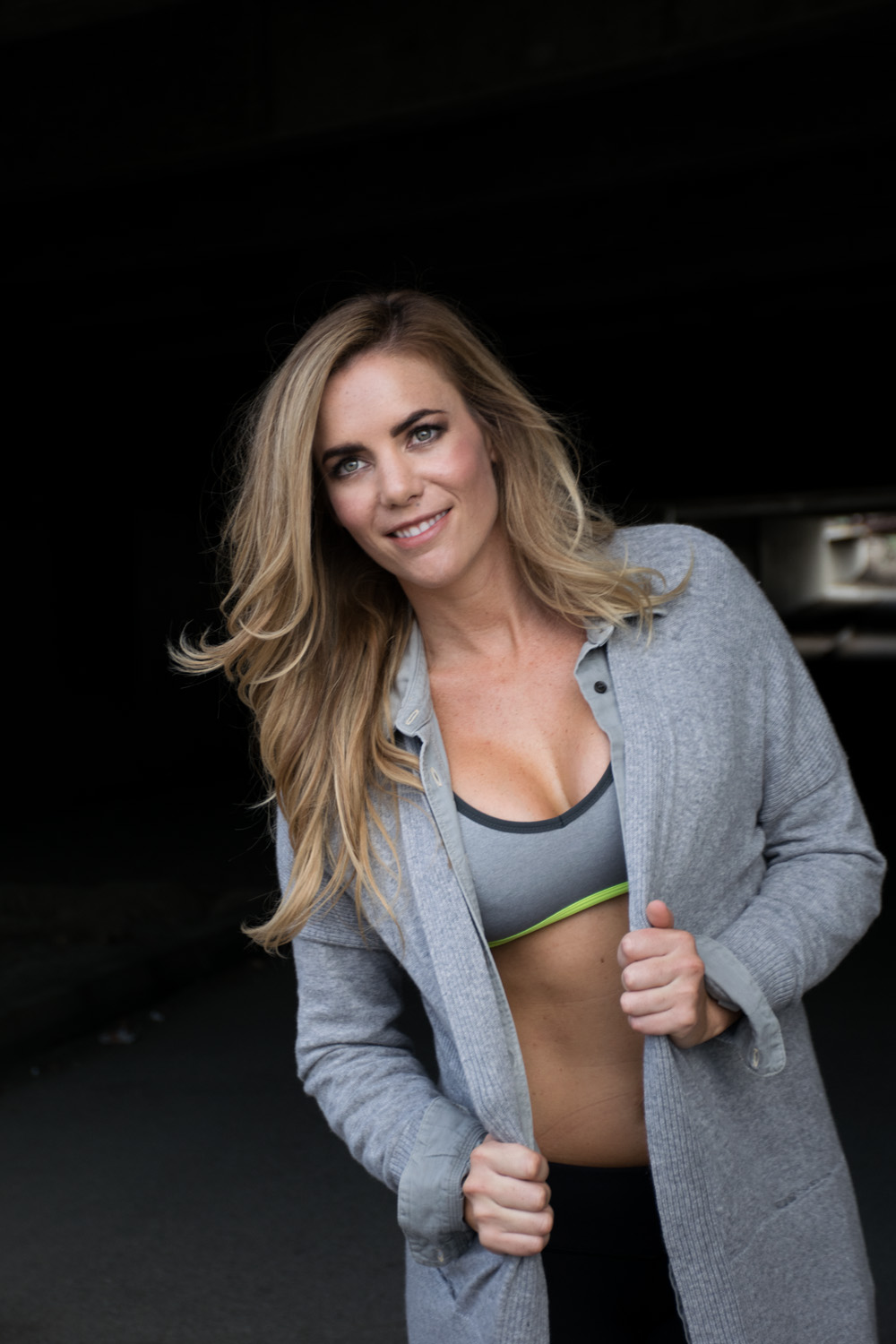 Cashmere Cardigan: Vince. from Blue Eyed Girl// Grey Denim Shirt: Closed Official// Sports Bra: Nike// Pants: Public Myth// Slides: Halogen from Nordstrom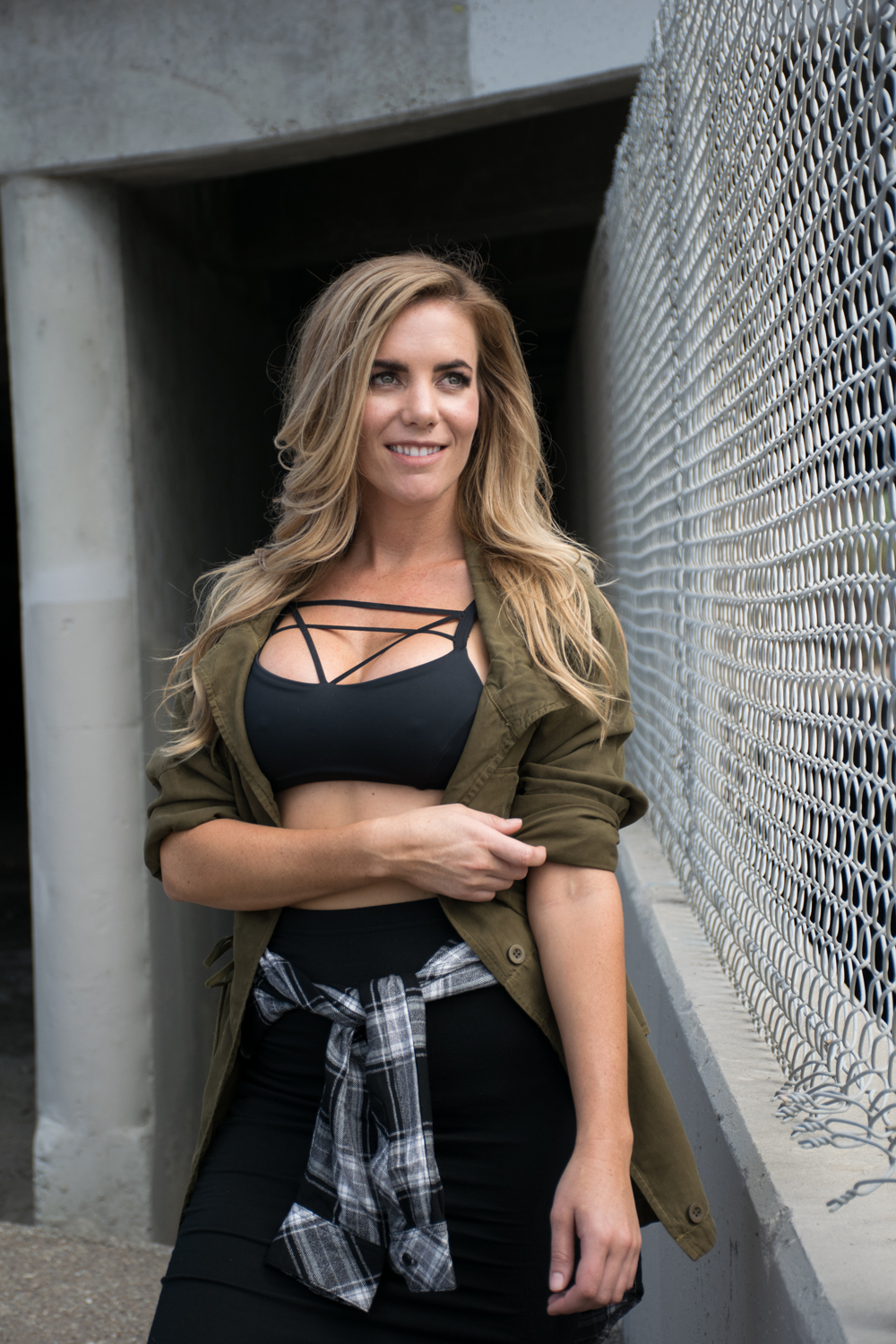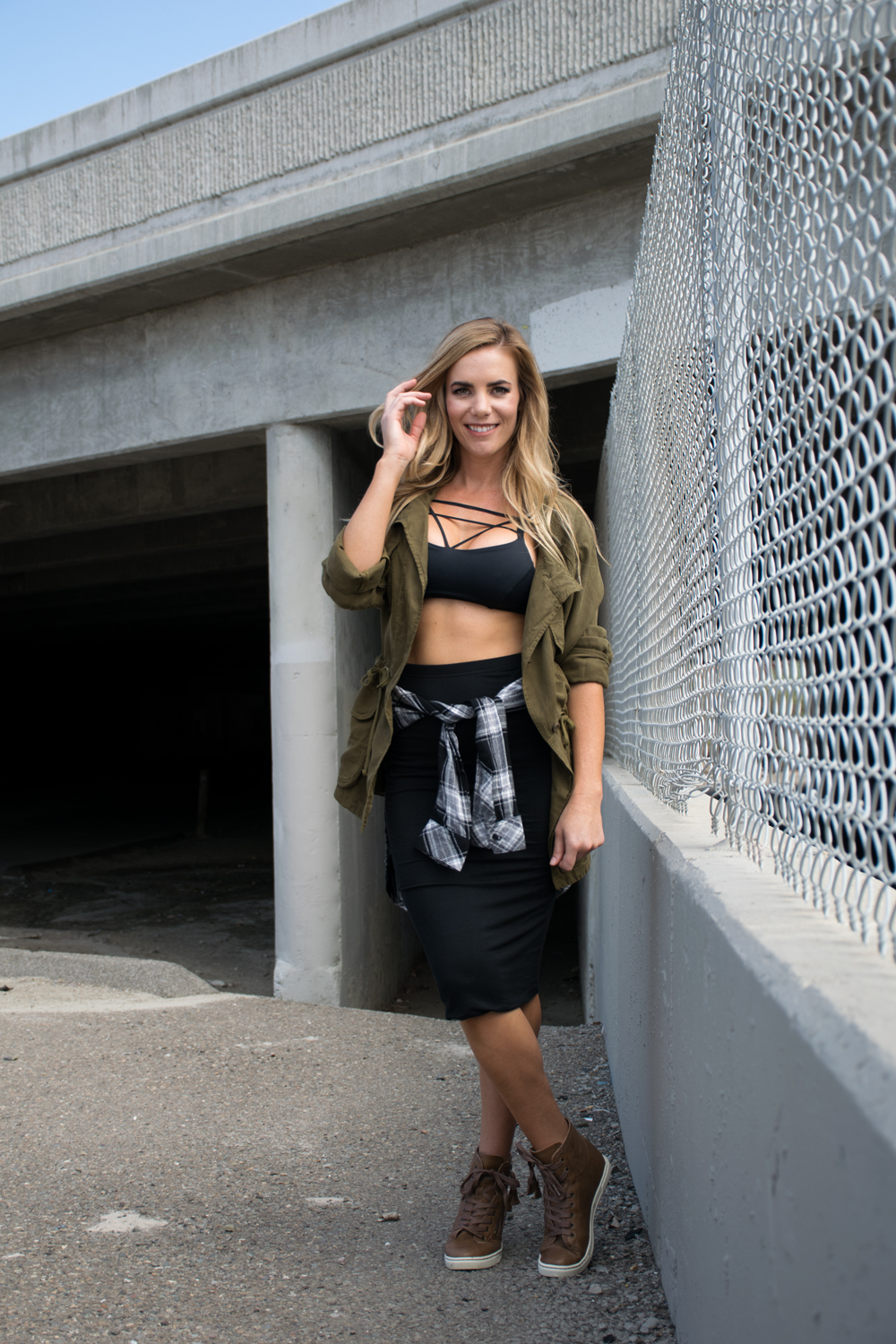 Cargo Jacket: LACAUSA from Blue Eyed Girl// Bralette: Onzie// Plaid Shirt: Rails from Blue Eyed Girl// Midi Cotton Pencil Skirt: Top Shop// High Tops: UGGS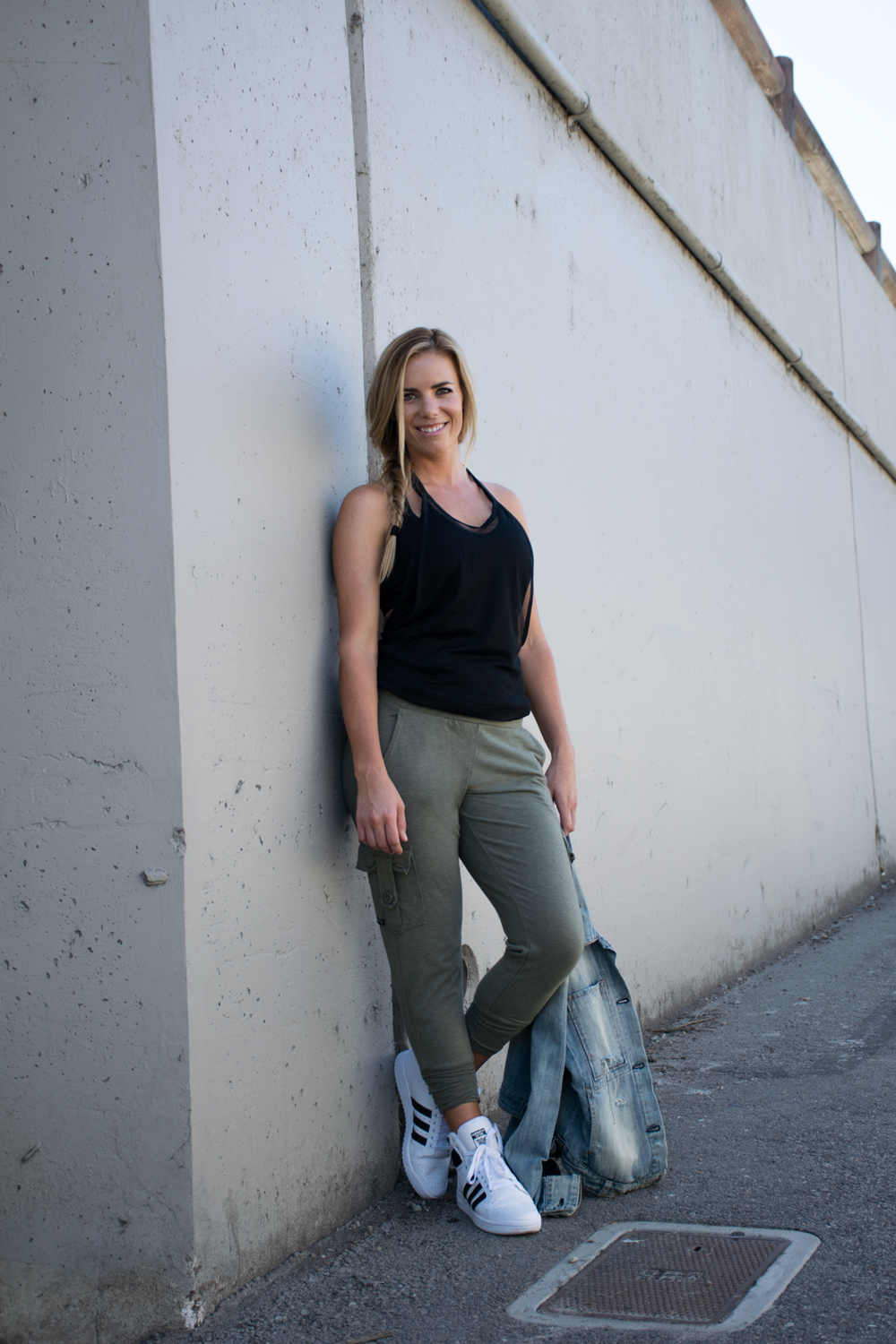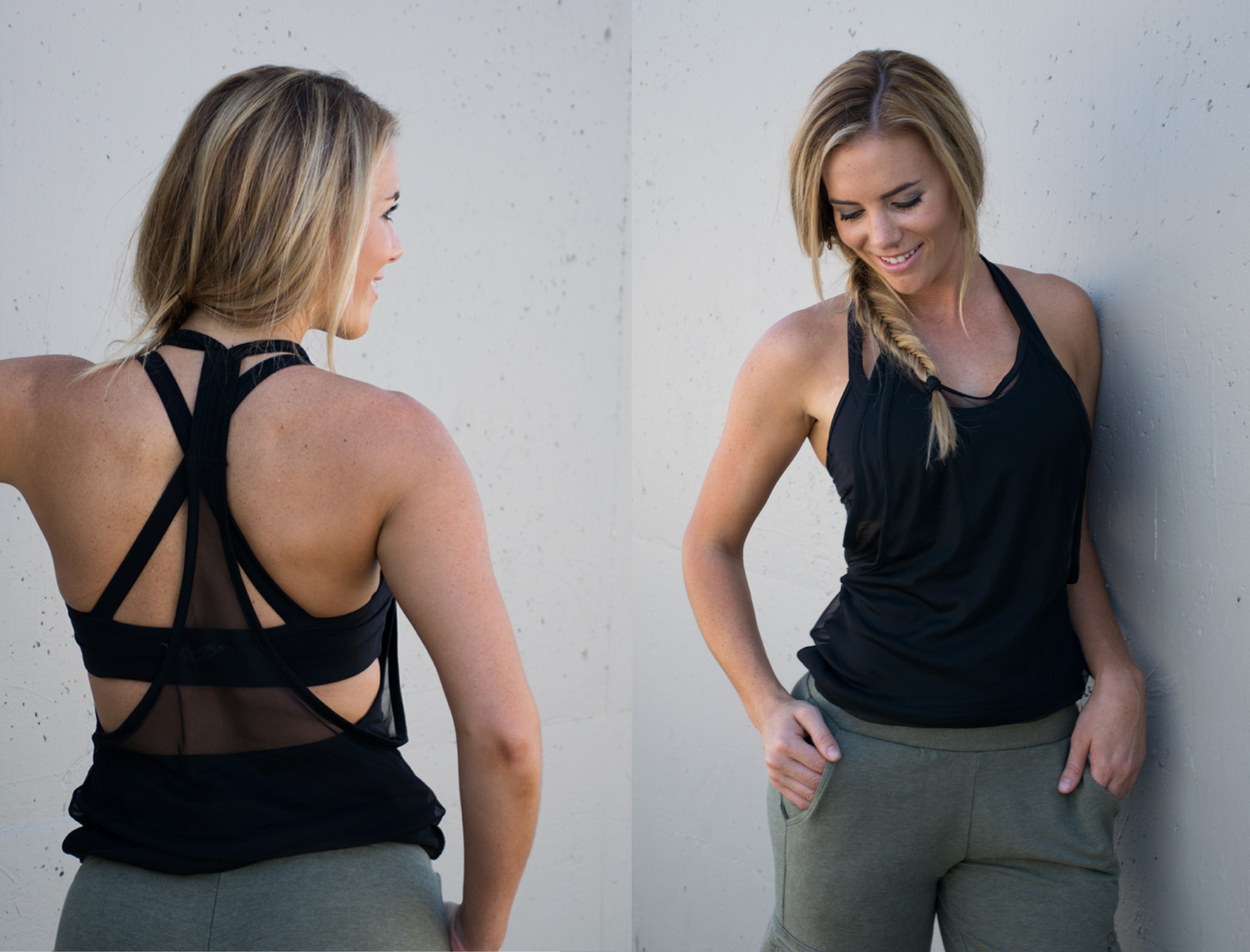 Top: Alo //Sports Bra: Public Myth //Pants: Public Myth// Shoes: Adidas
SPECIAL THANKS to Katie Dunlop of LOVE SWEAT and FITNESS for partnering with us on this post!
Muse | Fitness Model: Katie Dunlop// HMU: Nicci Gaona for the Love of Hair Studio// Stylist: Katie O'Sullivan// Photographer: Rachael Dickens// Creative Direction: Katie Dunlop & Rachael Dickens