How to Achieve the Perfect Summer Bronze
Can you believe it is already Summer? Seriously, I feel like it was just yesterday I was welcoming Spring – and while I have enjoyed so much of what Spring has to offer, I can confidently say that I am ready for Summer to begin. From beach BBQ's to the warm evening air, and more, summer has so much to offer. And while the Spring trends may be carrying over into summer, something you will start to see more people dawning is, of course, a bronze glow. Today, I want to share some of my absolute favorite tips for achieving a gorgeous sun-kissed look – sans the sun, of course! It's time to show off that perfect summer bronze!
Tip #1: Layer On the Sunscreen – The first and most important step to achieving the perfect summer bronze is keeping your beautiful skin protected from the sun. I did, after all, say that we were going to be achieving a beautiful golden look without the sun, didn't I? Keeping your skin protected is the best way to prevent skin cancer, as well as signs of aging such as fine lines, wrinkles, and sun spots. Not to mention, you can't exactly enjoy a beautiful tan when your skin is red, irritated, or peeling, can you? Remember to apply your SPF about 30 minutes before entering the sun, and to reapply every 2 hours or more depending on your activity level.
Tip #2: Exfoliate, Exfoliate, Exfoliate – I am an exfoliation advocate year round, and with good reason! It helps to promote cell turnover, and preps your skin for better product absorption, meaning more beautiful skin. But it also happens to be essential in achieving an even tan, at home. I am a huge fan of sugar scrubs, especially when they come paired with nut oils, as they work to slough away dead skin while injecting moisture at the same time. You can do this ritual on a weekly basis, or you may enjoy a scrub before applying a sunless self-tanner. Either way, be sure to grab a scrub you will enjoy using, and your skin will thank you! Pro-Tip: Remember that the skin on your face is much more delicate than the skin on your body. Scrubs designed for body use are typically much too harsh for use on your facial skin. To make a long story short: if it isn't indicated for facial use, do not use it on your face.
Tip #3: Dip Your Toe in the Multi-Tasker Pool – What I love about the beauty industry is that it is constantly turning out innovative products. One that has caught my eye more recently? Dr. Dennis Gross' Alpha Beta Glow Pads for Body. This awesome product delivers the convenience of a self-tanner in an easy-to-use towelette form. It also happens to be wonderful for exfoliating and anti-aging, as it comes equipped with active Vitamin D, AHAs, antioxidants, caffeine, and more. They also make a version of this for facial use, so you can glow confidently all over!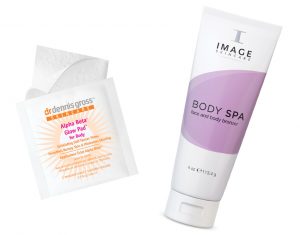 Tip #4: Try an All-In-One Bronzing Product – If you are new to the sunless tanner game, you might want to start with something you can use on both your body and your face (after all, continuity is key) to help you find that perfect summer bronze. I have been a longtime fan of all things Image Skincare, so it came as no surprise when I fell in love with their Body Spa Face and Body Bronzer Crème. This wonderful formula was designed to be friendly for all skin types (from dry, to normal, to oily) and works to deliver moisture while perfectly bronzing the skin. I love lotion products as they are easy to rub into skin (less likely to experience streaking) and typically leave the skin feeling hydrated and happy. This formula is perfect for beginners to experts alike! Pro Tip: Make sure you apply this product to clean skin. For instance, if you aren't wearing anything on your body but have already applied a serum, moisturizer, and/or makeup to your face, you might experience a different level of absorption (causing an uneven finish). This rule goes for any sunless tanner that works on both your body and your face!
Tip #5: A Good Bronzer is Still a Must – If you don't already own a good bronzer, I challenge you to make 2016 the year of trying one out. If you aren't sure how to use one, there are tons of fabulous YouTube videos (I LOVE this tutorial from Lisa Eldridge), or you can always ask your makeup-inclined friends to show you! You can go for a natural (matte) finish or a more shimmery bronze. The bottom line: bronzer is a fabulous way to get a temporary glow, or a more contoured appearance!
Tip #6: Glow Confidently, Bronze or No Bronze –  The best way to glow this summer is by simply being confident and embracing your beautiful self! Having worked in the skin care industry, I know that certain products don't work for everyone, and sunless tanners definitely fall into that category. Embrace the skin you're in, tan or no tan, and enjoy your summer with confidence!!
What Beauty topics are you interested in reading about? Leave us a comment and let us know!