My Favorite Tips & Tricks for Effortless Beauty
I don't know about you, but I absolutely love summertime. The weather (when it isn't pushing 95*) is fabulous, the outdoor opportunities seem to be endless, and I get to rock one of my favorite makeup looks: effortless beauty. And while it may not be totally effortless, it is incredibly easy and it allows the skin to breath. If you are all about setting your foundation aside during the summer months and adopting a more natural look, read on for some of my absolute favorite tips and tricks for achieving a simple, yet gorgeous makeup look!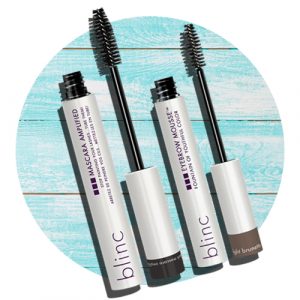 Step 1: Long Lashes & Bold Brows. While long lashes and bold brows are on-trend year-round, I like to let that be my emphasis in the spring and summer months. The easiest way to do this? A quality mascara, and (for me) a brow gel. Of course, everyone is going to have their preferences when it comes to what formulas to use, and what works for one person may not work for another. But once you find "your jam" you will be sweeping these on like a pro and enjoying a more "put together" appearance that still appears fresh and natural. My Personal Favorites: Blinc's Amplified Mascara and Eyebrow Mousse. Both of these formulas are water resistant, and incredibly easy to simply swipe-on and go!
Step 2: Minimalistic Coverage + SPF. Once the warmer weather rolls around, the last thing I want to be worrying about is whether my foundation is dripping down my face or creasing. Not to mention, foundation + humidity can often = a heavy, greasy feel… Not so much effortless beauty. My two favorite options are: a tinted SPF product, or a tinted primer that comes equipped with SPF. Of course, which formula will work best for you will totally depend on your skin type and needs, but here are some good criteria to follow when selecting a product:
1.     Does the product suit your skin type?
2.     Do you like the formula enough to wear it each and every day?
3.     Will you feel comfortable reapplying the product throughout the day?
In a perfect world, you would be able to answer all three with a resounding "yes". But for those of you who like rocking a bronzer, blush, or highlight on top of their tinted product, I have a wonderful solution for you: powdered SPF brushes! I have been a longtime fan of powdered SPF brushes, as they are easy to use, perfect to throw in my bag, and they not only gel well with my makeup, but absorb excess oils for a "refreshed" appearance.
Step 3: Find a Body SPF You Love. While many people have incorporated sunscreen into their daily facial routine, a majority are still keeping their body sunscreens in their cupboards, with the exception of beach and pool days. Realistically, any day you plan on being outdoors or in direct sunlight is a day where you should absolutely be wearing sunscreen. With many sunscreen formulas remaining greasy or pungent in "sunscreen odor", it is important to find a formula that you actually like – one that you will want to use. My two favorite types of formulas? Lightweight spray-ons and luxurious body creams. One will allow you to achieve SPF protection while remaining light, the other is perfect for those days when you need a little extra moisture.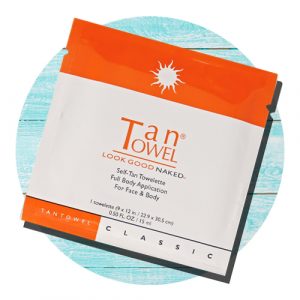 Step 4: Get Your Glow on Without the Sun. I am sure you have been well versed in the many ways in which the sun is bad for your skin (in fact, it is something I talk about often), so we will skip to the part about how you can achieve a beautiful, bronzed, and glowing complexion without the help of the sun! My two favorite products (and remember, everyone will have their own preferences here) for faking a gorgeous tan are: TanTowel's Full Body Classic and Glo Minerals Bronzer. Winner of "The Fastest Drying Self-Tanner" in the 2016 New Beauty Awards, TanTowel's awesome formula is incredibly easy to use, and can be used on both the body and face. It really does dry very quickly, and the towelettes make the application a cinch. Glo Mineral's Bronzer is another favorite of mine, as it is perfect for sweeping across the cheeks (and for a smokier look, the eyelids) for a beautifully bronzed appearance.
Step 5: Try a POP of Color on the Lips. If you want to add a fun twist to your look, look no further than a bold lipstick. This will allow your pout to take center stage, and is a great way to make a statement. Corals and fuchsias are always on trend for Summer, however deep berries and reds were still a hit on the Spring/Summer 2016 catwalks – so fret not if you are a vampy lipstick lover!
Step 6: Embrace Your Natural Hair. I have heard every excuse in the book for heat styling hair, which is why I was so excited to see natural hair texture listed as a trend in 2016. Of course, what you choose to use to emphasize your natural locks will vary on your hair texture, and whether it leans more on the oily or dry side of things. No matter the case, a lightweight oil is a great way to smooth frizz and tame locks (both curly and straight) for that natural, effortless beauty look. Note: this trend might take some getting used to, but you might be surprised at just how much you like it over time!
Step 7: Rock Your Look with Confidence. Have you ever heard the saying: confidence is sexy? Well, I couldn't agree more. As the weather heats up and you start to play with your makeup and hairstyle options, practice a little self-love and rock your new look with confidence! And of course, be sure to share some of your favorite summer effortless beauty tips and tricks in the comments below! 😉