Take a Local Alternative to Bridesmaid Dresses
The moment I changed my Facebook status to engaged, my news feed was inundated with all things wedding related. From venues and photographers to wedding planning websites and bridal salons, there was an ad for everything. I've teamed up with the ladies here at Style Report Magazine to share my bridal journey. And we are kicking off the series by shopping for bridesmaid dresses.
As much as I love being able to peruse a variety of dresses from well known bridal salons, I wanted to experience and share an alternative option to bridesmaid dress shopping. Ideally, I would like many of my friends and family to be apart of my bridal party. However, there is a large financial responsibility alongside the duties of taking on the role of bridesmaid. And, bridesmaid dresses and accessories require a bulk of that money. Of which, will likely never be worn again after the wedding day.
A Local Alternative
There's an abundance of local boutiques that offer on-trend dresses from a lower to comparable price point to bridesmaid dresses on the market today. The upside to shopping boutiques is, the dresses you select for your bridal party won't just be worn on your big day. These dresses can be styled for daily use, or other special occasions; and you're supporting the local small business!
As I began this journey, I knew I wanted my bestie by my side. So, my maid of honor, business partner and fellow blogger, Jen Lee, came with me to two Orange County boutiques. We visited Red Fox in Corona Del Mar and Stevie Sister at Fashion Island in Newport Beach to shop and try on dresses to present you with these unique bridal party wear options, and inspiration.
STEVIE SISTER
Stevie Sister is full of soft, feminine silhouettes in flirty florals and prints. This brand was first introduced into the former Modern Romance boutique, by owner and designer Theresa. Due to the label's overwhelming success, Theresa produced many more designs and re-branded her boutique into the Stevie Sister Flagship store. I've worked with Theresa on a few different occasions, and she is always a pleasure to collaborate with and I always feel beautiful in her designs. I knew that Stevie Sister would be a great local option. The label has such a wide range of prints and styles, each with unique details.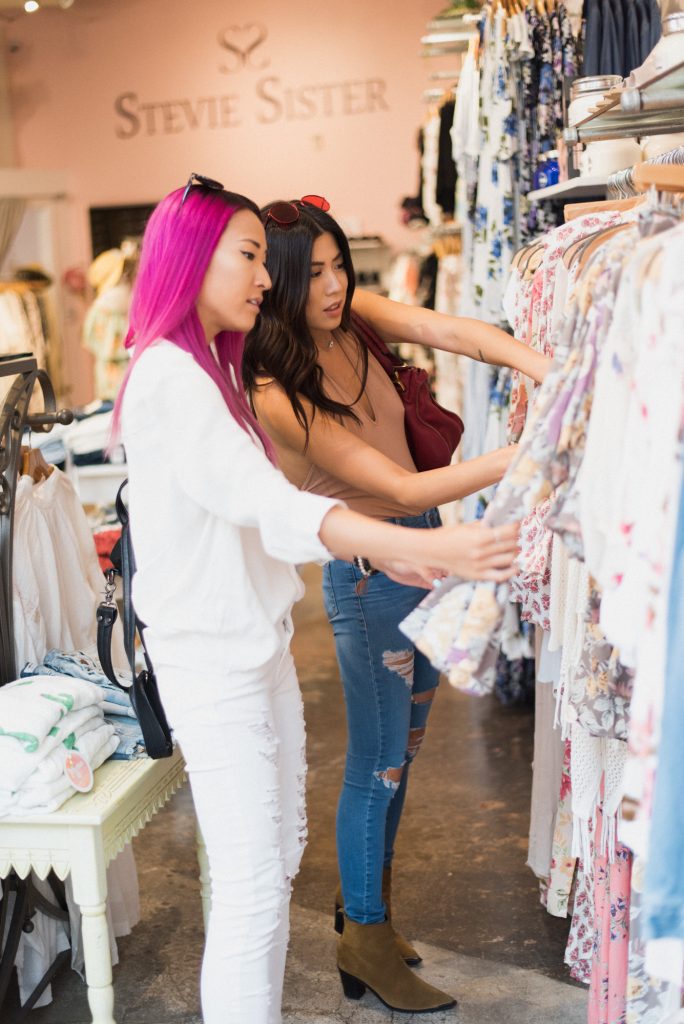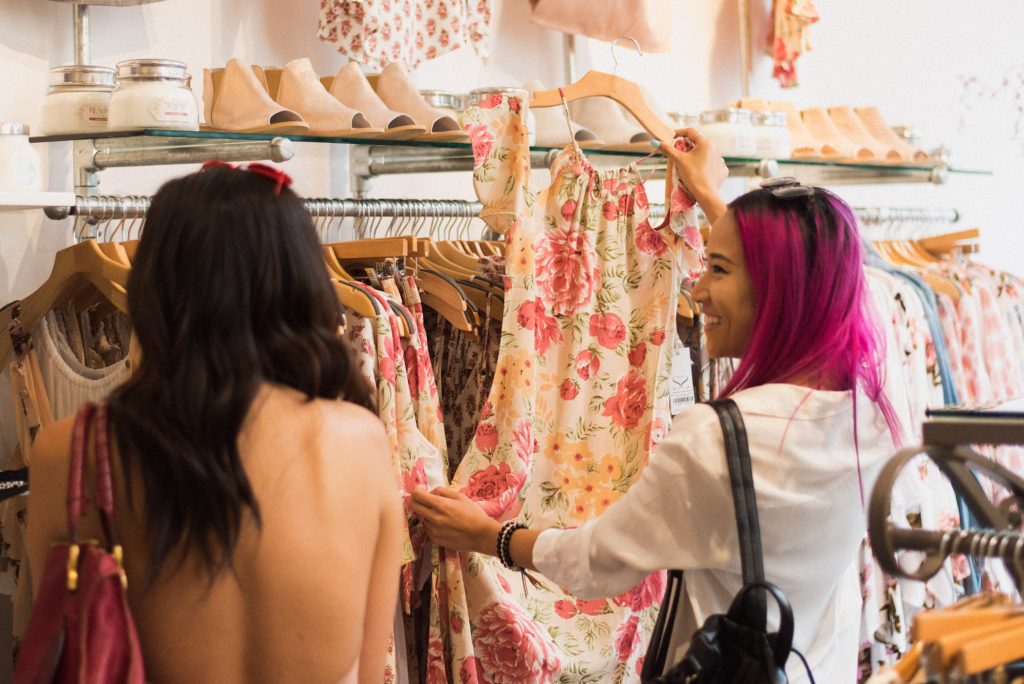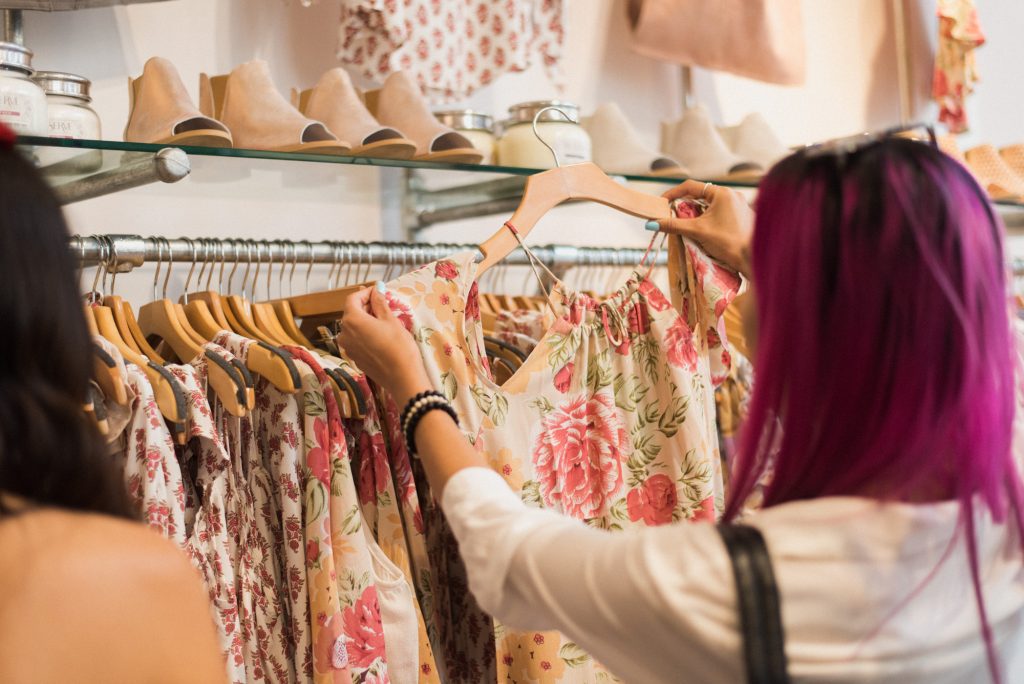 I had Jen try on a two piece set that featured an off the shoulder top and maxi skirt. What I liked most about this look is that it's very Jen's style. She loves everything off the shoulder and high slits. So, I knew she would feel comfortable and confident in the outfit, but also wear it past the wedding day. And this particular print is available in a diverse selection of styles; rompers, mini and maxi dresses, as well as other mix and match top and bottom options.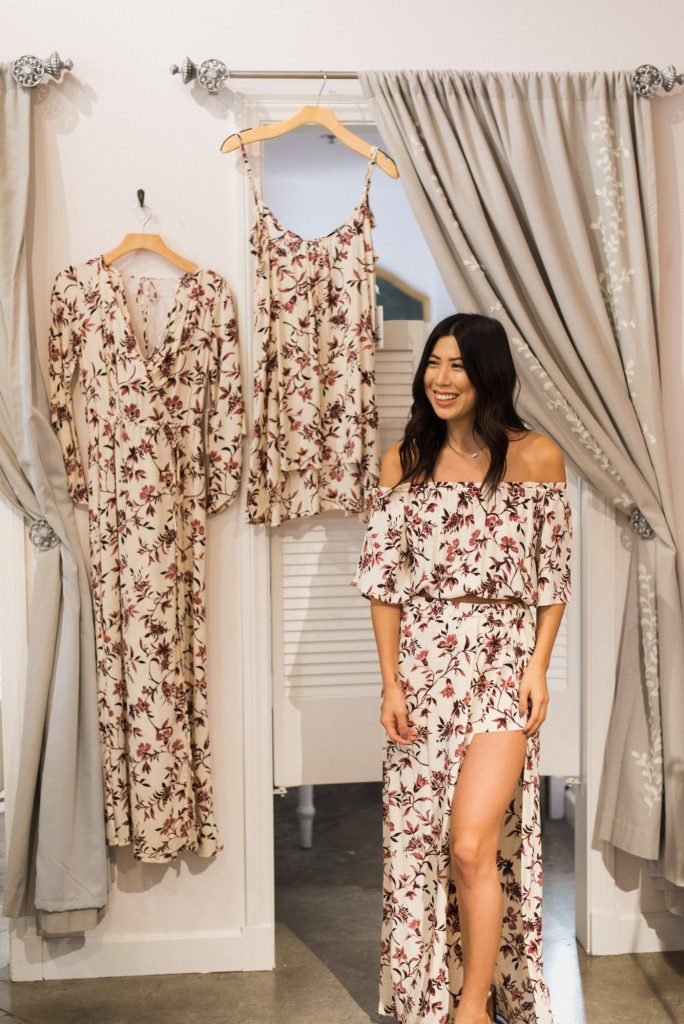 I love that I am able to dress up these Stevie Sister pieces for a more formal vibe. These styles not only align with the theme of my wedding, but with the cohesiveness of the print, my bridesmaids have the opportunity to pick a style that best suits them, so that they too will love and feel amazing in what they're wearing. And therefore want to style their dress or top and skirt into their every day wardrobe.
The options for pairing complementing or matching looks seems endless at Stevie Sister. Some brides want a little more uniformity, with each bridesmaid in the same dress. We loved the idea of having one dress style with the Maid of Honor in a different color. So we put Jen in a white print maxi, matched with the same style dress in a similar print in black for the rest of the bridesmaids.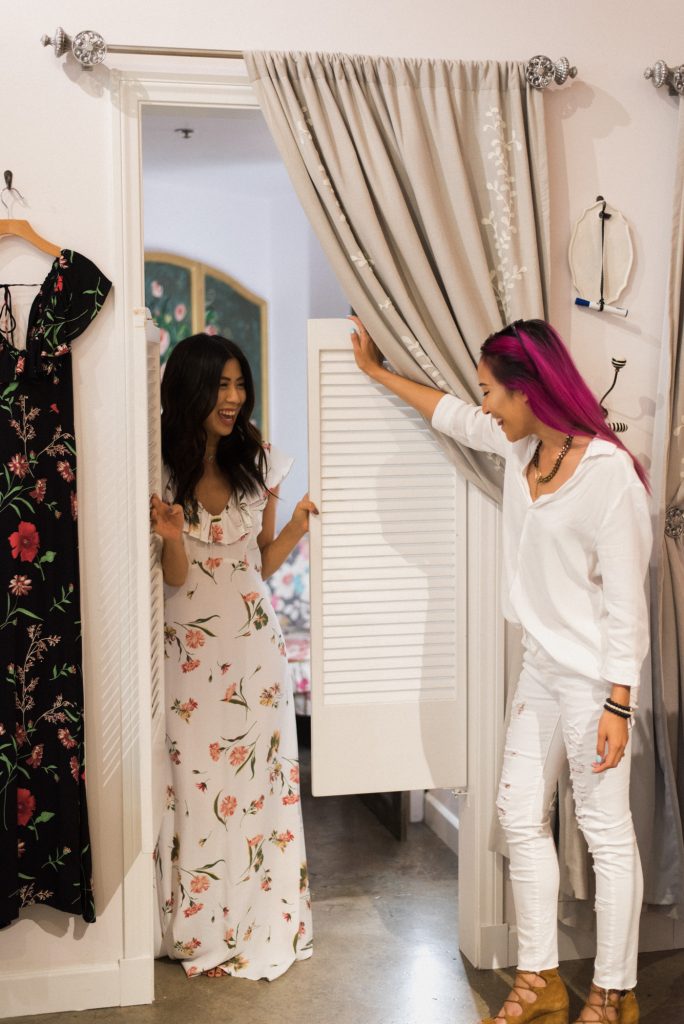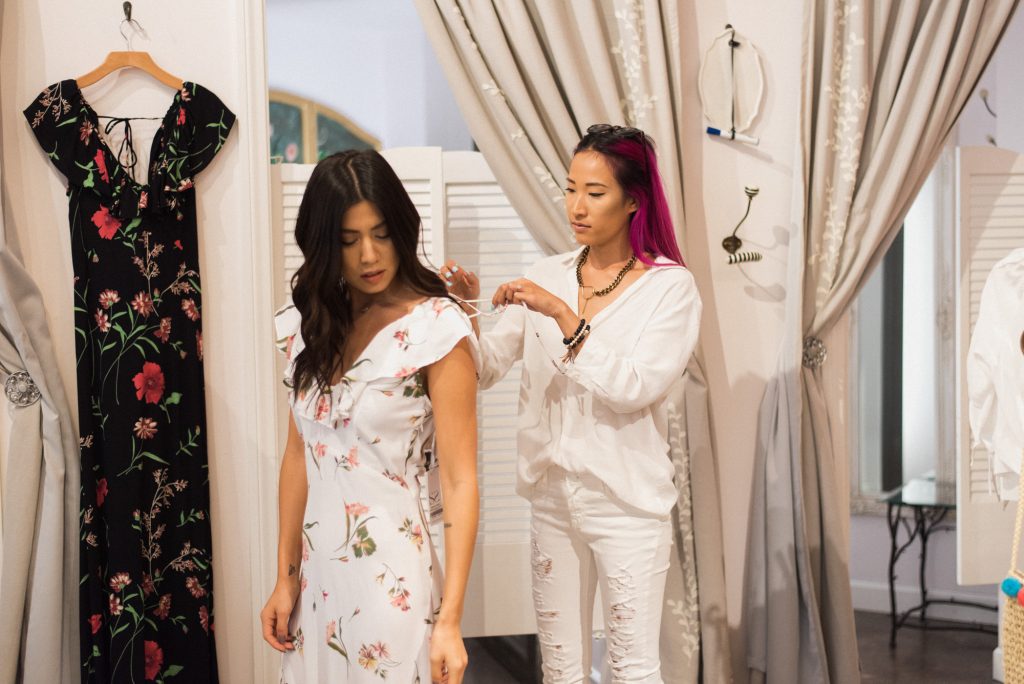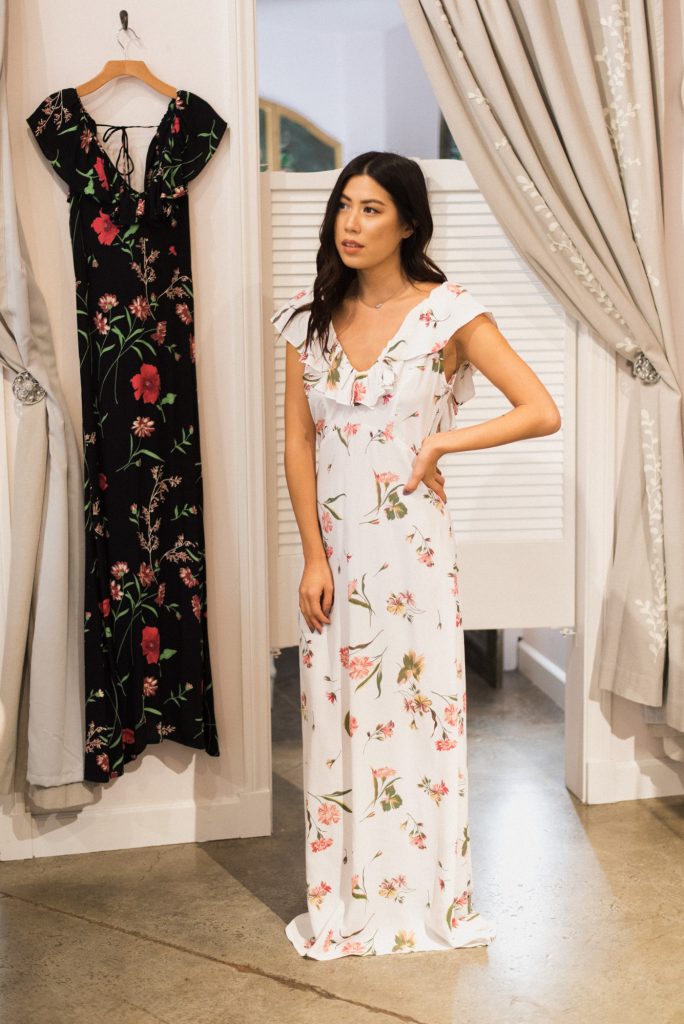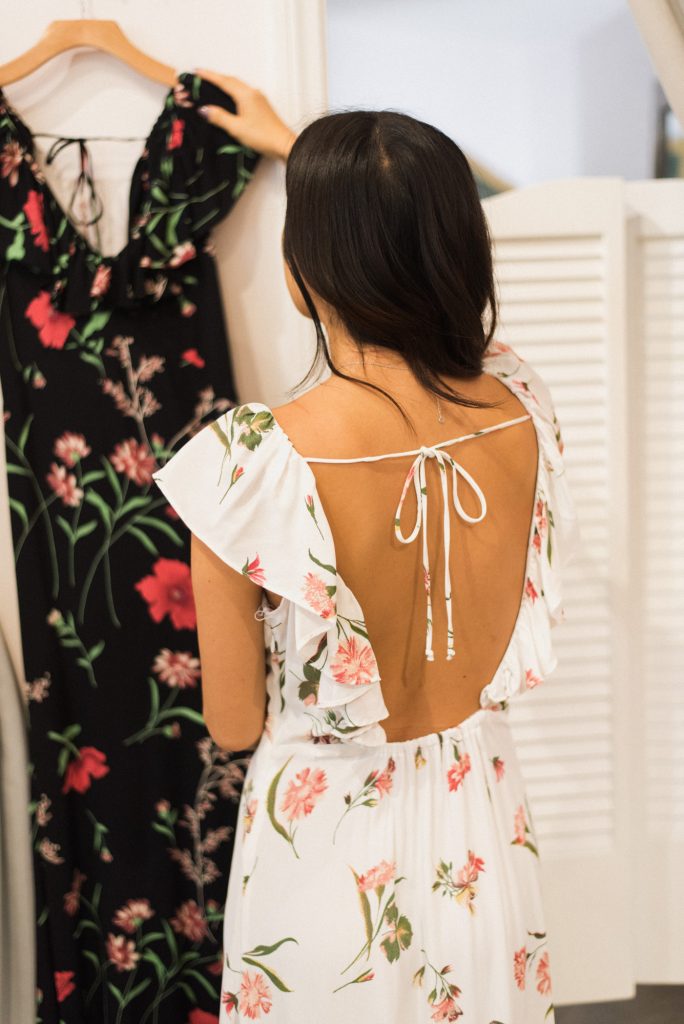 Brittany Maxi Black + White 
Stevie Sister works well for many style weddings, but caters well to the bohemian or free-spirited bridal party. Not to mention, Theresa and team are fun to work with as well as very knowledgeable if you need a little styling help.
RED FOX
Hand picked by boutique owner Jeremy, inside Red Fox you will find well-curated, luxe, contemporary pieces. And Jen and I immediately found ourselves swooning over many beautiful dresses and rompers that create bold bridesmaids looks. The rich, jewel toned dresses as well as beautiful, lace pieces, drew us in. We selected an MOH dress in a blush tone with fluttery sleeves and sequin laid stripes of pink and blue by Parker. And it pairs perfect with two different styles of bridal party looks.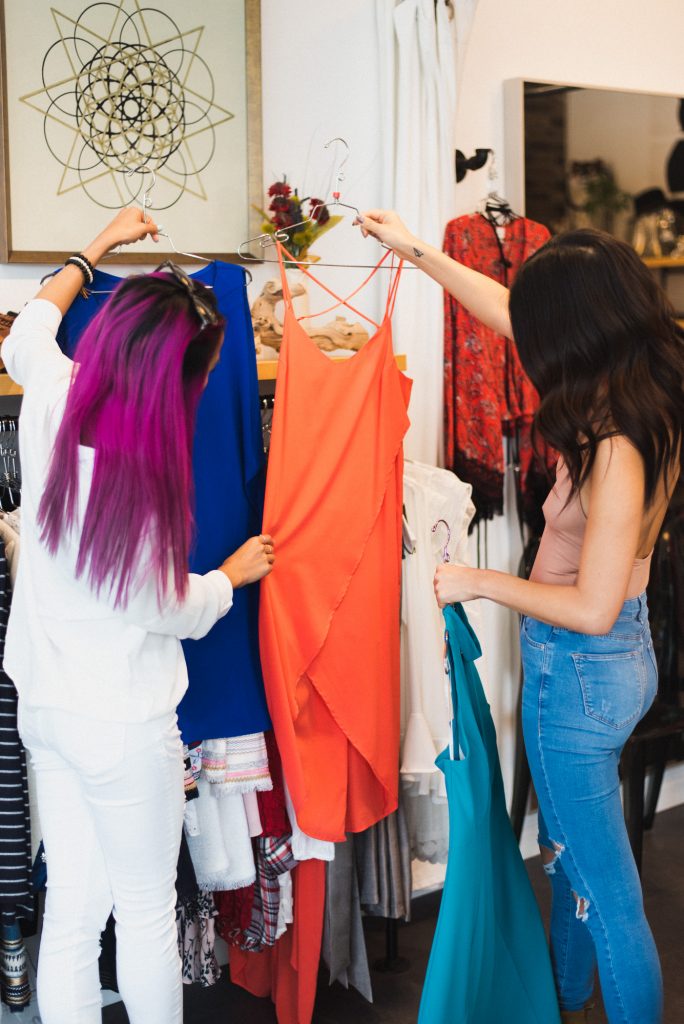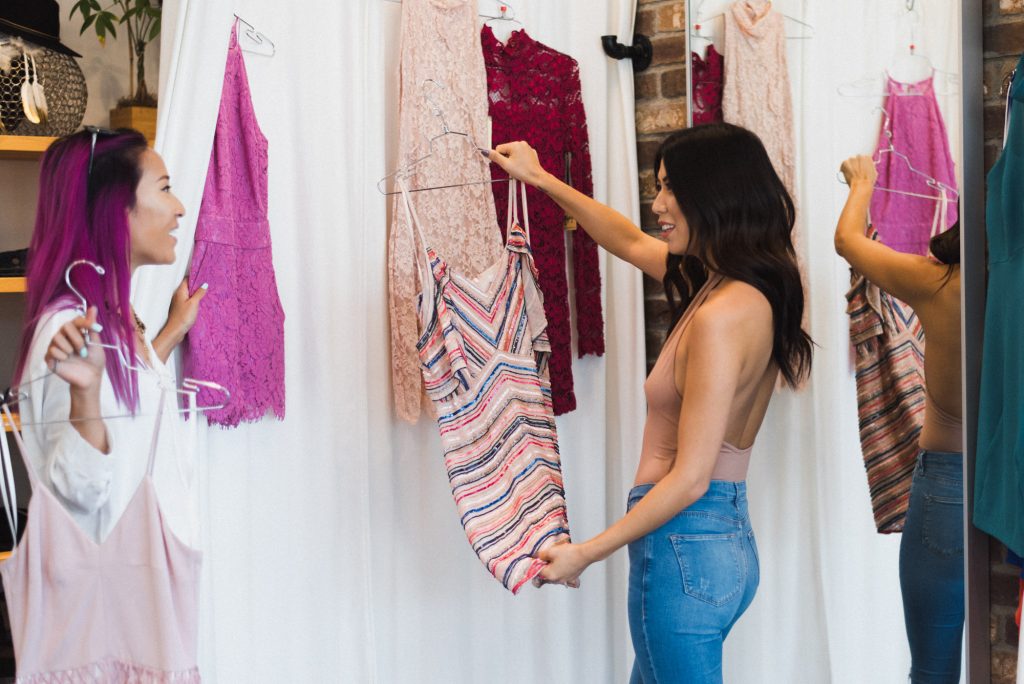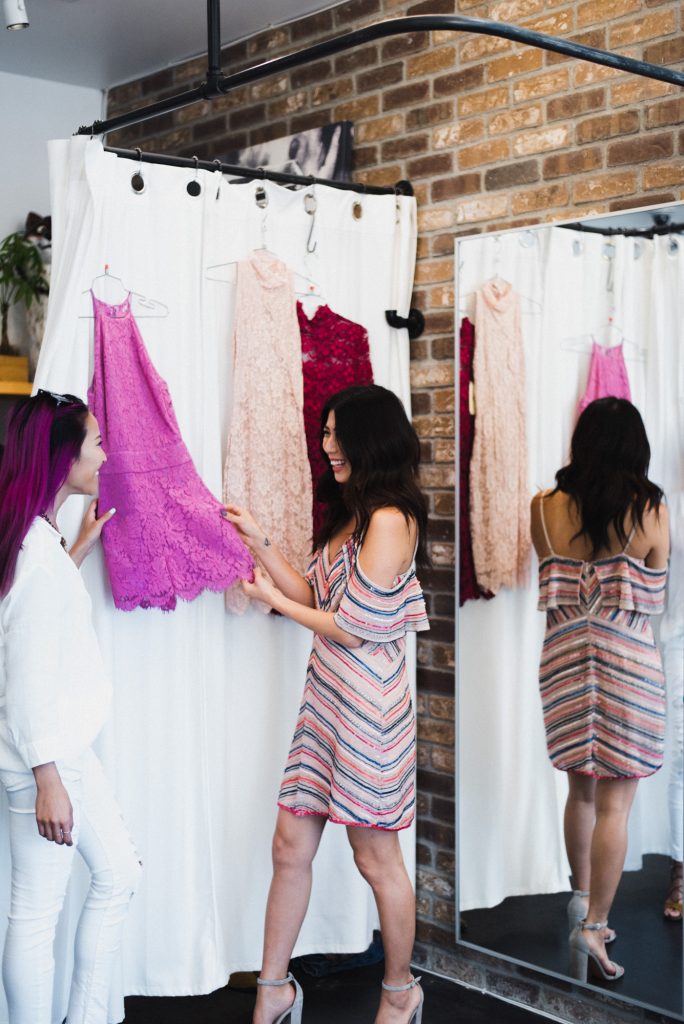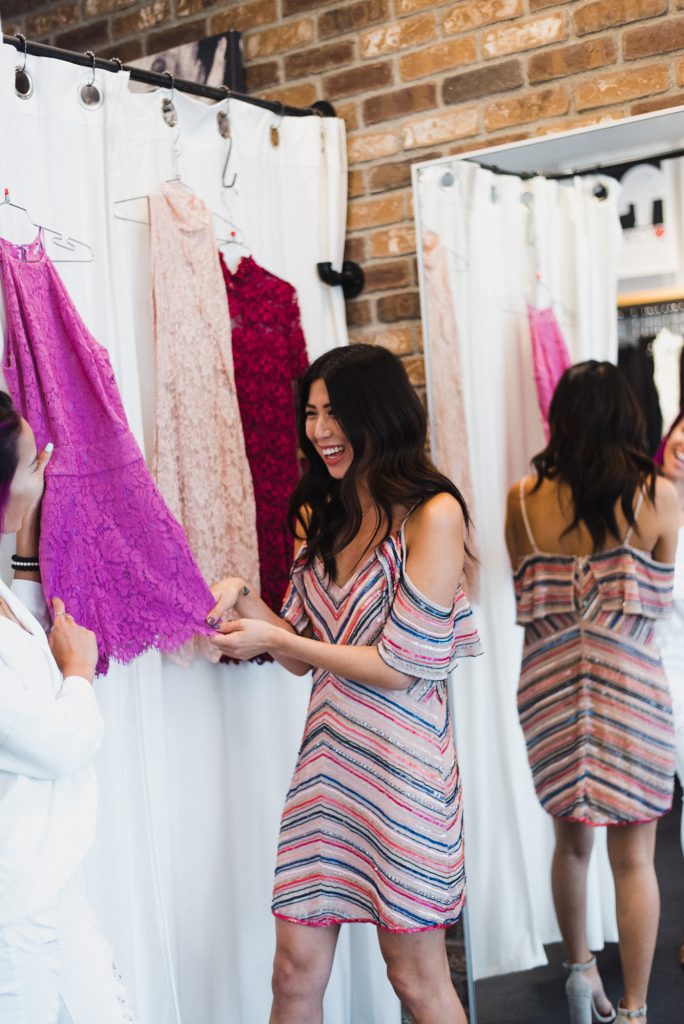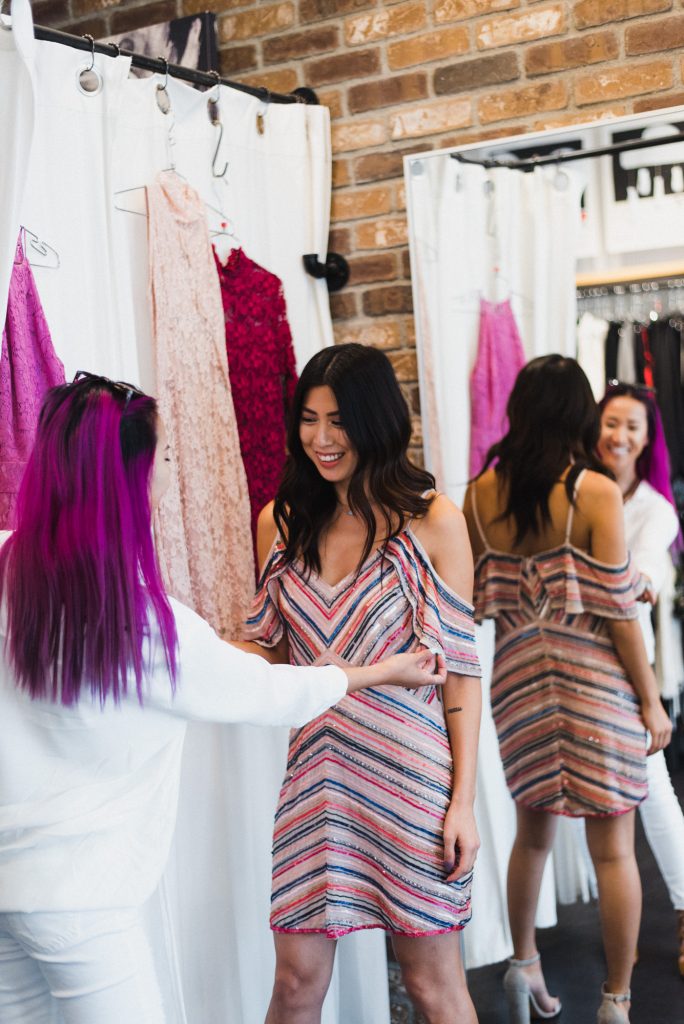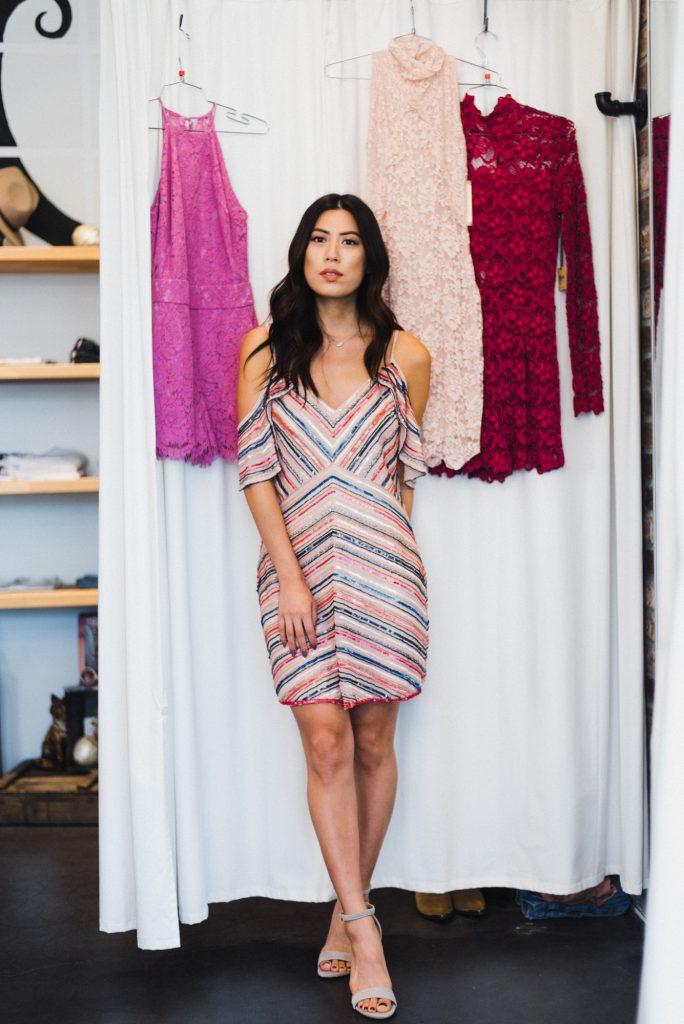 Romper: Karina Grimaldi // MOH Dress: Parker// Blush Pink Lace Dress: Nightcap// Berry Lace Romper: Nightcap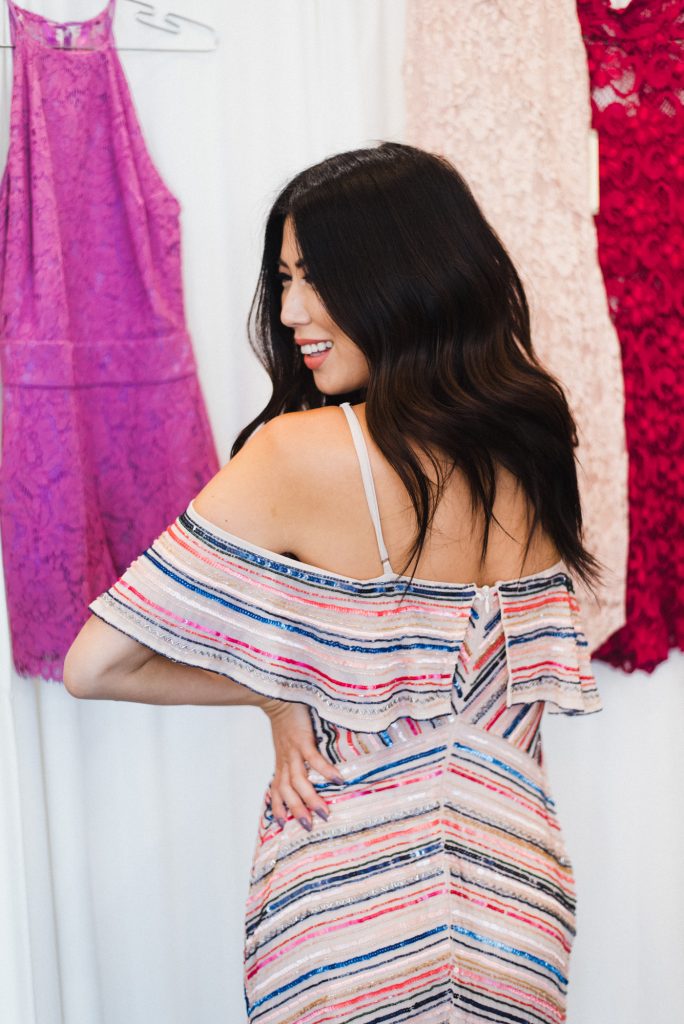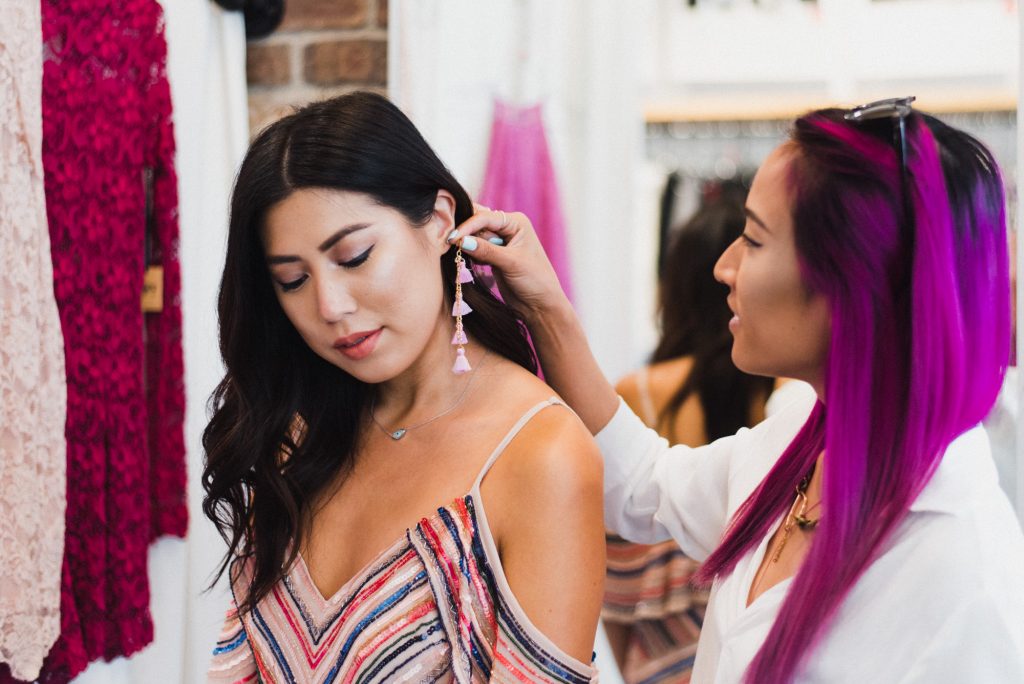 Earrings: Vanessa Mooney
The MOH sequined dress brings together the minimalist, modern silhouettes and deep, vibrant hues of orange, teal and cobalt blue dresses of one bridal party look. And at the same time compliments a bridesmaid lineup of all lace pieces in pink to berry hues.
As an alternative to wearing a dress, I had Jen try on the lace romper in a violet shade; not only did it fit her perfectly but the high halter neck, scallop lace hem and back detail would be fitting for a garden-themed wedding. There's a beautiful assortment of unique and dainty as well as statement jewelry pieces that added the perfect touch to these bridal party looks. Red Fox truly has a great collection of pieces fitting for any style wedding from modern and glam to whimsical and ethereal.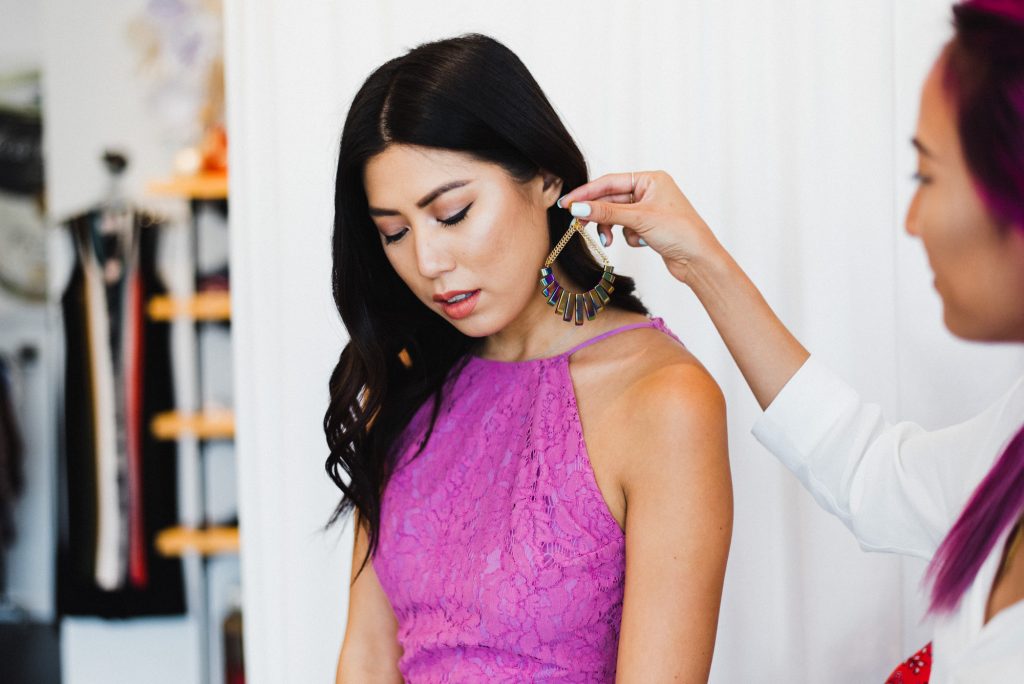 Earrings: Vanessa Mooney

So, Are you ready to have the Best Dressed Bridal Party?
Your options aren't limited to traditional bridal shops. Don't hesitate to talk to the owners of your favorite local boutiques. Owners enjoy being able to provide an individualized shopping experience for you, and help you in any way they can. Whether that be shopping for daily outfits or for your special day. They will give you their expertise on season's trends, fits, and look into getting you additional sizing or color options if you find something you love that isn't available in-store. Enjoy a casual shopping experience perusing unique styles and brands at local shops with your bridal party without all the bridesmaid or bridal salon pressure.
Check out Style Report Magazine's THE LIST for all the boutiques in the area that can outfit your bridal party!