Stevie Sister
Imagined and brought to life in Newport Beach, Ca.
Stevie Sister was created right here in Orange County, by fashion industry veteran Theresa Johnson. Complete with lace-up details, ruffles, and high slits, Theresa designed Stevie Sister for the playful, feminine side in all of us. A mix of flirty, soft silhouettes in romantic florals and trendy prints; Stevie Sister celebrates being a girl and all that it means. Now, what girl wouldn't want a piece of that in her closet?
What we love most about Stevie Sister is that you can find a piece for just about any babe. The perfect matching sets for those spring music festivals or your next tropical vacation. The perfect floral dress for summer day dates and weddings. And the cutest tee's that pair perfect back to your jeans and cutoffs. It's time to add Stevie Sister to you closet!
Keep scrolling to read our Q&A with Designer Theresa Johnson!
You have owned and run a successful boutique for over 22 years. How & when did you realize that was the right career path for you?
I graduated from California State University Fullerton with a degree in marketing. At the time I dreamed of working for a big firm, jetting from coast to coast, working on high profile product launches. After graduation, one of those "aha" moments came about, and I realized nothing made me happier than working in the fashion industry.
What is the inspiration behind your designs?/What inspired your most recent collection?
When I first opened Modern Romance 23 years ago, vintage inspired dressing was trending much like it is today. We opened carrying lines like TT Mar, Alexander Brown and Newfield. I love everything vintage! I used to and still love watching old black and white movies where women are wearing big spaced out floral dresses with jeweled brooches and big picture hats. Today, some of our designs are a new spin on all of that. Using printed rayon crepe fabrics while adding high slits and ruffles to our silhouettes is reminiscent of those trends, blended with the Southern California, bohemian beach culture we are so fortunate to be a part of.
How did you decide on Stevie Sister as the name of the brand?
When I first started thinking of designing a line of clothing, I wondered if I was up to the task. I told one of my older brothers, named Steve, who has been a role model for me and who has boundless amounts of energy, passion and drive about my idea. I remember giggling how I might not have the energy but "Stevie's Sister" would! It kind of stuck 🙂
Do you personally have a favorite Stevie Sister piece?
My Favorite piece of the line right now is probably the Brittany Maxi. I love the low ruffle back!
What's next for Stevie Sister?
We are so excited to announce that we have launched our flagship store at Fashion Island! We are actually celebrating the launch this weekend! Please join us along with our fabulous host, Amanda Stanton of the Bachelor! The party starts at 2pm, Saturday April 22nd. Enjoy live music, sips and bites, and some really awesome special promotions and giveaways! For more info about the event click the picture below!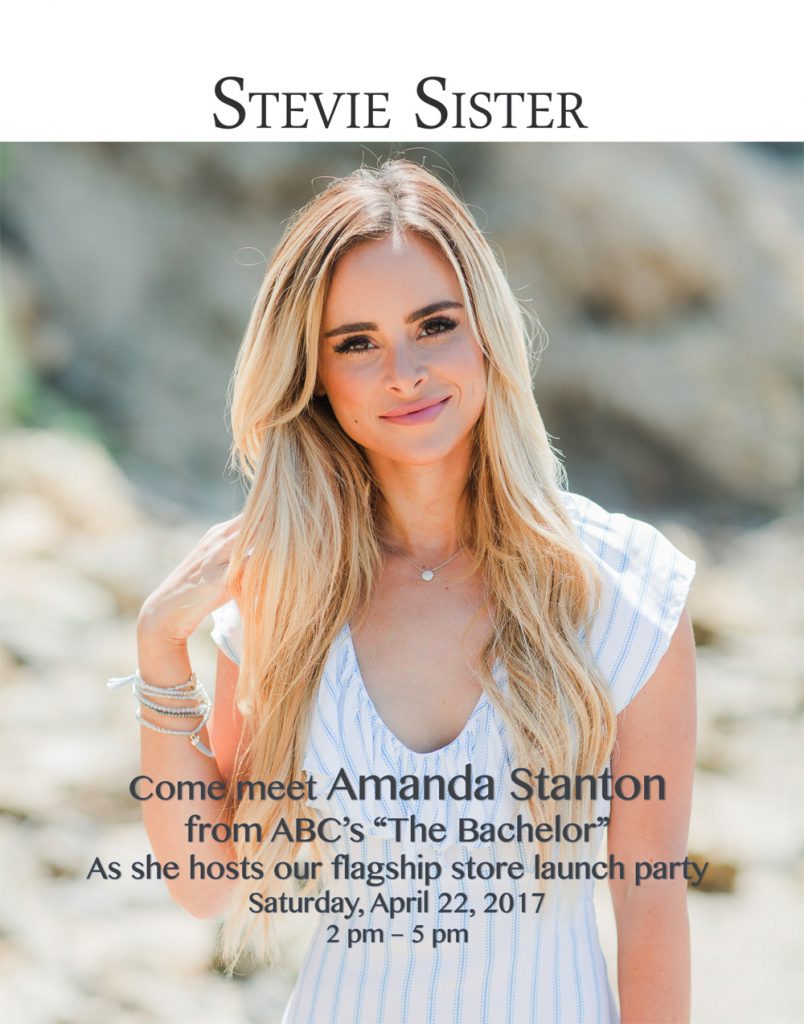 Jamie Kidd Photographed by Tamara Emíle | Amanda Stanton Photographed by Tyler Chase