Why We ♥ Surf Glam
Surf Glam was created by Chris Bell – an avid beach lover + style obsessed + mother of three who had the dream to fuze her love of comfortable, high quality, fashion-forward clothing with surf-inspired designs that reflect the Southern California lifestyle. This apparel line was designed for any woman that wants to feel good in her clothing, and take her look from the beach to the street…the Surf Glam way of life.
A key component in creating this line was implementing a way to help protect what has been Chris's main inspiration…the ocean. To help preserve the coastline for our children and grandchildren to enjoy, Surf Glam proudly supports the Surfrider Foundation, The Seahorse Trust and are expanding to add more credible non-profits. A portion of sales will be donated to these non-profits that do outstanding work to help protect the coast and the marine life that inhabit it.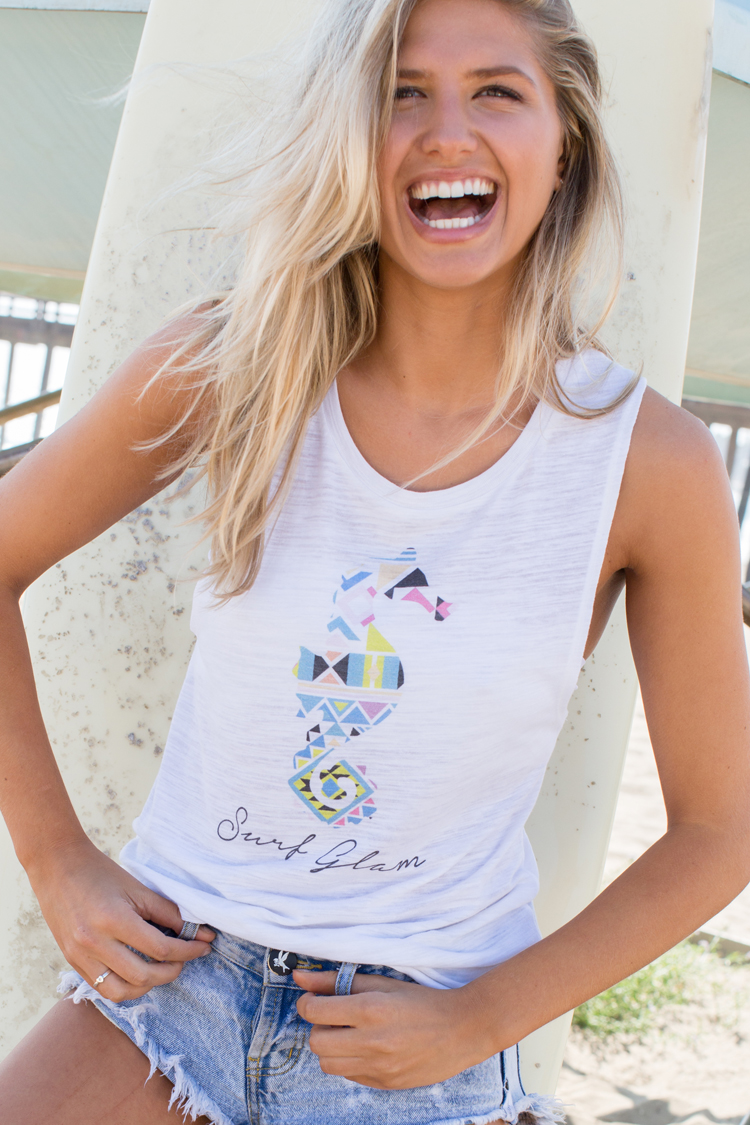 How long have you been designing/making clothing and at what point did you decide to make it your career?
I've always loved fashion and have been drawn to it. Out of college I worked for a fashion PR firm and then went on to work for a wedding dress designer. I worked very closely with that designer and got involved with designing women's clothing; picking fabrics, traveling, attending fashion shows…the whole process. I knew I wanted to be involved in this creative process with my own personal passions, but wasn't sure how to translate it at that time. I put my career aside and have been a stay at home Mom for 10 years. Just this past Spring, I decided that I needed to bring to fruition my love for fashion and start my own clothing line. I had many of the designs in my head already and knew the direction I wanted to take Surf Glam as a brand. It was a great leap of faith but one of the best ones I've made!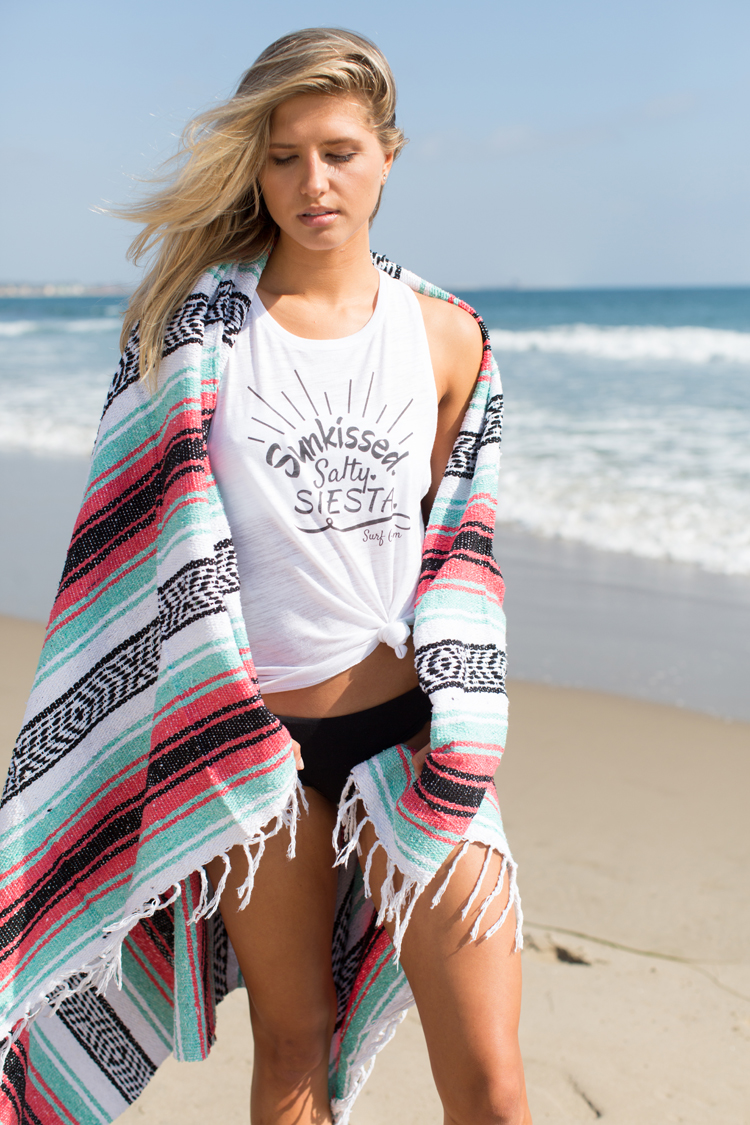 What is the inspiration behind your designs?/What inspired your most recent collection?
I have always, and will always be a beach girl through and through. My vision was to create a lifestyle brand of clothing and accessories that captures the beach vibe that I love so much. My inspiration really came from the idea of the quintessential California girl who exudes style and loves fashion, but also embraces surf culture and has a love of the ocean. One thing that was very important to me was that all the clothing was comfortable and of good quality. You can own the cutest shirt in the world, but if it doesn't fit right and doesn't feel good on your skin, you're not gonna wear it. I wanted every girl who wears my clothing to feel carefree and at ease in my clothing, or how I like to say – "California casual." Being this is my first collection, I really wanted to "brand" Surf Glam and our logo on a lot of the pieces to gain name recognition and hope the essence of my clothing resignates with the consumer. I feel that for the premiere line, the tone was set for Surf Glam to be fun, stylish and embody the SoCal girl vibe…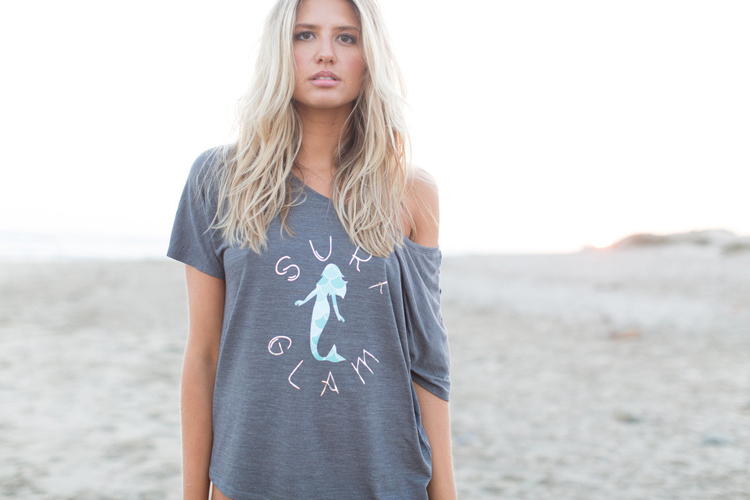 How did you decide on Surf Glam as the name of the brand?
For a very brief period, right before I got pregnant for the first time, I started making jewelry. I worked with semi-precious stones, crystals, and 14k gold chains to make statement necklaces. I had gotten so many requests to make pieces for friends and family, that I started selling them online and even sold a few pieces to Planet Blue in Malibu. I had named my line Christina Bell Designs, but on all my signage and business cards I always described my pieces as "Surf Glamour". After I had my children, creating jewelry didn't work for my lifestyle, but the name Surf Glamour always resignated with me and somehow I knew I would use it in some future endeavor…when I decided earlier this year to start a fashion line I automatically said it has to be Surf Glam! The perfect mix of nature and fashion combined…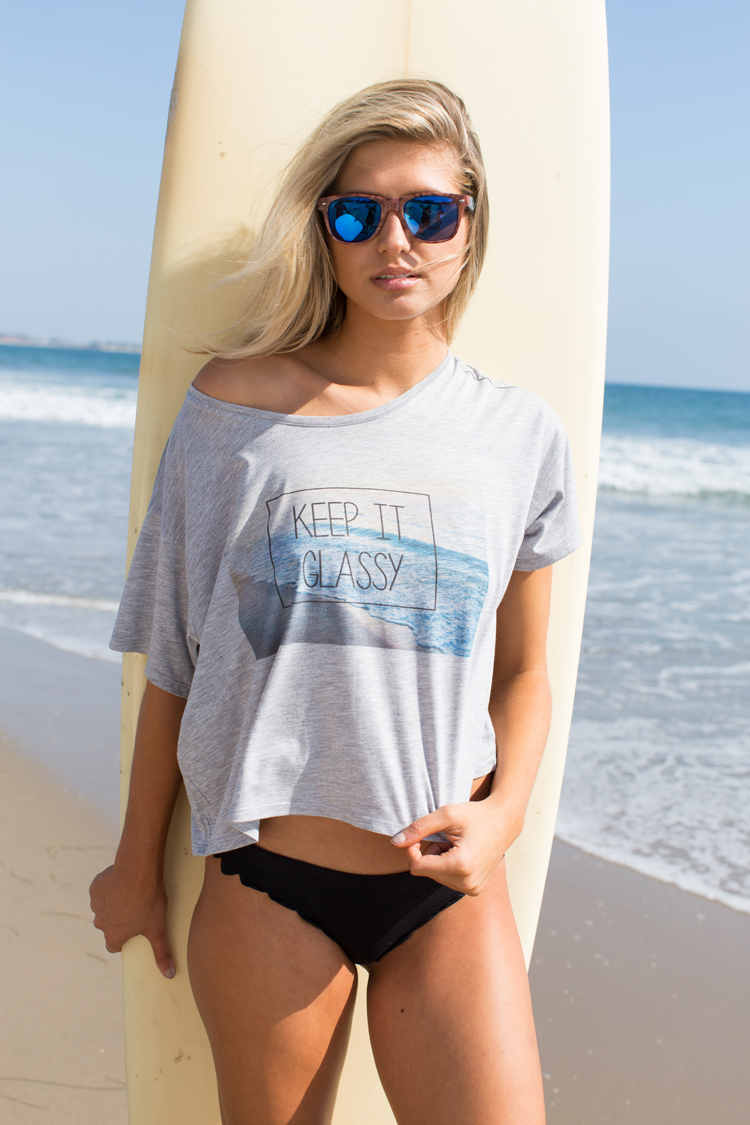 How would you describe your personal style?
I would say that my personal style is very casual and reflective of my upbringing in Southern California. I am obsessed with fringe (I own at least 5 fringe handbags) and all things beach boho related. I love oversized tees and sweaters with vintage and distressed jeans, and wavy beach hair. In the summer I live in flowy maxi dresses, kaftans, and my worn in cut-off jean shorts and tank tops. I also have a bit of rocker style that I would love to explore with Surf Glam designs in the future…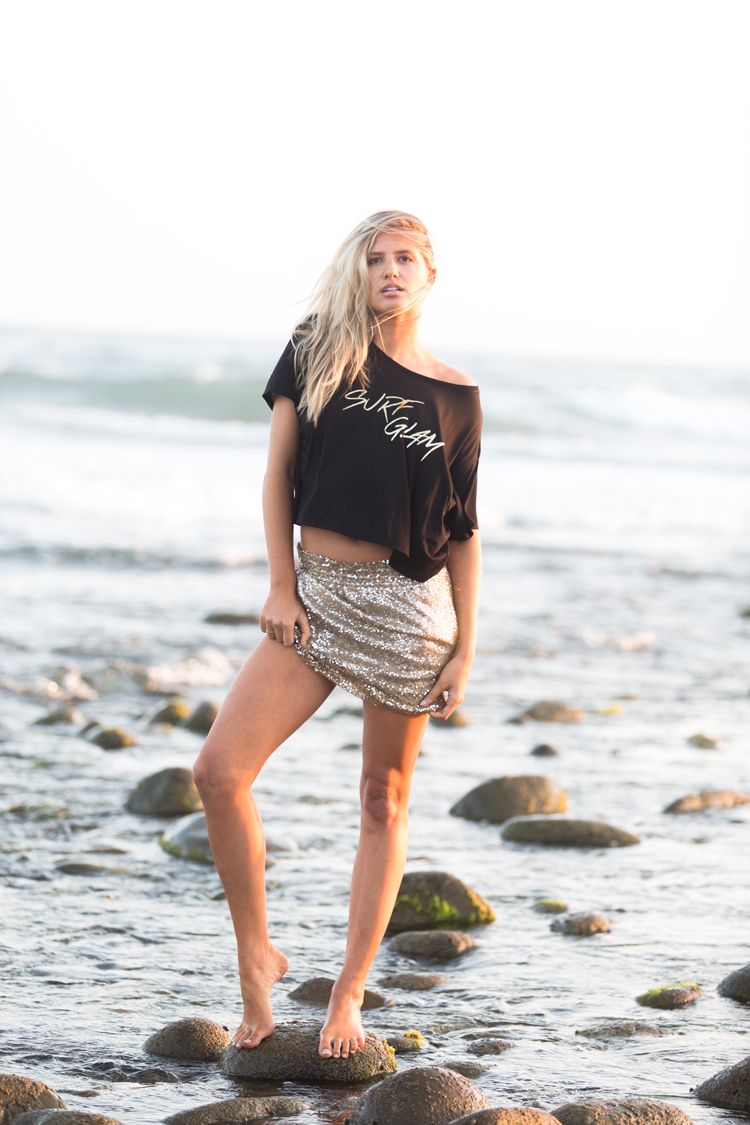 What Surf Glam Piece do you find yourself wearing the most?
I wear ALL my designs so much it is hard to say! Since it has been a bit cooler this past month, I have been getting tons of use out of the "CA Love" sweatshirt and our "Aloha" long sleeve tee. Being a busy mom, it is the perfect thing for me to throw on in the morning with my jeans and boots to leave the house fast and dressed acceptable in the morning! I love to layer the "Palm Logo" tee with my oversized cardigans as well. Creating versatile pieces was important because they easily fit in with my existing wardrobe, and it's been so great wearing my own designs on the daily, I love it!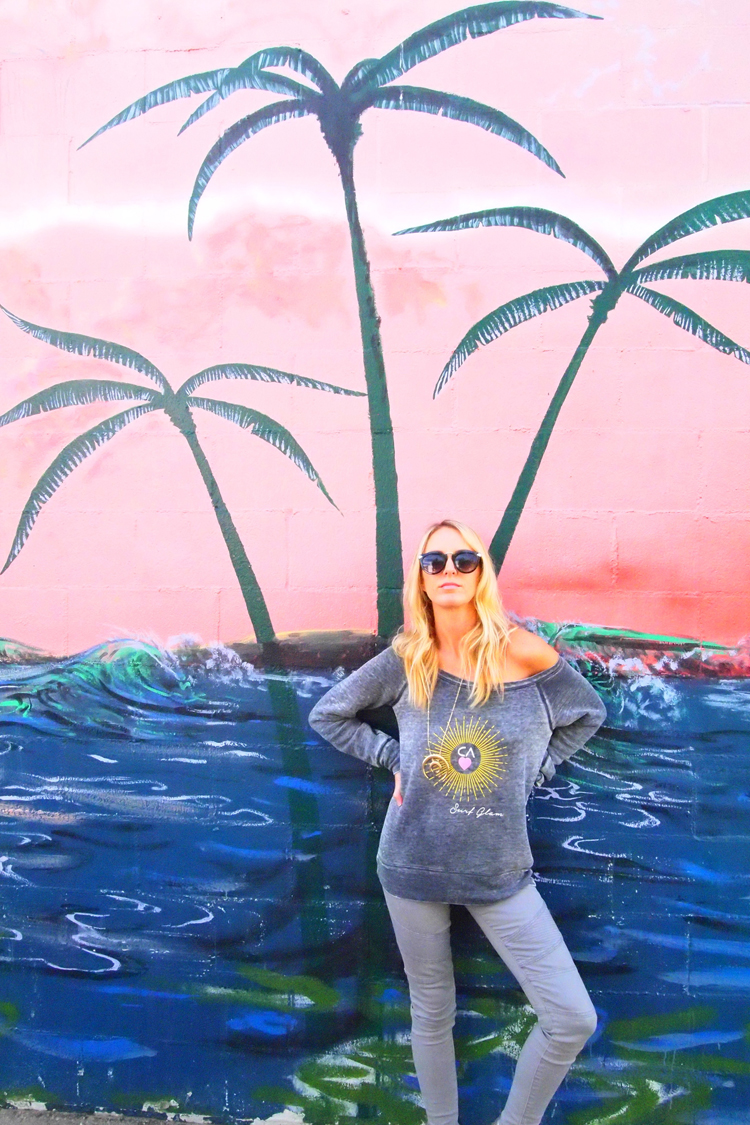 What's next for Surf Glam?
Since we just launched this September, I feel like I have only scratched the surface as to what I have planned for Surf Glam. I really didn't know how it would be received when we launched, but it has been a whirlwind of such positive feedback from customers and our wholesale accounts that we are so excited to continue to grow, and are actively working on Spring 2016 right now. You can expect to see the same vibe for Surf Glam, but we are exploring even higher quality fits and fabrications. In the future we would love to design beach kaftans, dresses, and casual beach pants as well as our tees and tanks. We have had numerous requests from customers asking us to add a line for children, and even men, but we will see if it will progress this season or not. But fresh new designs are coming at ya in the New Year…
See Something you love.. SHOP by clicking the picture!
Stay connected with Surf Glam on
All photos provided by Surf Glam | Photographer: Laura Turner | Model: Emily Kretzer